Butterscotch Sauce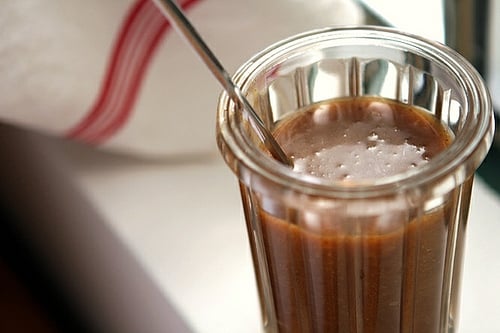 Marion Cunningham was a big promoter of American food and cooking, which included some of the peculiarities of our style of eating. There was a funny story recounted by Kim Severson way back in 2001, that when Marion came to France, she insisted on having a cup of coffee before dinner at a three-star restaurant. Which, of course, perplexed the waiter. But Marion always insisted on doing things the right way (or at least, her way) and once she told me that she went to teach a class in making pie crust at the Ritz in Paris, and she brought along a can of vegetable shortening, which prompted the French chef to take a look into the can, and ask her – "What is this sh*t?"
In spite of the image it has gotten over the years, American food can be very good, and like any cuisine, much depends on who is making it and how. Marion didn't shy away from things like using the microwave once in a while, or adding vegetable shortening to her pie crusts, but she was one of the leading voices of our generation of American home cooking and the bigger picture was that some shortcuts were acceptable, because they encouraged people to cook, and bake, for themselves. And one of my favorite quotes from her was when someone said that folks were too busy to cook, she replied, "Well…I'd like to know what the heck everyone is so busy doing?"
(When someone asked her if sifting was necessary, she replied, "Are shoes necessary?")
In addition of being a font of amazing quotes, Marion was also known for her massive sweet tooth and I think possibly when no one was looking, she might have eaten brown sugar right off the spoon. She was one of the most beautiful women I ever met. Her eyes sparkled, and she got especially excited when talking about cooking and baking, and wanted everyone – or, I should say, expected everyone – to share her enthusiasm.
We bonded over a mutual love of butterscotch, and other sweets, but Marion had a tough side and was incredibly strong-willed, which I guess could be chalked up to all-American gumption; When we believe in something, we go for it, full-tilt. And that's how Marion pretty much lived — and drove. Man, I never saw anyone get into a car and take off like that woman!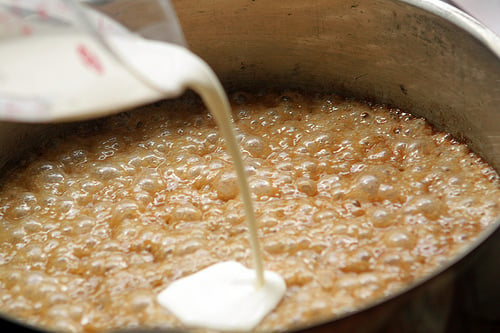 Marion, who recently passed away, wasn't all that sentimental and was the very definition of no-nonsense kinda gal. So to celebrate what we had in common – butterscotch – the sweet, buttery mixture that brought us together, I made a batch of butterscotch sauce. And although I didn't eat any brown sugar right from the spoon, after I poured the butterscotch sauce into a jar, as I was standing over the kitchen counter, scraping the crusted-on bits stuck to the bottom of the pan into my mouth, I thought of her, and knew she would have approved.
| | |
| --- | --- |
| Butterscotch Sauce | Print Recipe |
Adapted from Ready for Dessert. No one quite knows where the name 'butterscotch' came from. Some think it's derived from butter being 'scorched' and others think it may be from when butterscotch was made into candies that were 'scored', or cut. Although it's not where the name came from, nor is it traditional, I will sometimes put a shot of scotch or bourbon in my butterscotch sauce, because I like the flavors together. Butterscotch sauce is delicious spooned over vanilla ice cream, or drizzled over Peach Shortcake.
4
tablespoons (55g)
salted butter
1
cup (180g)
packed light brown sugar
1/4
cup (90 ml)
plus 6 tablespoons (60ml) heavy cream
1/2
teaspoon
vanilla extract
1. In a wide saucepan or skillet, melt the butter with the brown sugar and the 1/4 cup of heavy cream, stirring until smooth.
2. Without stirring, let the mixture cook at a bubbling simmer for three minutes.
3. Remove from heat and stir in the remaining 6 tablespoons of cream. Let cool a bit, then stir in the vanilla extract.
Serving and Storage: The sauce should be served warm. It can be stored in a jar, in the refrigerator, for up to two weeks. Reheat the butterscotch sauce in a saucepan over low heat.
Note: I sometimes use unrefined brown sugar, which can leave undissolved bits of sugar. They don't bother me, but if you wish, you can strain the warm sauce to remove them.
Related Links and Recipes
How to Make the Perfect Caramel
Salted Butter Caramel Ice Cream
Chocolate-Covered Caramelized Matzoh Crunch