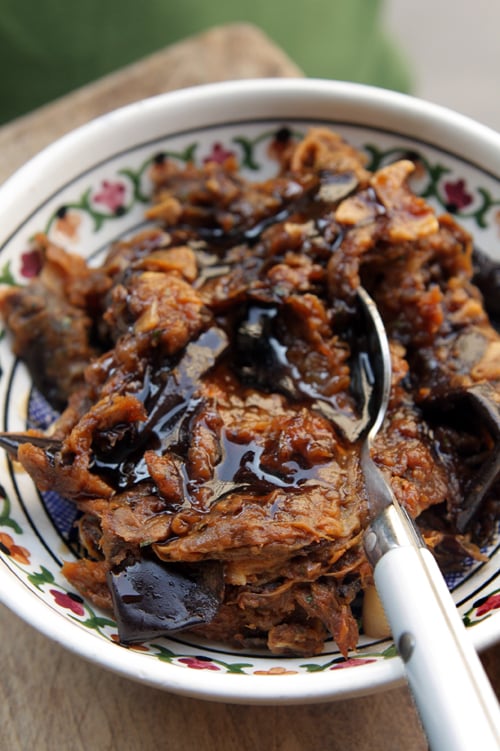 The words "eggplant" and "jam" together might throw you, but if you stop to consider that eggplant – like tomatoes and squash – are botanically fruits, the idea doesn't seem all that far-fetched. And this combination of sweet and savory is so delicious, there's no reason to hesitate whipping up a bowl.
I love foods from the Middle East and North Africa, and I was leafing through one of my favorite books, From Tapas to Meze by Joanne Weir, and came across this jam. I'm a big fan of eggplants, which is a good thing since they frequently show up in foods of the Middle East, as well as in dishes of their neighbors in North Africa. And even though I could happily eat my way through all of those countries, luckily in Paris, they're abundantly available here as well.
This is one of those recipes that you don't need to spend a few days shopping for all the ingredients. You just need three eggplants, some spices and garlic, and olive oil, all of which you probably have on hand. But for a dish with just a few ingredients, the results are complex, yet adaptable to a variety of cuisines. If you liked skewered meats, it would be a marvelous condiment alongside. And for those across the Atlantic, it could dress up an all-American hamburger – or a lamburger, if you're so inclined.
The subtle dab of harissa, the fiery hot sauce, gives it a tantalizing little kick, and Joanne recommends using this eggplant jam as a spread on warm grilled bread. I served it as part of a summer dinner this weekend composed entirely of bowls of appetizers, dips, olives, salads and, well-chilled wine, which is how I like to eat…and drink. I put everything in bowls and let guests help themselves, and this dish got the most accolades.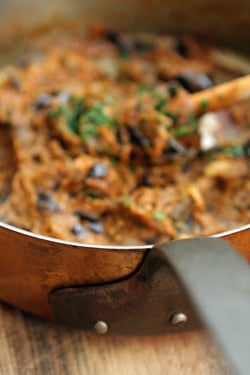 As I was putting everything on the table, at the last-minute, I added a few dribbles of syrupy pomegranate molasses over the top of the jam, whose sweetness contrasted wonderfully with the richly spiced eggplant.
Eggplant Jam
Adapted from From
Tapas to Meze
(Ten Speed Press) by Joanne Weir The amount of salt will vary, depending on how much you use to salt the eggplant, and what salt you use. So you may need to adjust it before serving.
3

medium eggplants

kosher or sea salt

,

or similar flaky salt

olive oil

2

cloves

garlic

,

peeled and minced

2

teaspoons

paprika

1

teaspoon

ground cumin

1/8

teaspoon

ground cinnamon or allspice

1/8

teaspoon

harissa

,

or hot sauce

1/4

cup (60ml)

water

2

tablespoons

fresh lemon juice

1

tablespoon

chopped parsley

Optional:

, Pomegranate molasses for serving (see Note)
Rinse and dry the eggplants, then use a vegetable peeler to remove the peel in vertical strips, leaving about an inch (3 cm) of space between each peeling. Slice the eggplant lengthwise, about 1/2-inch (2 cm) thick.

Sprinkle a modest amount of salt on the eggplants and let stand vertically in a colander for about 30 minutes, shaking it every once in a while over the sink to extract some of the eggplant juices.

Preheat the oven to 375ºF (190ºC). Brush two baking sheets fairly well with olive oil and lay the eggplant slices on the baking sheets in a single layer, then flip them over.

Bake the eggplants for about 25 minutes, flipping them on the baking sheets midway during baking.

Once the eggplants are cooked, put them in a large bowl with the garlic, paprika, cumin, cinnamon or allspice, harissa, and water, and mash them well with a fork or potato masher. (Not all the eggplant skins will break up into little pieces. They do get rather soft during the double cooking, but if you're the kind of person bothered by them, you can briefly pulse the cooked eggplant in a food processor or chop it on a cutting board with a chef's knife.)

Heat a few tablespoons of olive oil in a skillet and cook the mashed eggplant mixture on rather low heat, stirring frequently so it doesn't scorch on the bottom. It tends to stick a bit, but just scrape in those brown bits which might form on the bottom of the pan.

Continue to cook the eggplant until it's thick and most of the moisture is removed, about 20 minutes. Stir in the lemon juice and let cook another minute, then remove from heat and add the parsley. When cool enough to taste, check and add a bit of salt and lemon juice. Serve drizzled with pomegranate molasses, if you wish.
Notes
Storage: The Eggplant Jam will keep for up to five days in the refrigerator. Serve slightly warm, or at room temperature. Note: Pomegranate molasses, which is sometimes called Pomegranate Syrup, is available in stores that specialize in Middle Eastern and North African products, or online.
You can also make your own pomegranate molasses as well.
Related Recipes
Eggplant Stewed in Honey and Spices (Traveler's Lunchbox)
Eggplant Fetteh (Desert Candy)
Lebanese-Style Stuffed Eggplant (Smitten Kitchen)
Roasted Eggplant with Saffron Yogurt (Nami-Nami)
Grilled Eggplant, Tomato, and Feta Salad (Kalyn's Kitchen)