A Visit to a Hummus Factory
Almost all of the people I spoke with said they rarely make their own hummus, simply because the store-bought stuff was as good – if not better – than what they could make at home. (I guess it helps to think of it like peanut butter, where the homemade is very good, but store-bought will suffice.) People have very strong opinions about hummus, like they do about other things, in Israel. And if you mention a particular brand, or a place that makes it, you're likely going to be told – with absolute certainty – that there's another one, or place, that's definitely better.
Since hummus is so popular in Israel, as it is in many other countries around the world (as far away as Mexico), there are some large companies that produce it, such as Strauss in Israel, which also produces a number of other salads and dips, like Baba Ganoush and other Middle Eastern-based sauces.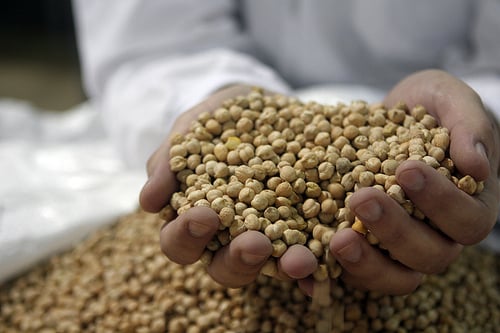 I was invited to visit the factory and then to the hummus "laboratory", where the researchers and cooks work on various recipes, making sure the seasonings are just right and adjusting the flavors as necessary.
The first step in making hummus is preparing the chickpeas. Here, Bulgarian chickpeas are used because they told me they're particularly tender and unlike hummus you might have had, the hummus in the Middle East is particularly smooth. A few recipes advise that the smoothest hummus is made from chickpeas with the skins removed, but no one I spoke with in Israel said they did that. So according to them, it's about the variety. (A pinch of baking soda in the water helps as well, if you're making them at home.)
Once the chickpeas are cooked, they're left to marinate in their liquid until cool and the liquid thickens, which takes on additional flavor from being in close contact with the chickpeas.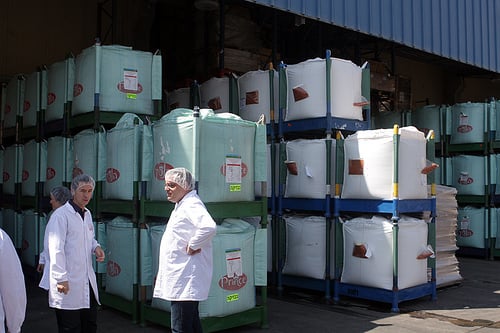 Israeli hummus tends to have more tahini in it than other countries, which makes it richer and deeper in color. Other places go heavier on the lemon than they do in Israel, due to local tastes. You can see just how much tahini gets used here; each of these flexible sacs is almost bursting with tahini.
Fifty tons of eggplant also get cooked in some fashion at the same plant, which are destined for Baba Ganoush, a cousin of hummus that's widely enjoyed in the Middle East as well. It sometimes goes by the name of moutabal.
Even though the Strauss plant is relatively modest (about the size of a large office park) and completely modern, each eggplant gets placed under the grill, one-by-one, by hand.
And once roasted and cooled enough to handle, a team of women facing their own sink, remove the charred skin from the still-hot fruits.
The cooking process for the whole eggplants takes only about four minutes, since the flames are so hot.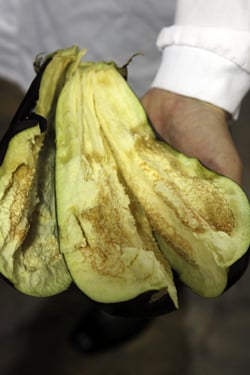 Other eggplants get cut into wide strips then deep-fried until very dark brown, which gives them a lot of extra flavor.
The extra boost of taste is likely because those strips of eggplant are destined to be mixed with either tomatoes and peppers into a spicy sauce, or simply mashed and seasoned, as a dip.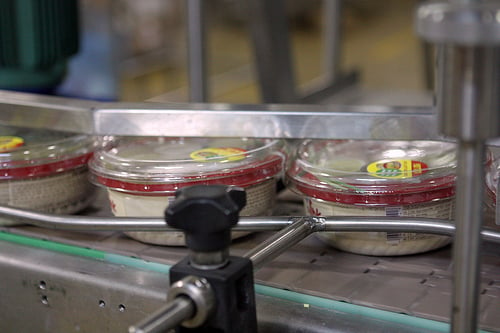 Then the puree is deposited into tubs and off it goes, sent to markets.
Afterward, we headed into the kitchen to meet Yaron, who made a smaller batch of hummus for us, using the exact same method that's used in the factory.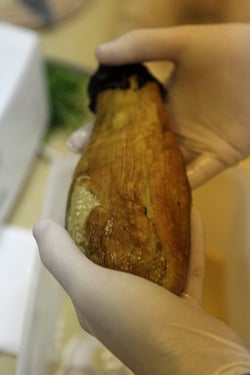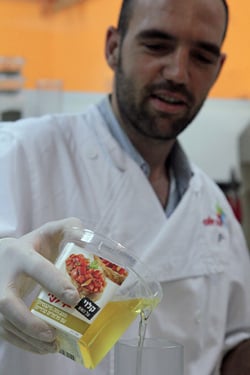 He also smeared a roasted eggplant with tahini, poured on olive oil, and added some chopped, fresh parsley, which one of the scientists told me what the most challenging part of the process. Because parsley is a fresh herb, it can't be sterilized for processing as it loses its flavor when cooked. Needless to say, dried parsley is out of the question as well but they didn't tell me how they solved the riddle.
He pressed the eggplant into some bread and we passed it around. And let me say that if you ever make a trip to the Middle East, be sure to track down tahini because the stuff I had in Israel tastes nothing like the sesame paste sold in jars in America or France.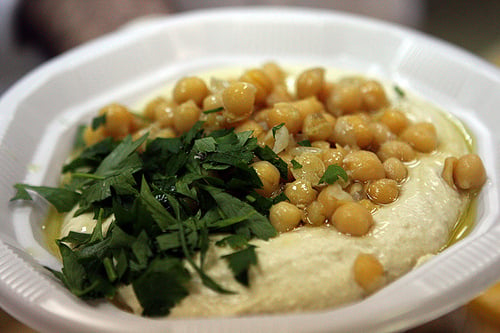 After we left, we pulled up to an agricultural research station, where the focus was on various squash, including a hybrid resembling an acorn squash but with the flavor and texture of cooked chestnuts. Another was a bright orange spaghetti squash, called Orangetti, that had tons more flavor than the less-interesting pale, yellow varieties that one normally comes across. And if my suitcase wasn't packed with tahini, I would've likely stuffed a squash or two in there.
But when we passed a field of what looked like dying plants, in between all the squash, Harry S. Paris (whose name, of course, I am coveting), a doctor of agricultural research who works at the research station, mentioned that they were chickpeas, I hopped out to get a better look. Each husk was dried to a crisp in the searing mid-day sun, and once cracked open, a tiny little chickpea rolled out from inside.
I suppose it would be fun to harvest enough to make a batch of hummus out of them, and taste it to see if there was any difference. But with my skin already feeling like I was an eggplant being broiled, I decided it best not to harvest any, and stick to buying my chickpeas by the sack. Or on occasion, by the container.
---
A Note About Posts from Israel:
A number of people have commented about my visit to Israel, in a previous post and elsewhere. It's a country I've always wanted to visit and I was happy to be invited to deeply explore the cuisine by meeting local chefs, chocolatiers, and growers. I don't have any particular agenda when I travel except to eat the food, and meet the people who make it. (And usually an exit row aisle seat, if I can snag one.) Other countries that I've traveled to and done the same thing include Australia, Tunisia, Portugal, Ireland, France, the United States, Switzerland, Sharjah, and Mexico, all countries that have governments and/or beliefs that I don't necessarily ascribe to. (And believe me, there are a number of things I'd like to change in more than one of those places.) Visiting and writing about the cuisine of a country is not an endorsement for or against its policies or its government.
The situation in the Middle East is challenging and one that's not going to be resolved on a food blog. And most likely not by someone who bakes cookies for a living. Many people have strong opinions on the political situation in the Middle East and as someone of direct Arabic descent, I am doing my best to learn about, and to respect, all the people who make up this interesting part of the world.
My intention of going to Israel was to meet the people who live there, who represent a wide swath of cultures and encompass a variety of political, religious, and social beliefs. I came mostly, however, to learn about the cuisine, which is as diverse as the culture.
I certainly couldn't go everywhere, and do and eat everything that I wanted to do in one week, and I'm hoping to go back one day and not just hit the places I missed, but to stay in touch with the generous and wonderful people who I met. And I also have on my agenda, plans to visit other countries in the region in the future, as time permits.
If you wish to comment on various dishes, ingredients, cultural and geographic variations, and methods that are used in other countries, and so forth, all of those are welcome here. (Read my comment policy for further information.) Certain dishes go by certain names in various countries, so please respect others in whatever part of the world you wish to discuss.
But it's not appropriate to make certain assumptions about why I took this trip, or about the people who live in Israel who I met, or about the neighboring countries that are based on conjecture. I do ask that people refrain from leaving comments of that nature and respect not only me, but the various people that visit the site. I travel to other countries for the food, and to meet local cooks and bakers, and am happy to share those stories, places, recipes, and people here. And sharing them is the intention of this blog. -David