Haj Kahil
When I left the restaurant Haj Kahil after lunch, I said to someone – "That was the best day of my life." When Erin, who was dining next to me, took a bite of the fried Halloumi cheese, her whole body softened, her eyes dimmed, and she looked as if she had been lulled into a trance.
And when someone tried to talk to her, she said – "I'm sorry. I'm just…having…a…moment..with…this….cheese…"
And from the look on her face, it was clearly quite the moment, enjoying that first warm bite of soft, pillowy cheese sealed inside a firm, golden-brown crust. Of course, I made sure that the plate was set down near me, and I plucked one off for myself.
Over on hundred cultures live in the small country of Israel, and thirty-three languages are spoken. Because people live so close together, the food traditions cross fluidly from one culture to the next here. Fresh produce is abundant due to the climate and the vegetables are still-crunchy and juicy, as if they are still alive, the herbs are deep-green and aromatic – I was intrigued by hyssop, which I've never had fresh before. Meats are complimented by the seared flavor of a grill, or a leisurely roast in the oven, cooked so they fall apart with just the gentle prodding of a fork.
And nutty tahini (sesame paste), is a flavor I thought I knew. But here, it is so revered and each spoonful tastes like it was just-ground to order. From hummus to baba ganoush, it's a flavor that binds it all, the glue that is holding many of the flavors of Israel – and the various cuisines within its controversial borders – together.
Olive oil, chickpeas, sesame seeds, dried fruits, nuts, filo dough, and plenty of fresh tomatoes and cucumbers come heaped in salads, are stuffed into meat dishes, and everything seems to get tossed with an abundance of fresh herbs, all cultivated from this culinary eden.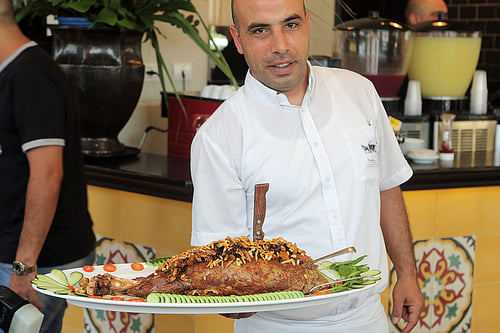 Arabic food is one of my favorite things to eat; I love the lively bowls of pickled vegetables, Labna (thick white, creamy cheese) with pools of olive oil spilling out, and whole roasted leg of lamb stuffed with dried figs and pine nuts and roasted for seven hours.
And Kanafeh, warm kataifi (shredded filo) pastries sprinkled with chopped pistachios and doused in orange-blossom honey. When pulled apart, hot cheese oozes out. Meals end with tiny shots of coffee with cardamom seeds clustered at the bottom, their aroma permeating the exotic, murky brew.
I'm with a small group traveling in Israel, learning about the foods and the cultures of this country that is roughly the size of New Jersey. Only sixty or so years-old, Israel is young. But it's vibrant and brash; people will tell you what they think and expect the same out of you. (Kind of like blogging!) The uncertainty one might have about this country is tempered at the rickety linoleum tables in the back of markets where hand-pulled filo is quickly baked and drizzled with honey for you and at the juice stands which dot the streets near the beaches, pouring fresh, cold juices. But if you do want a taste of controversy, just mention the word "hummus" and you will be told by anyone within earshot where the best place is, and why it's better than any of the other places you were at.
Here at Haj Kahil, the food is copious and dramatic – tangy cucumbers swimming in vinegar brine, a puffy dome of dough is lifted away, revealing ground lamb with herbs and nuts, cauliflower mashed with tahini (sesame paste), which is meant to be scooped up with breads, all accompanied with house-made pita.
Each moist handful of dough is pressed and pulled, permeated with za'atar and sesame seeds, then baked for four minutes in a fiery oven until riddled with crisp bubbles. Minutes later, out comes a tambourine-size disk for bread flexible enough to be ripped into, but firm enough to wrap around an unruly salad of spinach and purslane.
I could not get enough of that bread, which they brought out to the table with nearly twenty different dishes for us, everything from miniature pickled eggplants to a salad heaped with fresh herbs and crispy nuts, whose name I can't remember, but whose taste I will never forget.
Until I was warned that they were just the first course.
So many of the dishes were unfamiliar, yet I knew the ingredients but had never dreamed they could taste so good piled up all around me. It was like we were all on drugs or something, eating the salads and dips until we could eat no more. Then the main courses arrived, and we covered our laps with napkins, and began all over again.

Haj Kahil
18 Raziel Street
Tel: 03-5188866
Jaffa, Tel Aviv, Israel


Note: I'm a guest on a trip with Vibe Israel, a non-profit organization dedicated to introducing Israeli culture and cuisine to others. This meal was part of that visit.