I shouldn't have been surprised when I was talking to someone at the airport, just after my arrival in Israel, who had asked me what I was doing in her country.
When I told her I was there to learn about the cuisine – by eating it, her eyes lit up, and she said – "Whenever I leave Israel, after my family, the thing I miss the most is the food." And after one week, I could see why. I was missing it, too, the moment I stepped off the plane and returned home. In fact, my home kitchen has become a mini hummus factory, churning out batch-after-batch of hummus. And it lasts just about as fast as I can scoop it onto pita bread.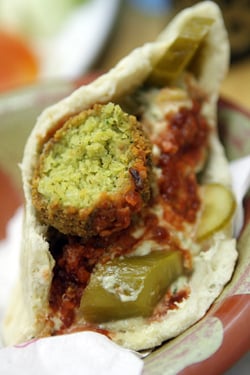 The incredible freshness of the foods was part of what made everything so tasty in Israel. And I'm from California, so I'm no stranger to pristine fruits and vegetables. The fish, because it's so good, is often served raw – because it's too good to cook. And it usually gets no treatment than some lemon juice, a few pickled onions, and a dab of white cheese (fromage blanc).
People in Israel can be brash and opinionated, especially when it comes to food. I'm used to a bit of lively banter living in Paris, but mention a restaurant or a particular dish, and you'll get a multitude of opinions, each one more "right" than the others.
I'm not a spiritual person, but you just need to walk the streets of Jerusalem, or step into a place of worship, and see how powerful the city is. People come from all over the wold for a variety of reasons (and surprisingly, not just for the hummus), and the history, the conflicts, and the force of it all hits you from every angle and alleyway in Jerusalem.
Over a hundred cultures live in Israel, a country roughly the size of New Jersey, and some thirty-three languages are spoken.
Because it's a nation of immigrants, like America, the immigrants brought their various cuisines, and in Israel, you find the foods of (and the influenced of) many different cultures; Iraqi, Lebanese, Turkish, Palestinian, Hungarian, North African, Georgian, Yemen..and yes, I even saw a few American and French places, which make up the eclectic cuisine of this country.
The ingredients available encompass all my favorite flavors – handfuls of fresh herbs are strewn liberally over salads, soft white cheeses are dolloped next to mounds of smoky, charred eggplant, onion seeds perk up a loaf of rich egg bread, and a drizzle of sweet/tart pomegranate molasses adds an elusive touch to a platter of chicken roasted on pita, with the bread soaking up the flavorful juices, ready to be torn apart with your hands – and devoured.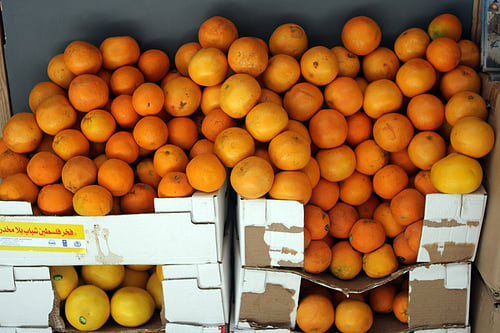 When I travel, I like meeting bakers and chefs, because we're all bound by the same resolve: to cook, and to feed. No matter what kitchen you step in to, or what bakers you meet, or what country you're in, there is a certain kinship that's earned from working long hours on your feet with the only reward being that you've made something beautiful and delicious.
We started in Jerusalem touring the old city, with a stop at the Mahane-Yehuda market. Markets are the best places to mingle with people, and watch them shop. And I could have spent a couple of days poking through all the kiosks.
This market is sensational, with bread vendors hurling pitas at shoppers, piles of shiny bagels and chocolate rugelach ready to take home, sticky dates everywhere (tastes are encouraged), freshly extruded pasta, piles of fresh cherries, pomegranates, and avocados heaped on tables, colorful sweets and confections, and women patiently sitting in the corner offering just-picked grape leaves for stuffing.
And lots of people wandering, surveying the stands before making their final choices.
You can buy beautiful cheeses at Basher, such as feta, labeneh, European cheeses, and cottage cheese, which is not just something that comes in a white plastic tub, but is a vital part of the diet in Israel. There was even a cottage cheese "war" several years ago, with the country erupting in protest over the rising price of this staple.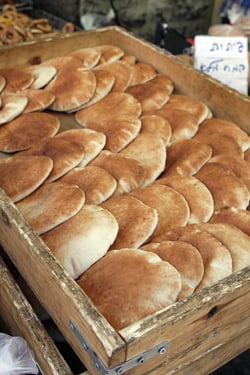 (A while back I purchased a baguette in Paris and was stunned when the vendeuse told me it was €1,40. While if you don't live in France, it's hard to comprehend what the means, but things like cottage cheese in Israel, and baguettes in France, are part of the 'cost of living' – like gas is, in America. And price increases of everyday items affect people very much, financially and even emotionally.)
My favorite place at the market was Halva Kingdom, with the unofficial "king" of halva, wearing a paper crown and handing out samples of the famed sesame paste.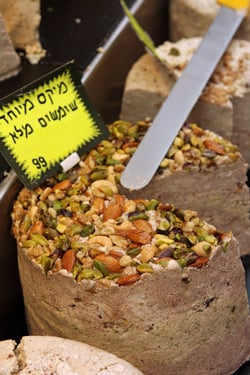 I never saw so many different kinds of halva, from one stubby mound flavored with Swiss chocolate, to another blended with coffee, and topped with a few beans.
Others were encrusted with nuts and dried fruit, and others were riddled with black sesame seeds.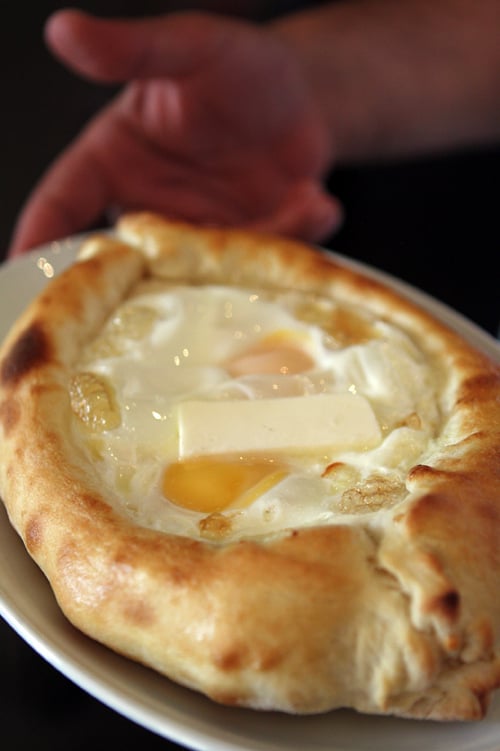 Aside from not buying as much as I could carry, I wish I was better at taking notes and writing everything down. But I was so wrapped up in eating everything that I could, the names (often in Hebrew or Arabic) escaped me, and I used my oily fingers to pry pieces of breads and just-baked rounds of dough apart, filled with eggs and oozing cheese, rather than getting the precise spelling right.
But who can blame me (okay, I'm sure someone will..) when faced with beautiful, just-baked Georgian pastries at Khachapuri?
We packed into this tiny stand-up place and crunched on pickles (which are omnipresent in Israel) while we waited for the tiny kitchen to make our pastries, one filled with soft, oozing, cheese, and the other, Acharoly, a boat-shaped dough with cheese, butter, and a softly cooked egg floating in the middle, waiting to be broken and dipped into.
Two other great stops were Zalatimo's and Abu Shukri, which Sarah, a local blogger who came along with us, says is the original since they never trademarked the name.
Although people in Israel can be are adamant that wherever you've gone to eat something, there's somewhere better that you have or should've gone to, most seem to be in agreement that the hummus at Abu Shukri is pretty darned great. But I was happy when bowls of creamy-smooth hummus came forth, topped with a deep pool of olive oil and roasted pine nuts, and another with broad beans.
Seriously, I could have eaten every single meal in Israel here and would have been happy, as long as they kept bringing out fluffy pita bread for dipping in, and lots of crisp-fried falafel balls.
But I didn't see any desserts on the menu.
Heck, I don't think they even have a menu.
Thankfully a short walk away is Zalatimo, in the old city of Jerusalem, where pastries called mutabak are made from hand-thrown wads of filo dough.
I tried to capture the process with my camera, but it was so fast – and I was so fascinated by watching the fellow rolling and stretching the dough – that I couldn't get it. However Yotam Ottolenghi visited the bakery for a documentary he did on the foods of Jerusalem (while doing research for an upcoming book), and it's pretty amazing to watch the baker at work.
The generous square of mutabak is best washed down with small cups of especially strong coffee, flavored with cardamom seeds. Others, not in need of a jolt of caffeine, can opt for herbal infusions.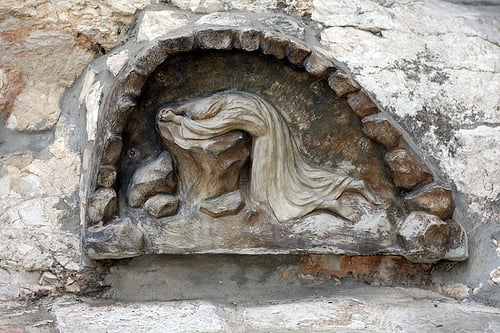 Janna Gur, in The Book of New Israeli Food, says "Strange as it may sound, Tel Aviv is a better place for coffee than most European capitals…" And drinking plenty of coffee all across Israel, I'd say that I have to agree. Especially in Tel Aviv, where we went next…

Related Links
Mahane-Yehuda Market in Jerusalem (Nami-Nami)
Sabbath Food in Israel (The English Can Cook)
The Making of Mutabak at Zalatino (The Kitchn)
Dairy Products at Yehuda Mahane Market (Herbivoracious)
Zipping Through Jerusalem with Food Bloggers (Food Bridge)
Machne Yehuda Market in Jerusalem (The Kitchn)
Jerusalem's Shuk Mahane Yehuda (Penny De Los Santos)


Note: The trip was part of a hosted and guided visit to meet the food producers, chefs, and bakers of Israel, organized by Kinetis.