When I met Maya Marom in Tel Aviv, she handed me a box of spices and flavorings, which meant that when I returned home, I could recreate many of the wonderful dishes that I enjoyed there. The best things I had in my travels were the salads loaded with fresh vegetables, which are served at breakfast, lunch, and dinner, and are especially welcome when the temperature climbs in the summertime.
Maya was born in Arizona, but moved to Israel when she was three months old. She is a self-taught cook and baker, and has a gorgeous blog, Bazekalim as well as self-publishing her own food magazine. When she invited me over for lunch, she prepared what's known as Israeli salad in her country; a finely chopped mixture of raw vegetables doused in a lively dressing with a typically Israeli flourish of lots of fresh herbs, chopped and mixed in at the last minute. She also adds toasted seeds and nuts, which gives the salad even more crunch.
I love fresh, brightly flavored salads like these, and she was kind enough to share it in a guest post. It can be varied to use whatever fresh vegetables are available where you live. Thanks Maya! – David
---
Israeli Salad
Israel is a land of immigrants. While most of my friends were born here, their grandparents were born in places like Iraq, Russia, Yemen, Morocco, Poland, or even Romania – like mine. So it's not uncommon for dinner tables to include a mix of Lebanese, Italian, and Bulgarian cuisine, all at once. Everyone will happily mix everything in their plate, and will make a point of explaining to you how authentic their grandmother's food is, and how it is better than yours.
When it comes to salad, the Israeli Salad could just as well be called Arab Salad – since all of us here around this region of the Mediterranean can't get enough of the stuff. And there are as many variations to this salad as there people who eat it: my dad, for example, likes his salad in large meaty chunks, and douses it with a whole bunch of chopped dill, much to my mother's disdain ("It's the way Romanians like it!" he says). My grandmother will always add red peppers to hers, and my favorite place to get salad (Orna and Ella Bistro at 33 Shenkin Street in Tel Aviv) always peels the cucumbers and mixes in five different kinds of chopped fresh herbs. Some versions of the salad even include a cupful of cold water and ice cubes, which turn it into a kind of soup, usually served as a refreshing side to hearty stews.
As a food writer, I'm the one who does most of the cooking around the house. And when I need to hand in three recipes a week, you can imagine the amount of cooking and recipe testing that needs to go on, and respectively, the amount of dishes piling up in the sink. Thankfully, me and my boyfriend reached a very agreeable arrangement: he does all of the dishes in exchange for tasty meals every day.
What most people don't know about Danny, though, is that although he'll never bother himself with any actual cooking, he chops the best salad ever. See, he's about to finish his masters in Statistics and Game Theory. And if there's one thing these people know how to do – is find out how to do things perfect. Which is why, whenever I crave a nice little salad, I have to wait around 40 minutes for Danny to get his perfect chopping on. But I don't mind it that much. Besides, hexahedron-shaped morsels taste better.
Some of my friends would consider the idea of giving a recipe for a salad quite entertaining. Especially since out here, this kind of salad is a staple on every family table, served almost every day.
The very bare essentials – which are, just like everything else in Israel, up for discussion – are cucumbers, tomatoes, and onion. The rest is up to your liking, and the amount of chopping patience you have. Just a handful of raw vegetables, finely chopped ("dak dak") and well-dressed (just olive oil and freshly squeezed lemon juice), will make a tasty bowlful of goodness. Great as a side, or on its own as a light meal.
The only rule of chopped salad is this: There are no rules. Use whatever vegetables you can find. It doesn't really matter which kinds you put in, as long as they're fresh, well chopped, and at room temperature. (Vegetables straight from the fridge tend to taste a little dull).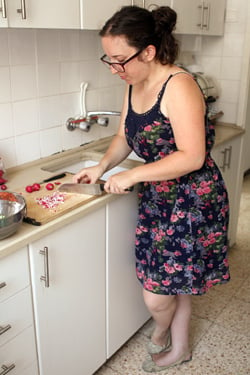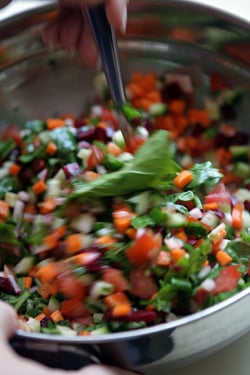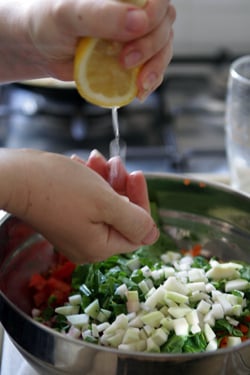 This rather elaborate version is a little more sassy than your average everyday salad, but worth the extra hassle. It's inspired by a tiny little cafe in the Mahne Yehuda food market in Jerusalem, called "May 5th". The owners will buy the fresh vegetables every morning from the next door produce stand, and keep them in a pretty basket, unrefrigerated, ready to be chopped to order. They also add in some raw beets (very finely chopped – delicious!), kohlrabi, a handful of toasted nuts and seeds, and, finally, balance it off with crumbled Tulum, a Turkish-style salty cheese they get at the Basher cheese stand. Although they didn't chop their vegetables into exact hexahedrons, I was still blown away by how fresh and substantial this salad was.
This salad might fool you: it doesn't look like much, but it packs a punch. You can add in more chopped arugula to give it more volume if you'd like – but you'll still be surprised by how filling it is. Again, you don't have to include all of the listed vegetables. It'll taste just as great with just half of them. If you can't find all the nuts or seeds, substitute others, or omit altogether. When I made this salad for David I even forgot the cheese and onion (and a thousand other things!), but it still came out great.
Israeli Salad
Maya's Note: Try to find small Persian cucumbers, as they are juicier and have a more concentrated flavor than the common "jet-puffed" supermarket cucumbers. David's Note: Maya calls for either cilantro or parsley, you could take it in a different direction perhaps with some fresh mint, chives, or a bit of tarragon. I've had salads like this in Greece, and other Middle Eastern countries (and even in America) where the locals adopt the idea and name it after their own country. Of course, this salad can be scaled up accordingly, to feed a larger group.
1

ripe tomato

1

medium cucumber

,

or 3 small ones

1

medium carrot

,

peeled

2-3

tablespoons

finely chopped red onion

5

red globe radishes

half a small beet

,

peeled

half a small kohlrabi

,

peeled

large handful of arugula

,

(lettuce can be substituted)

1/4

cup

finely chopped flat-leaf parsley or cilantro

2/3

cup

mixed nuts and seeds

,

(such as walnuts, sliced almonds, pine nuts, pumpkin and/or sunflower seeds – coarsely chopped)

1/3

cup

crumbled Feta or firm goat cheese

2-3

tablespoons

freshly squeezed lemon juice

,

(or more)

2-3

tablespoons

good quality extra virgin olive oil

,

(or more)

sea salt and freshly ground pepper
Chop all of the vegetables into the tiniest cubes you can manage. Preferably 1/4 inch thick (or Brunoise, as the French call it). Gather the arugula into a tight bunch and slice into thin shards. This makes the salad fluffier and easier to chew.

Toast the nuts in an empty skillet (no oil required) over medium heat, stirring or shaking the pan frequently, taking care not to burn them (watch out for pumpkin seeds, as they tend to 'pop' while toasting). Toast until the aroma is released and the nuts take on the slightest bit of color. Remove from heat and let cool.

In a medium bowl, mix all of the chopped vegetables with sliced arugula, toasted nuts, and dress with the lemon juice, olive oil, adding salt and pepper to taste (don't forget that the cheese is salty).

Check for seasoning and add more lemon juice and olive oil to your liking. Top with the crumbled cheese and serve immediately.
You can visit Maya at Bazekalim.
Related Recipes
Roasted Root Vegetable and Wheat Berry Salad
Creamy Feta-Red Wine Vinegar Salad Dressing