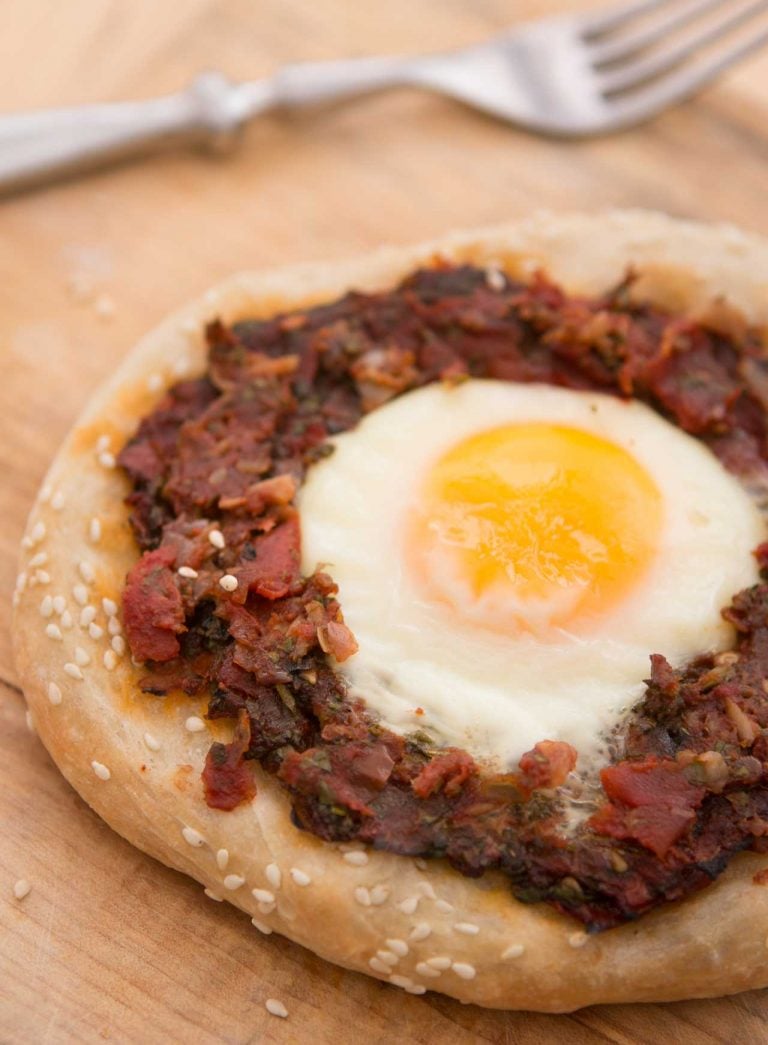 I wasn't always friends with no-knead bread, partially because I like kneading, and find those five minutes out of my day become the least-stressful activity that I know of. Although I worked at a bread bakery one night because I thought it might be interesting to become a bread baker. By the time we finished up, very early the next morning, my aching legs, back, and arms, helped me decide to stick to my current career path.
However, no-knead bread dough does dress up nicely, as evidenced in Bread Toast Crumbs, by Alexandra Stafford, which highlights not only how to make loaves of bread, but offers up surprisingly inventive ways to use it.
There's everything in the book, from soup and starters (Cabbage soup with Gruyère-rye toasts and Endive & fava bean salad tartines with herbed ricotta), to sandwiches and sweets (pear-frangipan toast, as well as toasted brioche with caramel and sea salt). But I was intrigued by the individual Shakshuka breads, a riff on the Tunisian baked egg dish that's usually eggs simmered in a spicy tomato base, served with plenty of bread to scoop up the eggs and jam-like tomato sauce.
The dough for these single-serving breads is simplicity itself. It takes less than a minute to put together, and the sauce can be made in advance, which I did. (Because, as you now know, I'm not a morning person and these were listed in the book as a "breakfast" dish.) So I had a leisurely morning, drinking my coffee and puttering around my apartment, then stirred together the dough before running out to do some errands. (Ok, I lied. I actually went to Pilates to work off everything I ate this winter.) After struggling through an hour of trying to make my core somehow reappear again, since it's buried under a stubborn layer of fromage, baguettes, and wine, around my midsection, I came back and finished the breads.
Since it's probably going to come up, I don't imagine za'atar is traditional in shakshuka. But since dried yeast wasn't traditionally added to bread, since you're already taking liberties, you get a pass with the sauce seasonings and you can customize it, adding ground coriander, paprika, or caraway for a little extra pizzazz, or use the seasonings I use to make shakshuka. (Since that recipe uses two cans of tomatoes, you can cut the spice amounts in half to use in the recipe here, which calls for one can of tomatoes.)
When I pulled the breads out of my oven around lunchtime, the smell of the spicy sauce and yeasty bread made me want to dive right in. Which I did, taking a bite of the freshly baked rounds smothered in spiced tomato sauce, with the soft yolk spilling out over the warm, sesame-seeded bread. I immediately forgot how hard I had worked holding that third plank pose our Pilates teacher made us do (which is part of the reason my midsection is really being especially stubborn) and quickly polished it off. Then I reached for another.
Shakshuka Bread
Adapted from
Bread Toast Crumbs
by Alexandra Stafford These were originally called "Individual Breakfast Shakshukas" although I'm not all that lively in the morning, so I had one (or two) for lunch instead. If you have more pep than I do in the morning, or want to make the dough in advance, Alexandra advises that you can assemble the dough using cold water and let it rise 8 to 10 hours at room temperature, then make the recipe as directed. Za'atar can be found in shops that specialize in Middle Eastern ingredients as well as on
Amazon
, or by mail order from
Kalustyan's
. (You can also
make your own
.) You could swap out
Ras el hanout
for the za'atar, if you have that on hand or it's easier to get, or check out my
Shakshuka recipe
, and use the spices listed there, cutting the amount in half for this recipe. I didn't test the bread with other kinds of yeast but there's a link below the recipe in case you're interested in the conversion.
For the sauce
1

tablespoon

extra-virgin olive oil

1/2

cup (60g)

diced onion

2

cloves

garlic

,

minced

kosher or sea salt

big pinch

red pepper flakes

1/2

teaspoon

ground cumin

1/2

teaspoon

za'atar

One

14 ounce (410g) can

diced or crushed tomatoes

2

tablespoons

chopped fresh cilantro
For the dough
2

cups (280g)

all-purpose flour

1

teaspoon

kosher or sea salt

1/2

teaspoon

instant yeast

1

cup (240ml)

lukewarm water
To assemble the shakshukas
6

teaspoons

extra-virgin olive oil

6

teaspoons

sesame seeds

,

plus a few more for finishing the breads

6

medium or large

eggs
To make the sauce, warm 1 tablespoon of olive oil in a skillet over medium heat. Add the onion and cook, stirring frequently, until they're soft and wilted, 2 to 4 minutes.

Reduce the heat to low and add the garlic and salt, stirring for a minute or so, until the garlic softens. Stir in the red pepper flakes, cumin, and za'atar, stirring for about 30 seconds to release their fragrance.

Add the tomatoes and any juice in the can. Increase the heat to medium, and cook for 5 to 6 minutes, stirring frequently, until the mixture is thick and still juicy, but not runny. Turn off the heat and add the cilantro. Set aside. (The sauce can be refrigerated for up to five days in advance.)

To make the bread, whisk together the flour, salt, and yeast in a medium bowl. Stir in the water using a rubber spatula until the dough becomes a sticky ball. Cover the bowl with a damp kitchen towel or plastic wrap until doubled in size, 1 1/2 to 2 hours.

To assemble the shakshukas, line two baking sheets with parchment paper or silicone baking mats. Put 3 individual teaspoons of olive oil in three puddles, equally spaced apart, on each baking sheet. Sprinkle 1/2 teaspoon of sesame seeds over each pool of olive oil.

Using two forks, scrape the dough from the edges of the bowl toward the center, to deflate it, then use the forks to shape the dough into a rough ball.

With the two forks, working from the center, separate the dough into two equal portions. Use a pastry scraper or spatula to transfer half of the dough onto a lightly floured countertop. Cut the dough into three equal pieces and roll each into a smooth ball, pinching the bottom seam closed as you tighten it up and roll it closed.

Place each round of dough on top of the puddle of olive oil and sesame seeds and roll it around to coat it. Let the dough rest for 20 minutes.

Preheat the oven to 350ºF (180ºC).

Using lightly oiled hands, stretch the balls of dough into disks, until the dough starts pulling back and resisting. Let the dough relax for 5 minutes, then stretch each one into a 6 or 7-inch (16cm) round.

Divide the shakshuka sauce in the centers of each round of dough and spread it almost to the edges with the back of a soup spoon, leaving a 1/2-inch (2cm) border. Use the spoon to make a crater-like deep impression in the center of each round of dough and sauce, which will hold the egg later. Brush the exposed rims with water and sprinkle with some additional sesame seeds.

Bake the shakshuka bases for 15 minutes, rotating the baking sheets in the oven, and switching them on racks, midway during baking.

Remove the breads from the oven and use a soup spoon to redefine and deepen the indentation in the center of the sauce, and create little rims in the sauce, so the egg won't run out. Crack an egg into the center of each. (Tip: You might find it easier to crack each egg into a small bowl or teacup first, then tilt them into the breads.)(As you place the egg on top of each, use a tablespoon to futz with the sauce and build a fortress-like barrier, if some of the egg wants to run out.

Carefully put the baking sheets back in the oven and bake, rotating the baking sheets as they cook, until the whites of the eggs are just cooked and the yolks are barely set, 8 to 12 minutes. Serve warm.
Related Recipes and Links
Ingredients for American Baking in Paris
Yeast Conversion Table (Red Star Yeast)
Man'ousche: Za'atar Flatbreads