Blueberry Buckle with Lemon Syrup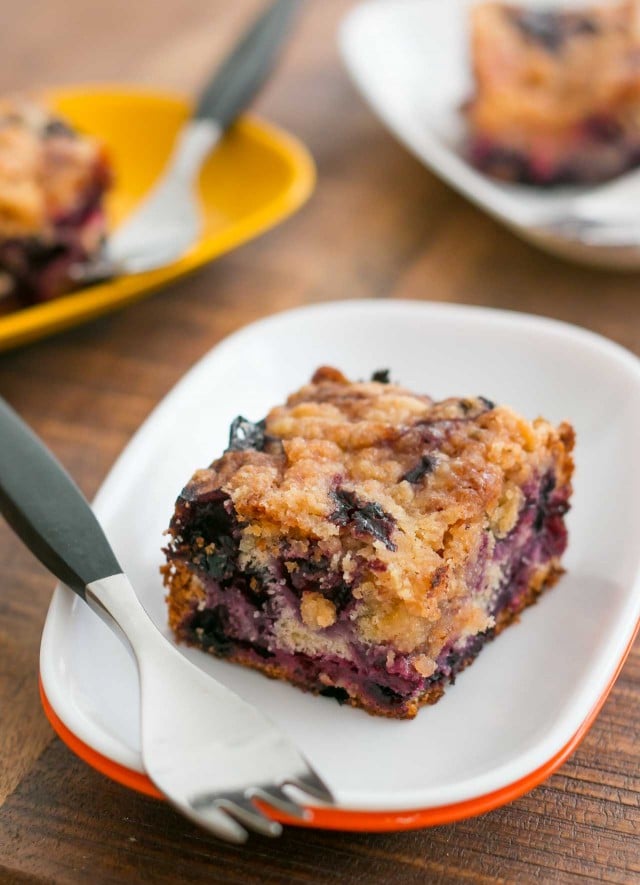 We sure do have some goofy-named foods in America. Britain has their "fools" and "messes," and France has "bêtises," which translates to "stupidities" – as well as pêts de nonne, which, because I'm polite, will only say that refers to the wind that comes out of the backside of nuns – and leave it at that. Stateside, we have our grunts, buckles, and pandowdies, as well as burgoo. And it's hard to explain to foreigners, but we also drink mules. Go figure.
But most of our quirky dessert names reference baked fruit or berry desserts, which seem a little tame in comparison to our bolder European counterparts. But I'm fine with that, as I'm not sure I want to eat anything with "flatulence" in the title. 
There are a couple of theories for the name "buckle." One is that the berries "buckle" under the weight of all the topping. Another is that a young woman made this in a Pillsbury Bake-Off, claiming that it was so good that it made boys "buckled under" when they tasted it.
This particular buckle is adapted by Rustic Fruit Desserts, a friendly little cookbook by Cory Schreiber and Julie Richardson that came out a while back, which I'm revisiting now that it's blueberry season. It's the kind of baking book you want to keep handy, especially when fruits like blueberries, nectarines, and even rhubarb is in season. It's compact, but filled with home-style fruit recipes, the kind we all want to make. No matter what you call them.
Blueberries are something we get, when we find them, in small, measured doses in Paris. If you do come across them, they're usually from some distant land and sold in small paper or plastic barquettes with about a dozen berries lolling around in it. So when I'm in the states during the summer, I hoard blueberries and buy 'em at least 2 pints at a time, eating half of them by the handful right from the basket.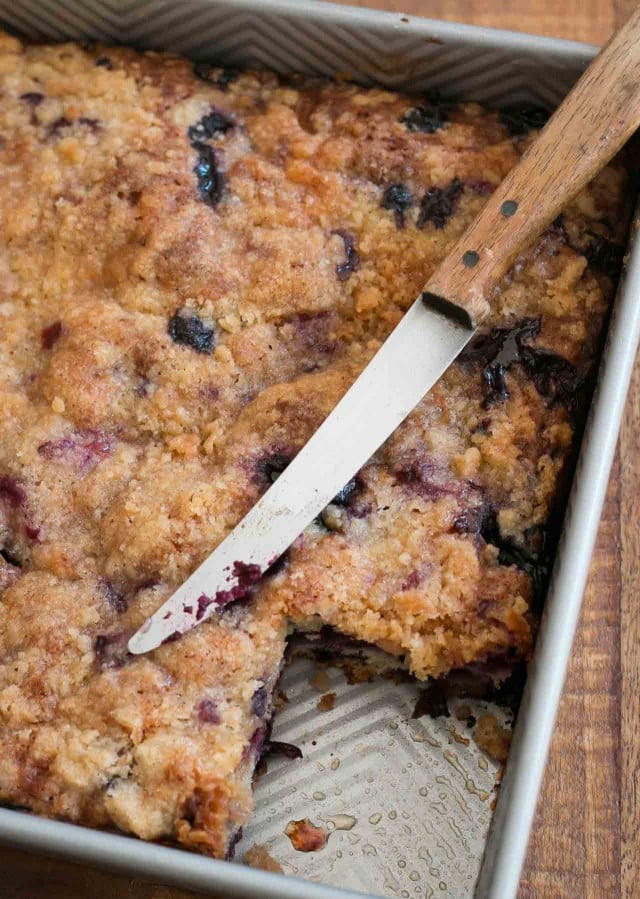 Fans of less-sweet desserts, especially those who like the tangy taste of lemon, will like this buckle a lot. The syrup that's doused over the top when the buckle comes out of the oven takes it in a less-traditional direction than the usual fruit-baked-in-batter buckle, although there's nothing wrong with that. If you prefer, you can omit the lemon syrup.
If you have slightly sweet Meyer lemons, those would work wonderfully although I used regular lemons and found the contrasting pucker interesting, as well as a good way to dial-up the moisture of the buckle. (Although I'm still on the fence about it, because as a New Englander, I don't always cotton to people messing with tradition.)
I also dialed up the amount of blueberries used in the original recipe because, well, that's how I roll. So here's to summer blueberries, in all their juicy splendor, dotting and swirling their way through a buttery batter, topped with a crunchy topping, finished with a flavorful lemony syrup. In spite of the funny name, I think you'll find yourself doing something else other than laughing after you taste it. In fact, you might just buckle, too.
Blueberry Buckle with Lemon Syrup
Adapted from
Rustic Fruit Desserts
by Cory Schreiber and Julie Richardson Adding the lemon syrup is an intriguing idea that was part of the original recipe. It's tangy but does take some of the spotlight off the berries. If you want to omit it, you might want to increase the amount of cinnamon or nutmeg slightly in the batter to give it a little more pizzazz. Other fruits can be used, such as sliced or diced plums, nectarines or apricots. Avoid fruits that are extra-juicy, though, as they may interfere with the batter setting. Raspberries or blackberries can be used in place of the blueberries, or mixed with them. (Blackberries are rather seedy, so I'd definitely mix them with other berries.) If you want to swap out other fruits, use the same amount by weight or volume as the blueberries listed in the ingredients. You can use frozen berries if you'd like. Just don't defrost them first, since they'd get too juicy. Add them frozen, right to the batter. If you don't have buttermilk handy, you can put 2 teaspoons of lemon juice or white vinegar in a measuring cup and add enough whole or lowfat milk to equal 1/2 cup (125ml). Stir gently, then let sit for ten minutes until it curdles slightly, and use that.
Topping
4

tablespoons (55g)

unsalted butter

,

cubed and chilled

1/2

cup (100g)

sugar

1/3

cup (45g)

flour

1/2

teaspoon

ground cinnamon
Batter
6

tablespoons (85g)

unsalted butter

,

at room temperature

1

cup (200g)

sugar

zest of 2 lemons (use the same lemons for the syrup

,

below)

1 1/2

cups (230g)

+ 2 tablespoons flour

1

teaspoon

baking powder

,

preferably aluminum-free

1/4

teaspoon

baking soda

1/2

teaspoon

salt

1/2

teaspoon

ground cinnamon

,

or 1/4 teaspoon ground nutmeg

2

large eggs

,

at room temperature

1/2

cup (125ml)

buttermilk

,

at room temperature

3

cups

(1 1/2 pints

,

475g) blueberries
Lemon Syrup
1/3

cup (65g)

sugar

juice of 2 medium lemons (about 6 tablespoons

,

90ml)
Preheat the oven to 350ºF (180ºC). Butter a 9-inch (23cm) square cake pan.

Make the topping by crumbling together the butter, sugar, flour and cinnamon with your hands or a pastry blender until the pieces of butter are broken up and are about the size of small peas. Set aside.

To make the batter, in the bowl of stand mixer fitted with the paddle attachment, or by hand in a bowl using a spatula or wooden spoon, cream the butter, sugar and lemon zest together until light and creamy, about 3 minutes. Add the eggs one at a time, stopping the mixer a few moments after you add each egg to scrape down the sides of the bowl.

Sift together the flour, baking powder, baking soda, salt, and cinnamon or nutmeg into a medium-sized bowl. With the mixer on low speed, add half the flour mixture, then stir in the buttermilk.

Add the remaining flour mixture, mixing just enough so it's barely incorporated (there will still be dry bits of unincorporated flour), then remove the mixer bowl from the machine and using a flexible spatula to gently fold in the blueberries in, just until they are incorporated. Do not overmix – you don't want to smash the blueberries and stain the batter.

Scrape the batter into the prepared baking pan and smooth the top. Strew the topping over the blueberry batter and bake until the buckle is lightly browned on top and feels just set in the center; it'll spring back lightly when you touch the center. It'll take about 55 minutes.

When the buckle is almost finished baking, make the syrup by heating the lemon juice and sugar in a small saucepan over medium heat, cooking it until it thickens. It's done when the bubbles get larger, and when removed from the heat (which you might want to do a couple of times while it's cooking, to check), the consistency will be like warm maple syrup. It'll take about 5 minutes.

8. Remove the buckle from the oven and pour the warm lemon syrup over it, letting it soak in. Serve the buckle when it's cool enough to slice. It's good warm or at room temperature. Whipped cream or vanilla ice cream make nice accompaniments, although none are really necessary.
Notes
Storage: The buckle can be kept for up to three days at room temperature, if well-wrapped. It can be frozen for up to two months. Not sure if I would pour the syrup over the buckle if I was planning on freezing it, though. You could defrost and rewarm it in a low oven, wrapped in foil, then add the syrup before you plan to serve it.