Epicure Restaurant at The Bristol Hotel
It was quite a summer, starting with sipping homemade cherry wine, a picnic at Versailles, checking out the Le Creuset factory, and frying up a batch of "French" fried chicken in a sizzling pan of duck fat.
A few weeks later in the season, I was pulling a cherry clafoutis from my oven, grilling deviled chicken, and pickling strawberries, to take care of the overload from the outdoor markets that I couldn't resist lugging home.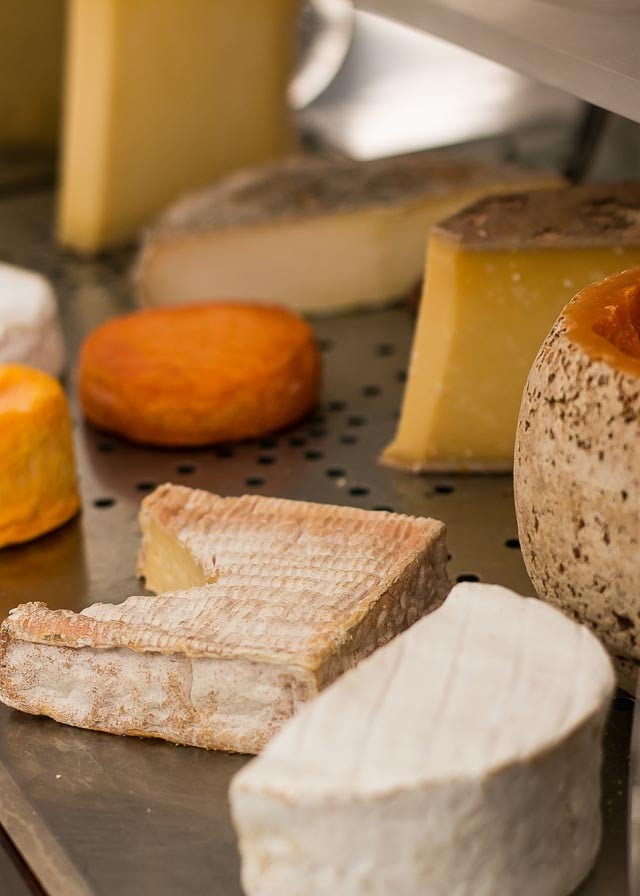 As summer rounded the bend, I was cracking fresh lobsters and clams after days on the beaches of Cape Cod, refreshing myself with strawberry coolers and gin and tonics, before getting excited about the brisk, cool weather of fall arriving. Not.
Sprinting to the end of summer, I got my fill of corn, tomatoes and basil in my go-to salad. And that was that, in terms of summer for me.
I love summer and coming from San Francisco, where seasons don't exist, at least weather-wise, it always a pleasure to experience it. It's said that when you live in San Francisco, the only way you know what season it is, is by going to the market and seeing what's available. If there are peaches, it's summer, no matter how much the fog swirling around you might make you think otherwise. Personally, I'm not quite looking forward to fall quite yet. And I know that at some point, I'll be happy to see all the apples and pears. But for now, I want to hold on to summer as long as possible.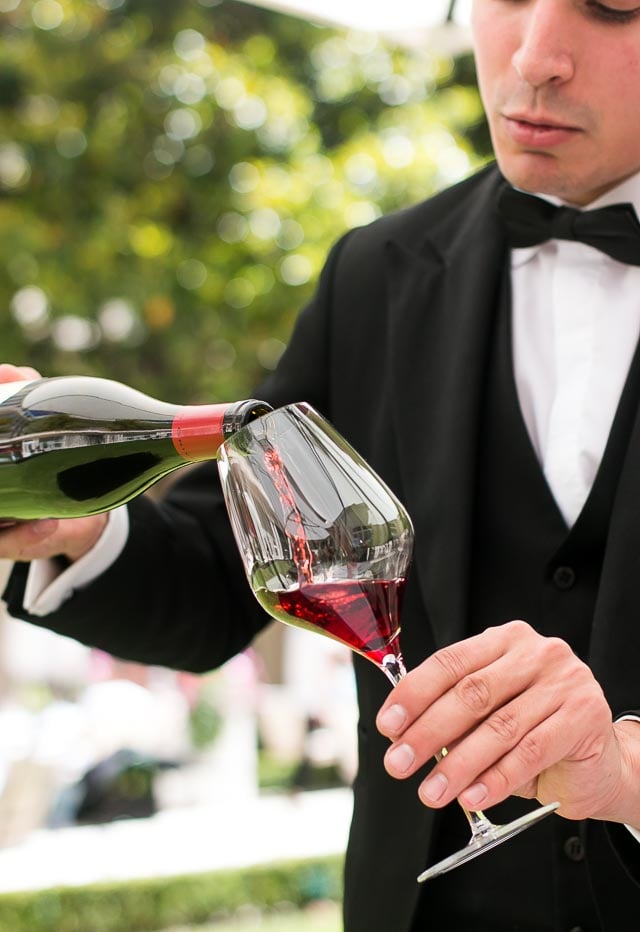 At the very start of the summer, before the beaches, berries, and bivalves, we had lunch at Epicure, the three-star restaurant at The Bristol hotel in Paris. I had eaten there years ago, but after a full-on renovation at the hotel, they invited me to come back to give it a whirl. The previous time we'd eaten there, we were with a chef friend from Napa Valley, and while we had a great time, I don't remember much of the dinner. (Perhaps that's also because she's a sommelier, and we tasted a lot of wine?) This time, both Romain and I were pretty much blown away by the spectacular experience. It was pretty unforgettable.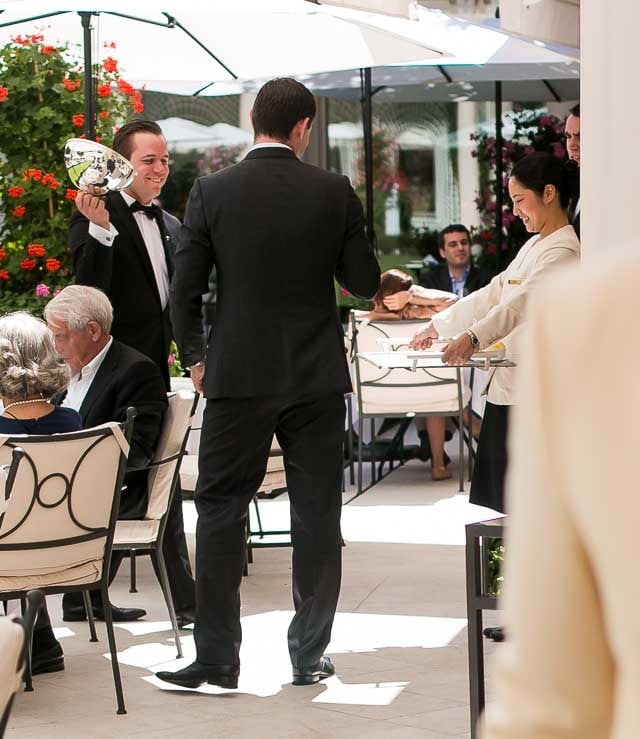 A French writer once asked me why I thought in a country not known for great customer service, you had such amazing customer service in three-star restaurants. I didn't quite know the answer (I kind of wanted to know what he thought…since it was his country), but I am always amazed at the subtleties in the service at restaurants like Epicure.
I like the watch as the French servers go from table to table, being a little more formal with French customers, who have different relationships with servers than Americans do. In formal places in America, the waiters may introduce themselves by their first names to us. And we might immediately become pals. In France, the relationship is cordial and seamless, without being overly familiar – it always très correct. Unless you're a regular customer (or with Romain, who everyone seems to take to right away), there is a different distance between waiters and customers as we are used to in the states. In France, servers are expected to serve and to do it well, not necessarily becoming your friend – real or imagined – in the process.
I told Romain that I thought the server, who wore the ivory-colored jacket (photo down below), in a different world, would be my best friend because he was funny, engaging, and naturally jovial. (I think I'm still très américain…) But the waiter also told us he started work very early in the morning, which puts a kibosh on heading out for late-night drinks. C'est comme ça. 
(And being Romain, he had to tell the waiter what I said about him, which made me very embarrassé. So if you have a French partner like mine, you have to watch what you say.)
I love watching the subtleties of polished servers, like those who work in restaurants like this, calmly floating between tables, sizing up customers by their cultures and demeanors, and adjusting their service accordingly without being obsequious or condescending. Because I've worked in restaurants, it's pretty easy to tell from a small roll of an eye, or an exasperated sigh in passing, when a service person is vexed. It's a real art to make service as seamless and as pleasant as possible, tailoring it to each table and diner.
In some instances, I've dined in three-star restaurants and haven't been as impressed by the food as I thought I should be. But this time, the experience, and the meal, and the service, was sensational.
Our lunch started with a squat chorizo and olive-flecked savory kugelhof, presented to us in a little ceramic mold. I was secretly wishing I had brought a sack so I could swipe it. (And if I had mentioned it to my other-half, he probably would have found a way to do it.)
Next up with a tiny trio of tastes; a squat foie gras cream puff, smoked eel (on a stick), and a little taste of summer vegetable soup, topped with pea shoots and fresh herbs. Now if I could only find where to get those pea shoots in big bags, like you can in Chinatown in San Francisco and New York, because they are one of my favorite things. And since Romain discovered them on a recent trip to the states, they're his too.
Then we were each presented with a dome of carrot-ginger mousse in a jiggly pool of fennel jelly. I don't love fennel, but the slight anise-like bite was the prefect palate perker-upper, especially with the naturally sweet – and colorful – carrot puree, perched on top.
At restaurants like this, the bread is often the co-star of the meal, backing up the rest of the food, rather than an afterthought or something just to wipe your plate clean with.
Made on the premises, there was a wide choice of little loaves, but we couldn't get enough of the pain aux céréales, riddled with toasted seeds. Boy, was that good bread. And although it's not normal to eat bread with butter in French restaurants, in upscale places like this, both sweet and salted butter are brought to the table, and the salted one is always the first one to disappear. In fact, they usually have to bring us more. (And no, not because someone at my table is swiping it…)
Meals like this can be very filling, so it's important to pace yourself, not matter how much bread you want to stuff in your craw. We asked to split the macaronis farcis, tubes of homemade pasta stuffed with black truffles, artichokes, and duck foie gras in a Parmesan sauce.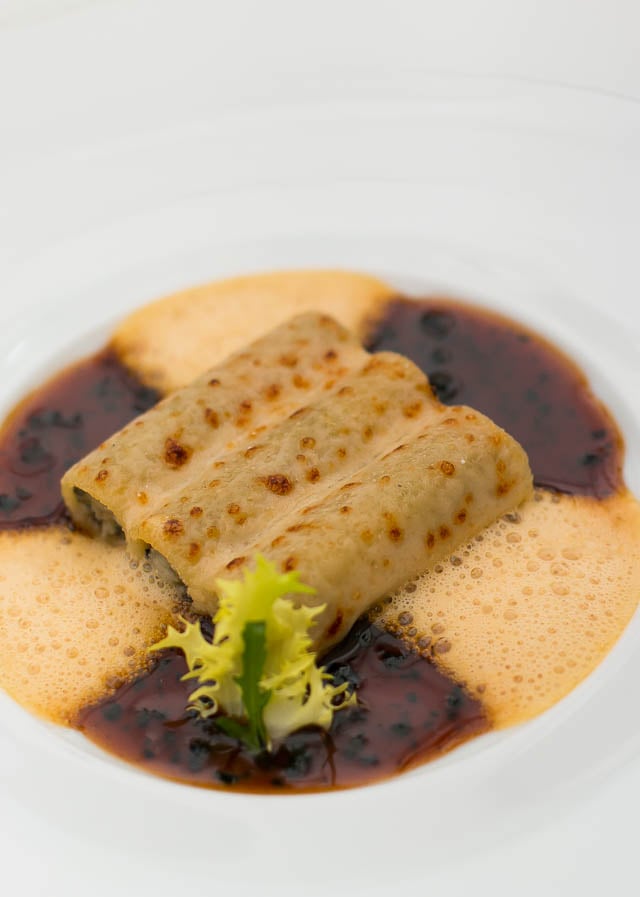 I've had versions of this dish before. And while it's not something you could eat everyday, due to its richness, this version I could. It's just a great combination, and here, it's executed perfectly.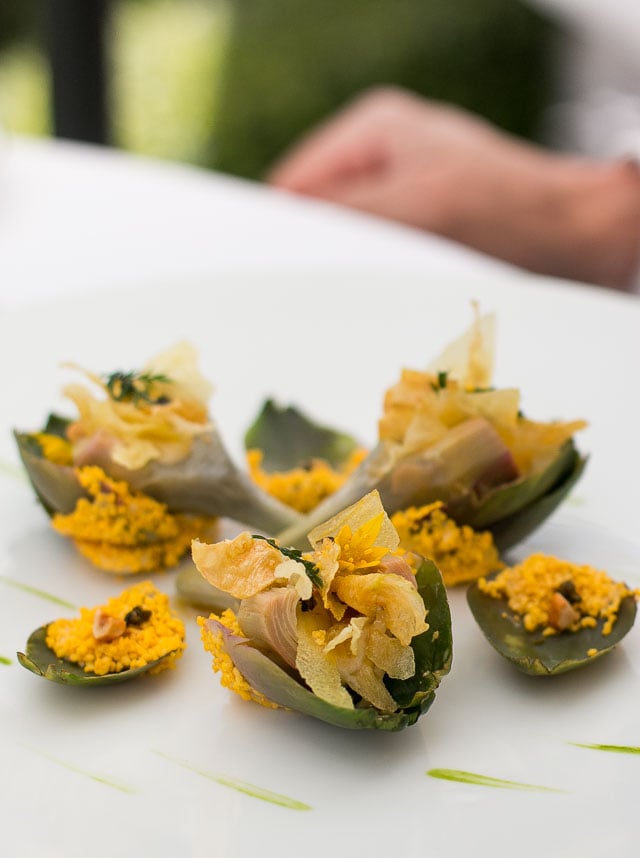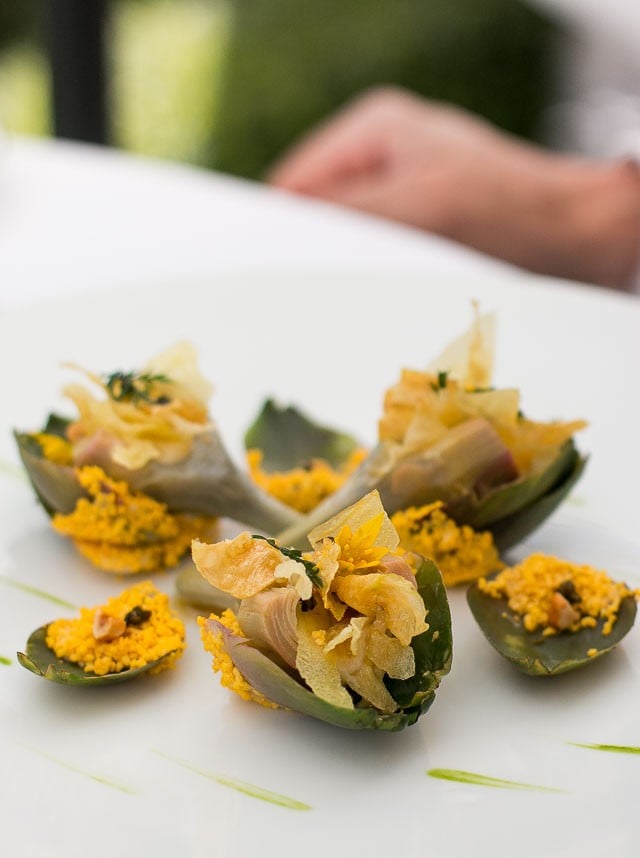 For entrées, Romain had the artichaut de Provence, roasted artichokes with anchovy filets, wisps of deep-fried pink garlic, walnut oil and toasted hazelnuts. It was a good omen of the season, but I went with the tourteau de Roscoff, a dish that had me uncharacteristically speechless, which was an overload of freshly picked crab meat from Brittany, tart green tomato jelly and "mayo" infused with coral and tarragon. Wow. Normally I don't like sharing dishes because I'm selfish and want to keep it all to myself, but this was too good not to.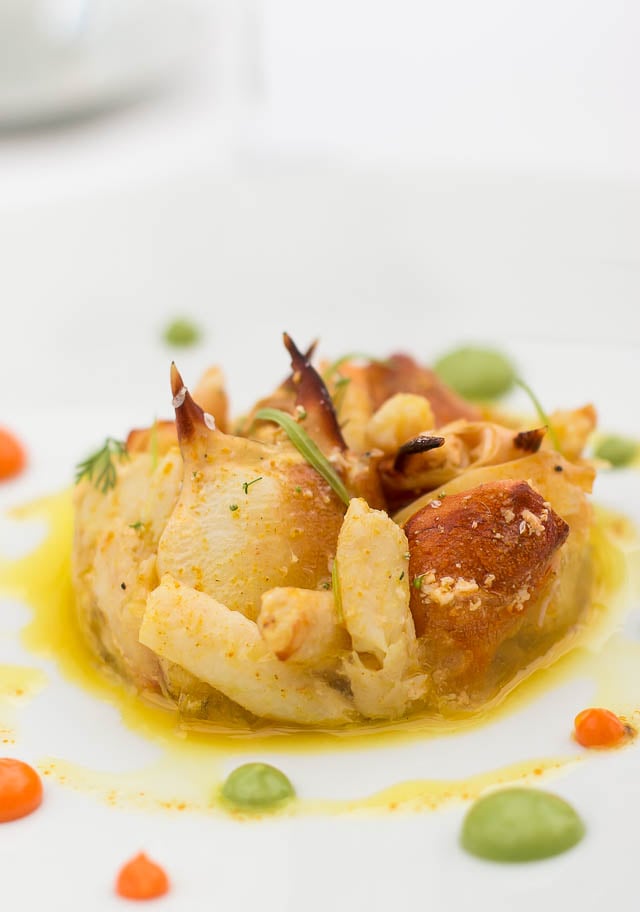 There was so much crab, that I unselfishly let a wandering fork take a few bites, until I put a stop to it, and finished it up on my own.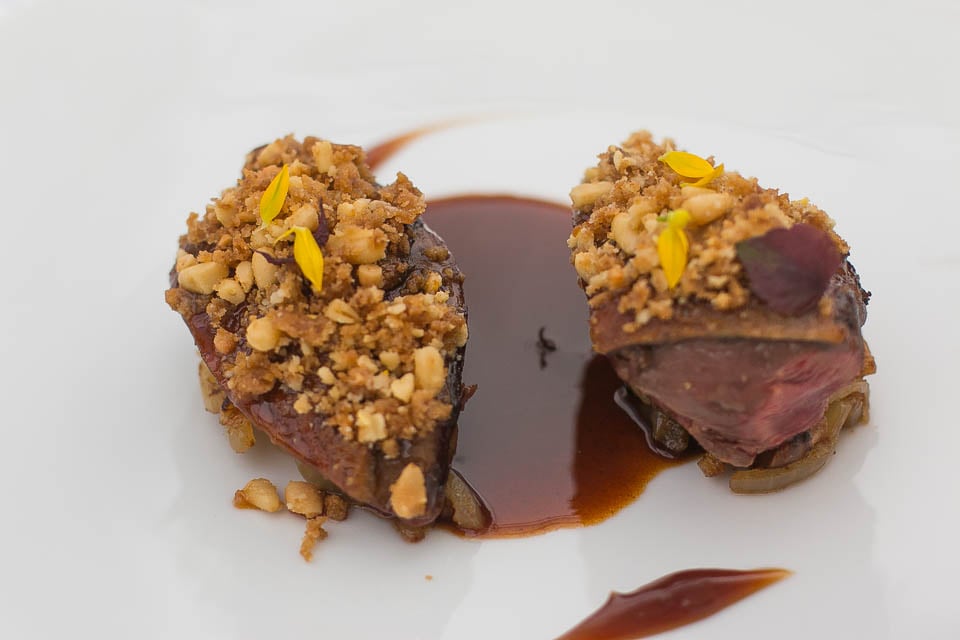 For main courses, I went with the honey-lacquered pigeon breasts from Bresse, which was a substantial portion, and came crusted under a crumble of pine nuts and toasted cumin. I made it about halfway through; in spite of how delicious they were, the rosy breasts were very filling.
Romain had the fancier milk-fed lamb roasted in a crust of nori (seaweed), piment d'Espelette (red pepper powder), with herb gnocchi along with an ultra-smooth kohlrabi puree. I think he was still pining for more of my crabmeat.
The cheese cart is always hard to resist in France. While some places pull out all the stops, and wheel out what looks like a hundred cheeses packed onto the trolley, I'm happier with a more well-edited selection since I know my favorites, although am happy to discover some new ones. I'm suspicious of restaurants that offer too many things. I figure it's really hard to maintain quality when there are so many choices. And often, unfortunately, I'm proved right.
And the frugal part of me wonders what happens to all those half-eaten cheeses at the end of the night. There are only so many cheeses that can be consumed at staff meal, although I didn't take it to ask my new (and imagined) BFF, the waiter.
The cheeses on the cart were ripened and chosen by Marie-Anne Cantin and Bernard Antony, considered two of the best fromagers and affineurs (ripeners) in France. I had little bit of Roquefort, some aged Mimolette, a bâton of Comté, and a slim wedge of Saint-Nectaire, along with a plump, candied plum. And yup, all that cheese was another excuse to get them to bring back that overloaded bread basket.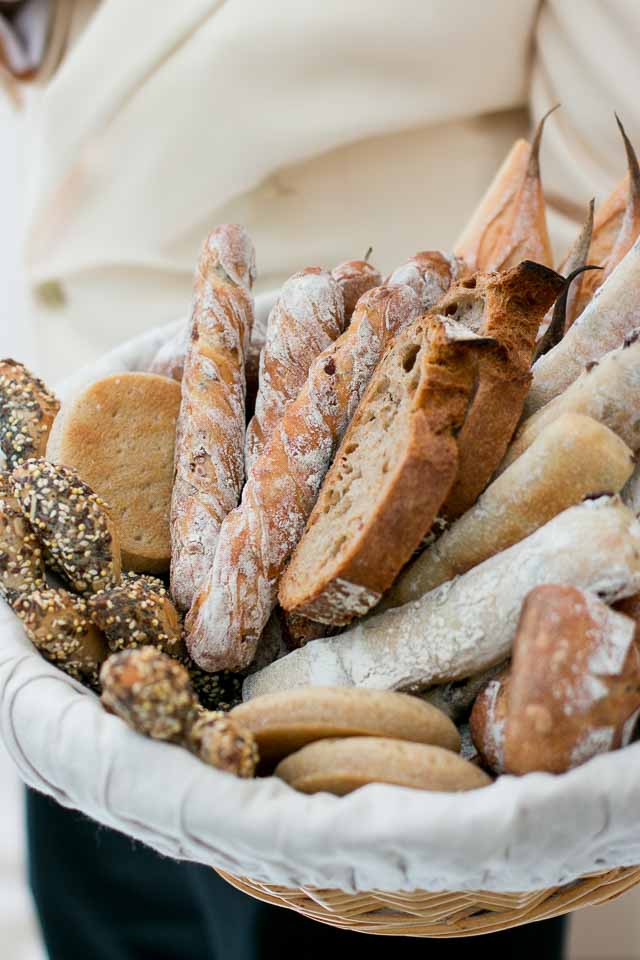 To segue between the savory part of the meal and dessert, out came bowls of strawberry jelly with tiny fraises des bois (wild strawberries) as a sauce, topped with shaved basil-green apple granita and a berry draped with gold leaf. The luxuriously flavored wild berry puree, in contrast with the herbaceous frozen, tangy/tart ice was exactly the right transition to the desserts that followed.
After all that food, the last thing you want to face is an overload of excellent desserts, not just because the radin (frugal…or cheap) part of me doesn't like to leave food behind on the plate. But because overeating isn't my thing. On the other hand, I hate missing out on dessert – especially gone ones!
Pastry chef Laurent Jeannin isn't the household name other French pastry chefs are, who've gone on and opened bakeries so they become more well-known to the public. But if I have any say in the matter, judging from the desserts that we had that afternoon, he's quite possibly the best pastry chef in Paris.
Our first dessert was one of the best desserts I've ever had. Burlat cherries were halved, then sautéed in a pan with cassonade (unrefined brown sugar), bubbling butter, and Cherry Heering liqueur.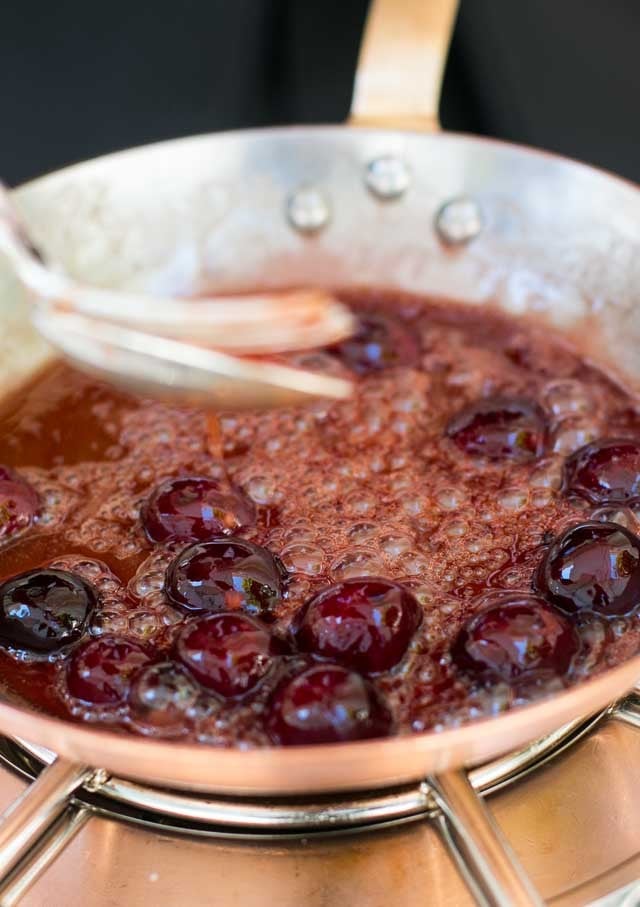 After being sautéed tableside in a shiny copper pan by one of the smooth servers who happily chatted us up during our meal, the sweet red cherries were doused with kirsch to flambée them before being spooned next to a scoop of intensely flavored cherry sorbet, which no doubt had just been churned just moments. After we finished it, I was going to pretend that I wanted to get a better shot and have him remake it, but I didn't think that would be nice. (And when I got home I realized that the most pictures of our meal that I had taken were of that dessert. I was so entranced by it.)
Right next to the cherries was a blown sugar "cherry," filled with crème de pistache Sicile. A sharp blow to the side cracked the thin sugar shell, allowing use to spoon up the pistachio mousse inside. It was amazing. (And one of those desserts that if done wrong, would come off like a mediocre dessert served at a conference.) Here it was perfectly light and ethereal, with the bright, nutty-green taste of Italian pistachios coming right through, a pairing perfectly with the cherries. Bravo chef!
(And check out the edible decoration on that plate. Those tiny cherries on stems are so classy…and beautiful.)
The other dessert was Café de Colombie, a mound of mocha madness made up of dark Colombian coffee ice cream and mousse, caramelized pecans enrobed in gold, and hot chocolate sauce.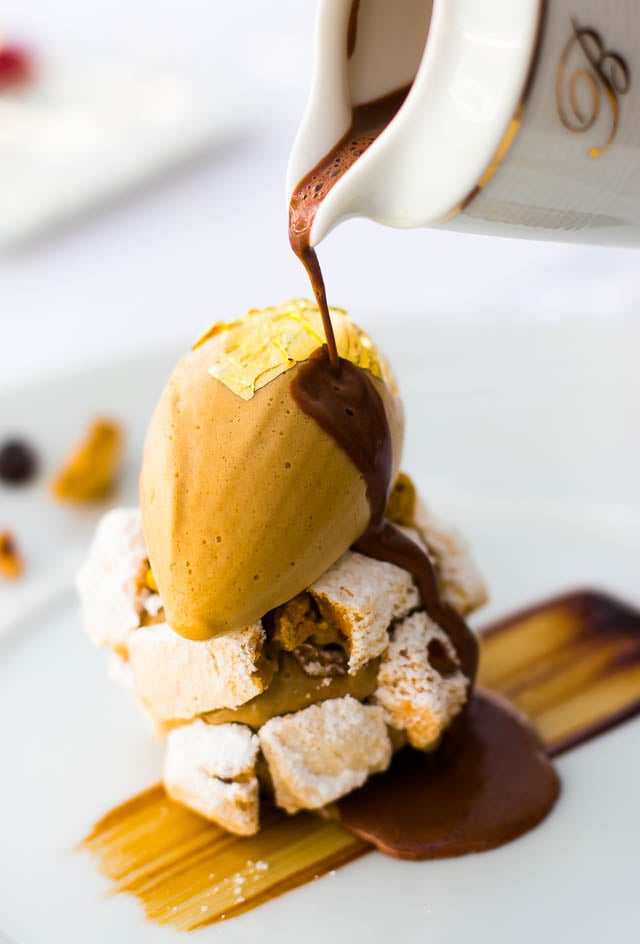 Normally after all this food, the last thing you want is an overload of desserts. But each had a legerité that made them easy to finish. (And want more.) This dessert, in the wrong hands, could have been a dense, heavy chocolate mousse, the "nail in the coffin," as I sometimes call it when desserts are way too heavy for the meal that preceded it. But it was light, yet had bold coffee and chocolate flavors, with a light texture that made it just right after our lunch. Bravo, again.
(We didn't order it, but one of the classic desserts at Le Bristol is the Précieux Chocolat "Nyangbo," which has a rating of 150% on the "Wow factor" meter. It's a modernist dome of chocolate and we watched many of our neighbors, with a little bit of envy, break into that.)
Like most multi-starred restaurant, there is more after the desserts, which arrive in the way of mignardises, a selection of little mouthfuls that you might enjoy with coffee, or just as a little post-meal treat.
There were salted butter and mango/passion fruit caramels, chocolate dipped candied orange zest, clusters of nuts enrobed in dark chocolate, mint marshmallows (I still prefer vanilla), and a box of macarons, including salted butter caramel, cassis, pistachio and our favorite, coconut-milk chocolate.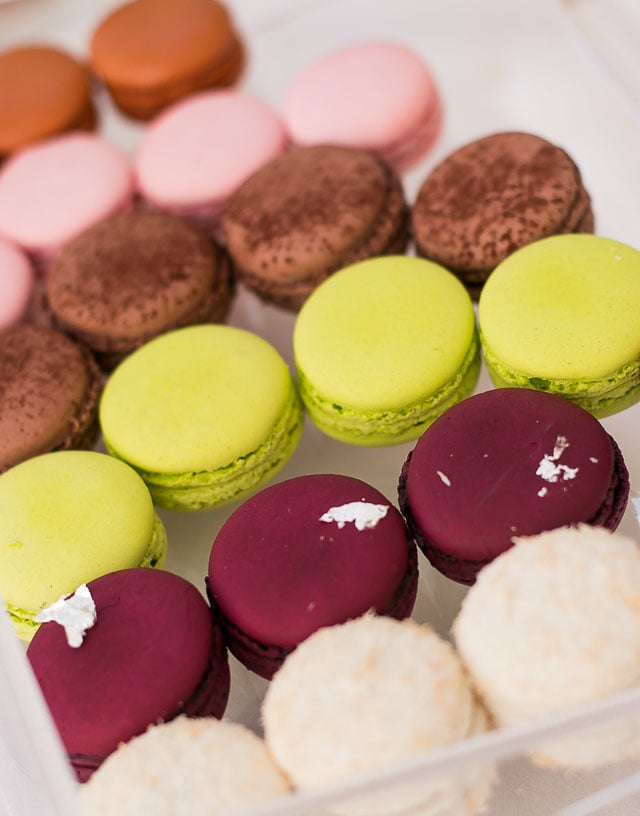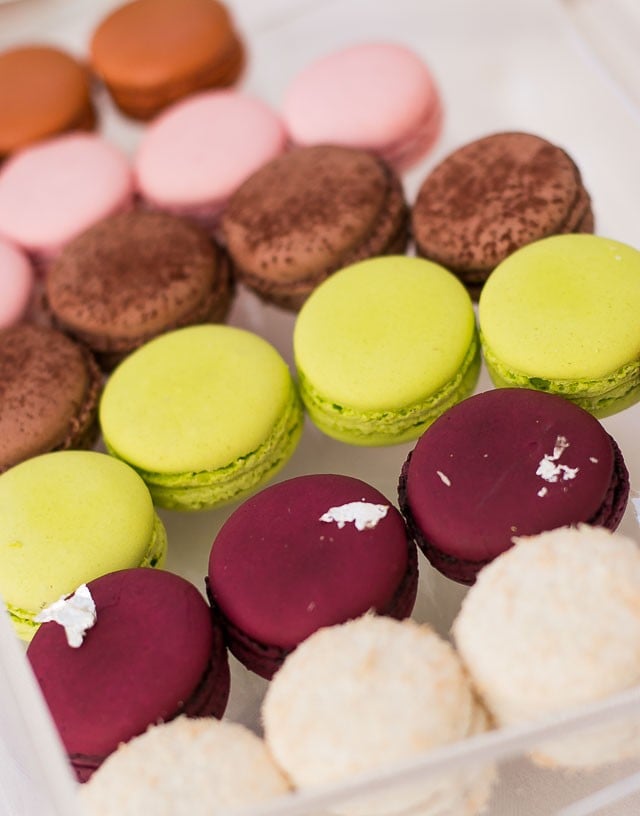 We were pretty satisfied but took a taste of everything, just a bit, before pulling out seats away from the table, ready to head home.
However just after leaving, the staff, who had been so lovely and provided great service with just enough grandeur to make the lunch feel special, rushed over a tray of warm Madeleines, which made the day a little sweeter.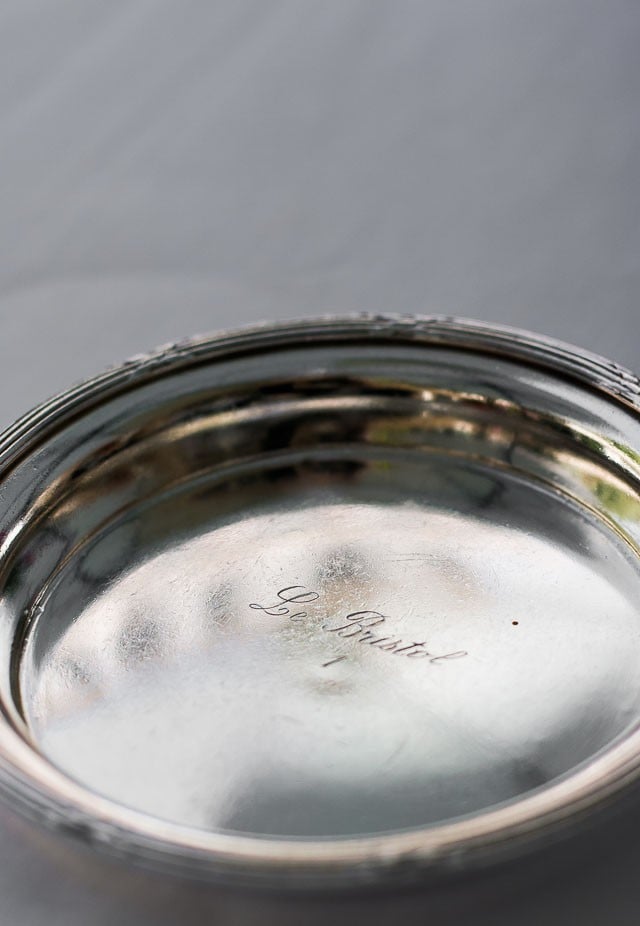 Epicure at The Bristol Hotel
112, rue du Fauborg Saint-Honoré (8th)
Tél: 01 53 43 43 40
(Note: As mentioned in the story, we were guests of The Bristol for lunch.)