Paris Favorites: Eating, Drinking and Shopping
A number of folks consult the site for information about Paris, but it's always best to get some second opinions. So I asked a few friends and in-the-know colleagues about their favorite places around the city, and I'm happy to share them with you.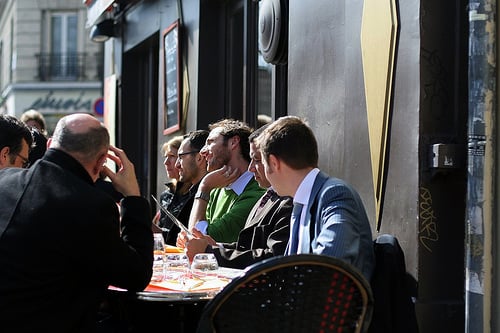 Included are links, when available, for complete addresses and additional contact information. Hours change and places close in Paris without notice so it's best to call first before visiting. For restaurants and wine bars where food is served, reservations are strongly advised.
If there any Paris favorites that you'd like to share, please feel free to do so in the comments. I'd love to hear about them.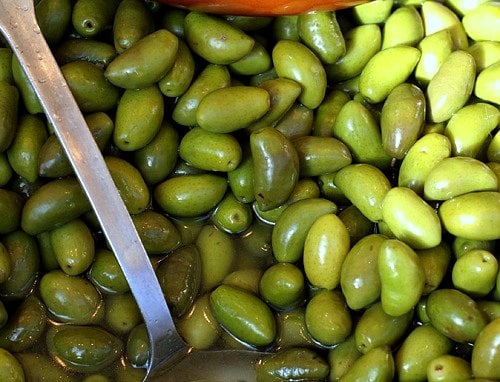 Favorite Outdoor Market
"Paris markets are one of my favorite subjects. I can go to the same market every day of the year and still always find something new. I regularly visit the boulevard Raspail market, a "regular" market Tuesday and Friday, organic (and expensive!) on Sunday. The fish merchants there are incredible on all days, and I adore the poultry people at the Tuesday and Friday market. I love testing one fish market or cheese stand against the other, grading them on each purchase. For 20 years I lived near the rue Poncelet market and still have a soft spot there, especially for Alléosse cheese and coffee beans from Brûlerie des Ternes."
"When I have time, I also love the President Wilson market on Wednesday and Saturday, where of course one finds the famed produce from Joël Thiebault but also wonderful fish, fresh crêpes, and Lebanese specialties. The market is near my dentist's office so I always schedule a Wednesday morning appointment."
Patricia Wells, of Patricia Wells.com
(Author: Bistro Cooking and The Paris Cookbook)
Favorite Wine Shop
"I'd highly recommend Caves Augé (116, blvd Haussmann, 8th.) Allegedly the oldest wine shop in Paris, this shop is very strong in "natural" wines. Don't be put off by the sometimes prickly staff and be sure to ask for their help since the basement of the store is a wine geek's treasure trove. Also not to miss are the massive producer tastings in the spring and fall that spill–and spit–onto the sidewalk."
Tyler Colman, of Dr. Vino
(Author: A Year of Wine)
Favorite Romantic Restaurant
"My favorite romantic restaurant is Lapérouse (51, quai des Grands Augustins, 6th.) It has beautiful historic decor, the food is fabulous without being absurdly expensive (especially at lunch), the service is formal but friendly, and — best of all — you can reserve a very private table for two in one of the "salons privés". Oh la la!"
Heather Stimmler-Hall, of Naughty Paris
(Author: Naughty Paris: A Lady's Guide to the Sexy City)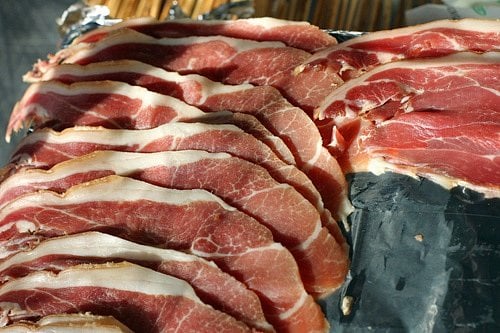 Favorite Place to Buy Oil
"For nut oils, my favorite place bar none is the Huilerie Leblanc oil shop on rue Jacob. Their oils are simply a privilege, in both flavor, texture, and color.
If you are talking about extra virgin olive oil, my favorite place is anywhere I find excellent quality. In Paris that is often Oliviers & Co. because I like their focus on small producers."
Susan Loomis, of On Rue Tatin
(Author: The French Farmhouse Cookbook and Cooking at Home on Rue Tatin)
Favorite Off-The-Beaten-Path Bakery
"While researching my favorite off-the-beaten-path bakery in Paris, at Véronique Mauclerc, a delightful boulangerie near the Parc des Buttes Chaumont, I may have found a new favorite which just happens to be even more out of my way. This temple to organic, whole-grain, wood-fired oven breads has spawned a new boutique on the charming market street that is rue Poncelet, at number #11. Closer inspection reveals that this shop specializes in German and Austrian pastries, the window filled with pretzels, cheesecakes, and rustic fruit-filled tortes."
"The linzer tart is a good afternoon snack, and the flaky strudel makes a great breakfast. But the cheesecake! I think I giggled a little bit when the first forkful passed my lips, it's that good. Much lighter in texture than the American cheesecake I'm accustomed to, it scratched an itch I didn't even know I had. While I love the fact that Véronique Mauclerc is woman succeeding and thriving in the male-dominated boulangerie field, I love her bread and Bavarian-style pastries even more."
Camille Malmquist, of Croque-Camille: Food Adventures in Paris
Favorite Ethnic Grocer
"It's tough to pick a favorite ethnic place in Paris, more so because of the ambiguity of the word. I mean, American – as in from les États-Unis – could be defined as ethnic, so let's just say non-Western. While les deux Chinatowns are fairly well known, as well as a few Japanese and Korean grocers, one of my favorite ethnic sources in the city is the Philippine Mini-Mart (81, rue Boissière, 16th), just off Place Victor Hugo. The arrondissement's network of Filipino housekeepers, nannies, and drivers steadily stream into the tiny, immaculate storefront for their favorite brands of bagoong guisado (sautéed shrimp paste) as well as fresh produce including green mangoes and baby bitter melons. I always get a sack of locally fried chicharrones – delivered daily – which are huge and crunchy with a fair amount of tender fat still attached."
Louisa Chu, of Movable Feast
Favorite Place to Share a Plate of Oysters
"When a craving for oysters strikes, I head to Huîterie Régis (3, rue de Montfaucon, 6th), a compact (there are only 14 seats when the terrace is closed), pristine (almost everything in it is white) and friendly place with perfect oysters – they serve just about nothing else – and a small selection of good go-with-oysters wines. That it's in the heart of Saint-Germain des Pres, in view of the covered market and just steps from Pierre Hermé's patisserie, makes it not just excellent, but convenient for a quick oyster-break after a day of shopping, sight-seeing or macaron munching."
Dorie Greenspan, of In the Kitchen and On the Road with Dorie
(Author: Paris Sweets and Baking: From My Home to Yours)
Favorite Candy Shop
"My favourite candy shop is in the 9th, called A l'Etoile d'Or (30, rue Fontaine, 9th.) The woman who owns it is wonderful and is has an excellent selection of the best chocolate and candy from all over France. You can indulge in a caloric tour de France in her shop. A visit to this shop is great fun and full of delicious surprises. The owner is charming and her shop with its period floor and counters is highly atmospheric."
Alison Harris, of Alison Harris
(Photographer: The Pâtisseries of Paris)
Favorite Cheese Shop
"My favorite cheese shop is Fromagerie Chez Virginie (54, rue Damrémont, 18th). This bright and charming cheese shop is owned by a passionate, third generation Maître Fromagère/Affineuse who specializes in raw milk cheeses produced on small farms all over France. The shop has an impressive and varied selection and is a recommended destination in Paris for any cheese lover."
Jennnifer, of Chez LouLou
Favorite Brasserie
"If the question were, "Which Parisian brasserie would I miss the most were it to close?," my answer would be La Coupole. If the question were, "Which Parisian brasserie would I recommend to visiting relatives?," my response would be Bofinger. But since I am being asked for my personal favorite and the year is 2009 rather than 1929, I single out the comparatively young, obscure, smallish and unglamorous Le Chantefable (93, avenue Gambetta, 20th) for all the wonderful ways it is not like La Coupole and Bofinger."
"In the heart of the bobo 20th, Le Chantefable is not a part of a restaurant group and so its food and service are not formulaic. Its habitués are creative Parisians who don't speak only in the passé composé. Most are certain their best work is still to come and I feel the same is true of myself when I am slurping oysters and sipping Muscadet beside them."
Daniel Young, of Young and Foodish
(Author: The Bistros, Brasseries and Wine Bars of Paris)
Favorite Good-Value Restaurant
"Au Gout Dujour (12, rue Beaugrenelle,15th), which is closed on Sundays. With the €20 menu and €7 wine pitcher one exits at €27 for terrific food."
John Talbott, of John Talbott's Paris
Favorite Parisian Bistro
"My newest favorite Parisian bistro is Jadis (208, rue de la Croix-Nivert, 15th), which is well worth
traveling to a way off the beaten track corner of the 15th to discover. I am really awed by the intense mixture of technical precision and culinary creativity that young chef Guillaume Delagedeploys in his cooking. Every meal here is a revelation."
Alec Lobrano, of Hungry for Paris and Gourmet
(Author: Hungry for Paris)
Favorite Ice Cream
"It's hard to name just one, but I will name Caramella (47, rue des Martyrs in the 9th), "Le Glacier moderne," a pretty ice cream parlor that sells artisanal gelati. Why? Because their stuff is made fresh and on the premises, because they offer a good mix of seasonal classics (raspberry, lemon, gianduja, yogurt) and unusual flavors (PB&J, mojito, spéculoos) at exactly the right temperature. Because there are a couple of tables on the wide sidewalk where you can sit if you like, and because it's just a few blocks from me and I've waited so long to have a good glacier in my neighborhood. The one downside is that their opening hours are unpredictable (in true Parisian style), so call ahead (tél: 01 44 53 09 56) if you're coming from the other side of town."
Clotilde Dusoulier, of Chocolate & Zucchini and Edible Adventures in Paris
(Author: Chocolate & Zucchini and Clotilde's Edible Adventures in Paris)
Favorite Restaurant Wine List
"La Biche au Bois (45, avenue Ledru-Rollin, 12th) is a restaurant that feels like home. Traditional dishes executed with generosity. Clearly one of the best value restaurants in town. Their wine list is provocatively inexpensive – pure temptation!!"
Oliver Magny, of O-Château and Stuff Parisians Like
Favorite Cookware Store
"Kitchen Bazaar (multiple locations), because they've got everything I need, and more. The store is designed for easy shopping, the staff is generally well-informed and there are always new gadgets to intrigue me."
Paule Caillat, of Promenades Gourmandes
Favorite Coffee Spot
"I find most of the coffee served in Paris cafés undrinkable, so I'm grateful for the existence of Soluna Café (52, rue de l'Hôtel de Ville, 4th), otherwise known as the Caféothèque. Here, they take their coffee so seriously that you can even take part in an hour-long tasting involving vials of scents commonly found in coffee. It's run by a woman from Guatemala, and my favorite beans so far have been from her home country."
Rosa Jackson, of Edible Adventures and Edible Paris
(Editor: Time Out Paris Eating & Dining Guide)
Favorite Neighborhood Restaurant
"Sometimes it's fun to travel to "remote" areas of Paris to have dinner. La Veraison (64, rue de la Croix-Nivert, 15th) is certainly worth the trip. It's casual and small — the one-man kitchen is up front, and you'll see the chef cooking as you walk in. Excellent selection of wines (the chef will obligingly zip out from behind the stove to help you make a selection). The food is a modern take on traditional French cooking. The neighborhood is residential and we were the only non-locals dining. My veal was excellent and the chocolate and creme caramel dessert was fantastic. Highly recommended."

Andy Herbach, of Europe Made Easy
(Author: Eating & Drinking in Paris and The Best of Paris)
Favorite Baguette
"I did a stage with Arnaud Delmontel (39, rue des Martyrs, 9th and 57, rue Damrémont)), who won the best baguette in Paris in 2007, so perhaps I am partial. But in the relatively recent tradition of baguettes made with a long delayed fermentation, with a crisp exterior, pliable crumb, and pronounced interior holes, his are winners. If you pine for the mild acidic notes of levain (sourdough), with a slightly more pronounced crust, I'd direct you to Du Pain et Des Idées (34, rue Yves Toudic, 10th), where Christophe Vasseur is making waves."
"And though he has something of a bread empire, the airy, light baguettes with a hint of levain made by Eric Kayser (multiple locations) still rank very high. Finally, outside the realm of baguettes I'd recommend Véronique Mauclerc, whose exceedingly dark, rustic, wood-fired organic loaves leave a lasting impression."
Samuel Fromartz, of Chewswise
(Author: Organic, Inc.)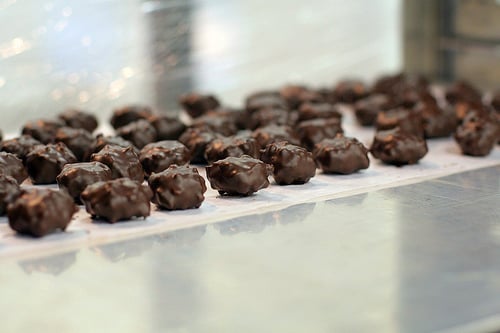 Favorite Gourmet Store in the Marais
"It's Goumanyat (3, rue Dupuis, 3rd), they carry luxury goods for professionals in the hotel industry but sell to individuals, too."
Pascal Fonquernie, of Paris Marais
Favorite French Fries
"My all-time favorites can be found at Café des Musées (49, rue de Turenne, 3rd). They're hot, homemade and heavenly: firm, thick, non-greasy, crispy on the outside and flavorful with a melting texture on the inside." (Note: Café des Musées changed owners in the Fall of 2014.)
Heidi Ellison, of Paris Update
Favorite Vegetarian Restaurant
"It would be Tieng Hang (92, rue Chemin Vert, 11th) It's an inexpensive Asian vegan restaurant with a vast menu serving faux "chicken", "beef" and "pork" dishes prepared out of ingredients such as soya protein. Food is fresh and spicy. A meaty heaven and yet they didn't harm a single hair on a poor animal's head at this cosy family restaurant."
Gideon Ben-Ami, of Paris Talk
Favorite Unusual Dining Experience
"Drinking a glass (or three) of vin naturel makes any Paris dining experience unusual. That's because you never know what you're gonna get with these small-batch untreated organic wines. The flavors are alive – never flat or boring. With each glass, I feel like I'm learning something new, as well as sustaining small artisanal producers… how's that for justifying a habit? My favorite local places to drink vins naturels include Racines, le Baratin, le Chapeau Melon, la Garde Robe, Autour d'un Verre and les Fines Gueules. These wines are generally not stable enough to ship outside of France, which is all the more incentive to enjoy them while in Paris."
Meg Zimbeck, at ParisbyMouth.com
Favorite Café to Write In
"My favourite café to write in would have to be Café Charlot (39, rue de Bretagne, 3rd.) Because it looks across the street to the always colourful Marché des Enfants Rouges, because the waiters don't mind if you sit on a single espresso over a four-hour period, because its regular clientele of tragically-hip fashionistas from the local quartier makes for fascinating people-watching and because there are plenty of electric plugs for my laptop (and as an experienced café-hopper, I cannot understate the importance of this last point.)"
Bryce Corbett, of Bryce Corbett
(Author: A Town Like Paris)
Favorite 3-Star Restaurant
"My favourite three star restaurant– that's a difficult question. First, my favourite restaurant in town today is most probably le Cinq, but it is only two-star. I think that the two most recommendable three-stars in town are Ledoyen (1, ave Dutuit, 8th) and l'Arpège, and I would probably tend to emphasize l'Arpège because it is a much, much more festive place. But Ledoyen in general has better food."
"My favourite three star in Paris used to be Lucas-Carton, and Jamin before that. I also had some of the best food of my life at l'Ambroisie but I consider the place to be both unreliable and obnoxious. Ledoyen has that old lady feeling, the smell almost. I think I'd have to go for l'Arpège in the current state of things, which is unsatisfactory for me. La Grande Cascade is also higher on my list than it is in the Michelin."
Julien, of Julot: Ze Blog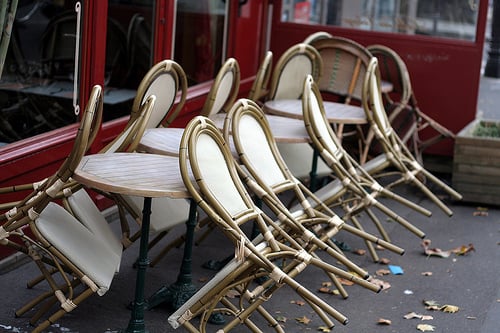 Related Posts and Paris Links:
How to survive Paris in the summer
Where is the best duck confit in Paris?
Two delicious dining guides to Paris
Where to find a good cup of coffee in Paris