Triple Chocolate Scotcheroos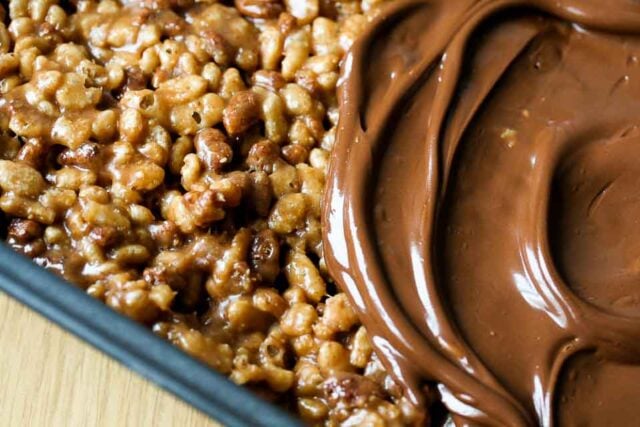 Some people, when they travel, they look for hotels with amenities like spas or room service. Others look for hotels near restaurants or local attractions. Me? I look for ones near supermarkets. And on my recent trip through the states, my traveling companion was shocked that I'd managed to pack 3 empty suitcase into one larger one, the limit of our collective baggage allowance. Not to mention our two carry-ons—"someone" was ready for some serious shopping…
I've been dying to make a batch of Scotcheroos for a long time and although I've become pretty adept at finding substitutions for American ingredients here in Paris, butterscotch chips had me scratching me head.
At the Publix supermarket conveniently located just across the street from our hotel in Lawderdale (I had to teach Romain how to say Fort Lauderdale that way, for reasons that he didn't understand), I stocked up on everything I could. Bandwith constraints don"t allow me to print the complete list—nor does customs, but there was everything from chiles to chapstick crammed into my suitcases. I also managed to bring back a suitcase full of cake pans (which, in an accidental typo, I just typed as "suitcake"), in every conceivable size from a nearby Ross store, where I almost had to call the store maintenance crew to pick up Romain's eyeballs when they practically fell out of his head when he say how cheap the cookware was there.
(I wouldn't have been available to help as I was too busy grabbing things.)
So armed with a battalion of shiny new bakeware, which included a 11 x 17-inch pan, as well as a bag of butterscotch chips, I was ready to go.
And although the butterscotch chips probably make me a persona non grata with the health police, anticipating the avalanche of arrows if I dumped a whole cup of corn syrup into a recipe, I prudently used rice syrup in place, which worked great. I'm not sure if agave nectar or other liquid sweeteners would work and I wouldn't use honey since the flavor is too strong, but you can give others a try.
Or you can throw caution to the wind and use Karo syrup, one of the few things I didn't bring back. Which was a good thing, since the three bottle of molasses I did pack in my suitcase didn't arrive in the same pristine condition as the butterscotch chips did. I think there's clearly a market for molasses in chip form.
And I hope they're available in time for my next return visit to the states, because like butterscotch-flavored chips, I don't expect to find those anytime here in the near future either.
Triple-Chocolate Scotcheroos
Adapted from the original
Scotcheroos recipe
. Because Rice Krispies are available in France, I didn't bring any back with me. But my usual refrain was true: the supermarket here had everything but what I was there to buy. Except I scored some chocolate rice cereal, which tilted my Scotcheroos into the "triple chocolate" category, so I'm not complaining. The original recipe doesn't have Nutella in it so if it's not available, just use peanut butter in its place. I'm sure you could replace the butterscotch chips with chocolate chips, although the flavor and spreadability will be different.
1

cup (200g)

sugar

1

cup (320g)

rice syrup or light corn syrup

1/2

cup (130g)

peanut butter*

1/2

cup (130g)

Nutella

,

or a similar chocolate-hazelnut paste

6

cups (200g)

crisp chocolate-flavored

,

(or mixed with plain) rice cereal

6

ounces

chopped bittersweet or semisweet chocolate

,

or 1 cup (165g) chocolate chips

1

cup (165g)

butterscotch-flavored chips

optional:

fleur de sel or flaky sea salt
Butter or spray a 9 x 13-inch baking pan.

In a large saucepan (at least 6 qts) over medium heat, bring the sugar and rice or corn syrup to a full boil. Remove from heat and stir in peanut butter and Nutella, then mix the rice cereal in until completely coated. Press the mixture into the greased pan, making sure the top is smooth.

Melt the chocolate and butterscotch chips together in a clean, dry bowl set over a double boiler or microwave, stirring gently until smooth and well-blended. Spread over the rice cereal mixture, sprinkle lightly with salt (if using) and cool until set.
Notes
Serving: Once cool, cut into small bars with a sharp knife. These are pretty intense and certainly on the sweet side, so bite-sized portions are in order. Strong cups of espresso are nice to balance them out.
*I presume the original recipe was meant for commercial-style peanut butter, although they don't specify smooth or chunky. Still, I didn't want to let go of my precious last jar of organic extra-crunchy stuff from the states, so I used the coarsely-ground unsweetened brand shown in my post, Peanut Butter Cookies with Salted Peanut Caramel. I believe that natural-style peanut butter available elsewhere would work. (The label noted it was 98% peanuts and 2% emulsifiers.) Let me know in the comments if you do experiment.
On Another Note: I was featured in a terrific article in the New York Times this weekend, with my variation on Maida Heatter's all-American popovers, which got a makeover as nifty, and delicious Sugared Puffs.