White Chocolate Rice Krispie Treat Recipe with Candied Peanuts
Yet another friend is moving back to the states (woosies!) and she had a going away party last night on one of the bridges over the Seine. Since I'd stashed a few clandestine bags of marshmallows, which were getting a little long in the tooth, I thought it time to use 'em or lose 'em. In fact, they were a prominent staple on my Too Good to Use shelf and they were just languishing there, waiting for the right moment to rip open that bag.
Romain was very surprised when I told him that you can't even buy a bag of marshmallows or a box of Rice Krispies in America without some version of this recipe appearing on it.

And indeed, my European-bought box of Rice Krispies was void of guidance. I tried to explain that Rice Krispie Treats are an American institution, like croissants, but he didn't get the connection. (And if someone compared them to croissants, I don't think I'd see the connection either.)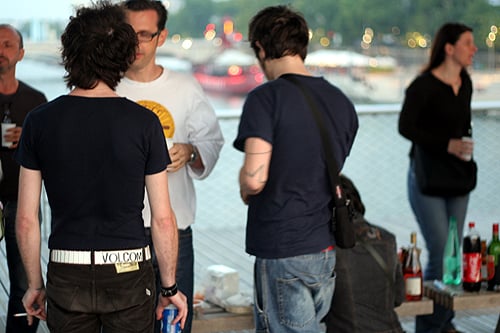 But Parisians love…and I mean love…Rice Krispie Treats. I've never met one who didn't look at me, and say, "C'est fantastique!" when chomping into one.
Even though the original recipe is fine, over the years, I've become a bit of a connoisseur of Rice Krispie Treats. I love…and I mean, love (again)…chocolate Scotcheroos but I have no butterscotch chips here, and with my snacking habits, I don't think they'd last too long around here if I did. Julie, who's moving back, offered to send me some, but I declined. "Trop dangereux!" I told her.
And these are le top, the best version I've ever made. The trick to updating Rice Krispie Treats, or any classic, is to do as little to it as possible. I don't want smoked salmon macarons nor do I want white chocolate salsa—which I actually saw on a restaurant menu once. Yuck! But white chocolate does have an affinity for marshmallows, as do crackly candied peanuts.
Now I just need to figure out how to explain who Snap, Crackle and Pop are.
And in French, no less.
| | |
| --- | --- |
| Rice Krispie Treats | Print Recipe |
Adapted from the Kellogg's original recipe Surprisingly, white chocolate marries perfectly with Rice Krispies and marshmallows and I never make a batch without melting in a few squares. Using salted butter adds a slight dose of salt, as do the salt-flecked candied peanuts. If you wish, substitute dry-roasted peanuts, preferably salted, for the candied nuts, or another toasted or candied nut. I also find snipping the marshmallows in two helps them melt quicker. Or use mini-marshmallows, if you have them.
3
tablespoons (45g)
salted butter
3 1/2
ounces (100g)
white chocolate,
finely chopped
1
cup (100g)
candied peanuts
10
ounce (300g)
bag marshmallows,
snipped in half
6
cups (200g)
Rice Krispies
1. Spray or lightly-oil a 13 x 9-inch (approx 30 x 22cm) rectangular pan.
2. In a large saucepan, melt the butter over low heat. Add the white chocolate and stir until melted.
3. Add the marshmallows and stir constantly over the heat until completely melted. (If they start to scorch on the bottom, remove from heat and continue to stir, placing the pan back on the heat occasionally, stirring until smooth.
4. Remove from heat and add the candied peanuts and Rick Krispies until well combined. A rubber spatula or flexible pastry scraper works best.
5. Scrape into the prepared pan and smooth the top. Let cool.
Serving and storage: Cut into neat bars or squares with a sharp knife. These are best enjoyed the day they're made, although they can be covered snugly with a sheet of aluminum foil and stored at room temperature for 2 to 3 days longer.
Related Links:
Pain de Sucre Marshmallows in Paris
Marshmallow Recipe (Although this recipe works best with store-bought marshmallows)
Pierre Marcolini's Chocolate-covered Marshmallows