Chocolate-Dipped Florentine Recipe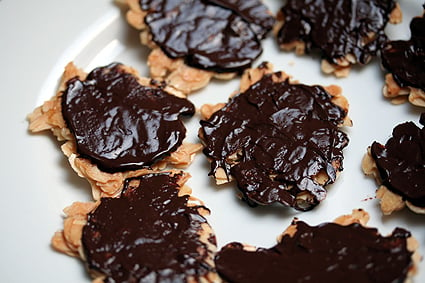 Living in Paris, it isn't always very interesting watching television, which I sometimes like to do during dinner. Sure there's some great French channels, but I'm kinda lazy when I'm eating and prefer the English-language ones, which usually means CNN International.
So I often find myself flipping through cookbooks while I dine, glazing over the text and scanning the glossy photos. But when I came across this one, for Florentines, I stopped and bookmarked it right away. I'm always attracted to anything nutty, crispy, salty, or caramelized, and this recipe had them all. Of course, using ingredients that I usually have on hand doesn't hurt a recipe in the popularity department around here, either.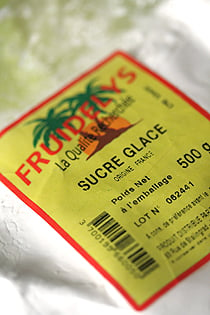 Crisp, caramelized almonds, just a few ingredients, and a wide swath of dark chocolate underneath. I ask you…what doesn't this recipe have going for it? The recipe comes from Ottolenghi, a London-based restaurant that, frankly, I hadn't heard of. But this cookbook is really gorgeous and makes me almost want to blitz across the channel and check it out. (Damn the exchange rate!) I have a lot of cookbooks and this one truly stands out. And when I saw the jumbo stack of Florentines stacked up on one of its pages, I couldn't wait to share the recipe.
The book is full of other interesting, and compelling recipes. There's one for Kosheri, a side dish made with lentils, rice, and vermicelli, that I'm dying to try. There's a twice-baked Chocolate Fudge Cake that's up the next time I have guests for dinner.
These crispy Florentines are super-simple to make, requiring just a few ingredients mixed together and baked. Who doesn't love that? The authors mentioned that it'd be permissible to slather one side with melted chocolate, like traditional Florentines. The cookies were indeed fantastic without it—but it'd be a shame to pass up an opportunity to put chocolate on something now, wouldn't it?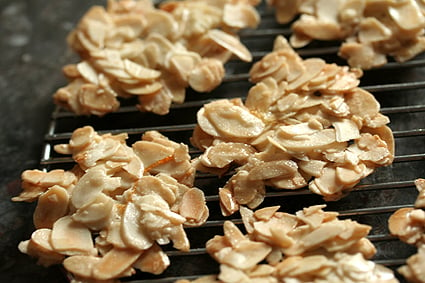 Chocolate-Dipped Florentines
Adapted from
Ottolenghi: The Cookbook
(Ten Speed) I cut the original recipe in half since I wanted smaller cookies, but otherwise followed the recipe pretty closely. I added a few grains of salt, but thought I knew better and tried using a small metal spatula to spread the Florentines. But their suggested fork method worked better. You can put the cookies pretty close to each other on the baking sheet as they don't spread during baking.
1

large egg white

,

at room temperature

1/3

cup (50g)

powdered sugar

1 3/4

cup (130g)

blanched sliced almonds

a good

pinch

of flaky sea salt

grated zest of half an orange*

,

preferably unsprayed
Preheat the oven to 300F (150C).

Line a baking sheet with parchment paper and brush very lightly with neutral vegetable oil.

In a bowl, mix together all the ingredients.

Keep a small bowl of cold water and a fork near where you're working.

Dip your hand in the cold water before lifting each portion of almonds, and place heaping tablespoon-sized mounds of the batter evenly spaced on the prepared baking sheet.

Once you've covered the baking sheet, dip the fork in cold water to flatten the cookies as much as possible. Try to avoid having many gaps between the almonds.

Bake for 10 to 15 minutes, until the cookies are golden brown. Exact time will vary based on how large your cookies are. The authors recommend lifting the bottom of one with a metal spatula to check and see if they're cooked through. If they're not brown across the top and bottom, they won't be agreeably crispy.

Let cookies cool, then lift with a thin metal spatula and place them on a cooling rack until crisp. Continue baking all the cookies on the same baking sheet. (I found no need to re-oil it between uses.)
Notes
Store Florentines in an airtight container until ready to serve.
To Coat the Cookies with Chocolate
To coat one side with chocolate, melt a few ounces of chopped bittersweet or semisweet chocolate in a clean, dry bowl, stirring until smooth. Use a brush or metal spatula to coat the underside of each cookie with a thin layer of chocolate. Let cool in a cool place or the refrigerator until firm. Once firm, store Florentines in an airtight container at room temperature.
More Recipe Notes: