Thiercelin 1809 Spice Shop
One of the first places I went to in Paris when I was setting up house, was Thiercelin. My friend David Tanis took me there, who is a chef and lived in Paris part-time. And as I roamed through the neat shop, poked in the wooden drawers and sniffed in the jars, I was thrilled to find such a treasure trove of spices and comestibles to stock my petit placard.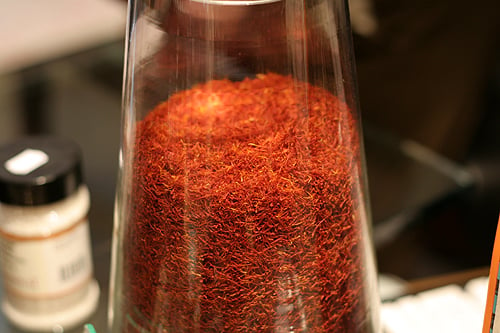 Yet the real star of the show at Goumanyat is saffron, which they stock in every conceivable fashion. Of course, there's a huge glass urn of wispy saffron threads, which one can use to flavor a tagine or even a batch of ice cream. But saffron also shows up in many other guises here, sometimes in places where you'd least expect it.
For example, who would have thought of saffron honey? But this tinted nectar had a lovely, soft red glow, promising the unique scent of saffron with every spoonful. When I asked what this could possibly be used for, they suggested adding it to tea. Or I thought about maybe drizzling it over a slab of Roquefort.
Also on the sweet side were saffron caramels, and I stocked up on a few bags, thinking they'd make unusual hostess gifts when invited for dinner. Unlike all the other guests carrying generic bottles of wine, I was reasonably sure that I'd be the only one toting a sack of magenta-colored caramels.
But Goumanyat, which recently changed their name to Thiercelin 1809, is more than saffron. There are all sorts of unusual grains, haricots Tarbais, curiously-flavored vinegars and oils, plus a whole section of jars containing various powders and essences for molecular gastronomists. Downstairs is a wine cellar and ultra-modern demonstration kitchen, and upstairs is a concise collection of cookware.
A while back when I went to Camp Cassoulet, a number of readers inquiries about cassoles, the special vessel for baking the Gascon specialty. Well, come on down!
Being a baker, however, I'm always drawn to the drawers of spices. If you've never smelled various kinds of black pepper, each one is so different and fragrant, you'll never go back to the tepid supermarket kernels again. I buy Vietnamese cinnamon here, which has a sharp, nose-twitching aroma. And my friends who I went with recently, who make gelato in Bologna, bought all sorts of spices and powders, which I promised not to reveal.
But what I will show you are the fabulous sculptures made of real vanilla beans. Horses and teapots were two of my favorites, although the spindly lobster was the work of someone truly insane.
If you're crazy about spices, cooking, and exploring unusual ingredients, this is the place for you.
Thiercelin 1809
3, rue Dupuis (3rd)
Tél: 01 44 78 96 74
(Map)
[UPDATE: This shop used to be named Goumanyat, but has changed their name to Thiercelin 1809.]
Part of Five Great Places in Paris That You Might Not Know About (series):
1# La Briciola (Pizza)
2# Dot Paris (Vintage Kitchenware Shop)
3# Grom gelato (Italian Gelato)
4# Musée Fragonard d'Alfort (Veterinary Museum)