Arroz con pollo: Spanish Chicken with rice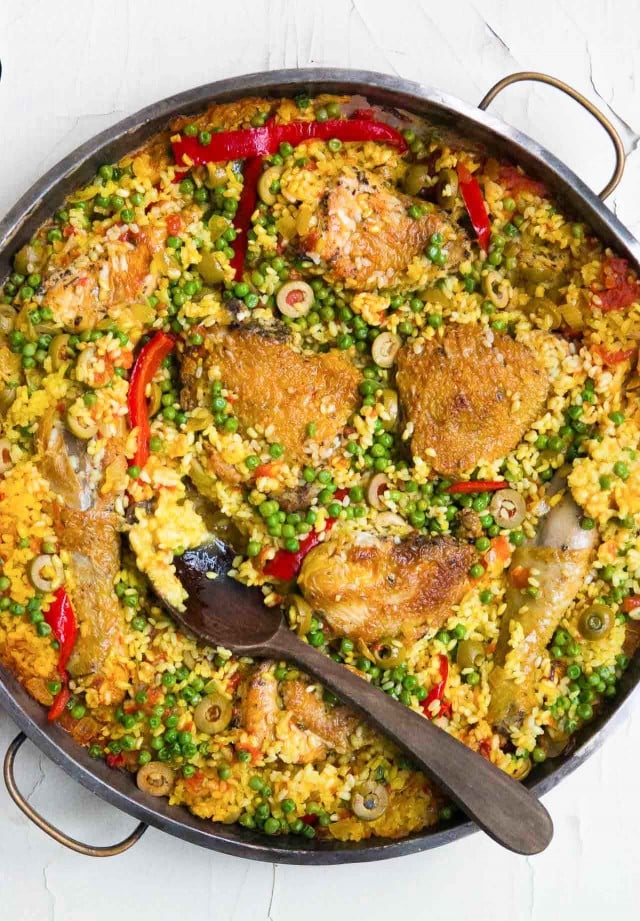 Every time I go back to San Francisco, there is a crush of people that I want to see. In addition to everyone that I want to catch up with, there's also a whirlwind of places I want to go to visit, from favorite taquerias to new chocolate and pastry places. (Not sure what happened in my absence, but the city has really ramped up the bakery options.) I stopped trying to do (and eat) it all because there's nothing worse than a vacation where you don't get to relax and just go for a walk. But I do regret not being able to see all my friends.
One such friend is Joanne Weir. Part of the reason I don't get to see her is because she's always going off somewhere, traipsing around Greece, Morocco, Italy, or Provence. And so far, she has declined to take me along. However I feel like I'm with her when I read her newest book, Kitchen Gypsy, stories of her travels around the world, including how she became a cook, starting doing the more elemental task at Chez Panisse – making the daily pasta for the café – to eventually learning to cook with the great, and mercurial, Madeleine Kamman, before becoming a cooking teacher, cookbook author and television personality. And now she even owns a restaurant, Copita, yet another place that I have to put on my list to visit in the San Francisco Bay Area.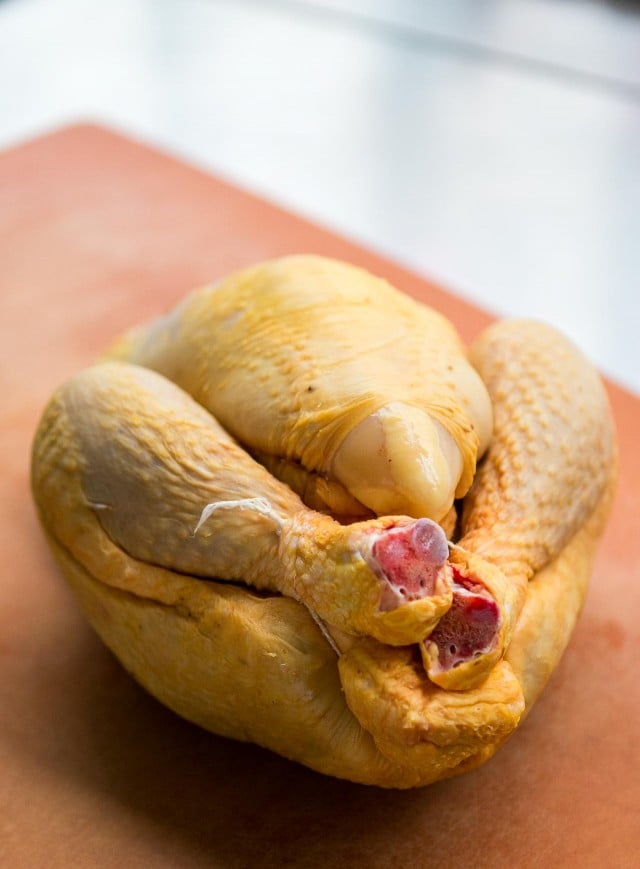 In her new book, she talks about our time together at Chez Panisse. I remember liking Joanne instantly. We were both New Englanders, young, and eager to cook. And she just has that kind of personality that draws you in. Joanne included a story about me in her book, along with a picture that's probably twenty years old, when I made an ice cream inspired by Madeleine Kamman, who I both admired and was completely terrified of.
Unlike others who took her cooking program (half the students left right before graduation when Joanne was there), Joanne stuck it out and learned much about cooking from the legendary Madame Kamman. She was a legend because she wrote some of the most highly regarded, outstanding books on cooking and French cuisine. But also earned her reputation for being sharp, difficult, and unpleasant. (She was notoriously irked that Julia Child became so popular writing about French cuisine.) You can read some of the tales in Joanne's book, along with how finding a fly in a bottle of French wine led to a lifelong friendship with the winemaker in France, why she wanted to become a cooking teacher, and how she came to travel around the world, cooking her way through France, Italy, North Africa, and Spain.
Because Joanne has been a cooking teacher for so many years, her recipes are especially well-written. The one that appealed to me most, though, was Arroz con pollo, or Spanish chicken with rice. I went out and bought a chicken, a few slender red peppers and a tin of pimento-stuffed olives, pulling my paella pan off the shelf, a gift from David Tanis, who we both worked for, and with, at Chez Panisse. Which seemed fitting to use right now.
I was super fortunate because at a booksigning I did in the states a year or so ago, a lovely Iranian-American woman pressed a packet of saffron in my hand, which was one of the best gifts I ever got. When I put a picture of it on Instagram, people from Iran told me that it was, indeed, the best saffron. And that's something, considering that no matter what you use or have, or where you go, if you post a picture of it on social media, someone always tells you there is something better. This saffron is the ne plus ultra of saffron. (And if you write something in French, someone will tell you that it's nec plus ultra, although Webster's offers up a different spelling in English.)
All I know is that it's amazing saffron and made a fragrant base for the Spanish-style rice.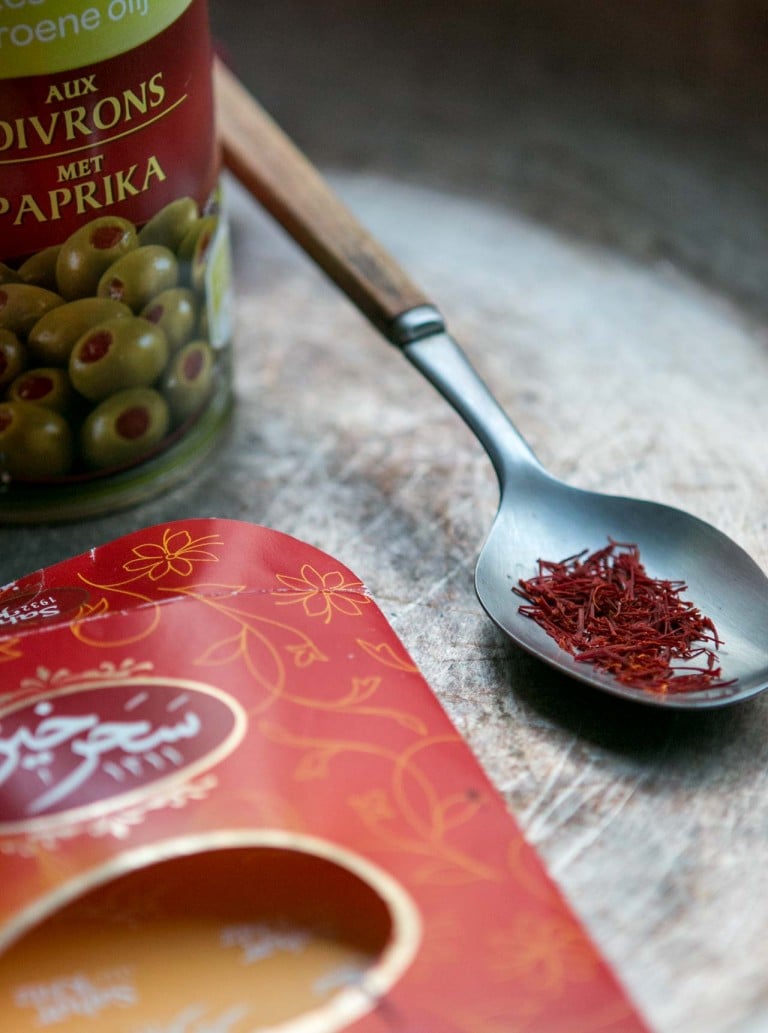 Speaking of which, I was a little concerned about the rice. Joanne calls for Spanish bomba rice. It's not a sticky rice and in fact, in France "round" rice is sold for the cuisine sucrée (desserts), in addition to savory cooking. I don't have much experience using it for savory cooking and did a little reading up about it as it's often mentioned in the same breath with its cousin, arborio rice.
But it's worth tracking down short-grain "round" rice for Arroz con pollo. The article I linked to just above gives locavore Russell Moore's trick for turning California Japanese short-grain rice into Spanish-style rice. Russell is another friend who worked with me and Joanne…and David…at Chez Panisse. Amazing how many of my former co-workers I could weave into this one dish, but it's Joanne that I have to thank here for her friendship over the years, and this hearty Spanish-inspired dish.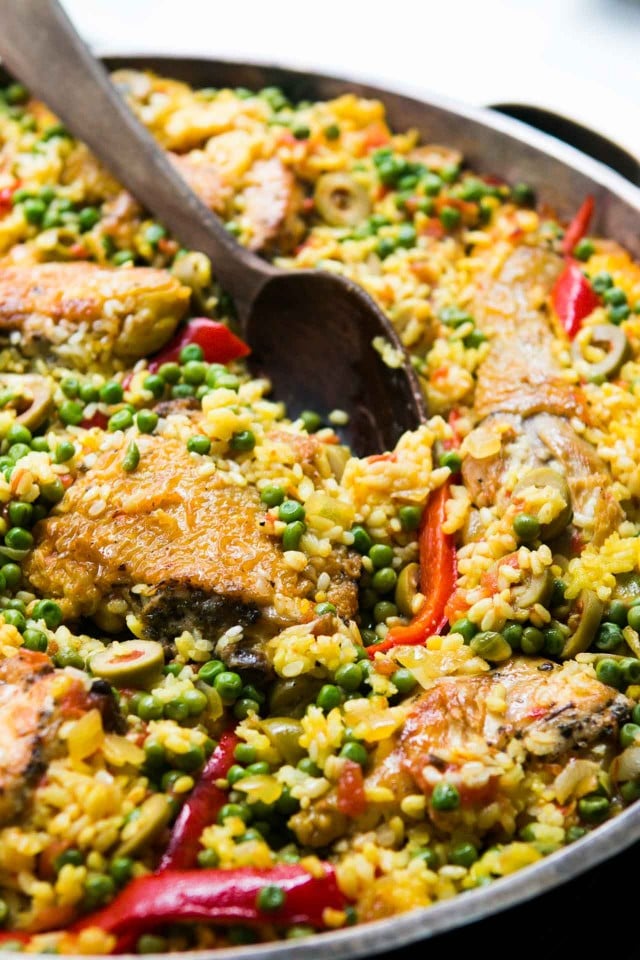 | | |
| --- | --- |
| Arroz con pollo | Print Recipe |
Adapted from Kitchen Gypsy: Recipe and Stories from a Lifelong Romance with Food by Joanne Weir Spanish Bomba rice is the preferred rice for this dish, which is often called "paella rice." Anticipating questions, I asked Joanne if Arborio rice would work and she said it might, although it absorbs less liquid than the Bomba rice. According to this article in the San Jose Mercury News, 1 cup of Bomba rice will absorb approximately 3 cups of water whereas Arborio rice will absorb 2 cups. So for those with good math skills, you could do some tinkering if you want to use Arborio rice. Bomba rice is available at The Spanish Table, La Tienda and Amazon. I used round rice (short-grain) from the supermarket, which worked well. In Paris, you can find it at G. Detou. One reader told me that she used Goya Valencia rice, which worked very well, too. To peel fresh tomatoes, make an X with a paring knife in the round end (opposite the stem end) and drop them in a pot of boiling water for about a minute. Remove them and pass them under cool running water for a moment, and the skins will slip off. Cut them in half around the equator and squeeze out the seeds then dice them. For those avoiding wine, substitute an equal amount of water with a good squeeze of fresh lemon juice in it. There's no substitute for saffron. Some suggest a tiny pinch of ground turmeric for color, but it's really not the same thing and the flavor is completely different. I suggest hunting some actual saffron down if you can and if cost is an object, only use 1/2 teaspoon of it. If not, you can leave it out. Some Europeans use Spigot spice mix with a small percentage of saffron and there is Bijol, a Cuban condiment, and Sazón, a Mexican one made by Goya, but once again, they only contain a very small amount of actual saffron.
One
whole chicken,
cut into 8: two thighs, two legs and two breasts (bone in) cut in half crosswise (reserve the carcass and wings for stock)
2 1/2
teaspoons
dried oregano
2
teaspoons (total)
sea or kosher salt
freshly ground black pepper
1
onion,
peeled and diced
1
red bell pepper or 2 sweet red peppers,
seeded and sliced in 1/3-inch (1cm) strips, lengthwise
4
garlic cloves,
peeled and minced
1/2 to 1
teaspoon
saffron threads
1/8
teaspoon
red chile flakes
2 1/2
cups
peeled,
seeded and diced fresh tomatoes, or 2 1/2 cups (725g) diced canned tomatoes (including their juices)
1/2
cup (125ml)
dry white wine
2
cups (400g)
Spanish bomba rice or short-grain (or round)rice
1/2
cup (80g)
pitted green olives
(preferably pimento-stuffed) sliced
3/4
cup (110g)
fresh or frozen green peas
1. In a bowl, season the chicken with the oregano, 1 teaspoon of salt, and black pepper. Rub it in well, cover and refrigerate for at least an hour. (The chicken can be seasoned a day in advance.)
2. Preheat the oven to 350ºF (180ºC).
3. In an 8-quart Dutch oven or casserole, or paella pan, heat the oil over medium-high heat. Cook the chicken pieces in a single layer, in batches if necessary, so they aren't crowded into the pan, until they are well browned on all sides. Once the first batch is done, transfer the chicken to a plate and brown the remaining pieces.
4. When the second batch of chicken is done, remove the pieces to a plate with the others and drain off all but 2 tablespoons of fat or oil left in the pan. Add the onions and peppers to the pan and cook, stirring frequently, until they start to wilt. Add the garlic, saffron (use the smaller amount if on a budget), red chile flakes, and 1/2 teaspoon of salt. Continue cooking until the onions and peppers are wilted and soft.
5. Add the tomatoes, water, and wine to the pan. Arrange the chicken in the pan, skin side up, cover the pot tightly and bake for 30 minutes in the oven.
6. Remove the pan from the oven and add the rice, directing it in the areas in between the chicken pieces. Strew the olives over the chicken and liquid, and sprinkle with 1/2 teaspoon of salt. Stir gently to even out the rice in the pan. Cover and cook for 20 minutes.
7. Remove from the oven, add the peas, and cover. Cook until the rice has absorbed almost all of the liquid and it's tender.
Note: Joanne and I had a flurry of emails about this. She uses Spanish rice and said it takes 10 minutes more at this point. I used store-bought rice and mine needed an additional 20 to 25 minutes more. So just check by lifting the lid or foil covering over the pot to see when the liquid is absorbed. It's done when the rice is tender. There may be a small amount of liquid, which should be absorbed during the final few minutes of resting.
8. When done, remove from the oven and let stand 10 minutes, covered, before serving.