Mon Eclair
[Update: Mon Éclair closed in the spring of 2018.]
I was recently part of a panel on France24 television to debate the subject: "The argument over French cuisine." Rather than being a debate, though, it was more question-and-answer session once the cameras were rolling. But beforehand, the four of us on the panel had a very lively discussion in the lobby about the subject, which at one point, I stopped and told the producers that this was what should be captured by the cameras. All four of us agreed on a number of points, but came from different places, so each had our own ideas of what French cuisine is today, and where it is going. (And I had a few ideas of where it shouldn't be going.)
Moving to the studio, I was seated next to Gregory Cohen, a French chef who's lived in the United States. He'd brought several éclairs along from his shop, Mon Eclair, which they conveniently put right in front of me for the taping. It was hard to concentrate, sitting next to the beautiful creations, while we continued to chat. But when the cameras stopped, I dove right in.
Amazingly, a day after the show aired, one of my best friends in Los Angeles sent me an email. He'd seen the program and was a good friend of Gregory. I didn't ask if he usually watched France24 in L.A., but found that pretty incredible he knew the personable fellow sitting to my left. But I was equally interested in Gregory's new concept of a pastry shop (where you design your own dessert), as I've been thinking a lot about how French cuisine will involve, and what it will it look like in the future.
While there are some extraordinary young chefs cooking in Paris today, most of the food reads to me like "global cuisine," rather than being uniquely French. The ingredients may be sourced in France, but the chef may be Australian, French, Belgian, or American. So what makes a dish "French cuisine"? We apply that label to traditional foods from the past, but how do we define what's assign provenance to a plate of bulots (sea whelks) tempura that I had at Pirouette two nights ago? Or the unforgettable crab salad with green tomato jelly with coral mayo I had at the Bristol? They hardly were typical "French" dishes, but made with French ingredients by French chefs. Still, if I was served them in Seattle or Tokyo, they would have felt right at home.
For the last couple of years, many of the trends in Paris took cues from outside of the country. But éclair is resolutely French and it's the perfect palette for invention, and reinvention.
In a place where it's usually "Our way or the highway" ("C'est de notre chemin, ou l'autoroute" doesn't sound quite right in French), you can have it your way at Mon Éclair. In fact, that's the whole concept of the shop Gregory started with Johanna Le Pape, who was a Championne du monde des art sucrés, a world-champion in pastry and confectionary.
Gregory has a pretty amazing story. He started cooking when he was 13 in his family's restaurant in Paris. It was just across the street from Serge Gainsbourg's house. The famous French singer and actor ate there often and became a close friend of the family.
After Gregory left to the restaurant to do his French military service, he decided not to go back to restaurant work and instead went to Haiti. Shortly after his arrival, there was a military coup and he was trapped, with people marauding through the streets with machetes. The closest airport was a six to eight-hour drive away from where he was. Somehow he was able to get on a small plane from near where he was staying, one that was intended for eight people, but there were eleven of them stuffed on the plane. It was so weighed down that the plane kept sagging and hitting trees as they tried to lift off. But they finally did.
When they eventually got to the capital city, he raced to the French embassy to find it closed and deserted. Not sure what else to do, he went to the American embassy and joined the crowd outside, many protesting angrily. (With machetes, too). In the madness, he managed to catch the eye of a GI guarding the embassy, who saw him waving his hands, and came over to pull him out of the crowd, to the safety of the embassy.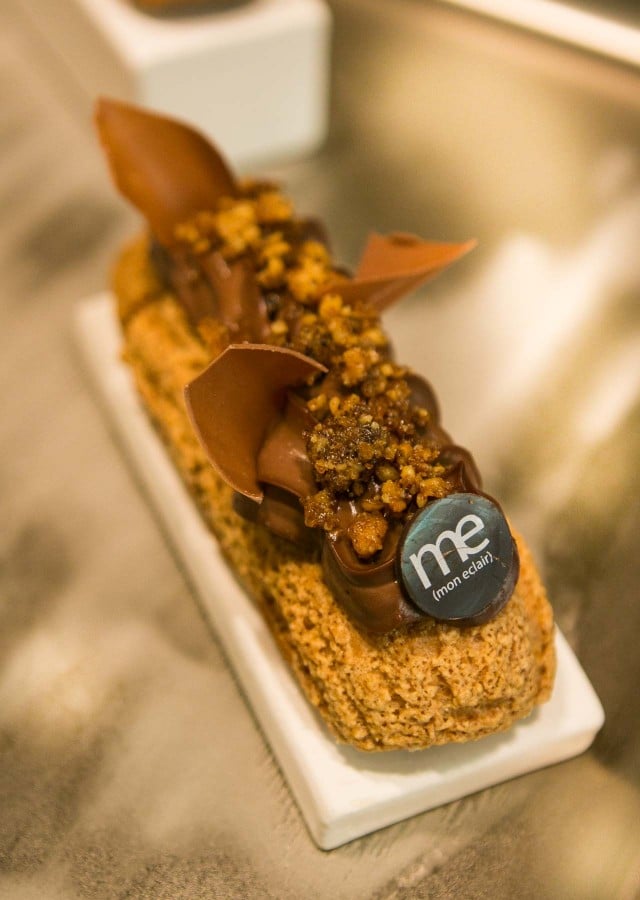 When he told them, "Um, I'm French, not American" they said it didn't matter. They were going to help him. He couldn't believe how helpful and friendly everyone was to him. They told him he could buy a ticket to America, which he did, and they would get him there. However at the airport, a local official asked to see his passport, took it out of his hand, shoved it in his back pocket and said, "That'll be $100 if you want it back."
Completely out of cash, he was desperate and didn't know what to do because he needed to get on that plane, and would certainly need his passport upon arrival. All of the sudden, someone from the U.S. Embassy appeared, went over to the man, had a few words with him, and the man turned over his passport. Gregory was good to go.
In case there are any talent scouts out there from Netflix or Hollywood, get in touch with Greg. And the rest of us can give thanks to the folks that do such excellent work at embassies overseas that he's still with us.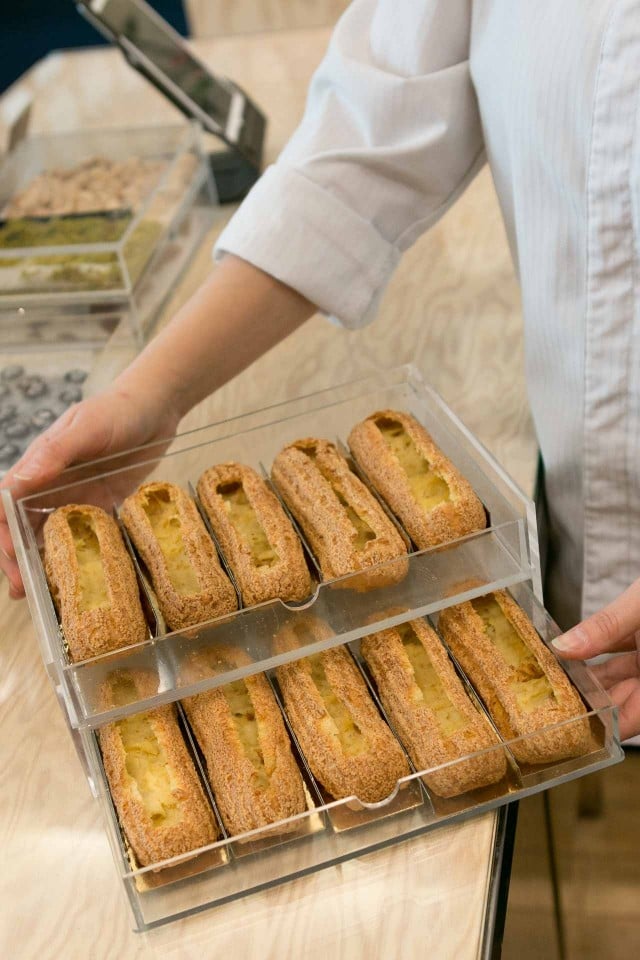 Now safely in Paris, he and Johanna spend their days making éclairs, baking off the shells to be filled with the various creams, custards, and toppings atr.Mon Eclair. The concept is simple, but brilliant. Start by choosing if you want a regular éclair shell, or gluten-free. Then pick out a filling, then a topping, and then a garnish.
So you might want praline, caramelized pineapple with Tahitian vanilla, or apples caramelized in the style of a tarte Tatin inside. Then you choose the next layer, perhaps it'll be caramel? Or maybe creamy lemon? Or chocolate ganache? Finally you decide if you want pear or passion fruit marshmallows, caramel tuiles, lime meringue, or granola. And those are just partial lists of the many options, made fresh every day in the shop.
Once you've decided, they'll go ahead and prepare it to order for you, right there in front of you. Yes, taking pictures is encouraged.
Speaking of granola, I was very smitten with their "almond granola," a mix of toasted nuts with maple syrup and fleur de sel de Guérande that I could eat by the jarful. There's a "healthy granola" as well, with less focus on nuts, more on oatmeal flakes, but this is the one to order. They also sell it by the bag as the shop is also an épicerie, a place to buy jams, jellies, and creatively flavored pâtes de fruits.
In addition to pictures, tasting is also encouraged. I stuck a spoon in a jar of bitter mandarine and yuzu jam, and another with pears and a ruddy blend of spices (including star anise, cinnamon, and vanilla), that I absolutely loved. But I was especially intrigued by whatever was in that far jar on the right. It was Dulce de café with coffee and ground coffee beans…la vâche – was that good!
Mon Eclair
52, rue des Acacias (17th)
Métro: Ternes (Or Argentine, or Charles de Gaulle Étoile)
Update: Mon Éclair closed in the spring of 2018.
---