Un Dimanche a Paris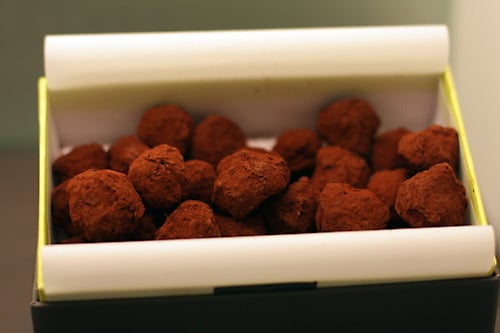 Even though it wasn't Sunday, I decided to go to Un Dimanche à Paris anyway. This sleek showcase of chocolate is located in an under-utilized arcade on the Left Bank, near where the saleswoman told me has become "The quartier of chocolate."
The owner of the shop is Pierre Cluizel of the famed French chocolate family, but he's striking out on his own. Un Dimanche à Paris features a large chocolate shop, and exhibition kitchen, a tea salon, and a full-scale restaurant. And that's just on the first floor.
Climb the stairs and you'll find a state-of-the-art teaching kitchen and enormous tasting area, with comfy sofas and a cocktail lounge manned by a barman (with the world's slimmest waistline), mixing up elixirs and potions designed to help you appreciate and understand chocolate to its fullest. And if that's what it takes to cut a silhouette like his, I'm sold.
I settled into the salon du thé with my friend Rosa for some chocolat chaud and a pot of tea, along with a little selection of pastries. The hot chocolate, served in a pitcher with a wooden stirrer anchored inside, was rich and a bit on the sweet side (the chef confessed to adding a pour of heavy cream and a pinch of cinnamon), and the Korean green tea was presented with a timer so you would be sure not to over infuse it. When the waiter said, "En quatre minutes, monsieur…" I knew as soon as that orange sand's time was up, the tea was ready.
The line up of little pastries were lovely. A small, gooey chocolate disk topped with a moist puddle of ganache, a petit éclair filled with chocolate, a pistachio macaron (made by someone a little too enthusiastic with the food coloring), and a perfect, tangy little lemon tartlet topped with a kiss of crunchy meringue.
Like the name says, the shop is open even on Sundays and there's a full roster of cooking classes and a swank lunch and dinner menu, which I'm looking forward to trying. Because I had a generous slab of brownies waiting for me at home, I passed on the boxes of truffles, the various chocolate spreads, les orangettes, and the sleek tablets of chocolate with crushed hazelnuts and cocoa nibs rubbed into them. But it's good to know that I can always go back, any day of the week, including Sunday.
Un Dimanche à Paris
4-6-8 Cour de Commerce Saint André (6th)
Tél: 01 56 81 18 18
Related Posts
Paris Chocolate and Pastry Shop Archives
Paris Hot Chocolate Address Book
Parisian Hot Chocolate (recipe)