Chewy Chocolate Chip Cookie Bars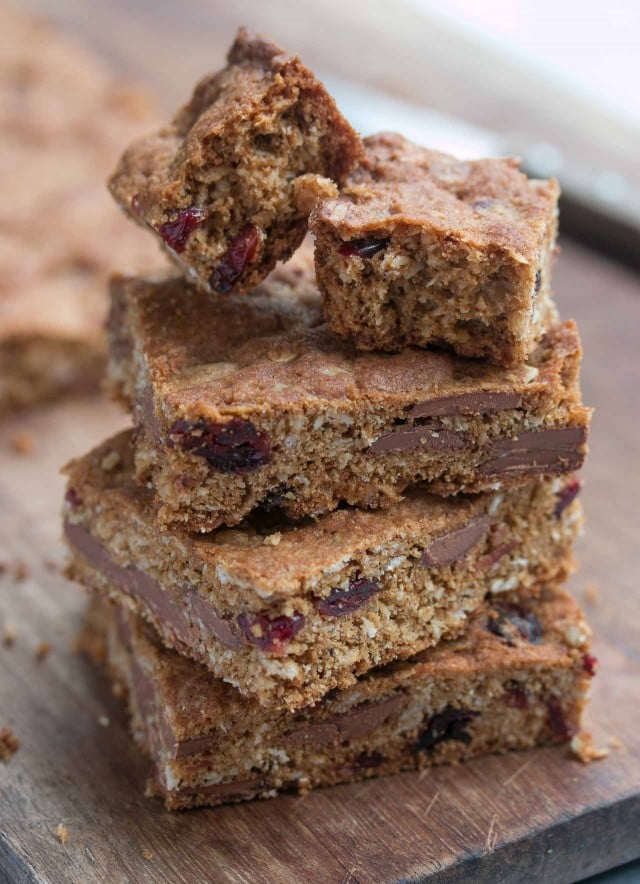 When I started baking professionally, whenever a recipe called for chocolate, we grabbed whatever chocolate we could get in bulk, lopped off a chunk, and used that. At the time, there wasn't much consciousness about chocolate and all the differences that there are today. (I know, I sound like a dinosaur!) Often "European" chocolates were talked about as being of the best quality. But when I started at Chez Panisse, we had blocks of Guittard chocolate, which I'd never heard of but it tasted good when I snuck a bite. I noticed on the label that it was made locally, just south of San Francisco, where it's still being made today.
This was before the bean-to-bar chocolate movement started in America (also in San Francisco), and I also remember when Robert Steinberg unwrapped a small morsel of chocolate he'd made, that didn't look like much – just a tiny blob of chocolate, to start his company. I thought he was nuts because no one cared that much about artisanally made chocolate, or so I thought, but his company went on to become a big success, launching and inspiring others in America to start making chocolate from beans they sourced themselves.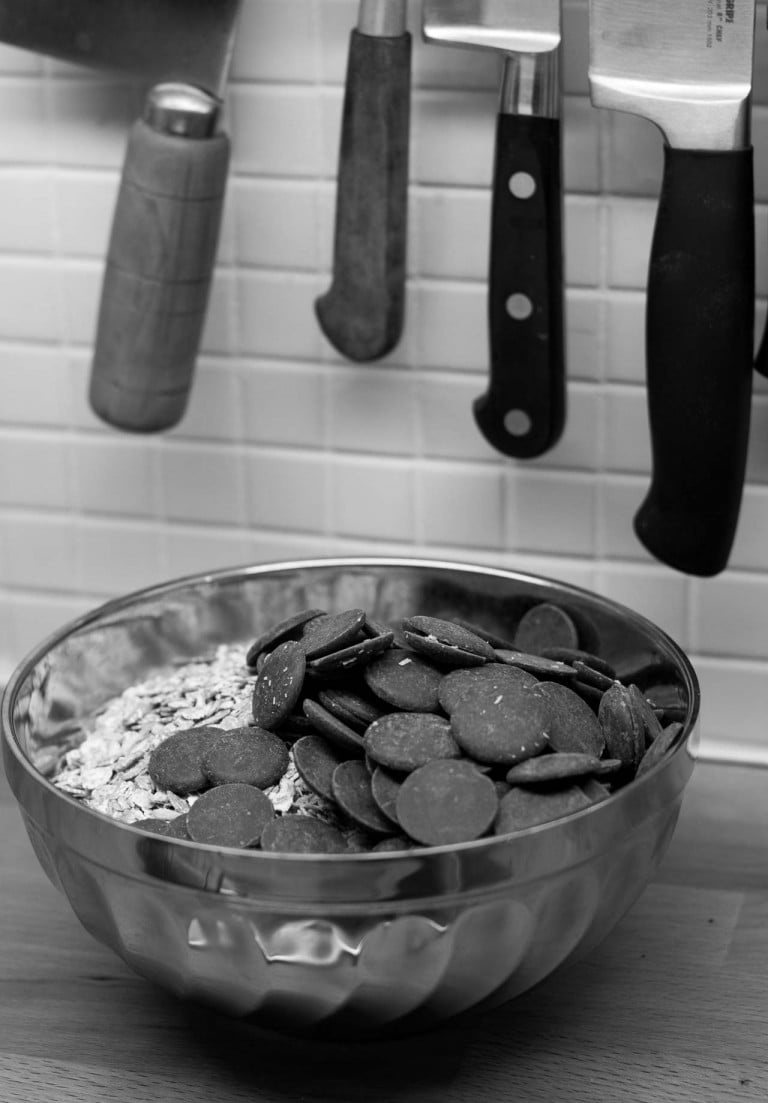 But before all of that started, there was Guittard. They've been making chocolate for nearly 150 years and Amy Guittard is part of a fifth generation of bean-to-bar chocolate makers within the same family.
Her great-great grandfather Etienne Guittard was French, and left France in the mid 1880's, coming to San Francisco to cash in on the gold rush, like many others. He'd brought French chocolate to sell, which was so successful, he went back to France, bought a bunch of equipment, and returned to set up his own factory in San Francisco.
I was fortunate to go to their factory a number of time and see how chocolate is made, which was a pretty eye-opening experience for me. I later traveled to Belgium and France to see chocolate made in those countries and to take classes, but I have a particularly soft spot for Guittard since I used their chocolate almost daily for much of my baking career, and was even able to call one of their researchers when I had questions about chocolate and using it.
When people ask – "What country makes the best chocolate?" – it's a question that's difficult to respond to, as most cocoa beans come from areas around the equator and are shipped to makers around the world, including France, Switzerland, Iceland, Belgium, and the United States. There's nothing within the borders of any country that determines if their chocolate is better or worse than anywhere else. But quality usually follows appreciation, and because the French traditionally ate and appreciated chocolate, the quality was (and is) very high.
One thing chocolate does like is a cool climate, because it melts so easily. That's why chocolate as we know it generally isn't made in countries where the beans are grown. (Hence many of the people who harvest cocoa beans haven't tasted a bar of chocolate. Chocolate in other cultures was traditionally consumed differently too, in fermented drinks and mole, for example.) Bars would melt in the hot climates near the equator so the beans are shipped elsewhere to be made into chocolate bars. That's another reason Guittard, and other chocolate makers, liked being in San Francisco. Those of us who have lived there knows how rare those very warm days are!
I was happy to see that Amy Guittard collected some recipes that use their chocolates in the Guittard Chocolate Cookbook. While the company is also focusing on single-origin chocolates, these recipes work with the everyday chocolate you can buy in your local market or grocery store.
These bars jumped out at me because they use milk chocolate. People scoff at milk chocolate but you have to think of it as different from dark chocolate. It doesn't have to be one or the other: You can like both, while appreciating their differences. Just like a shot of espresso is wonderful, but I also like café au lait as well. I don't need to decide between one or the other.
These soft, chewy bars combine milk chocolate with tangy dried cranberries, and get extra-chewiness from coconut and oats mixed into the batter. I found they were great with coffee (espresso) in the afternoon, although one of my favorite things – sshhh, don't tell – is that I like to have a chocolate chip cookie first thing when I wake up, before breakfast. While I'm making my café au lait and slicing bread for toast, if I have any chocolate chip cookies around, I'll prudently cut one in half and nibble on that, thinking I'll get to the other half later in the day. But before I know it, the other half is gone and I'm eyeing the rest of the chocolate chip cookies on the counter. Wondering if I can half just half of another one…
I can't say that you should follow my lead and do the same. But if you have bars of these cookies around, you might want to hide them the night before so you're not tempted to dive in as soon as you wake up, as I was.
Chewy Chocolate Chip Cookie Bars
Adapted from
Guittard Chocolate Cookbook
by Amy Guittard You would probably like to use dark bittersweet or semisweet chocolate in these bars. I thought I did too, until I tried them with the milk chocolate and found the milky tanginess of the lighter chocolate just right in the bars. But if you want to try them with dark chocolate, I'm sure they would be fine. Speaking of milk chocolate, be sure to use good-quality dark milk chocolate. The bars you buy at the supermarket check-out stands are usually just 10% cacao solids – "dark" milk chocolates are usually 30% or more. The Guittard milk chocolate wafers that I used are 38%. They're available from
Amazon
and
Guittard
, but you could use another good quality dark-milk chocolate, whatever is available to you. But check the label for percentages and try to get one with a higher percentage than 10%. I didn't chop the wafers, but if using a tablet of chocolate, chop it very coarsely, so there will be big, discernible chunks in the finished cookie bars.
1 1/3

cups (160g)

flour

1/2

teaspoon

baking soda

1/2

teaspoon

ground cinnamon

1/4

teaspoon

salt

8

tablespoons (4 ounces, 115g)

unsalted butter

,

at room temperature

1

cup (200g)

packed dark brown sugar

1

large egg

,

at room temperature

1

teaspoon

vanilla extract

3

tablespoons

whole or lowfat milk

3/4

cup (90g)

dried cranberries or sour cherries

1

cup (90g)

shredded unsweetened coconut

3/4

cup (60g)

rolled oats

1 1/2

cups (255g)

milk chocolate chips or coarsely chopped milk chocolate

,

preferably with minimum 30% cocoa solids
Preheat oven to 350Fº (180ºC).

Lightly butter a 9 x 13-inch (23 x 33cm) rectangular pan and dust the inside with flour, tapping out any excess.

In a small bowl, mix the flour, baking soda, cinnamon and salt.

In the bowl of a stand mixer fitted with the paddle attachment, or by hand, beat the butter and sugar on high-speed until light and fluffy, about 3 minutes. Beat in the egg, vanilla, and milk until smooth. At this point, the mixture may look curdled and you can take a hand whisk to it and give it a few energetic stirs to get it to come back together. (It may still look a bit separated after, but not to worry.)

Stir in the flour mixture, then stir in the cranberries or sour cherries, coconut, oats, and chocolate chips just until combined. The batter will be thick, like cookie dough.

Spread the batter in the baking pan and use your hands to pat it down so it's even – dampening your hands with a little bit of water will help keep the dough from sticking to your hands.

Bake the bars until they feel like they are almost cooked in the middle, but not fully done, about 20 to 25 minutes. (See note, below.) If they get dark on top before the time is up, drape a sheet of aluminum foil over the top. Let cool completely in the pan. When cool, cut into 3-inch (8cm) bars or squares
Notes
Storage: The bar cookies will keep for up to four days in an airtight container at room temperature. They can be frozen for up to two months. Note: The original recipe said the bars will take 35 to 40 minutes to bake but mine didn't take as long. So like any baked cake or cookie recipe, it's good to keep an eye on things and check before the recommended baking times.
Related Links and Recipes
Salted Butter Chocolate Chip Cookies
Chocolatiers and Chocolate Makers
Milk Chocolate and Black Pepper Ice Cream