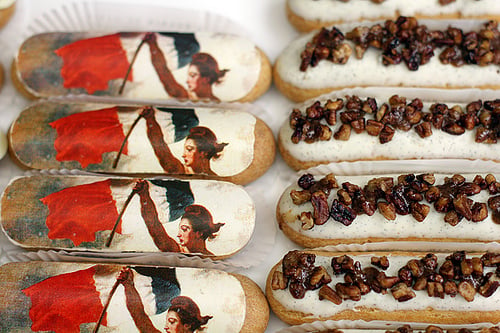 I'm often asked about upcoming trends and each time it happens, I am sorely tempted to respond, "If I could see the future, I'd be buying lottery tickets." I guess it makes good press – but the unfortunate thing about most trends is that they are often temporary. (In many cases, it's a relief to see them go when their time is up.) Yet other times, a trend brings something to the foreground, allowing us take a fresh look at it.
One trend that isn't necessarily something new in Paris, is l'éclair, a torpedo-like pastry stuffed with a creamy filling then dipped or brushed with glaze. I've been eating them ever since I was a child, loving the tender, eggy pastry contrasting with the sugary icing striped down the top. Most bakeries in Paris have them and I pick one up every once in a while since they make a nice snack. They're not overly rich, nor are they too-filling; they seem just enough to satisfy me without bogging me down. And they're also easy to handle when navigating sidewalks riddled with walking people diagonally. (Although in spite of my holding on for dear life, I've almost lost a few in the fray.)
Two places have opened up in Paris, featuring éclairs. And lots of 'em. But you won't find only plain old coffee or chocolate at either place. Instead, be prepared for cru (single-origin) chocolate fillings, fruity combinations like passion fruit-raspberry, and variations on the salted butter-caramel theme.
While preparing for the next update of my Paris Pastry Guide app, I did a tasting of the éclairs. And I have to say, I was pretty impressed. At L'Éclair de Génie, pastry chef Christophe Adam prepares slightly smaller sized pastries that you'll find at the typical corner bakery, but the flavors are intense and the decoration that first put me off (I'm a classicist) won me over because – well, they just tasted so good.
There was an éclair decorated in preparation for Bastille Day, which is called le 14 juillet in France. I didn't try it because in spite of my classicist roots, I really do draw the line at eating likenesses of historical figures. I was wowed by Fraisier, an éclair filled with Iranian pistachio cream, orange flower water, and decorated with brilliant-red Gariguette strawberries.
The éclairs also change seasonally, but I loved the Passion-framboise, filled with passion fruit, one of my favorite flavors that I can't ever seem to get enough of. Another éclair I liked was one encrusted with caramelized pecans and filled with Madagascar vanilla cream. I'll be back to this shop in the Marais for more.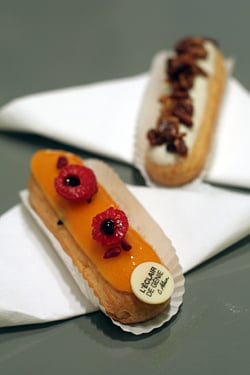 Over near Les Halles is L'Atelier d'Éclair, which is just as modern and streamlined as the other shop, with sparkling glass showcases featuring not just sweet éclairs, but a savory selection as well.
There are dainty, finger-sized éclairs, meant for giving people the finger. Just kidding – they're intended for l'heure de l'apéro (cocktail hour.) Some come filled with foie gras and figs and ones that are a tasty little bite (or two) of spiced chorizo sausage with tomato. For bigger appetites, there are sandwiches (called "clubs") stuffed with chicken curry, smoked salmon, and Comté cheese and ham.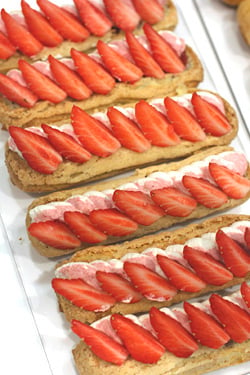 We weren't hungry for lunch quite yet (for those who want to settle in for a while, they are open for brunch on the weekend), so we went on to the sucré selection, stuffing ourselves with small "cocktail" éclairs with a piping of meringue over a pastry filled with tangy lemon cream. The green tea éclair had that pleasant seaweed taste of matcha that I like, and the chocolate one was just fine.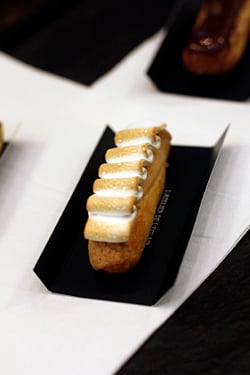 Having reached our capacity, we had to pass on the other flavors. But for the next app update, as the seasons and selections change, we'll be looking for other flavors to try – and return for a few favorites.
L'Éclair de Génie
14, rue Pavée (4th)
Tél: 01 42 77 85 11
M: St Paul
UPDATE: Since writing this post, L'Éclair de Génie has opened multiple addresses in Paris. Check their website for a list of shop locations.
L'Atelier de l'Éclair
16, rue Bachaumont (2nd)
Tél: 01 42 36 37 94
M: Sentier