Sour Milk Bread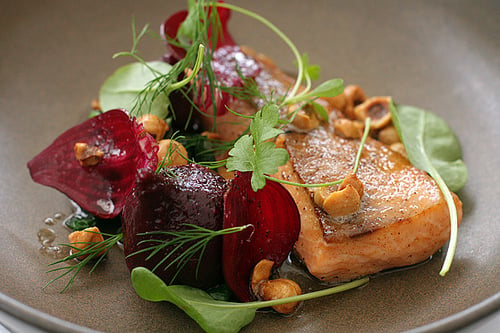 I was fortunate to only have few "clunker" meals during my trip to Sweden. You always feel kind of bad when you're traveling, especially because you have limited time (and funds) and want every meal, and mouthful, to count. Before going to Stockholm, a friend who I was en voyage with had reserved at Lux, a restaurant in the old Electrolux vacuum cleaner factory – beautifully restored – a little ways from the center of the city.
Arriving at Lux was like breath of fresh air, figuratively and literally, as the terrace of the restaurant overlooked one of the many harbors that flow through Stockholm. And a less-than-spectacular meal that we'd had the evening before became a distant memory when we sat ourselves down at a table on the terrace, overlooking one of the many quiet waterways that envelopes Stockholm. (And speaking of keeping the air "fresh", you gotta love a restaurant that stocks toothbrushes in the restrooms.)
It was a short trip from the center of town – we taxi'd there, but took a bus back – and after a quick scan of the menu, I knew exactly what I wanted to order. I am kind of famous for never knowing what I want to order in a restaurant, taking great care to pick and choose correctly. Then, when my mind is firmly made up and I let everyone at the table know what I'm going to order, I stun everyone by changing my mind as soon as the server asks me what I'll be having. It's a odd quirk that folks who eat with me eventually get used to. (At some point, someone should release a game, "What's David Going to Order?")
Like all of the good places I ate in Sweden, chef Henrik Norström focuses on local and traditional Swedish ingredients. And although I didn't see any reindeer roaming the ground, I was certain I wanted to try the grilled reindeer, which came in my salad along with watercress and radishes from Övertårneo, which I doubt is very far. And even if the reindeer weren't grazing around the nearby apartment complex, I don't think anyone would argue that it's definitely Swedish.
My friend was lapping up the cold tomato soup with scallops from Lofoten, a group of island far up north. And the other was thrilled to be presented with a plate of bleak roe with brioche, cucumbers, and sour cream that could not have looked or tasted any fresher.
For my main course, I had a stunning filet of fried salmon with beets, toasted hazelnuts, and spinach (shown at the top), although I was eyeing the plump lamb sausages that one of my dining companions had ordered, which were made in the kitchen. And although he offered me a bite, he was enjoying them so much (and I was enjoying my own meal so much) that I didn't ask him to share.
Desserts were equally impressive and because I share the Swede's love of fermented milk products, I had a bowl of puckery yogurt sorbet with caramelized rhubarb and hazelnuts, and little domes of sponge cakes scattered about. I love that idea – a great way to incorporate cake into a fruit compote-based dish, and I might swipe it for a future dessert.
Although the food was great, what I couldn't keep my hands off of was the dark, spicy bread they had to keep replenishing in our bread basket. It was so good that I had to get up and see the loaf that they were slicing it from.
On the way out, Chef Norström's wife, Lotta, graciously gave me their recipe, which uses Mörk Sirap, a popular ingredient in Swedish baking. She said she wasn't sure of the equivalent elsewhere but said that Swedish people used it liberally in their baking. So I picked up a few bottles to bring home with me because I knew it'd be a challenge to track that down at home. When I tried to figure out what was it was, I learned that Sweden has some interesting labeling laws and the side of the bottle, where it says "Ingredients" the only ingredient listed is "sirap". (At the end of the recipe, I give ideas for some alternatives.)
I spent a bit of time whittling down the recipe since it made a restaurant-sized quantity. There was also a small overload of spices – namely, fennel seeds, green anise seeds, and caraway. I love spices and know how Swedes liked spices in their baking, so I crushed away. Actually, there were so many, I unearthed my spice grinder, which made quick work of the task. And in the end, I dialed those down a bit until I found the balance that I liked.
| | |
| --- | --- |
| Swedish Sour Milk Bread | Print Recipe |
Two 9-inch
(23 cm) loaves
Recipe adapted from Chef Henrik Norstrom in Stockholm, Sweden. This is more of a cake-like 'bread', than a traditional bread. Think French Pain d'spices; a moist batter with lots of spices, with a soft crust and bready interior. I made it twice, and mine came out slightly lighter than the one served at the restaurant (shown.) It goes well with a swipe of butter, but you could certainly serve it with a compote of cherries in red wine syrup, a sharp cheese, or snack on it just as-is, which is what I did with each loaf. Note that this recipe uses dark syrup, which is ubiquitous in Sweden. I picked up a few bottles in Sweden to bring home, but I've suggested some alternatives at the end of the recipe.
2 1/4
cups (350g)
all-purpose flour
1 1/2
cups (175g)
rye flour
1 1/2
teaspoons
baking soda
1
tablespoon
caraway seeds
1
tablespoon
fennel seeds
1 1/2
tablespoons
anise seeds
2
cups (500ml)
buttermilk
3/4
cup (210g)
dark syrup,
or an alternative (see Note)
1. Preheat the oven to 215ºF (100ºC.) Lightly grease a 9-inch (23 cm) square cake pan.
2. In a large bowl, whisk together the all-purpose and rye flours, the baking powder, baking soda, and caraway seeds.
3. In a spice grinder, or mortar-and-pestle, grind the fennel and anise seeds into they are close to finely ground, but they can still have a bit of texture to them. Whisk them into the four mixture until they are evenly dispersed.
4. Make a well in the center of the dry ingredients and pour in the buttermilk and dark syrup. Stir the mixture just until the dry ingredients are completely moistened, but don't overmix.
5. Scrape the batter into the prepared pan and bake for 30 minutes.
6. After 30 minutes, increase the heat of the oven to 325ºF (160ºC) and bake for another 30 minutes, or until the bread feels just-cooked in the center when you press it. (If using an instant-read thermometer, it should read 190ºF, 88ºC.)
7. Remove the bread from the oven and as soon as it's cool enough to handle, remove the bread from the pan and let it cool on a wire rack.
To serve, cut the bread in half down the center, making two rectangular loaves, then cut slices of the bread.
Storage: The bread will keep for up to 3-4 days at room temperature. It can also be frozen for up to 2 months.
Note: Dark syrup is made from sugar beets or sugar cane and closely resembles dark corn syrup. You could use dark corn syrup, cane syrup, sorghum, or perhaps light-flavored molasses, which will lend a stronger flavor to the bread than the other options. I would not use all honey or agave nectar as they will take the bread in another direction. If those other ingredients aren't available to you, you could mix honey and molasses (or treacle and golden syrup) in equal parts to temper the sweetness of honey and the robust flavor of molasses. Swedish dark syrup has salted added, so if using an alternative, you may want to add some salt to the recipe, perhaps 1/2 to 1 teaspoon.
Swedish dark baking syrup can be ordered from Sweden's Best or check out How to Find Foods Mentioned on the Site to find it elsewhere.