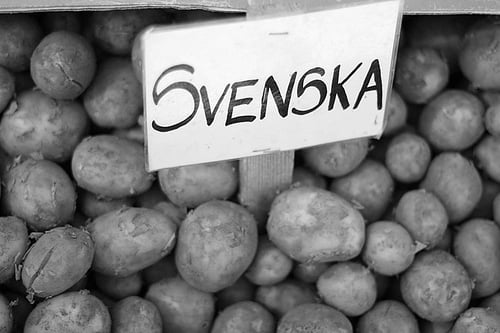 I had no idea what to expect when I planned a trip to Sweden. I think it was a friendly discussion between friends when we decided it would be interesting to go to Fäviken, the famed restaurant northward of Stockholm. (I'll do a separate post on that since it was such a unique experience.) So we made a reservation, then decided to spend a few days before and after, wandering around Stockholm, seeing what's good to eat in the Swedish capital.
There is a lot of talk of the new "Nordic" cuisine – which often uses old-style techniques for cooking, and celebrates traditional ingredients, reviving some that were in the process of disappearing. Other chefs are exciting diners with unexpected flavors and combinations. This modern cuisine sometimes relies on smoking, grilling, and cooking over fire. I was pretty excited to go and see what these young chefs were doing, but I was also interested in tasting anything that was traditionally Swedish as well, including the breads and confections.
One the whole, we ate very well. I've posted a few tips at the end for making a visit to Stockholm a bit easier on the budget. There were a lot of details on the plates during a few of the most lengthy meals. At those places, meals were meant to be experienced, and are not easily written about. But I was just has happy pulling up to a market counter and downing a plate of Swedish meatballs and lingonberries. Here are some of the highlights of the trip:
The first day, after a late afternoon arrival, we squeezed in lunch at Lisa Elmqvist, an 85-year old café in the Östermalms Saluhall.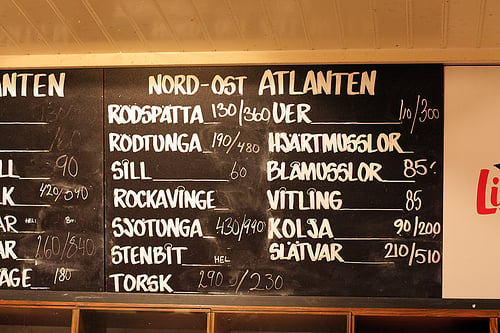 It was nice to have a meal in the midst of this pristine food hall where folks can sit at the counter amongst all the icy showcases of fresh seafood. After finishing off a few open-faced sandwiches of smoked fish, we had an outstanding Sole meunière with brown butter, and a less-successful smoked salmon with creamed wild mushrooms. (Disclosure: Am not a fan of creamy sauces – with fish or otherwise.)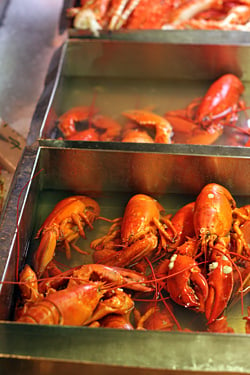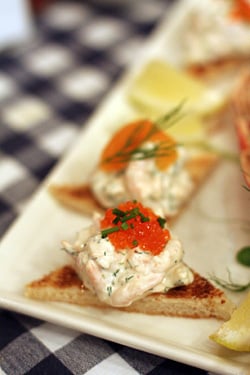 Our post-flight hunger pangs let us made quick work of the little open-faced sandwiches with mayonnaise and shrimp, but I loved Jansson's Temptation, which they brought me a taste of. It's a potato-rich dish baked with sprats (a small, oily fish) and served with aquavit or beer. Or, er, both. It was a great introduction to Stockholm and I could have eaten a big, wide dish of the warmly luxurious casserole. And another shot of aquavit would have been welcome, too – if I wasn't so wiped out from my voyage getting to Stockhom. (Disclosure: I'm a wimpy flyer and even the shortest flight makes me exhausted.)
In the same marketplace were beautiful stands selling everything from elk hearts (raw, and croyvac'd so you could take them home) to beautiful, fat-marbled aged beef. Aged beef is something that I miss – aging beef makes it lose moisture and takes time, so few butchers in France sell beef rassis because of the increased costs/storage involved – and I was gnawing at the glass butcher case and I had to settle for just admiring them from afar.
I wasn't as excited about the raw elk heart, which was a little easier to leave behind.
Another indoor market was Hötorgshallen, where we wandered around looking at everything from bear sausage, to smoked reindeer filets.
On the street level, vendors were selling berries. And lots of 'em. Another thing I get homesick for are big baskets of summer blueberries, and here they were in abundance. But it was a bit before the season, so I passed on the plastic-wrapped baskets and will have to wait for my next visit to New England, I guess.
Instead, there was an overload of strawberries, some cherries, but we were most excited by the famed new potatoes that are so delicious in Sweden that they are rarely served with anything but butter and fresh dill.
And it isn't Sweden unless there's herring.
(Well, I don't really know that for a fact. But I think it sounds right.)
And the Nystekt Strömming herring stand at the Slussen subway station. Herring might not inspire the same rapture as, say, elk heart or bear sausage, but it's good for you and pretty darned tasty – especially deep-fried (Nystekt Strömaains med Hemlagat Potatismos) or served with mustard sauce on sturdy Swedish bread (Ättiksströmming på Kavrins.) – and I think those are the extent of my typing in Swedish because I just blew out my spell-checker.
But back at Saluplants, at the Hötorgshallens marketplace, the terrific and friendly fellows at the counter helped us, and I had my first Wallenbergare, a beef patty made with about 50% meat and 50% (*gulp*) heavy cream, barely held together with an egg. It was so good, I couldn't believe it. It may have been the best "burger" I've had in my life.
Fortunately my friend was distracted, taking pictures of the countermen, giving me time to partake in more than my fair-share of the Wallenbergare. So as usual, someone else got the guy, and I got the leftovers. (But this time, I'm not complaining. Well, kind of…)
In addition to the beautiful folks of Sweden, I also love Swedish bread. (When I came home, my Parisian partner said, "Is Sweden known for their bread?") Heck yeah! (Fortunately, the line of questioning ended there.) Hearty breads, packed with healthy grains are a Swedish tradition, along with the crispy rounds of knäckebröd.
Aside from showcase of very dark chocolates, there were thing rings of outstanding knäckebröd at Dessert & Choklad, had onion puree kneaded into the dough. Each crackly bite was better than the next. Like the potatoes that took precedence over the berries, onions took center stage from the dark chocolates. I think we were so intoxicated by the beauty, freshness, and sharply edited Swedish style, that ordinary ingredients tasted new and somehow, refreshing.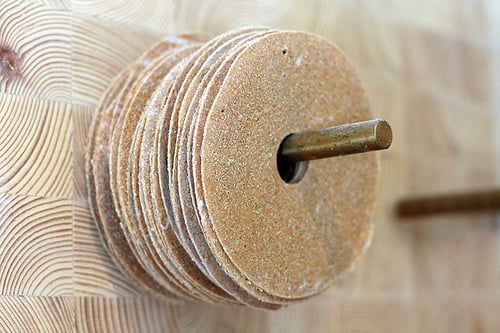 There was a "health bread" that I wanted to buy, but the baker said it should be eaten the same day, which was a little much to contemplate, even for a bread-lover like me.
I wasn't as entranced by the twirly cinnamon roll (even for an American cinnamon-lover, like me, it was a bit much), but went goofy for the light hazelnut cakes in fluted cardboard molds.
They made a wonderful snack, just after lunch at nearby Lux. (Which I plan to write about later, since they gave me a wonderful recipe that I want to share – once I figure out a work-around using a local ingredient.)
I had a nice slice of dark, grainy bread at Scandic, during breakfast, shown way up above), and some traditional Swedish pancakes with lingonberries and butter, but was thrilled to hit the mothership of organic Swedish flours and grains. At Saltå Kvarns Butiker, I was almost as entranced with the packaging as I was with the counterman. (Hey, I'm only human. Why should my travel partners have all the fun?)
Everyone in Stockholm was almost surreally polite and friendly. When I asked a local if everyone was really that nice, they said- "Yes, but it's not like in the states where people are trained to be nice. They are nice because they want to be." In addition to the loaves of bread I picked up at the butiken (and bread-only…nothing else), I'll buy that, too.
When I was having lunch at Saluplats, the counterman forgot to bring me the bread. When he saw it was missing, he came running over to apologize and said, "Oh, how terribly rude of me. I'm very sorry." I almost fell off the counter stool.
I won't go on about how I felt about how I felt about the Swedes because what happens in Stockholm, should stay in Stockholm, but after I asked if I could move in to the shop at the flour and bread butiken, I had to be pulled away with a crowbår.
I had to act a little more respectable at Oaxen Krog, the new restaurant by chef Magnus Elk, which serves "reinterpretations" of Swedish food using local ingredients.
There were lots of swoops with sauce, some fire blasting away in the kitchen, tiny microgreens that perked up our mouths when we bit into them, and unusual combinations like chervil with white chocolate and "recycled" crab soup.
Having recently moved to Stockholm for a location more remote, I really enjoyed watching the calm, competent staff at work and I don't think I'd ever seen a kitchen or dining room so blissed out. While I'm sure they had their moments, likely before the customers arrived, the only moment of discord was when I couldn't figure out how to use the faucet in the restroom and knocked the head off the "fountain" of water. Oops. See? You can't take me anywhere..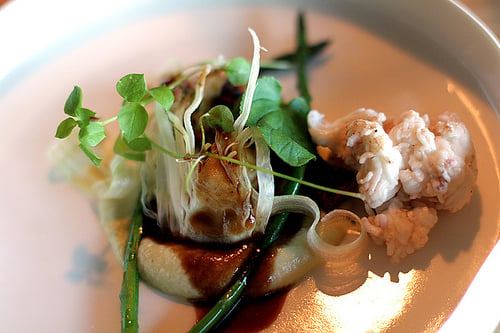 Our meal started with Oysters with sour milk and kohlrabi, spidercrab (shown) cooked with bladderwrack (with the recycled crab soup following that up, that was served tableside with the chef pouring steaming water over the leftover crab shells), then later on to an aged beef filet that was wrapped in birch leaf then "smoked" in a wooden box, courtesy of a blast from a blowtorch. We finished up with a tasty purée of fern and with chervil and white chocolate mousse and then a final bowl of fermented blueberries with yogurt cream and almond-popped wheat.
It was interesting, but the 10-course meal got to be a bit much. (I have a hard time sitting still for a few hours, which is why I become a cranky flyer.) And I think it'd be fun next time to eat at their "slip", their more casual restaurant just next door with a boat hovering overhead.
Because a good meal always ends with dessert – and chocolate (white or dark) – although it was just mid-afternoon when I went to Chokladfabriken, each moment in Stockholm felt like I was just finishing a meal, before heading on to the next one. So I was happy when I walked in the door, preparing for a chocolate overdose, and got the usual, happy-to-see-you "Hej hej!" Swedish greeting.
This exquisite café doesn't just specialize in friendly greetings. The darkest of dark chocolates are there, including a very rich mocha tartlet, which was so dense I could barely cut it. (Although we had no trouble eating it.) There were also licorice-flavored salted caramels, which I brought home for my Swedish bread non-believer. And I even got over my aversion to licorice and enjoyed a few as well.
I also hit Magnus Johannson, which required me to familiarize myself with the extensive, and far-reaching, Stockholm transit system. (Yet it was so efficient; the seemingly lengthy trip took me a mere 15 minutes from the center of town, door-to-door.) Although he didn't take me into his kitchen, I admired Chef Johannson's almond paste tartlets and breads, but was leaving that afternoon and needed to get to my room and try to pack up everything I got before leaving the next day. (It was fortunate I didn't pick up any of those elk hearts in the end, because I could not have barely squeezed one in my carry-on.)
The final night, me and my friend Anissa hit Ekstedt, where chef/owner Niklas Ekstedt cooks everything over the open fire, or smokes the food, making the flavors (and clothing odors) linger for days and days.
Chef Ekstedt told us when he was building the restaurant, the workers were insistant that he was opening a barbecue as he patiently tried to explain, over-and-over, that he was creating a space to cook over wood. But this is a lot more sophisticated and while I love barbecue, the flavors here are meant to surprise. I mean, how often do you have smoked herbs or thymus glands?
We started with a roasted avocado with king crab, then moved on the a slender mackerel with smoked pea and parsley puree, which I scraped off the slab of stone. There were those amazing sweetbreads roasted in hay with summer truffles and corn (which was one of the best things I ate the entire week), ending with lamb served with a smear of salted caramel, a surprisingly good partner.
Oh, and by the way, I think I had the best butter of my life here, which is made in the restaurant. I don't know what he did to make it so good, but it was sad when they finally took it away, to make room for dessert of Aebelskivers (Danish doughnuts, baked in cast-iron) and roasted peach sorbet with chilli.
On my way to the airport the last morning, I detoured off the subway and found myself, back at Saluplants and had Swedish meatballs, lingonberry juice, and knäckebröd, smeared with a few last smears of Swedish butter. Then it was off to the airport, and back home.
---
Stockholm Tips
Stockholm is a lovely city, filled with streets, islands (and ferries that will take you to them), as well as traditional and cutting-edge restaurants and bakeries. Summer is a popular time to visit due to the milder weather and conferences, which meant that I had a little trouble finding accommodations. I did some deep digging on hotel and travel websites to get good rates and fares, and I recommend if you go during the summer months that you start your travel planning early.
I spent a few days at the Hotel Diplomat, and a few in an apartment at the Lady Hamilton in one of their apartments. The Diplomat was modern and well-located, and some rooms have views of the water. The Lady Hamilton apartments offer kitchens and more of a home-like atmosphere, and are located in Gamla Stan, or the Old City. (Which is charming, but there are no shortage of tourists there.) There is also the moderately priced Red Boat Hotel and Hostel in Stockholm located on two boats. I've not stayed there but I asked a local about them and they said they were rather nice.
Sweden is a fairly expensive country and many things are of high-quality, which you pay for. To ease the pinch, you can take meals in some of the market stalls and smaller restaurants to keep expenses in line. Wine and liquor are very expensive and one of my friends, who is pretty knowledgeable about wine, suggested we try Austrian, Spanish, and Portuguese wines, which were more affordable than their counterparts from elsewhere.
Getting to-and-from the airport is easy with the high-speed Arlanda Express, which runs on 100% renewable energy. Flybussarna runs lower-cost buses. Both go to the central train station in Stockholm. Taxis are pricey and since prices are not regulated, they can vary greatly. (You can spend the equivalent of $50 for a 15 minute ride.) Check the prices posted on the rear window in yellow which will show you the highest price of each vehicle. The lowest priced companies are Taxi 020, Taxi Kurir, and Taxi Stockholm. If there are taxis waiting, you don't need to take the first one in the queue and it's not unusual for people to browse taxi windows.
Many people take public transit, which is excellent in Stockholm. You can get a Stockholm Card, which gives you free admission to museums and other attractions, and includes public transit. For riding the transit only, SL travelcards are available.
Lastly, people in Stockholm were uniformly friendly and helpful (and beautiful, too!) Nearly everyone speaks English fluently.
Note: I paid for my trip and most meals mentioned in this post. But because I had met some of the chefs, a few of the dishes and tastes, and a couple of the meals, were comped by restaurants. And although I wanted them when we stopped at a local gas station, I wasn't able to pick up a pair of clogs.
Related Posts