Rosendals Tradgard Bageri
I think I've been speaking in too many superlatives lately. It's just I've been fortunate to be traveling and finding so many great places. Either that, or it's just my American side coming out, the one that tends to speak in superlatives. Still (or "Oh my God!", as we say), whenever I find something amazing, I can't help but going a little loopy over it.
For example, could this be the greatest bread bakery ever? Imagine a glassed-in building in the middle of a huge organic garden in Stockholm with a 16-ton wood-fired oven inside. And right in the middle is a well-aged wooden counter that is the center axis of the bakery, where the dough gets shaped before baking, and later becomes the place to gather all the breads and pack them into baskets to be sold at the cafe and the shop next door.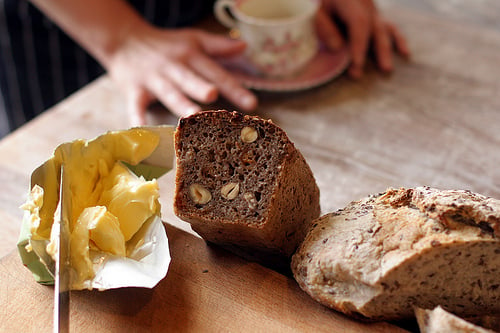 Oh, and not to mention the lovely staff, who are happy to slice into some of those loaves of bread for you, smear a somewhat unreasonable amount of Swedish butter on each one, and let you taste as much as you want.
Per Styregård, a Swedish food writer and all-around super fellow, took us under his wing while in Stockholm, and took us to Rosendals Trädgård, a biodynamic garden in the middle of the city. In the middle of the gardens, there is a nice café where you can take the freshly prepared food outside, and eat alongside the greenery.
We had big salads, which sounded like a good idea, until one my traveling companions, Anissa, suggested trying the roasted lamb shank, which was an excellent idea. (My only head-scratching moment was the out-of-season tomatoes in our salads. Wasn't there something else in their own lovely gardens that they could have used?) But I do love in Sweden that there are always fruit and berry juices available. And aside from the tomatoes, it's nice to see folks trying to grow and use local ingredients.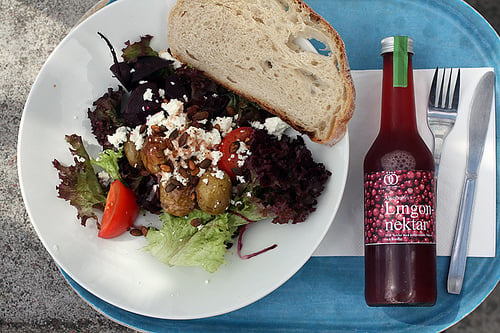 Next to the kafé, there's a little shop there that sells jams and the breads, those made right next door. Later in the week, a chef told me that Per is "The most popular guy in Stockholm!" – and I could see why when he led me into this bakery. He zoomed right up to the top of my list.
Since it was afternoon, most of the baking for the day was being finished up and the three women bakers were pulling breads off the baking sheets and lining them up in boxes. My Swedish is pretty nil, but you don't need to speak a word of any Scandinavian language to understand how beautiful this bread is.
Not only was the bread magnificent to look at, but one of the blue-eyed bakers started slicing up loaves and smearing them with generous amounts of butter. I mean, she was really piling it on. (I guess when you work that hard lifting bread dough, you burn it off.)
Unfortunately (for me), the only lifting of bread I did in Stockholm was putting it in my mouth. But who can stop when the bread is this good? And boy, was it ever.
One bread was light, riddled with seeds, with a very crisp crust. And I'm still kicking myself for traveling with just an (already full) carry-on. There were dense, square breads (uh…two from elsewhere were already packed in my suitcase), with bits of dried fruit and nuts. But the thing that stopped me mid-bite was the crackly knäckebröd. I am sure the Swedes are used to these kinds of breads. But we could not stop eating them, and kept snapping off corners and swiping them with butter until somehow, an entire stack disappeared.
As I was getting ready to leave, I pointed out a bin on the shelf. Even though I didn't speak much Swedish, I assumed it was cardamom. So she pulled it down to show me. Or more like, pulled it down to give me a smell.
Cardamom is one of the three most expensive seasonings in the world (saffron and vanilla are the two others), and when I asked how long that bin of cardamom lasted, she said, "Oh…about a week. Swedish people love cardamom!" Yeah, I guess.
I'm going to confess that even though I didn't have room to bring home any more bread, when she wrapped up a stack of knäckebröds for me to bring home, I couldn't say no. And I hand-carried them like precious jewels (if I had an ice chest, I'm sure people would have thought I transporting an organ for transplant, from the way I was carrying it), and they made it home from Stockholm å-ök.
Rosendals Trädgård
Rosendalsterrassen 12
Stockholm, Sweden
Related Links and Recipes
Rosendals Trädgård Levain (Video)
Mixed Seeds Knäckebröd (Bread & Companatico)
Fröknäcke: Seed Flatbread (Bathen)