One of the things that most excited me most about coming to Stockholm was to visit Pärlans Konfektyr. The moment I heard about it, I knew I had to go. I mean, a small shop that makes artisanal caramels, in one of the best dairy-producing countries in the world, with a wink-and-a-nod to traditional Swedish charm? Count me in.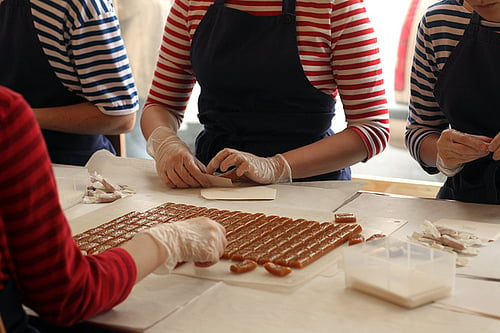 So I asked if I could come and watch them make caramels. When I walked in, I got the usual cheerful Swedish greeting, and I realized I was surrounded by caramels in an array of flavors – some traditional, others less-so, and some beautiful jars of sauce which, after I tasted a sample, had me seriously consider risking getting busted for trying to smuggle a few home in my carry-on. I didn't, although I'm sure the agents at the airport would have been very, very happy to confiscate them!
The beautiful logo, the warm welcome with a lilting "Hej!" ("Hi!"), the rows and rows of wrapped caramels, and jars of sauces with "l", "J", "Å" and Ö"-heavy names I could barely pronounce. Judging from the steady stream of customers – many with kids in tow (and towheaded kids, at that – after all, it's Scandinavia), it seemed to be an obligatory stop in the neighborhood.
After a few moments of admiring everything, the folks at Pärlans invited me into their pristine kitchen and I felt an air of happiness as the workers diligently cut up butter, boiled up sugar syrups, measured out fruit purees, and were hand stamping wrappers for caramels.
Everyone was in good spirits and it was a joy to be around people who love caramel as much as I do. If I was as adorable as them, I would have left my resumé (CV) at the front desk.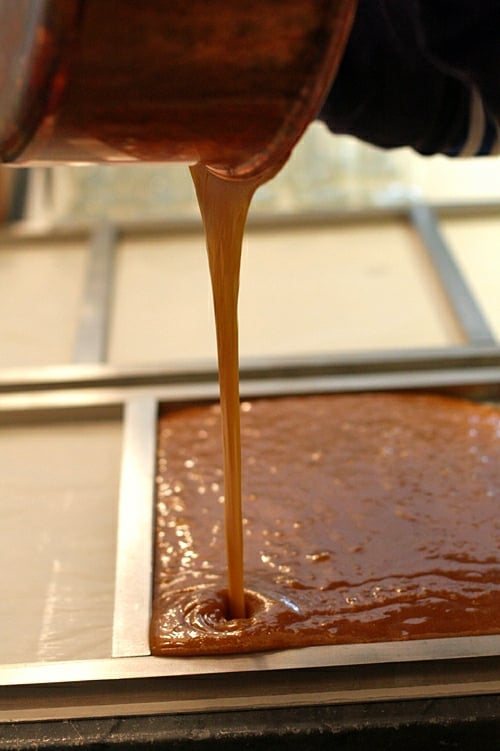 Caramel seems to be an international ambassador of friendship and I felt right at home with all the bubbling pots and people working in the synchronicity that is required in such a place, where someone might be rushing to pour a hot syrup, carefully skirting around someone else passing by with a tray of freshly cut caramels, waiting to be wrapped up.
On the stove were multiple pots of caramel, bubbling almost to the brim, in flavors such as raspberry, mango, and chocolate. (The chocolate was amazing, which I tasted later when it had cooled and hardened.)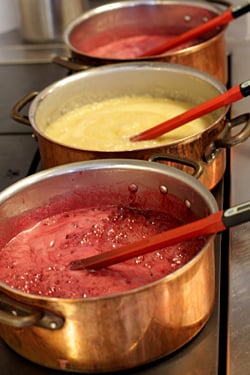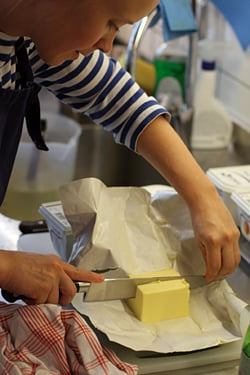 Lakrits is very popular in Sweden. Honestly, I've never seen so many candied and confections with licorice in them. But even a licorice-hater like me could be convinced if it was cooked in this much butter and cream. Others flavors were peppermint, licorice, coffee, violet, passion fruit, arak (anise liquor), apple-cinnamon, and my absolute favorite: vanilla-sea salt.
Damer and herrar, or ladies and gentlemen, I've had a lot of caramels in my life, and these were way up there with the best of them. As in, right at the tippy-top of the heap. I bought a box to bring back to France for a friend from Brittany. If anyone knows caramels, it's the Bretons. And I'm sure she'll be thrilled.
But lest you think that this was caramel paradise, they asked me if I wanted to help wrap caramels. There were five or six worked sitting and standing around a tall metal table table, deftly wrapping each little creamy ingot of soft caramel, and it didn't look all that hard. In fact, it looked kinda fun.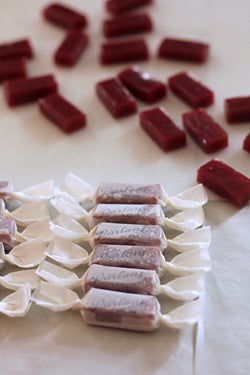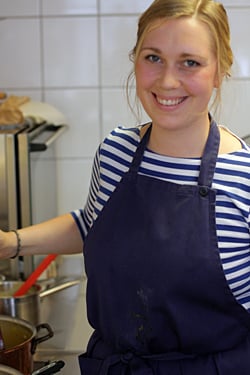 One thing that small-scale candy producers have to deal with it wrapping up the goods. If you're a huge company, you can buy a giant machine to do it. But if you're just producing a few thousand caramels a day, there aren't a lot of machines available that will do the job for you. So although it's not super-efficient, the best way to get those caramels to the customers to have a team of skilled people wrapping each little candy individually, piece-by-piece.
And lest you think that "home"-style wrapped caramels are always nicer, you haven't seen mine. I got a lesson from a lovely young Swedish woman, who showed me how to lay the caramel right in the center, where the logo is on the other side of the wrapper. How to fold it up so there are neat 90º angles on all corners. How to twist both the ends so you didn't squish the soft caramel inside, and so that each twist was facing in the same direction. And finally, how to be proud of your work.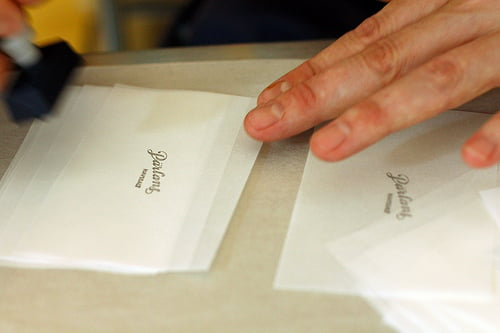 Well, I didn't seem to get any of those down, including the last part. But they told me that I did pretty well for my first time and that it took most people two months before they could do it. The owner, Lisa Ericson, confided in me that even she had never been able to master it. So I know that an inability to twist and tie the caramels closed isn't hindering my dream of opening a caramel shop somewhere. But it looks like the folks at Pärlans have got Stockholm pretty well covered, so I'll have to keep looking.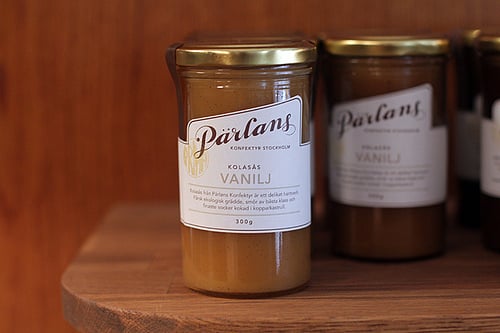 After I finished wrapping up a few racks of lemon caramels, they kindly wrapped them up for me to take home. (Otherwise, I think they would have unwrapped them, melted them down after I left, and let someone with a little more experience have a go at 'em.) I took off my stiff cotton apron, realizing that I was lacking the Swedish-touch, and leaving the shop with my little bag, I was better off (and so were the people buying the caramels) if I remained a customer.
But before I departed, showing true Swedish hospitality, I saw that they named a caramel after me. Well, at least I'd like to think so. It was a sweet souvenir of a morning in Stockholm. And I have a box of caramels that are making the next few days a little sweeter, too.
Pärlans Konfektyr
Nytorgsgatan, 38
Stockholm, Sweden
Related Links and Recipes
Salted Butter Caramel Ice Cream
Pärlans Konfektyr (Video)