Chocolate-Salted Caramel Tartlets
People often ask me, after taking a bite of a caramel in Paris: Why can't they can't get caramels that taste like that in America? Like bread – those kinds of wonderful foods are, indeed, available, but you need to know where to look. A while back I was in Los Angeles and a magazine had mentioned Little Flower Candy Company's caramels. So I ran to a store in Silverlake that sold them, and they were really excellent. They could rival anything in Paris, In fact, they were better than quite a few caramels I've had around here. And I've had quite a few.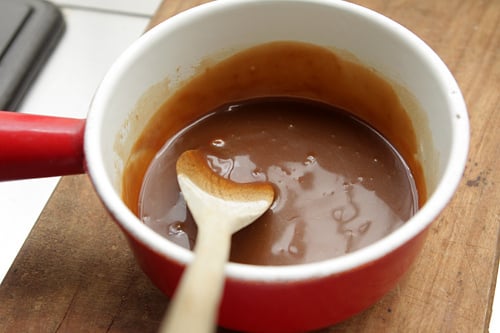 I think I even wrote Christine Moore, who made the caramels, a fan letter after trying them and we kept in touch every so often. At one point, she even offered to send me some caramels. But the vagaries of overseas shipping made me decline. (I recently was called by the UPS shipping company while I was at home telling me that – in fact – I was not at home.) Through the grapevine, and through our scattered communiqués, I learned that Christine had to stop making her wonderful caramels after she lost her lease. And I was not sure what happened to her afterward.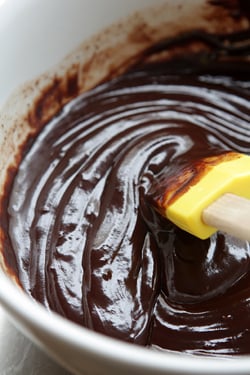 I guess I am a slow learner because I found out that her business blossomed again as Little Flower Café in Los Angeles, making not just candies, but salads, sandwiches, soups, and pastries. And, of course, those lovely caramels were back, too. (Her marshmallows are no slouch either!) I got my hands on her charming book, Little Flower: Recipes from the Café, and not only did it tell the whole story of how she overcame some obstacles when life bonked her with a few curveballs, but was full of sixty or so of her most popular recipes, which make it pretty clear she is now thriving as a successful café owner.
Although I don't get back to Los Angeles often enough, I am sure that's probably a good thing because I would be stuffing myself with those caramels more often than I should. (Although according to that shipping company, perhaps I could be there, but without actually being there?) However when I was flipping through her book, the recipe for Thumbprint Chocolate Caramel Tartlets caught my eye. Here, my two favorite ingredients – chocolate and caramel – come together in bite-size little treats that are small enough so that you can eat a couple, without feeling guilty, but they're so tasty that you're completely satisfied after you've had one or two.
However I can't lie and will say that the last sentence I wrote isn't entirely honest. Because after I made the two dozen that the recipe called for, I packed them up to give to my other half to bring to work for his co-workers. As they sat in his car and he was about to pull away from the curb, and I stood in my kitchen, alone – without any tartlets, I ran out, saying that I changed my mind, and that I needed a few more.
And no, I didn't feel guilty about that, either.
Chocolate Salted Caramel Tartlets
Adapted from
Little Flower: Recipes from the Café
by Christine Moore Christine uses some
rice flour
in the dough, to make them a little crisper, but said that you could use all-purpose flour if that's what you have. Rice flour is available in Asian markets and natural food stores, and I made the mistake in my local store in Paris of getting a rice powder that was baby food (crème de riz), rather than farine de riz. Because she makes these in her café, she uses her tasty caramels. You can order them through the
Little Flower Candy Company
website, or use
homemade
or store-bought soft caramels. You don't need to spend a lot of time getting fussy, making sure each little tartlet dough is absolutely perfect. Press them into the pan and get the edges reasonably even, but don't worry too much about perfection as the little tartlets – and any imperfections – will get swept under by a swipe of dark chocolate ganache. For salt, I use
fleur de sel
, which has a light, delicate flavor. You can use any flaky sea salt to sprinkle on top.
Chocolate Dough
4

ounces (115g)

unsalted butter

,

at room temperature

1/2

cup (100g)

sugar

1

large egg

,

at room temperature

1/2

teaspoon

salt

1/2

teaspoon

vanilla extract

3/4

cup (110g)

all-purpose flour

1/4

cup (35g)

rice flour

(or use 1 cup, 140g

,

all-purpose flour, total)

6

tablespoons (50g)

cocoa powder,

natural or Dutch-process
Salted Caramel Filling
4

ounces (115g)

soft

,

salted butter caramels

3

tablespoons (45ml)

heavy cream
Ganache
4 1/2

ounces (130g)

bittersweet chocolate

,

chopped

6

tablespoons (90ml)

heavy cream

flaky sea salt
To make the tartlet dough, beat the butter and the sugar just until smooth in the stand mixer with the paddle attachment, or by hand. Add the egg, salt, and vanilla, and beat until smooth. In a separate bowl, whisk together the all-purpose flour, rice flour, and cocoa powder, then mix it into the creamed butter.

Butter the indentations of two mini-muffin tins with 12 places in each, or one mini-muffin tin with 24 places. Pinch off pieces of dough and roll each into a 3/4-inch (2cm) ball. As you work, put the dough balls in the indentations of the muffin tins. Take your thumb and press the dough down in the center of each indentation, then use your thumb to press the dough up the sides. (If the dough is sticky, dampen your thumb very lightly with water or oil.) Freeze the pans of dough for 20 minutes.

Preheat the oven to 350ºF (180ºC).

Bake the tartlet shells for 8 to 10 minutes, until the dough appear dry and cooked. Remove from oven and use the handle of a wooden spoon to widen and smooth the inside of the little tartlet shells, pressing the dough that's puffed up somewhat firmly against the sides. Let cool completely, then remove the tartlet shells from the muffin tins – the tip of a paring knife might be needed to help aid them out – and set them on a wire cooling rack.

Make the caramel filling by warm the cream with the caramels in a small saucepan over low heat, stirring, until the caramels are melted and the mixture is smooth. Divide the caramel into each of the tartlet shells.

Make the chocolate ganache* by heating the cream in a small saucepan. Remove from heat and add the chopped chocolate. Let it sit for a minute, then whisk the chocolate into the cream until the mixture is smooth.

Top each tartlet with some of the ganache and take a butter knife or small metal spatula and swipe off the excess. Sprinkle each tartlet with a few grains of sea salt.
Notes
*I had a bit of extra ganache left over from the original recipe, which called for "1/2 cup cream" and "1 cup (about 6 ounces) coarsely chopped bittersweet chocolate." I adapted the recipe to use the chocolate by weight, and reducing the amount of ganache called for. I don't think you'll need more, but If you do, melt together 2 tablespoons of cream with 1 1/2 ounces dark chocolate.
Related Recipes and Links
Salted Butter Chocolate Chip Cookies
Salted Butter Caramel Ice Cream
Cocoa Powder FAQs: Dutch Process and Natural Cocoa Powder