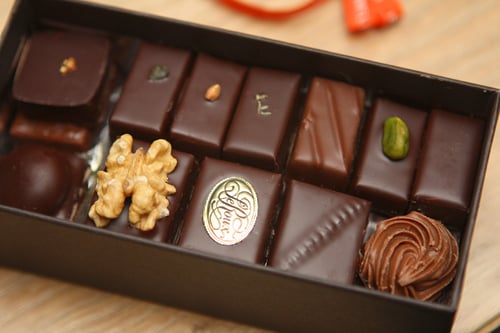 A favorite chocolatier of mine has finally made it to Paris, Henri Le Roux – although he's best known for his C.B.S. caramels, which are made in Brittany, a region known for its copious use of salted butter. Whenever I've traveled to that part of France, I'm always delighted at their lack of restraint, and they use salty butter in everything from buckwheat galettes, to melting into large pots of salted butter caramel sauce, which they have no problem dousing on everything.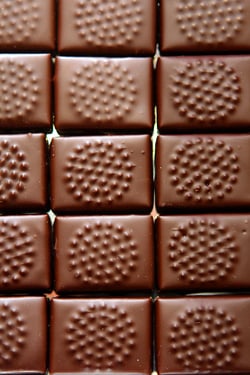 I visited the original shop in Quiberon, location at the end of a long peninsula, which was worth the drive to the end, where land met the Atlantic. And where I met Chef Le Roux a few years ago and spent the better part of the morning with him while he took me around the shop, showing me how his world-famous caramels were made and individually wrapped. Although nowadays salted butter caramels are fairly common, he really put the butter/salt/caramel combination on the map and people traveled from all over to get his caramels and other confections.
Now his shop has landed in Paris, and he's partnered with a Japanese company as well, and together they've expended their range of flavors so you'll not only find traditional caramels, such as his famous C.B.S. (caramel-beurre-salé), tarte Tatin (caramel-apple), and citron vert (lime), but also tender little squares melded with black tea and yuzu-matcha, a combination that's become quite popular in Paris – all tightly wrapped up and ready to go home with you, or me.
People have been known to swoon conspicuously over Le Caramelier, a salted butter caramel pâte à tartiner riddled with crunchy nuts. During my time in France, I've kept more than a few jars of that stashed away in my refrigerator for emergency afternoon spreading sessions.
I'm pretty wild for his Florentines au blé noir, hand-sized circles of chocolate and caramelized almonds with buckwheat and roasted cocoa nibs melded together. And if that's not good enough, one side is completely slathered in dark bittersweet chocolate. I have a thing for buckwheat, and I try to sneak some into a lot of my cooking, even my baking, because I find its earthy flavor is a spot-on companion to chocolate and caramel.
When I visited last week, I was happy to see they're still making Embruns, a chocolate bar with éclats (fragments) of fleur de sel, a combination I find irresistible, as well as tablets embedded with almonds pralines, pistachios, and candied orange peel. When we'd gone to the original shop in Quiberon, Romain had a tablet of chocolate that he said was the best chocolate bar he's ever had in his life. "It's engraved in my memory" he told me. Yet he couldn't remember which one it was (even though I shook him pretty hard, to jar it loose from his memory), so I guess I'll just have to start working my way through all his chocolate bars, until I land on it.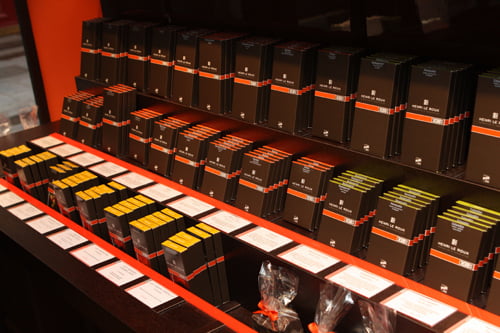 It's a little dangerous knowing that Chef Le Roux's chocolates and caramels are so close to me now – and they're also available at A l'Etoile d'Or, another must-stop in Paris. But I'm rationalizing that since I have to cross the river to get there from where I live, I'll be able to control myself. I just can't say for how long.

Henri Le Roux
1, rue de Bourbon le Château (6th)
Métro: Odéon, Saint-Germain des-Prés, or Mabillon
Tél: 01 82 28 49 80
(A second boutique is open at 24, rue des Martyrs, in the 9th arrondissement, and a third boutique at 52 rue Saint-Dominique in the 7th, is open as of January 2015.)
Related Links
Salted Butter Caramels from Henri Le Roux
Chocolate-Covered Salted Peanut Caramel Cups
Salted Butter Caramel Ice Cream Recipe