10 Insanely Delicious Things You Shouldn't Miss in Paris
How about a pain aux céréales?
Here's my list of Ten Great Things To Eat in Paris – things that I think you shouldn't miss!
1. Dinner at Les Papilles
This is one of my favorite restaurants, serving delicious well-presented food, at very reasonable prices. Doubling as a wine bar, you pick a wine from the rack on the wall (ask for help, the staff will guide you if necessary) then enjoy your dinner. The menu is fixed, but they'll make substitutions for vegetarians and the like. Let them know when you make your reservation.
2. Have a falafel.
If you want to see Parisians eating something messy on the street, with far more flair that I can muster, head over to the rue de Rosiers in the Marais. Order at the window, and be sure to ask for extra sauce piquante, if you know what's good for you. Then retreat with your sandwich to some doorway to chow down. The classic is L'As du Fallafel, which is one of liveliest place on the street. Lately, however, I've been more inclined to head over to Maoz on the Left Bank, which lacks the name recognition, but the falafel is really great and the help-yourself condiment bar means you can pile on the pickled vegetables and hot sauce as much as you'd like.
Le Beurre d'Isigny
3. Jean-Yves Bordier Butter
In a country where 97% of the butter is pretty terrific (even the stuff you buy in the supermarché) after I tasted this handmade butter from Brittany, I'm spoiled for life and won't spread any other butter on my morning toast.
M. Bordier makes a few different butters, including one with smoked salt that I'm told is great on fish, and another with seaweed which I'm told is great for making brownies.
Ok. Just kidding on that last one. But I cannot tell a lie: The beurre I'm partial to is the salted butter with delicate flakes of salt strewn throughout, which are delightfully crunchy when smeared on a toasted baguette and a drizzle of dark chestnut or buckwheat honey.
Bordier butter is available at various fromageries around Paris, and they generally keep it in stock at Le Bon Marché and da rosa. (This butter is also exceptional as well.)
4. Duck Confit at Chez Dumonet
A Parisian friend asked, "Why do Americans all want cassoulet when they come to France?", and he made a grimace suggesting it was too rich. I thought about it, and deduced that since it's not something one finds easily in the states, like duck confit, it's one of the things we seek out when crossing the Atlantic.
There's nothing worse than bad duck confit. Being presented with an greasy, grey slab of meat with flabby skin…is there anything less-appealing? (Well, maybe going to see a double-bill of Carrot Top and Gallagher.) I rarely order it out unless I can get a look at another table's order before making my decision. The version at Au Trou Gascon is a crispy wonder, but its out-of-the-way location and slightly upscale-ness makes it less-accessible than Chez Dumonet, where I've never, ever been disappointed.
Be sure to finish your meal with dessert if you go; the Grand Marnier Soufflé must be ordered in advance. I also urge folks to try the mille-feuille too, which is a wonder of puff pastry magic. The exceptional taste of pure French butter magically is trapped between ultra-light layers of pastry dough with a vanilla-scented cream filling is threatening to slide out from beneath. Neither are 'nail-in-the-coffin' rich desserts, so not to worry. And either (or both!) makes the perfect ending to dinner in this classic Parisian bistro.
Salted Butter Caramels from my hero, Henri Le Roux
5. Butter Caramels
Buttery caramels have been haunting me for years, and the two best ones in Paris at the Henri Le Roux caramels at A l'Etoile d'Or, my favorite candy shop in Paris, and the uber-rich caramels at Jacques Genin. You can't imagine how they can go so much butter into one little sweet bite, but both are worthy of your attention.
Jacques makes his caramels daily in various flavors; my favorite is the nature (plain) but I'm also smitten with his mango-passion fruit caramels, which need to be refrigerated, so you'll have to eat them right away. Which is pretty easy to do.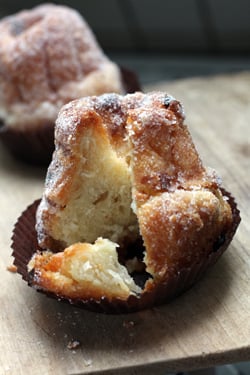 6. Kouglof at Vandermeersch
One bite of the yeasty kouglof at Vandermeersch will make you forget the long métro ride out here. Available only on weekends. The best.
7. Eric Kayser's Pain aux Cereales
You don't need me to tell you there are tons of bread in Paris. Everywhere you look is a boulangerie, and new ones are opening all the time; some good some not-so-good. But Eric Kayser, which seems to be opening them as fast as he can, manages to keep the quality as high as possible in all of them. I've never had a bread from him I didn't love, including the slender baguette Monge or his hearty, coarse pain au levain.
Always on the lookout for a good loaf of hearty, grainy bread in Paris, the pain aux cereales here can't be topped—except maybe by a slab of Cantal or a smear of ripe, pungent brie de Meaux. Light and crunchy, and riddled with lots of millet and sesame seeds, it goes equally well with cheese after dinner as it does for breakfast with some homemade confiture.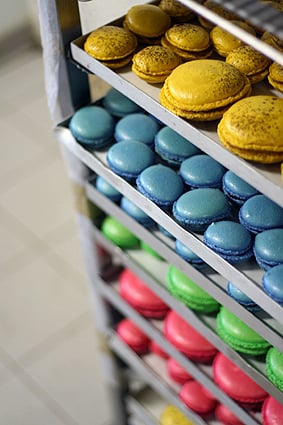 8. The Toasted Rice Salad at Lao-Lane Xang
Most people don't come to Paris for the Asian food. But for those of us living here, it's a nice break from rich Parisian cuisine. Perhaps once a week I head down to the 13th for Vietnamese or Chinese food.
This Laotian joint at 105, Avenue d'Ivry, is always packed and most people are feasting on the Toasted Rice Salad, served in a lettuce leaf which is filled with crunchy rice and little bits of meat. Even if you're not a fan of unusual Asian desserts, the combination of coconut milk-based treats, served warm on a banana leaf, are lovely and delicate.
J'adore!
9. Chocolate-Covered Marshmallows
Did you know you shouldn't fly with chocolate-covered marshmallows? The change in air pressure can cause them to inflate and deflate, cracking the dark chocolate shell. So you should eat them while you're here. They have them at Pierre Marcolini and also they're made on the premises at Fouquet, one of my favorite candy and sweet shops in Paris. At Fouquet, pick up a little bag of croquants, chocolate-covered spice cookies, which are one of my addictions and would make this list, but I was trying to limit this to ten things.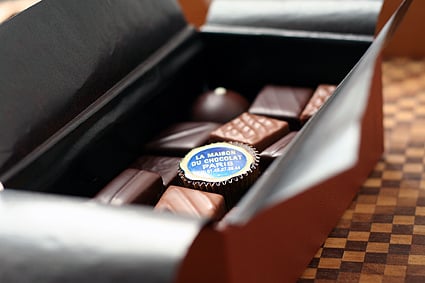 La Maison du Chocolat
10. Four Way Tie Between Jean-Charles Rochoux's Dark Chocolate Bar with Caramelized Hazelnuts, Michel Chaudun's Peanut-Filled Chocolates, La Maison du Chocolat's Rigoletto Noir, and Patrick Roger's Feuilleuntine
These are four of my favorite chocolates in Paris. How does one choose? Luckily, you don't have to. And if you visit Paris, c'est obligatoire to stop in at each one.
M. Rochoux's bar is a slab of dark chocolate riddled with hazelnut, each individually-caramelized, and embedded within. At Chaudun, he daringly introduces the locals to peanuts in a chocolate-filling, which he told me was a tough sell to ground peanut-averse Parisians…but not to me. I can't get enough of them. And be sure to get a box of his mini-sized chocolate pavés too.
What's not to like about caramelized butter mousse, whipped up until light and fluffy, then enrobed in chocolate? At La Maison du Chocolat, they don't both wow-ing the public with new or trendy. Which is a good thing, since if they ever discontinued any of their truly sublime chocolates, I'd stage a one-man strike out front. (And next month strike season starts again…so if you see me soon out there on the sidewalk, I'm supporting the cause.)
And at Patrick Roger, I never know what I want when I walk in the door. Except that's a lie: I know that I do want at least one bite of feuillantines, crackly praline cut in a neat square then covered in a thin coating of dark chocolate. But there's so many other things to try, I know I should branch out a bit more. And I promise I will.
There's a few other things that you shouldn't miss in Paris, but the list was getting out-of-control….
Lap up authentic Italian gelato at Pozzetto or Grom. The coffee gelato is particularly good at Grom, as is the Crema di Grom, with bits of polenta cookies studded in the ice cream.
Try a double cornet of chocolate and caramel ice cream, or any sorbet, at Berthillon.
Elbow the bobo crowds for pizza with roquette and bresaola at Amici Miei pizzeria.
Pick up for a picnic a salty, crackly-skin Poulet crapaudine from the chicken lady at the Sunday Bastille market.
Tear into a slender ficelle apéritif from Moisan bakery.
Dive into un petit sac of glazed madeleines and a great croissant from Blé Sucré.
Dig into Chokaria, a slab-like mélange of chocolate and caramel, at L'Atelier du Chocolat.
My favorite ham-and-cheese filled buckwheat galette are at Crêperie Bretonne, West Country Girl, and Breizh Café.
Order #42 at Le Bambou.
Get a handful of tiny chocolate and nature financiers at any Kayser bakery.
Check out Dorie Greenspan's Top Ten List of things to eat in Paris.
Cut into a superb steak with excellent fries at Le Sévero
Have my favorite lamb mechoui couscous at Chez Omar
---
And if you love pastries and chocolates, check out my best Paris Pastry Shops page!