Nunu Chocolates from Brooklyn, in Paris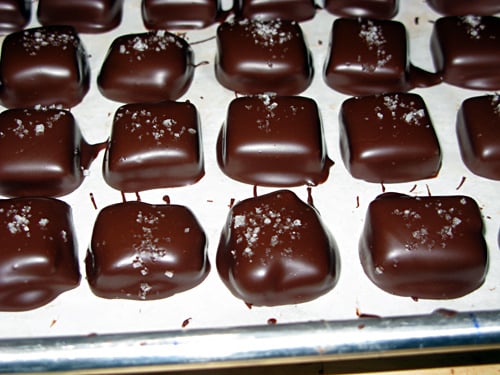 A few years ago an American friend asked me about opening a pop-up store in Paris, featuring something he creates with chocolate in New York City. At the time, I advised against it. People outside of the United States do have some preconceived notions about how Americans eat (many still think we all eat at fast-food restaurants), but a recent wave of magazine articles about food in America, small restaurants in Paris with America-trained chefs and owners, and most importantly, people traveling to the United States and seeing the astounding produce at the greenmarkets, I'd like to think has caused a shift in thinking.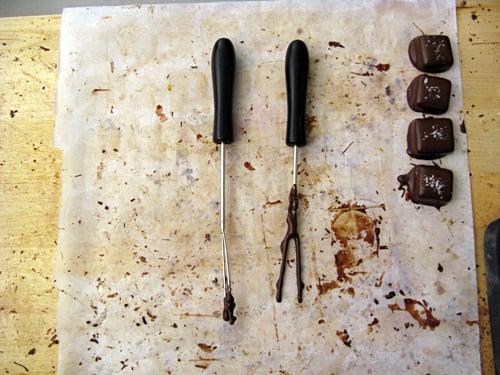 So I was excited to see that Nunu Chocolates from Brooklyn had set up a space in the Brachfeld Gallery in the Marais here in Paris, for a temporary pop-up shop featuring their chocolates.
I went last night to a party hosted by Yelp, and as soon as I walked in the door, from the smell of things, I knew I was in for a good time – and in for some delicious chocolates.
A few years ago I attended a chocolate tasting here in Paris with a well-respected chocolatier from the states. Many of the famed Parisian chocolate masters sat at the same table with me and they were intrigued, but not necessarily polite. One, who I'll assume was joking, said to the chocolatier – "Your chocolates are good, but they'll never be as good as ours."
I still remember that and sitting here looking at my pictures from last night, and realizing what nice people Justine Pringle and Andy Larid are, how anyone could not love their chocolates (and them) is beyond my comprehension.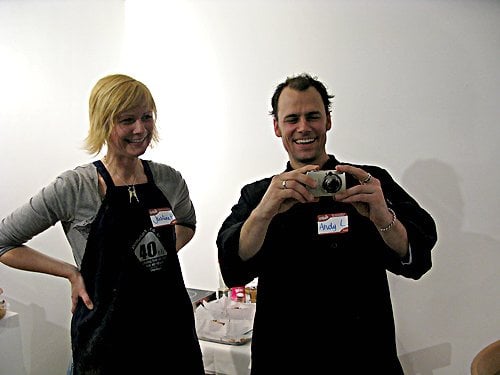 An interesting cultural difference is that to be a chocolatier in Europe, you generally spend years working in a chocolate shop or restaurant, or attend a culinary school. (Many start their studies and working at 15 years old). Then, if you're fortunate and have the drive, you might eventually open your own place. Whereas if you look at the resume of many chocolatiers and chocolate makers in America, they come from a variety of background, everything from formerly being a doctor to criminal defense lawyer.
But no matter where I've traveled in the world, all chocolatiers I've met are bound by the love of chocolate and what they do – they just have different routes of getting there. And it would not be common in France to change your métier from, say, being a police officer or founder of a car-sharing program, to opening up a bakery. (Although it does happen.)
Andy was a musician and looking for something to sell at his shows. And now, here they are in Paris, offering their chocolates to discerning Parisians. The self-taught husband and wife team of Andy and Justine had boxes of Santander Fair Trade chocolate sent in to them from Colombia, and they're making the fillings and dipping the chocolates right there in the pop-up shop, packing them in boxes all ready to go.
At the soirée, we tasted several chocolates with wine, my favorite being the Salt Caramel paired with Maury, a naturally sweet (but not cloying) red wine from a small region adjacent to the Languedoc. Both were excellent – the salted caramel chocolate, and the pairing. But what intrigued me just as much was the raspberry-filled chocolate. I have an aversion to berries with chocolate (I find they compete, and each cancels the other out), but inside these fluted little beauties was a raspberry paste that was just the right liason to the bittersweet chocolate rather than a clashing element that hinders any enjoyment of the chocolate flavor.
Full of chocolate, we wanted something savory for dinner and slipped out of the crowded gallery filled with French guests happily people enjoying their chocolates. We walked a bit and tried to get into a new Mexican place which is doing a booming business serving excellent tacos, but that was full as well.
Who would have thought that the new hotspots in Paris would be authentic tacos and Brooklyn-based confections? But good food is universal and I shouldn't be surprised, I should be delighted. And I am.
---
Nunu Chocolates at the Brachfeld Gallery (78, rue des Archives, 3rd) will be available from April 16 – 26, 2011, and there are workshops and wine & chocolates pairings planned as well. More information and hours can be found at the Brachfeld Gallery blog.
---
Related Links and Posts
A Visit to Patrick Roger (Video)
Self-Taught Chocolatiers: Nunu (Video)
The Easiest Chocolate Ice Cream Ever!