New York City and Brooklyn Dining
Just got back from a covert trip to New York. It was so top-secret that even I didn't know about it. The trip happened in a flash and I barely got to see anyone. It was work, work, work. But a guy has to eat, right? And I think it says somewhere in the constitution of the United States that we all have the right to have abundant access to corn on the cob in the summer. And I dove into as many ears of it as I could, as well as heirloom tomatoes, that I picked up at the resplendent New York City greenmarkets.
After my memory card failure from my last trip, I decided to go camera-less, and go light – and safe(r) – and only brought along my trusty iPhone. I indulged in blueberries by the handful, sweet corn on the cob slathered with butter and salt, cheddar cheese, Korean food, and Concord grapes.
Sharp-eyed botanists, or would-be botanists, will see they weren't quite Concord grapes, but Niabells. I used to work with a French chef in California, and when he saw me making something with Concord grapes, he looked at the bunches in the crate, and said, "I do not like those."
These native North American grapes, and wines made with these grapes, as said to have a "foxy" flavor, a term used to describe the robustness of vitus labrusca grapes. Which probably explains why they're not so appealing to European palates, where the idea of having flavors reminiscent of a four-legged creature doesn't quite sound so appetizing.
For the first part of my trip, I stayed in midtown Manhattan, right next to Koreatown, a few blocks of tightly packed Korean restaurants. In other words, my favorite places in the world. I've been to Kyochon and Mandoo Bar (2 W. 32nd St) on previous visits, but since I was solo, I went to the fun Woorijip (12 W. 32nd), where the food is served buffet style. So you can help yourself to pajeon, kimchi, kimbap (Korean sushi), and anything else you can imagine. It's a real slice of New York, with everyone from students, personal trainers, and Americans from Paris, getting their Korean fix.
Ever since I'd heard about Russ & Daughters Café, I knew that I needed to make that one of my first stops on my next trip to New York City. Russ & Daughters, just a block or so away, is the preeminent purveyor of smoked fish in Manhattan, and is a New York institution. The owners did an amazing job with their restaurant, creating an up-to-date experience, while retaining a vintage feel of old New York and the lower east side, without being twee.
Cocktails and shrubs (non-alcoholic, vinegar based fruit drinks) are on offer, and my gin-based Lower East Side cocktail spiked with dill was not perhaps something a Jewish grandmother would serve, but it was the perfect accompaniment to Holland herring and smoked sturgeon with rye bread made especially for the restaurant. The beef brisket I had for a main course was excellent. And if you go, don't wave away dessert because the Halvah ice cream with salted caramel sauce was perhaps the only way to improve on halvah, as it is. The staff was great and very friendly, something I noticed a lot in New York. And Russ & Daughter's Café is great place to experience the old and new New York, all At once. (Apparently it gets quite busy at lunch and during weekend brunch. So try to go at off hours if you can.)
Fried chicken seems to be the rage right now in New York City. And it seemed fitting that when I was up in Harlem, I had a jumbo fried chicken sandwich with cole slaw at Harlem Shake. The friendly staff (…which I keep saying; I always forget how customer-fixated the service is in the states…) made the experience in this indoor/outdoor eatery, extra fun. The burger was really good, too. If you go, check out the gorgeous vintage tile work, and magnificently refinished bathroom fixtures, in the restroom.
Even though I live somewhere where every restaurant that opens seems to be striving to be très Brooklyn (exposed brick walls, single-word restaurant names, light bulbs with filaments exposed, etc), nothing beats the original borough. And I found myself in Williamsburg, where all the clichés are true. It's hard to walk a few feet without passing groups of your people dressed in the Brooklyn-hipster garb of knit caps, vintage-looking eyewear, rolled up skinny jeans, beards, and gangly t-shirts. (Although as an "American in Paris," I should talk about clichés…)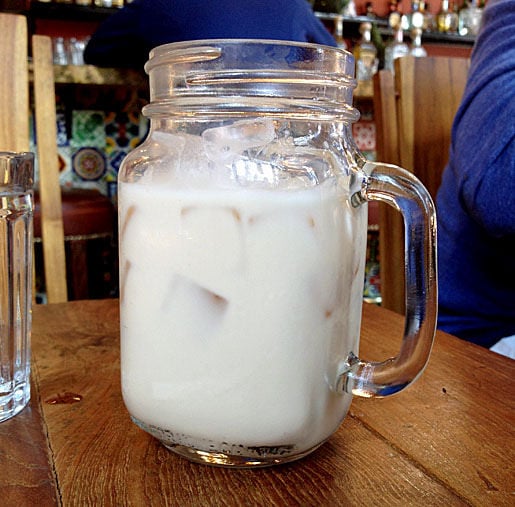 I felt right at home, because just like in Paris, it's de riguer to serve drinks in Mason jars in the "real" version of Brooklyn as well.
Brooklynites seem to have gone beyond organic, and signs promoting local, vegan, gmo-free, and kale-enriched, seemed to also be de rigeur here.
Except for the vegan part, Humo Smokehouse (336 Myrtle Ave) uses sustainable meats. And when I found out I was nearby, I stopped in on a Tuesday evening. The place was empty, but the ever-friendly staff explained that most of their business during the week was take-out. And since I was on foot, and wasn't into lugging things back to where I was staying (and honestly, it's hard to carry bbq because when you get it, you just want to dive in), I ordered at the counter and pulled up a seat. The brisket was very good, and I know the no-sauce traditionalists will have their boxers in a knot, but the tangy sauce was a good accompaniment. The pork ribs weren't quite as tender as the brisket, and the cole slaw could use a makeover.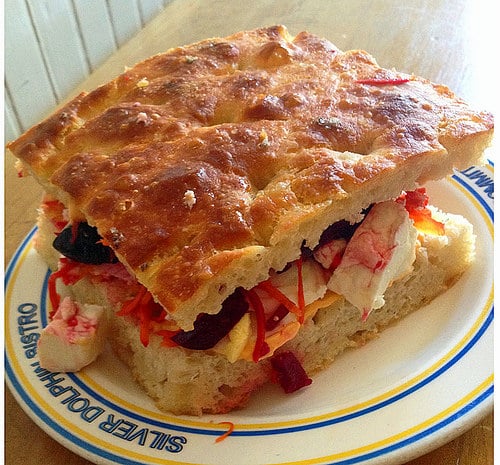 Saltie was highly recommended by a Williamsburg local to me. And when I walked in and looked at the menu on the wall, I thought (politely, rather than saying it out loud, because this is America), "Sh*t, a $12 sandwich!" However my Scuttlebutt sandwich came out overstuffed, and it was one of the best sandwiches I've ever had. Loaded with olives feta, hard-boiled eggs, pickled beets, and capers, it was bathed in some sauce that must've been the result of a unicorn lifting its leg over it. Holy horn of the unicorn, was that a great sandwich.
Queens, which people keep saying is going to be the next Brooklyn, doesn't appear to be headed in that direction. And that's fine because I love the little hole-in-the-wall places in Astoria and Jackson Heights. I passed a lot of Mexican places. However most of what I saw looked a bit suspect (and not very tidy), and because I'm one of those people from California that complains about Mexican food anywhere else (except in Mexico), I have pretty high standards for Mexican food. But Peruvian in Queens? Count me in. At least at La Casa del Pollo Peruano (8112 Roosevelt Ave, Jackson Heights), when there is charred roasted chicken, ribs, and pork fried rice. And a glass of spicy aji verde (green sauce) livened everything up. I could only eat one-third of my meal, and since I was staying put for a few days – at last, I took it home and turned that one plate into two more meals.
In Astoria (also in Queens), I couldn't resist a place with a name like Shawarmania (22-49 31st Street, Astoria), a fast-food style place where the friendly fellows talked me out of over-ordering. Which was much appreciated, because I could barely eat all the food they gave me. A giant heap of rice, pickled turnips, salad, and two kinds of sauce – a garlic-yogurt sauce, and a spicy red sauce – were great accompaniments to the flame-roasted chicken shawarma. I also ordered what I thought was a single side of tabbouli, a portion which could have fed a family of four, and was made the Lebanese way, with plenty of herbs, and just a scattering of bulgur.
No trip to Brooklyn would be complete without took a trip to one of my favorite chocolate shops, Nunu. I wasn't able to get to the ice cream shops that I'd heard about in Brooklyn, because I was traveling on foot. But chocolate was a non-negotiable part of the deal. Along with great coffee, favorite chocolate were the ones filled with rye whiskey ganache and peanut praline.
And the boys from Baked made sure I didn't lack for cookies and cakes, and gifted me a copy with the brand-new cookbook, Baked Occasions, just in time for the holidays.
Samurai Mama tavern and noodle bar, was recommended to me for its cold udon noodle soup. When I sat down at the bar and saw the sushi the people were eating next to me, I caved and ordered that. Starting off, I had a seaweed salad that was a little challenging to finish as it was quite, um, "sea-like." And that's coming from someone who likes seaweed. The pork gyoza (dumplings) were superb; boiled, then baked in a skillet with a thin, crisp, crêpe-like batter crackling over the top. The sushi didn't disappoint, and neither did the two glasses of sake that I'd ordered from the extensive sake list. Which is why there are no pictures. Blame the sake.
I walked past Kimchi Grill and realized that I'd never had a Korean taco. (And I wasn't sure that I needed to remedy that.) But there I was, in front of Kimchi Grill, and it was lunchtime, so I ended up inside, going cross-cultural with the falafel kimchi rice bowl. I opted out of the guacamole, not being able to imagine guacamole alongside kimchi. (Sometimes, you just have to go with your instincts. Just because you can do something, doesn't always mean you should.) My kimchi bowl worked and I scraped the bowl clean. I also spent the rest of the day apologizing to everyone for smelling like kimchi and falafels.
I love me some lobster rolls. But hold the mayo, s'il vous plaît! I like 'em Connecticut –style, drenched in melted butter. Most places in New York add the eggy dressing, but when I found out Red Hook Lobster Pound did 'em right, I went with some Brooklynites and one, who was not a New Englander, went with the lobster roll in basil vinaigrette. The fries were outstanding, and the lobster rolls fine. But nothing beats sitting on a picnic table on the coast of Connecticut, eating a lobster roll, drenched in hot butter, of course. Without mayo.
I've been hearing about Franny's pizza but never made it there. So even though we'd just had lobster rolls, French fries, and potato chips, pepperoni pies were calling. Since my friend were squiring me around in a car, and I wasn't on foot, I accepted the challenge, and we stopped by for a thin-crusted pepperoni pie.
And, being Brooklyn, we poured some rosé into our glasses from upstate New York, because we wanted to drink local and vegan.
New York gets a bad rap in general for Mexican food. And I dislike constantly saying (well, somewhat…) that I'm from California, and I that know Mexican food. But even locals in New York aren't over enthused about their Mexican options. But I walked passed Chavela's and saw what looked like some pretty nice-looking Mexican fare on the plates, and stopped in for lunch. My horchata (in a Mason jar mug, of course) was awfully sweet. The bistec taco didn't look like much, but was excellent. And because my trip was winding down and I didn't know when I'd get Mexican food again, I order both a chicken mole tamale and a squash blossom quesadilla. I loved the quesadilla, with its crisp tortilla shell with melting Mexican cheese inside, and the tamale was fine, although I like big chunks of chicken in my tamales, rather than a puree. And a little more mole. But I would definitely go back to Chavela's for my mexi-fix.
Rye was on my list, and not just in the chocolate ganache from Nunu, above. But from Rye restaurant, where I did a solo sampling of rye cocktails along with a great meatloaf sandwich smeared with bbq sauce and deep-fried onions. The bread was a bit much, so I did the French thing and did a meatloaf tartine (open-faced sandwich), which I ate with my knife and fork. It was excellent. So maybe while Paris is going très Brooklyn, Brooklyn could go un peu français?
As the trip wound down, I was losing steam. But two trusted sources insisted that I go to M Shanghai, one even sending me a text message detailing exactly what to order when I got there. (Fortunately it's also de riguer in Brooklyn to be glued to your smartphone.) So I pulled up a stool near a couple of tattooed Williamsburg-style "bros," who were drinking beers and complimenting themselves on what good foodies they were, and ordered pork wontons with peanut sauce and beef with scallions and onions. The wontons were wonderful. The peanut sauce was light, and peanutty, not thick and gloppy. And a spoonful of chili oil perked it up to my spicy liking. The beef was great, too. But next time I go, I'll gather up some bros', so I can order more, and share.
For some reason, through all the interviews I've had in my life, no one's ever asked me "What would be your last meal?" – which seems to be the eternally popular question. Since I'm tired of waiting, I'll tell you: fried chicken. Yes, that's my all-time favorite food. And because I was flying out that evening, just in case anything happened on the plane, I didn't want my last meal to be a reheated dish of "pasta-or-chicken."
I was wandering the streets of Williamsburg, looking for padrón peppers to bring home, which I wasn't successful at finding. But I did find Pies 'n Thighs, which was kismet.
The super-friendly waiter did call me "dude" and confirmed that the fresh ginger drink I'd ordered was, indeed, an "awesome" choice. But when in Rome – or Williamsburg – you do as the Williamburgians do, and eat and drink very well.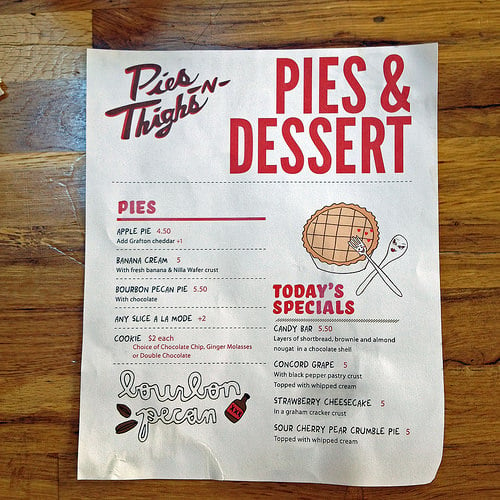 It was hard not to order the house-cured corned beef hash or reuben sandwich on the chalkboard, but it was fried chicken I was after, and it was fried chicken I was going to have. And I was glad I did. The very crispy fried chicken skin brought back a Proustian cavalcade of fried chicken memories, from the Swanson dinners I enjoyed in my youth (before we had farm-to-table fare, and people were scolding me on Instagram about avoiding gmos whenever I post the photo of me about to enjoy the rare, precious pleasure of biting into an ear of sweet corn on the cob), to eating real fried chicken in various venues across the United States.
I wolfed it down, along with a light 'n flaky biscuit, and an heirloom tomato salad with barley. I wish I had room for a slice of the Concord grape pie. But if I ate anymore, I would have been considered oversized baggage on the plane. And it was time to get on the plane, and fly home.