Mile End Deli
One of the few English words that my French other-half has mastered is "pastrami." Which in his defense, is just fine because most Americans that speak little, if any French, can easily say baguette, croissant, tarte au citron, and macaron before they head to France. Seems like both cultures knows where their priorities lie!
So when I hear "Daveed, je veux du pastrami," I look into those sweet little brown eyes, misting over a bit, I realize that I have to get him some. And some for myself, too — although I am a corned beef guy. But it's hard to explain "corn" and "beef" (in French, bœuf maïsé doesn't quite sound as appetizing), so I just go with le flow.
There are few really good delis left in New York. In Manhattan, Pastrami Queen does a good job, I haven't been to Carnegie Deli since I was a kid but hear it's still going, Sarge's just reopened, and Second Avenue Deli reopened elsewhere a few years ago, neither of which I've revisited since. (But plan to.) And Brooklyn has Mill Basin Kosher Delicatessen, Jay & Lloyd's Kosher Deli, and David's Brisket House, which I think I need to visit, if only because of the name.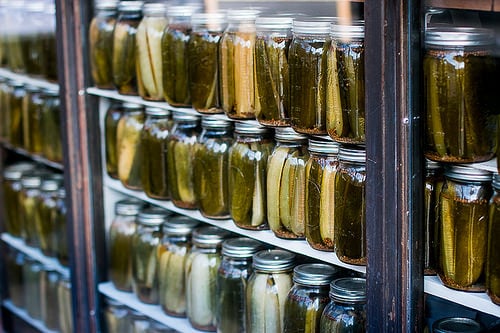 But some of the Brooklyn joints require a substantial subway commitment, even if you're already in Brooklyn, so the more centrally located Mile End Deli it was. But it didn't just win on location alone. It's a favorite stop of mine for a sandwich.
Like corned beef, I wasn't able to describe poutine, the Canadian dish made of frites smothered in cheese curds and gravy. But if that's what you're looking for, Mile End Deli has it. One of the owners of the restaurant is Canadian, so there are nods to Canadian delis, beers, and some of their other traditional fare.
And lest you think it's why Americans – and let's include us all as North Americans – are chunky, a very slender hipster kid behind us was wolfing down the "Fat Jewish Poutine" with tongue, salami, bacon, hot dogs, cheese curds, gravy and French fries piled on the inevitable mound of fries. I don't think I could have fit one of my arms into the legs of his skinny jeans.
Since I'm no longer a twenty-something, and I'm too old to wear pegged jeans made of stretchy material (not that I want to…), I didn't go there, and settled on a smoked meat sandwich. I was asked to explain why it wasn't actually a vrai (true) pastrami, so I asked the super-nice waitress about and it (the French like pastrami…and explanations), and the super-nice waitress explained that it's like pastrami, but made from a different cut of meat. It's certainly leaner than other versions, less-salty, and comes out on not stacked quite so high as the old-fashioned delis. But on the other hand, afterwards you don't feel the need to call a crane to get your derrière out of the restaurant.
Our tablemates had a hefty smoked whitefish sandwich with lemon aïoli on toasted, carb-friendly challah bread, and a smoked meat burger topped off with fried egg and cheese on a toasted onion roll.
A few local workers wandered in and dove into gravy-laden poutines at the counter. They have a more reasonable version of poutine with "just" fries, meat, and gravy – but I'm sticking with smoked meat sandwiches, and will continue get my fry-fix on the side.
(I dislike sauce on French fries; I've never seen the benefit of soaking crisp foods with sauce, except for the spicy Indonesian peanut sauce I had once in Holland which admittedly won over a bit of this condiment curmudgeon.)
I do miss the slightly creamy deli version of cole slaw with celery seed that I grew up eating, but the fries – oh, those fries. How I've missed les frites, fried to a crusty tenderness, which, in spite of my altruism of indulging my Frenchman in getting his pastrami fix, why he was concentrating on his sandwich, I dug around the bowl of fries, pulling out the slender, extra-crispy ones that have fallen to the bottom, slyly slipped those choice morsels them into my craw, getting more than my share before he caught on to my constant digging, and joined me.
Yes, America has become the land of craft beers. Certainly Brooklyn has. But in spite of Mile End Deli's extensive beer menu with brews from everywhere – Queens to California – I thought for a real American experience (and because the French like history), I ordered a Narragansett Lager for Romain, which claims to be New England's oldest beer. As always, I went with Dr. Brown's black cherry soda. Someday, I will explain Dr. Brown's Cel-Ray celery soda, but I think I need to understand it myself, first.
I don't even know if Mile End Deli has dessert. But if you can handle one after a meal like this, you're a bigger man than I. Or at least you will be.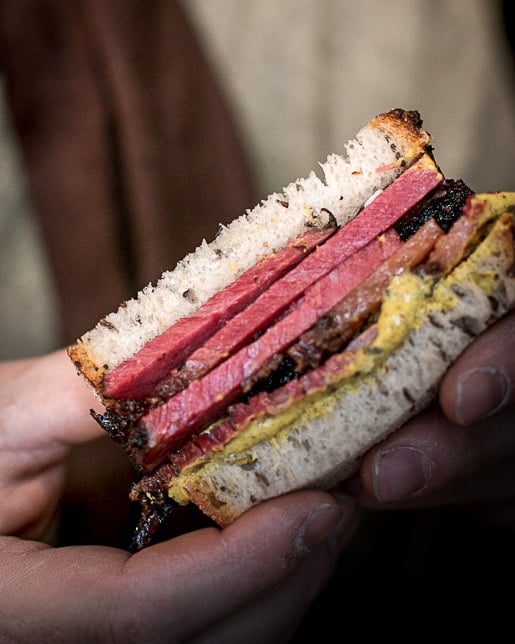 Mile End Deli
97A Hoyt Street (Brooklyn)
and
53 Bond Street (Manhattan)

Related Posts
New York City and Brooklyn Dining