[UPDATE: In the fall of 2018, Merguez & Pastrami closed, and the space will become Saul's, a restaurant by the same owner, offering similar specialties.]
The most interesting neighborhood right now in Paris is the 9th arrondissement. Walk in any various directions from a métro station after you land there, and you'll find yourself in a completely different neighborhood, whether it's surrounded by stately buildings on the Avenue Trudaine or the Square d'Anvers lorded over by Sacré Cœur (which hosts one of the rare afternoon/early evening outdoor markets in Paris). There's the rue des Martyrs, a vibrant street of chocolate shops, ice cream, and bakeries, along with great coffee shops, bakeries, grilled Portuguese roast chicken, and a candy emporium that people travel from all over the world to visit, and stock up on caramels, chocolates, and other French sweets.
Barbès, which rests on the northwest corner of the 9th is a neighborhood that's getting more comfortable with itself. The semi-swanky Brasserie Barbès opened, which screamed "gentrification," but there are still young men at the métro station across the street, asking passers-by under their breath if they're interested in counterfeit cigarettes or Lacoste shirts. If you'll permit me to use a cliché; this part of Paris is sometimes referred to as "the Brooklyn of Paris," so Parisians really don't have to take the L to Williamsburg to get their fix. It's just a métro ride away.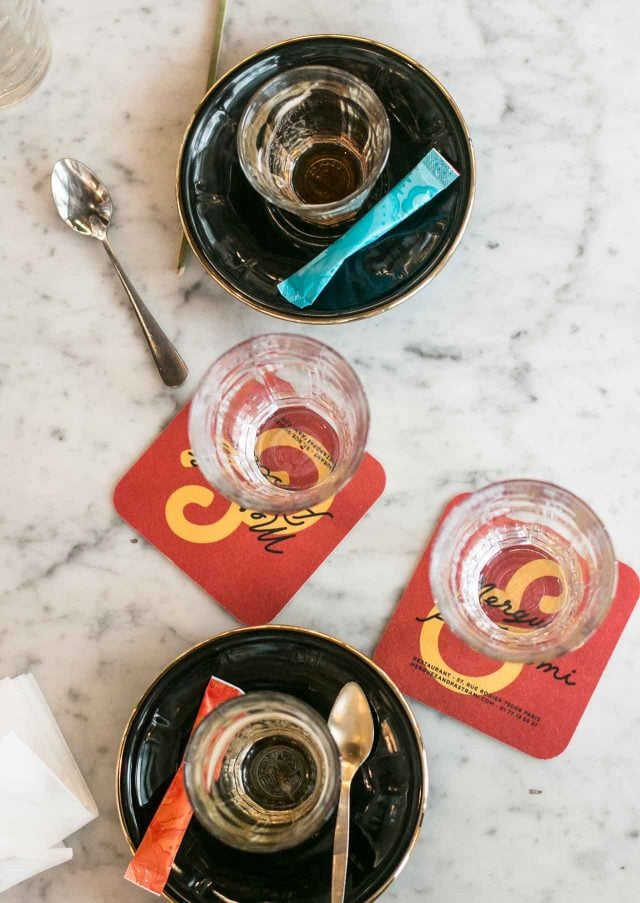 I've been loitering around the neighborhood for years and I love it. (Although a friend had his iPhone lifted at the Barbès métro station, which was offered back to him…for a price.) One of the good things about the rise of interest in this neighborhood is that a number of very good places to eat have opened, which reflect a more casual style of eating and dining out that appeals to Parisians these days. One such place is Merguez & Pastrami delicatessen.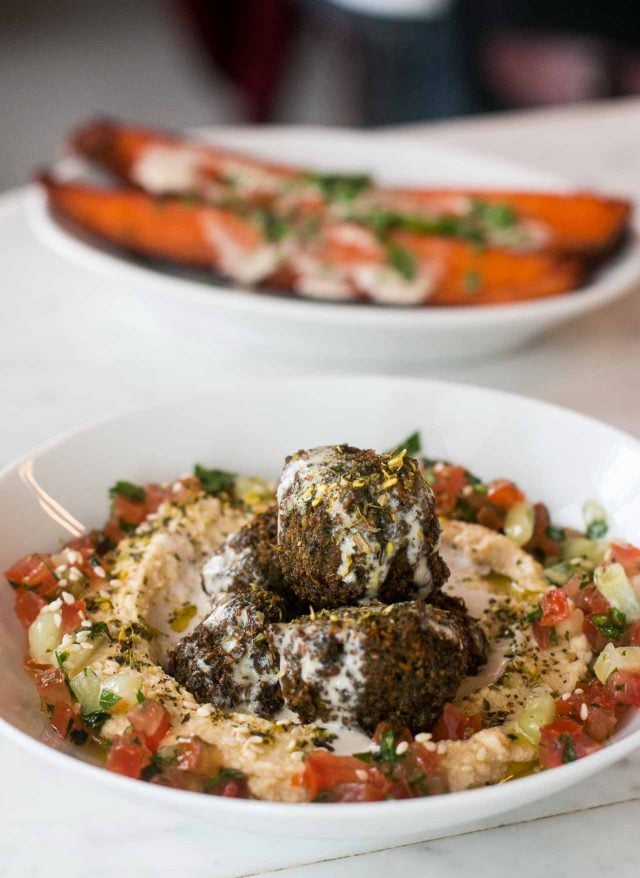 The delicatessen is a European concept. The word is translated from the German delikatessen, which conjoins two German words, delikat and essen – delightful food, the first part of which is said to derive from the French word, délicatesse, or 'a delicacy.' So it's natural since France is part of Europe, to have a delicatessen that fits right into the capital. And I'm glad someone has finally done it.
What struck me was that instead of reproducing something from New York or Montreal, David Azoulay created a Paris delicatessen, with a menu of food that hones close to Eastern Europe – homemade bagels, and smoked meat – as well as dishes from North Africa and the Middle East, cultures which are part of the rich ethnic mix of France, just like hamburgers (Germany), pizza (Italy), and cheesecake (Greece) reflect the cultural mélange that makes up the United States.
David was born in Paris, to a father who was Moroccan and an Italian mother. When I heard of Merguez & Pastrami, I mentally put it in my mind as a place I wanted to visit, intrigued by the name, which combines two things I like very much: spicy merguez sausage and smoked beef. Then one day when I was doing errands in the neighborhood, I passed it, stopped in, and grabbed a card. A few nights later, I found myself at at table for a post-cocktail dinner, after a tiki drink at Dirty Dick.
I appreciated how the menu at Merguez & Pastrami is organized with smaller plates (entrées) for sharing, and larger plates (assiettes composées) – which are also good for sharing (if you're like me and want to taste a lot of things) – that revolve around a theme. Some highlight pastrami, smoked in-house, others around merguez, or fafalel, which is perfect for vegetarians. We had a great time at dinner, and I liked it so much, I went back a few days later for lunch and to meet David.
I congratulated David on creating a restaurant that is just the right place for the various kinds of foods that are available in Paris to come together on the same table. Middle Eastern food is getting better-represented at mid-range places, in addition to the ubiquitous kebab stands, but it's rare to find the food made in-house, as it is here.
Soon the merguez will be offered as meatballs (which I have a recipe for in my book, My Paris Kitchen), which are coming on the next menu, to make them more appealing. The rosy sausages have somewhat of a downscale reputation in France, associated with meals wolfed down after a long night of beer-fueled revelry, along with piles of frites stuffed into bread with the sausages. When I asked David why he was reimagining them for his deli, he said, "Because you're American," presumably because they don't have a the same connotation to us.
Like fresh corn, another food that doesn't get the same adulation that it does in the U.S., the French are, however, taking to sweet potatoes more and more, which are often available at markets that cater to Africans. But when they are cooked as "frites" until crisp, concentrating their natural sweetness, and paired with tangy yogurt sauce, it's very hard not to like them, no matter where you're from.
David spent a year working at the soon-to-close Carnegie Deli in New York, and named his oversized pastrami sandwich after the place. The Carnegie is loaded up with pastrami, along with horseradish mayonnaise, lettuce and tomatoes. I'm normally a purist about pastrami and corned beef sandwiches, preferring just meat (and lots of it) piled between two slices of warm rye bread with only a swipe of mustard, but understanding that this is a Parisian deli, I'm not surprised by lettuce and tomato. The housemade bread it's served on is another plus in its favor.
There's also Ruben's Cousin, a nod to the original, but with beet mayonnaise, cabbage and cheddar melted over the pastrami. The Yaffo sandwich (below) leaves the falafels on the rue de Rosiers in the dust. Freshly fried chickpea fritters are packed in warm, housemade pita with harissa (Tunisian hot sauce) eggplant, tomatoes and tahini.
The sister sandwich, Sabich, is a heap of hummus, fried onions, egg, cilantro pesto, eggplant, pumpkin compote and tahini – whew! Bonus: If you're a vegetarian, there's plenty for you to enjoy here.
Like everything else on the menu, from the bread to the smoked meat, all of the desserts are fait maison, made on the premises.
The seasonal apple Tatin pavlova was, admittedly, hard to finish off after lunch. But I did the best I could, diving into the caramelized apple and pecan-filled meringues with as much gusto as I could muster. Rather than being an overload of sweet, David pointed out that the caramel "cures" the crème fraîche, and balances the two nicely. Me? I was digging out the perfectly caramelized apples, doing my best with the oversized dessert, which is probably best for sharing.
The delicatessen makes a great stop for lunch, especially if you've made the walk to Montmartre or need to revive after a trip to the Marché Saint-Pierre fabric store, which I've braved a few times. (Tip: Even if you're not into fabric, this multi-level store sells bistro-style tablecloths and napkins at very good prices. Plus they have probably the last elevator in Paris with an attendant in it, to take you up and down. Another tip: Don't touch the elevator buttons.)
Merguez & Pastrami is a true original: a Parisian deli, which isn't a copy of its New York or Montreal counterparts, but reflects the diversity of flavors and tastes of the French capital. The deli is getting a reboot soon, with some new dishes on offer, with many favorites remaining in place on the menu. I'm looking forward to seeing what's coming next.
Merguez & Pastrami
57 Rue Rodier (9th)
Tél: 01 77 13 55 57
Métro: Anvers