Not long ago, I mentioned the Lamb Melons I saw at a butcher stand at the Marché d'Anvers in Paris. Since it's an afternoon market, I thought it might be fun to mosey over there at my leisure and pick one up for Sunday lunch. However I was surprised to see the market completely packed. Since there are less than a few dozen stands, it's not surprising I suppose. Plus we had a holiday weekend ahead of us.
I did my usual quick scan of everything and found the produce selection rather limited, although there were a few interesting things here and there. I picked up a musty-looking Selles–sur-Cher goat cheese from a woman who makes her own goat cheeses, and each one was sold by how 'ripe' you want it.
She wisely had a sample for people to taste, and although I didn't take a bite – since I knew from the looks of things that I already wanted one – her marketing paid off since it was impossible not to buy one if you lopped off a piece and tried it.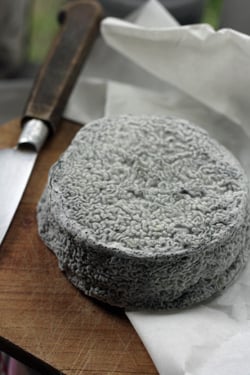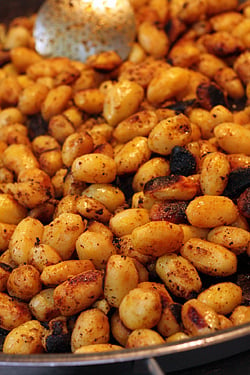 I was also surprised/delighted to find jars of buckwheat honey produced in France (much of the buckwheat honey one finds comes from elsewhere) from a man who also had formidable loaves of pain d'épice piled in a basket. And being France, there were plenty of gorgeous potatoes, a well-stocked charcuterie stand, and a few baskets of spring berries here and there.
But I was there for another kind of fruit, the melon, and unlike the other stands, the line at the butcher stand was very long. The wait was only about ten minutes, but if the man in front of me wasn't puffing on a stinky cigar, and the wind wasn't carrying it precisely in my direction, it probably would not have felt like an eternity.
I had arrived at the market around 5pm, just a couple of hours after it opened, and there was only one melon d'agneau left. And getting a closer look at it now, I realized it was impossibly huge. Yet next to it were "melons" of chicken and turkey which were more reasonably sized, such as a chicken Orloff one topped with a fistful of grated cheese, which also looked enormous. But since I was only entertaining a crowd of deux, I chose turkey (€24).
In France, people seem to eat le dinde (turkey) reluctantly. It's just not that popular, which I think could be attributed to the fact that lean meats traditionally weren't so much in favor in France until recently. And to a greater extent, turkey just doesn't take on the mythic proportions to the French like it does to Americans. You only see whole turkeys at the volaillers around the winter holidays, along with ducks, geese, and other game, and although if you get a whole turkey from a good source in France, it's really marvelous, in ten years of living in France, no one – to the best of my recollection – has ever gotten excited to see turkey on a menu.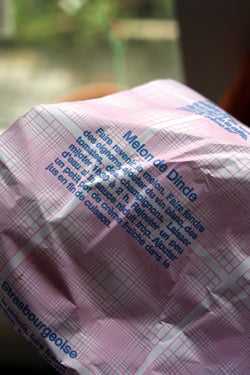 So, of course, when I excitedly brought my melon de dinde home, the first words I heard were – "Je deteste le dinde."
When I was paying her, I asked the butchers wife how to cook the melon. She kind of paused for a moment, and said, "You haven't cooked one before?" – with a bit of surprise in her voice. Her husband, with his red-smeary apron and cleaver in hand, also took a sudden interest, and both gave advice that I wasn't expecting to hear: The "melon" isn't roasted, but cooked in a casserole or cocotte for about an hour-and-a-half.
"So I guess I add some liquid to the pot as well, too?" I replied. And she rocked her head from side-to-side, as French people often do when questioned something seems evident, but they need a moment to think about it, and told me that the recipe is actually printed on the wrapping paper since it's their specialty, they told me.
Although I prefer roasting meat, especially if the results entail crispy bacon, I took their sage advice, but decided to go off in my own direction, and put my 'melon' in a pot with some wine, a few chopped shallots, thyme branches, quartered mushrooms, then let 'er rip in the oven for about an hour-and-a-half. The kitchen smelled pretty good toward the end of baking and I was optimistic. Once I poked it to assure it was close to done, I removed it from the oven and let it stand. Then after about twenty minutes, I lifted the lid off the steaming pot and there was my turkey melon, and lunch.
It was a little challenging to cut into wedges, but once it was sliced and served, who got the last laugh (as usual…) when it was – absolutely delicious!
The turkey was moist and flavorful, the bacon was slightly crisp, fatty, and added just the right amount of smokiness to the lean meat. And the grainy mustard smeared in the center melted when it hit the hot liquid which I was wrestling with the beast to slice it, creating something resembling an instant sauce. The whole thing was just brilliant.
The actual printed recipe called for tomatoes and a small pot of crème fraîche, but I'm not big on rich creamy sauces and prefer just le jus with roasted meats and poultry. And while eating it, although it was excellent, next time I have a group for dinner – a group larger than two – I'm going to give the melon d'agneau (lamb) a try.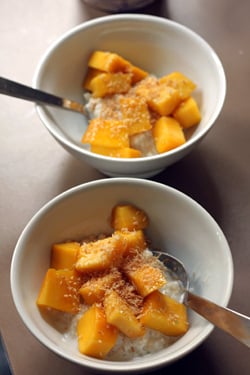 We wound our Sunday lunch down with glasses of vin du Jura, a round of wonderful cheese, and finished on an unusual note with Coconut-Tapioca Pudding (from R4D) topped with cubes of ripe mango and some toasted coconut. And then a long nap.


Boucherie Warin
Marché d'Anvers (Friday 3-8:30pm)
[Based on the information on their packaging, the butcher is also at the Saxe-Breteuil (7th) market Thursday and Saturday mornings, and the Saint-Eustache (1st) market –Thursday afternoon and Sunday morning.]


Related Posts and Links
Ficelage épaule agneau (Video, cutting and tying lamb shoulder into "melon", in French)
Désosser et ficeler une épaule d'agneau en melon (Step-by-step photos of cutting and tying lamb shoulder into melon, with French text)