Melon Nectarine Agua Fresca
One of the things I love about visiting Mexico, and other tropical countries, is how much they enjoy fruit served fresh. And it's hard to pass by one of the stands serving fruits juices and drinks when there are piles of glowing, juicy melons, berries, and citrus, ready to be juiced and served over ice.
In France, we get marvelously sweet Cavaillon melons, which I sometimes was able to find in California as well. Although in France, it's pretty much the default melon and when they're abundant, sellers will offer these orange-fleshed melons for a better price if you buy two. So that's me you'll find, invariably lugging home two melons from the market in the summer. In the states, there are muskmelons and cantaloupes at grocery stores that are often quite good. But if you visit a greenmarket, generally you'll find really great (and sometimes, rather unusual) varieties of melons sold by people who grow them themselves.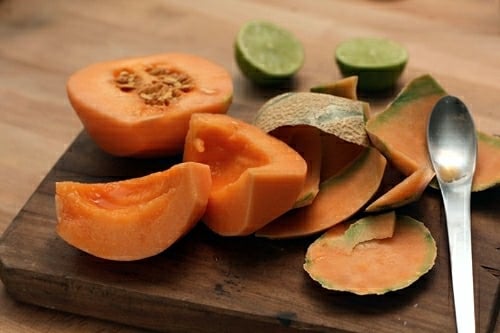 The best way to pick out a good melon is to sniff it – if it smells like a sweet, juicy melon, it should be ripe and ready when you slice it open. Even though in Paris it's usually interdit to touch the fruit, I either try to lean in close enough to smell it (which admittedly, sometimes draws a few stares), or better yet, I shop from people that know that I appreciate a great, ripe melon, and are happy to let me choose my own.
It's been crazy-hot in Paris this weekend, with our first canicule (heat wave) of the summer, so I got up this morning at 4am to beat the heat, cut up a melon, and made a pitcher of agua fresca to chill out with today. Then I'm off to the market, to get another melon—or two.
Melon Nectarine Agua Fresca
You can use any kind of melon that's available to you during the season. Agua fresca is generally quite thin – the name means "fresh water." I like it a little spicy, so top it with a dusting of red pepper powder. Of course, you could turn this into a cocktail with a shot (or two) of tequila. However you serve it, make sure it's well-chilled and served over plenty of ice.
1

small melon (2-pounds, 900g)

,

peeled and seeded

2

yellow or white nectarines

,

pitted and sliced

2

cups (0.5L)

water

1 1/2

tablespoons

sugar

,

preferably an unrefined sugar (see Note)

juice of half a lime
Puree all the ingredients together in a blender until very smooth.

Pass the mixture through a mesh strainer, pressing it through with a flexible spatula. Chill the agua fresca mixture thoroughly.

Serve well-chilled over ice. Dust with red pepper powder, if desired.
Notes
Note: I used cassonade blonde, which is a light-colored natural cane sugar. Similar sugars include demerara and turbinado.
Related Recipes and Links
Strawberry Watermelon Agua Fresca (Simply Recipes)
Sparkling Mango Agua Fresca (Everyday Southwest)
Pineapple-Ginger Agua Fresca (A Thought for Food)