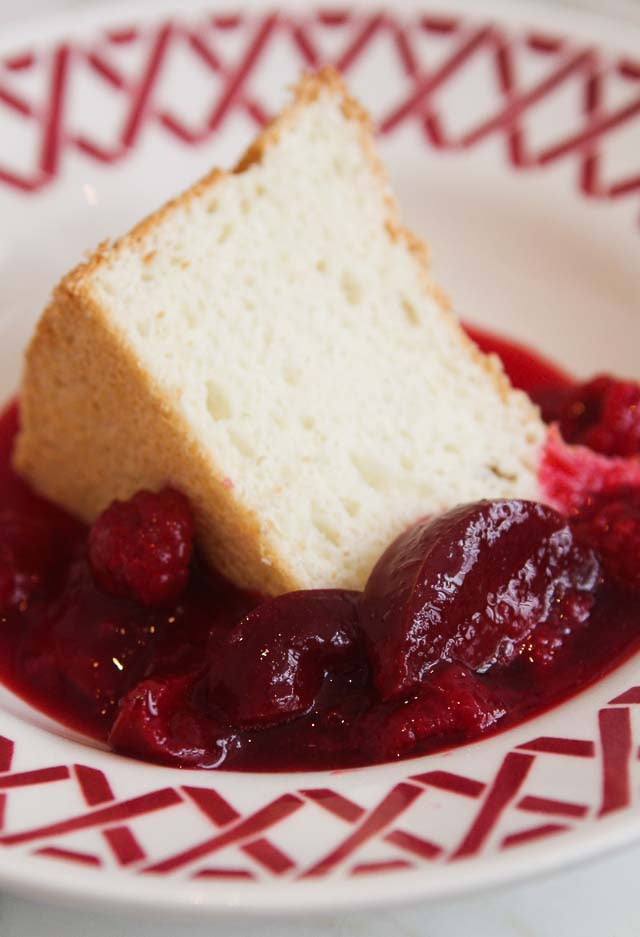 Last summer when I was in New York, a French acquaintance sent out a missive, looking for an Angel Food Cake pan in Paris. I've been thinking about making one for a number of years. But there are a number of American baked goods that don't quite translate, and this classic cake – made like a big, baked meringue – well…I was pretty certain this would be one of them.
For one thing, the French don't normally do tall cakes (except for le Croquembouche, a tower of cream-filled pastry puffs, which is generally reserved for weddings), and the local palate would probably find Angel Food Cake a bit on the sweet side. And indeed, for years, I didn't like Angel Food Cake either and tended to avoid it. Until one day, I was eating a slice, and decided that I did like it. In fact, I realized that I loved it. And now, for the rest of my life, I have to spend my nights staring at the ceiling over my bed, filled with regret for the years that I went without it.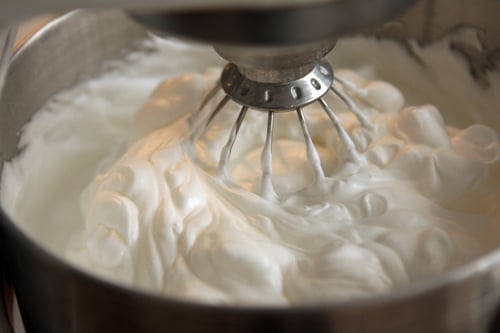 So I told her that since I was in the states, I would pick up a tube pan and bring it back for her. As I rifled through the vast collection of cake pans at the cookware store in Manhattan, I thought about getting one for myself, too, but she'd said that she just wanted to borrow mine (she was working on a food styling project), and she'd give it back.
She kindly returned it last August, however I've felt bad because I've been holding onto this pan ever since she did the door-to-door drop off, but I haven't gotten around to whipping up the cake. However after a week-long obsession with a certain French dessert that I'm working on for a book project, I found myself with an extremely large tub of jiggly egg whites in my refrigerator. And rather than subject my Frenchman to a week of egg white omelets, which he kindly put up with during the time I wrote my ice cream book, I let him eat cake.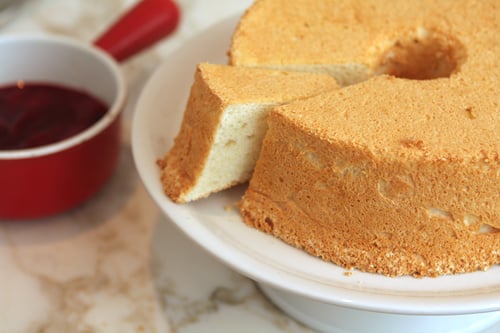 Angel Food Cake
I prefer my Angel Food Cake in its natural state, flavored just with a touch of vanilla, although it lends itself very well to a big heap of sugared berries, or other fruit, on the side. I made a plum-raspberry compote, adapted from
Ready for Dessert
, which is made by making a sugar syrup, adding a vanilla bean, then dropping plums and raspberries into the warm syrup. The plums are a nice, tangy contrast to the fluffy-sweet cake. An American astuce (kitchen tip) is to add
cream of tartar
, (which is not the same thing as tartaric acid), which helps stabilize the egg whites. I've not seen it in Europe so I bring it back from the states (along with cake pans!) You can leave it out if it's unavailable.
1

cup (130g)

cake flour

,

not self-rising

1

cup (200g), plus 1/2 cup (100 g)

sugar

1/2

teaspoon

salt

1 1/2

cups

egg whites

,

(from about 12 large eggs), at room temperature

1

teaspoon

cream of tartar

2

teaspoons

fresh lemon juice

1/2

teaspoon

vanilla extract
Preheat the oven to 350ºF (180ºC). Have a 9-inch (23 cm) tube pan ready. (Do not use a non-stick tube pan.)

In a small bowl, sift together the flour, 1/2 cup sugar, and salt.

In the bowl of an electric mixer, begin to whip the egg whites on medium speed. When they become foamy, add the cream of tartar and lemon juice.

Increase the speed to high and continue to whip the egg whites until they just begin to hold their shape in soft, droopy peaks. Gradually whip the remaining 1 cup of sugar into the whites, 1/4 cup at a time. Do not overwhip; the egg whites should not be overly dry or stiff, but soft and cloud-like. At the last moment, mix in the vanilla.

With a rubber spatula, then fold the flour and sugar mixture into the whites gradually, a small amount at a time.

Spoon the batter in the tube pan, smooth the top, and bake for 45 minutes. Remove from the oven and immediately invert the tube pan over a cooling rack. If the pan doesn't have "feet", set it over the neck of a heavy bottle or overturned metal funnel, using the center hole of the pan to hold the cake, until cool.
Notes
Note: Cake flour is specially milled flour and is low-gluten and slightly acidic and is stocked in most grocery stores. You can remove 2 tablespoons from 1 cup of all-purpose flour and replace it with corn starch, and sift the two together several times for a reasonable facsimile, although it's not quite the same. In France, I use farine à pâtisserie. (Farine à gâteaux often has leavening added. You can use that if you find one without leavening in it.)
Also in France, I used sucre semoule, rather than the coarse sucre cristal. (See my post on French sugars for more details.)
Related Links and Recipes
Recipes to Use Up Leftover Egg Whites
Chouquettes: French Cream Puffs
Ingredients for American Baking in Paris