The Best Way to Use Up Leftover Bread
I've been on a bread-making bender lately, experimenting with various types of loaves. While testing recipes makes me learn a lot about how things work (and what doesn't!), I've been facing an onslaught of bread. Since I'm having guests over tonight, and I just made a few trays, I thought I'd share my favorite way to use up leftover bread.
This isn't great for using up leftover white bread, or anything fine-textured. But for country-style loaves, sourdough, or baguettes, it can't be beat. Grainy breads work well, too.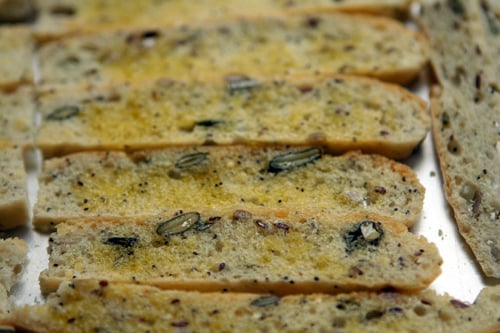 To begin with, your bread should still be slightly soft, not hard, since you won't be able to slice it. If the bread has become too firm, stick it in a plastic bag and fleck a bit of water in it with your fingers, then close the bag up. Within a few hours or later in the day, the bread will be soft enough to slice.
Slice the bread into pieces no larger than 1/2-inch (1 cm). Lay them in a single layer on a baking sheet, then brush each one with a moderate amount of olive oil. (You can chop a very small amount of thyme into the oil, if you wish.)
Bake the slices of bread in a 350ºF (180ºC) oven for about 5 minutes, until the bread is slightly toasted and browned. Remove from the oven and when cool enough to handle (but while still warm), rub each piece of bread with garlic from a peeled clove as firmly as you can without breaking the bread, to get little pieces of garlic melded to the bread.
Let the bread cool, and serve. If you'd like to save them for later, once cool, wrap them in an air-tight container. But they should be served the same day they're made.
Serve with a favorite dip, such as hummus, eggplant caviar, baba ganoush, or baked goat cheese. You can also toss them in a mixed green salad, or use them as crostini, underneath the topping of your choice.