The Marche d'Aligre in Paris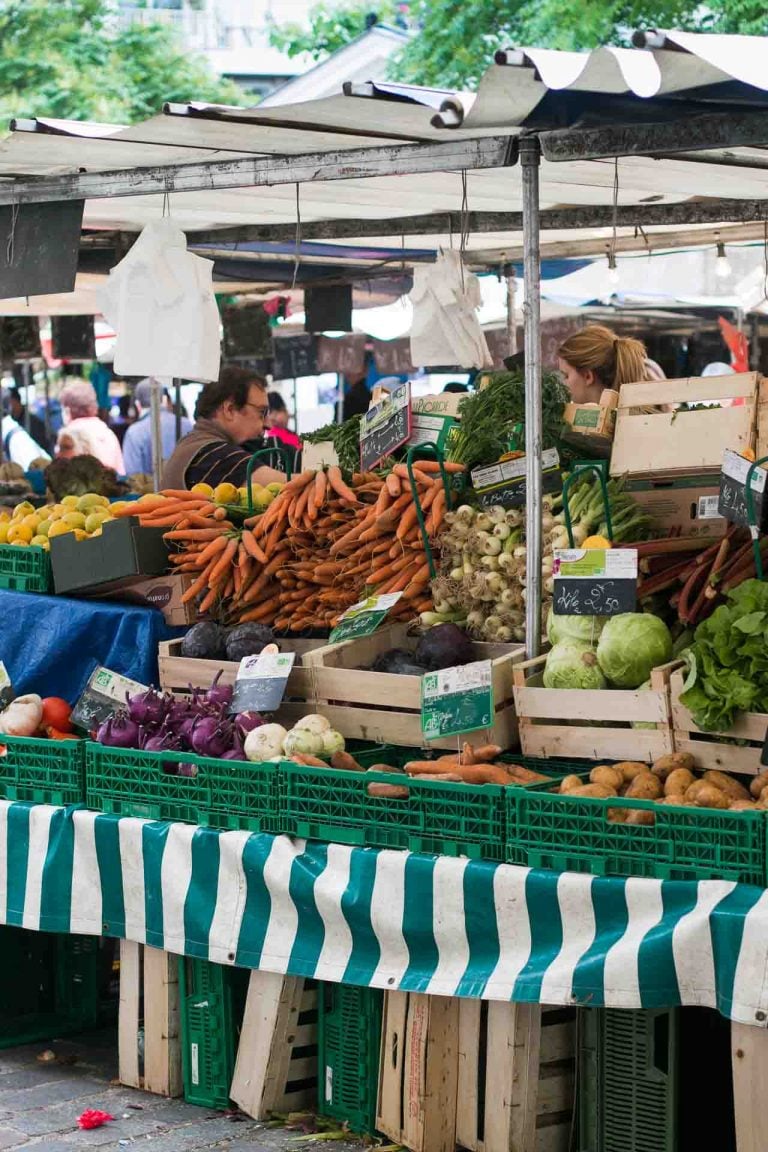 When I moved to Paris, I didn't live far from the Marché d'Aligre. Not known for having a great sense of direction or distance, I didn't know how close I was and would take the bus home, loaded down with my purchases from the market.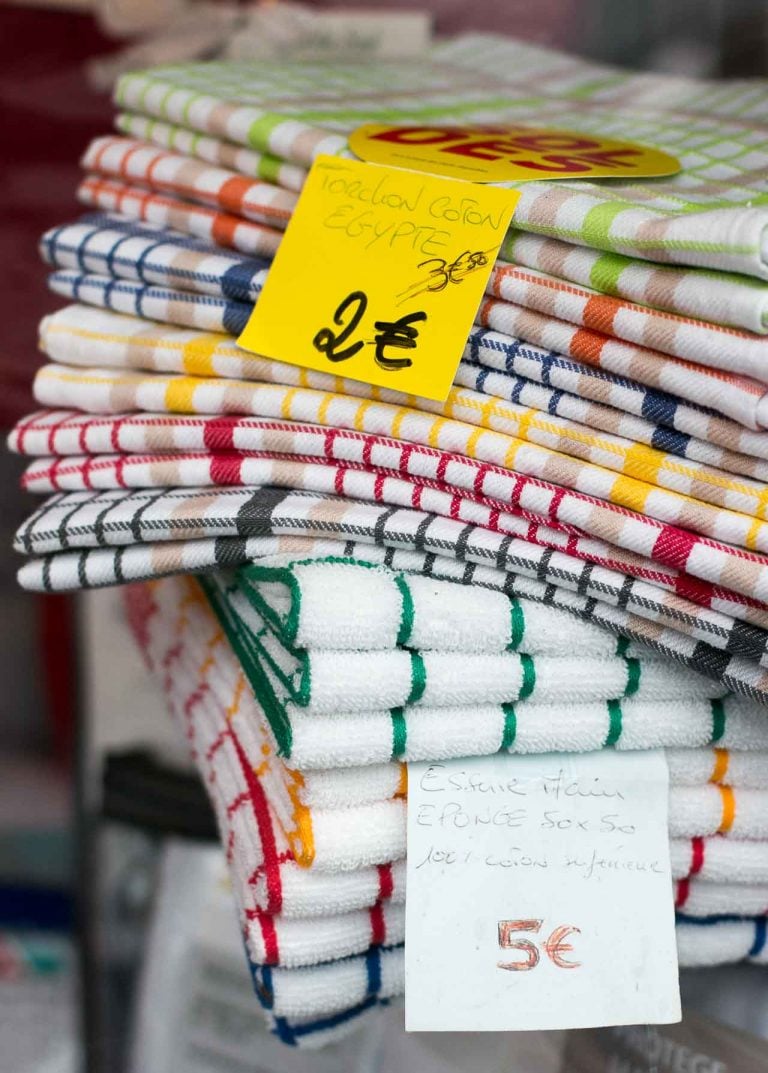 There was a closer market in the Bastille, but the Aligre market was especially bustling, and had an energy and dynamic that was different. Many of the stands reflected a richer cultural mix than other markets in the city. Prices were also especially friendly and if you needed to stock up on, say, apricots or onions (or flea market finds), the Marché d'Aligre was your place.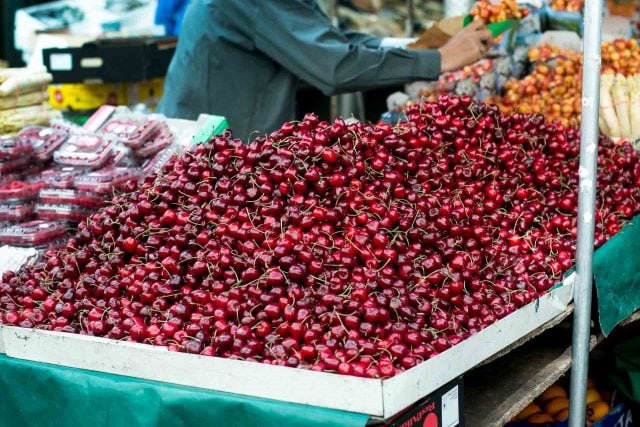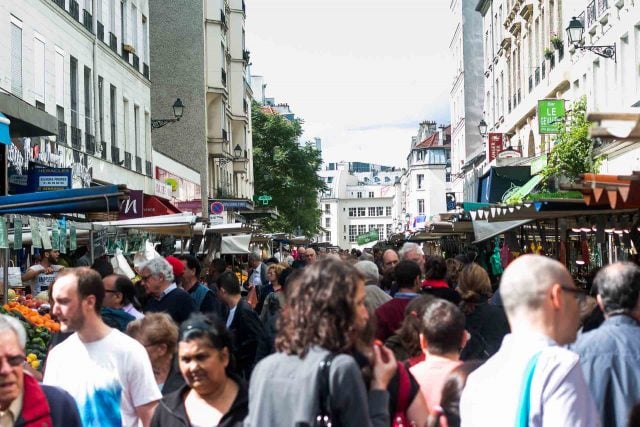 When I was looking to move a few years ago, I spent a lot of time hunting for a place in that part of town, so I could be close to the market, but gave up due to escalating real estate prices. But I still visit often, even though the neighborhood – and the market – have grown up.
I like to start my day there at Café Aouba (30, rue d'Aligre), standing on the tiny perch by their coffee bar, sipping a café express, fortifying myself with a tiny, strong coffee before diving into the lively crowd to do my shopping.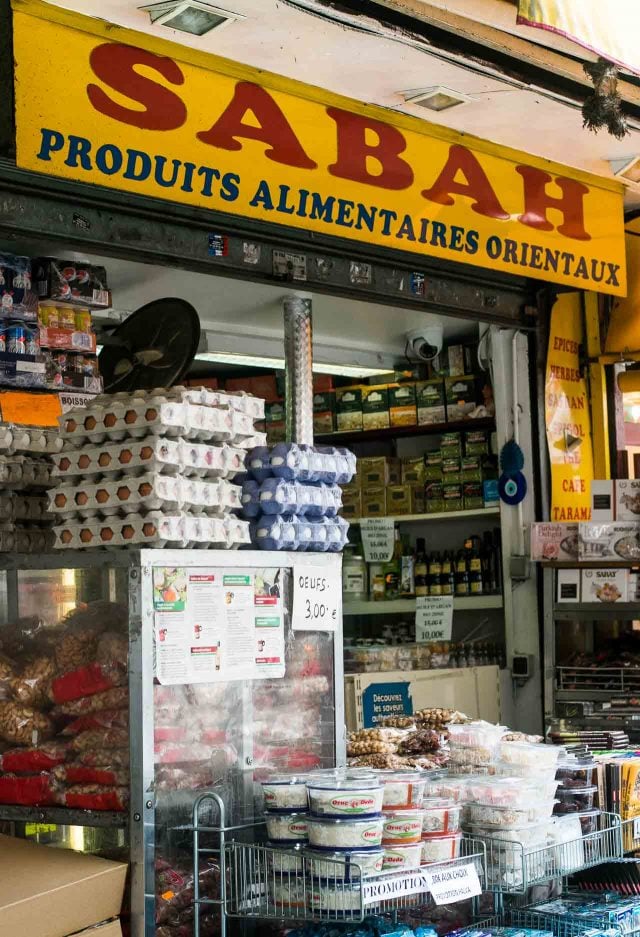 Although it should be my last stop, because it's a place where I stock up on a lot of things – especially heavier ones, Sabah, is the place I go into first. It's one of my favorite shops in Paris and it makes my life so much better to have so many things I love, and use, in one place. There are two adjacent to the market. The one of the corner of the market (77, rue Crozatier) is small, with narrow aisles, but has a long outside space where lots of oils, jams, nuts, and other things, are lined up. I get Iranian dates and nuts and spices there, but half a block away (140, rue du Faubourg Saint-Antoine) is a more spacious store, where I stock up on feta and similar sheeps' and goat milk cheeses, sold in their brine.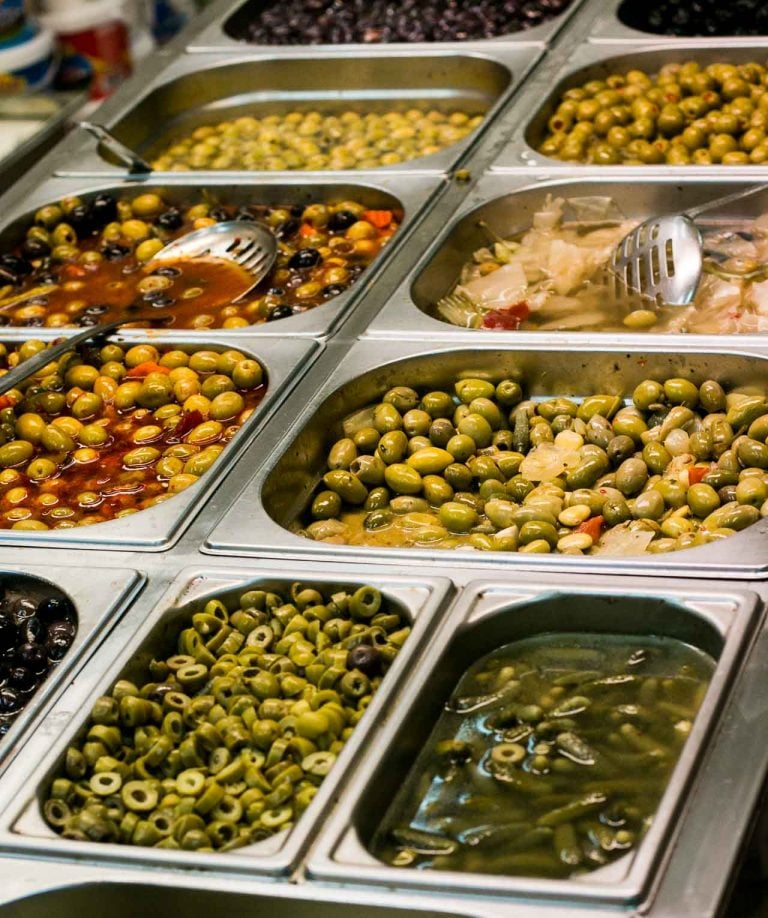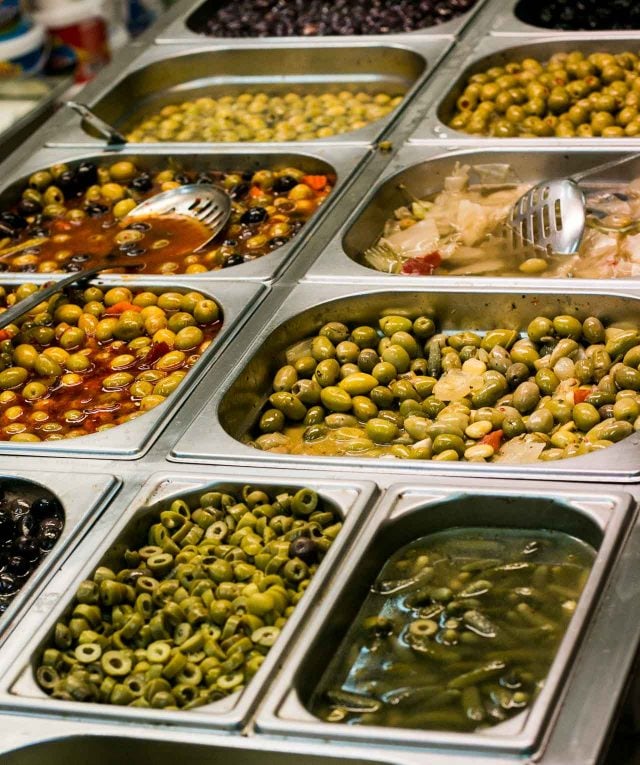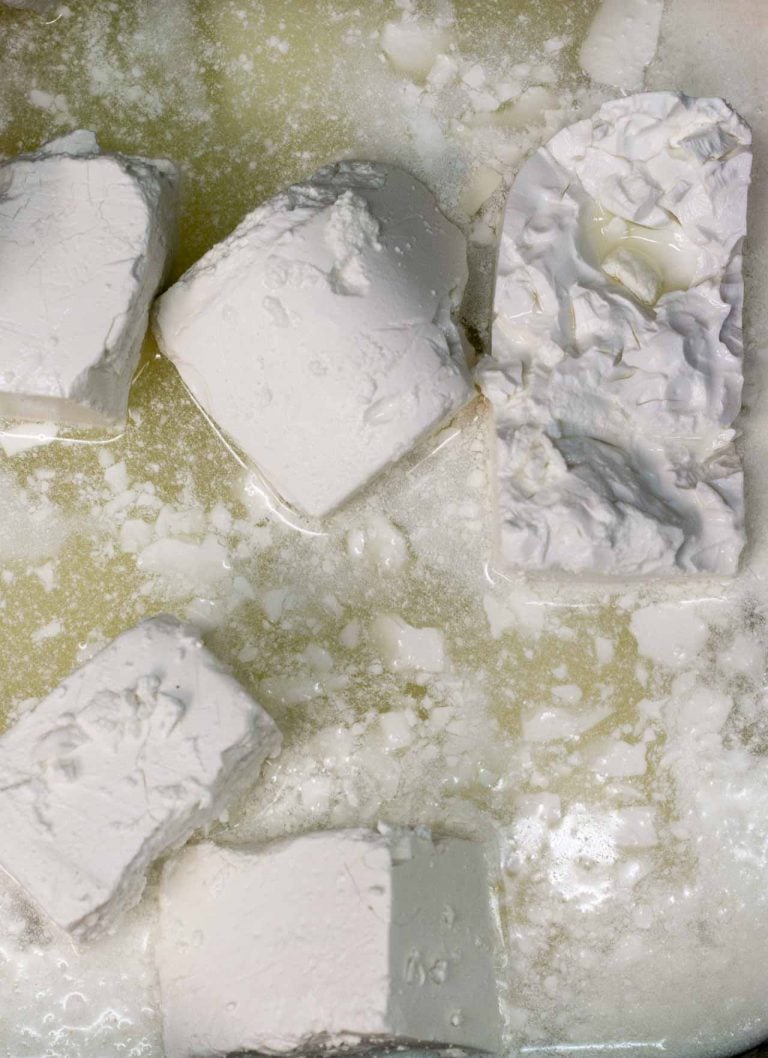 Their olives are all democratically priced (€5 a kilo), and the shelves are loaded with whatever spices you might want. And yes, they even have dried chiles for those of you in Paris looking to spice up your cooking.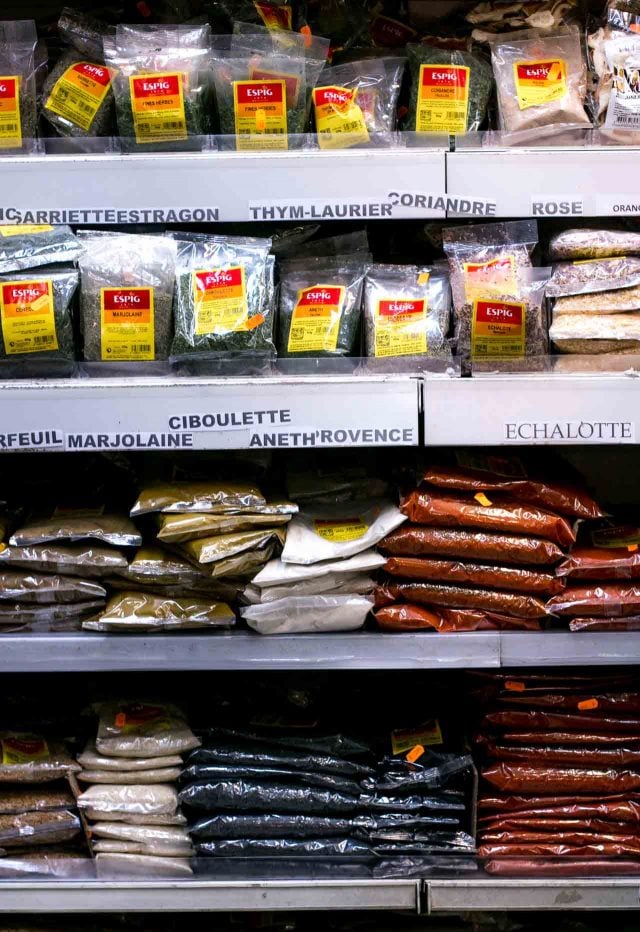 Because they have high turnover, the nuts and dried fruits are a lot fresher than other places in town, and certainly more affordable than the tiny 2-ounce packets sold in supermarkets. I love poking through the aisles and filling my basket with things like Turkish or Iranian pistachios, (do not leave without a box of those Iranian dates, if they have them, which they seem to only sell at the shop on the corner of the market), dried bananas, halloumi, chickpea flour (for socca), grey French sea salt, and all sorts of exotic candied fruit that change frequently.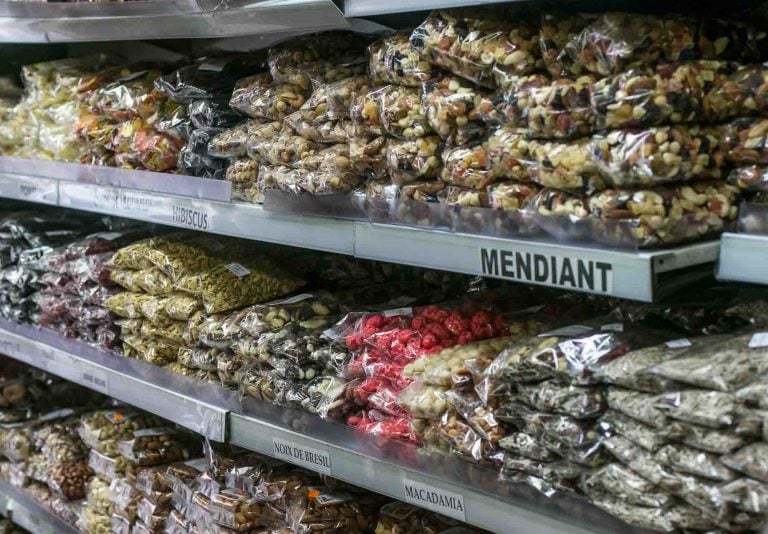 Walking down the main street of the market, there's a kaleidoscope of places that line the rue d'Aligre, where vendors set up on the street and sell fruits, fresh vegetables, and big bundles of herbs. The boucherie at 25, rue d'Aligre is where I buy lamb shoulders and merguez (spicy sausage), and they're known for their rapport qualité prix (favorable quality to price ratio). Especially fun to poke around in is the shop next door, La Petite Affaire, which has shelves in the back with end-of-the-line food items, sold at discounted prices. (Their shop at 7 rue d'Aligre is much bigger, and more crowded.) Ditto with their refrigerated section, although they recently upgraded to selling better-quality cheeses, too. But I always think it's fun when I travel to look at both high- and low-end stuff, especially in grocery stores.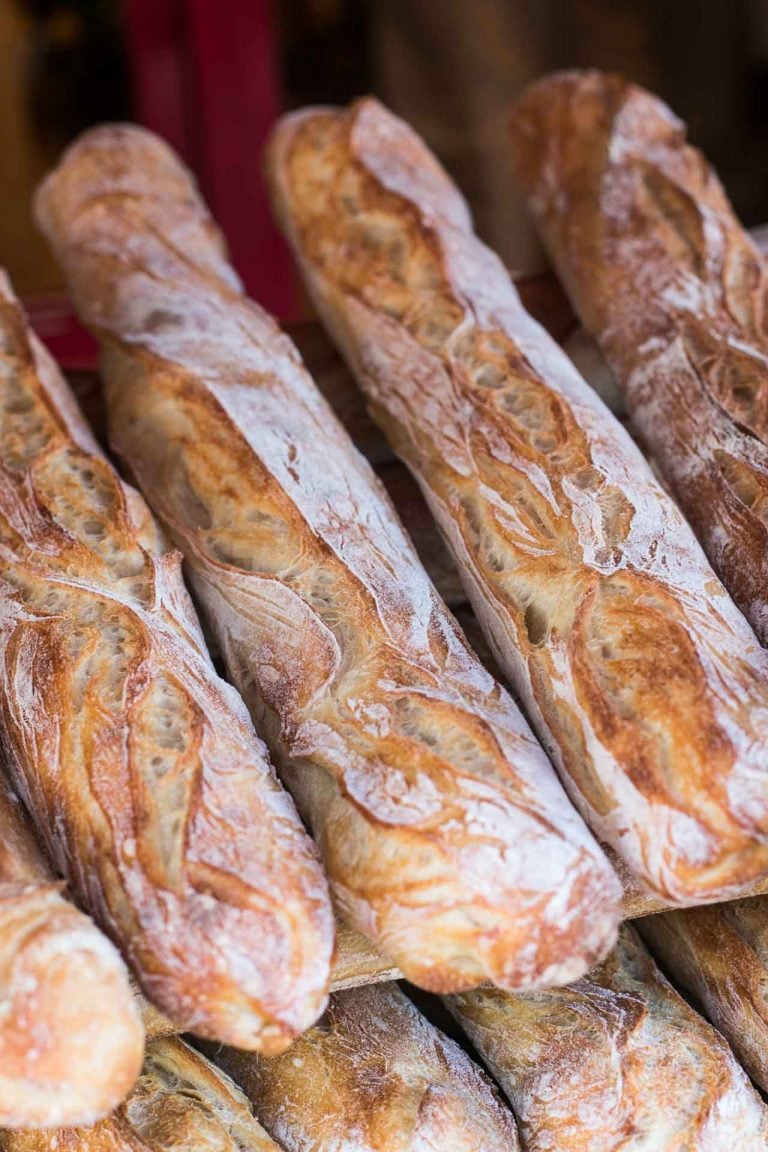 Ma Petite Épicerie (18, rue d'Aligre) has Portuguese wines, cheeses, charcuterie and olive oil. A good friend gets her olive oil here in bulk, but some of the bottles are worth checking out, as are the Portuguese sausages and wines, which don't get the same press as wines from elsewhere.
Readers of The Sweet Life in Paris will be familiar with Paris-Pêche (17, rue d'Aligre) the fish shop where I worked, strapping on a rubber apron with the strapping young men at 4:45am, to learn their trade. (Spoiler: I got an A+ for trying, which I gave myself, but I now apologize for sending a few customers home with fish I butchered, rather than skillfully fileted.)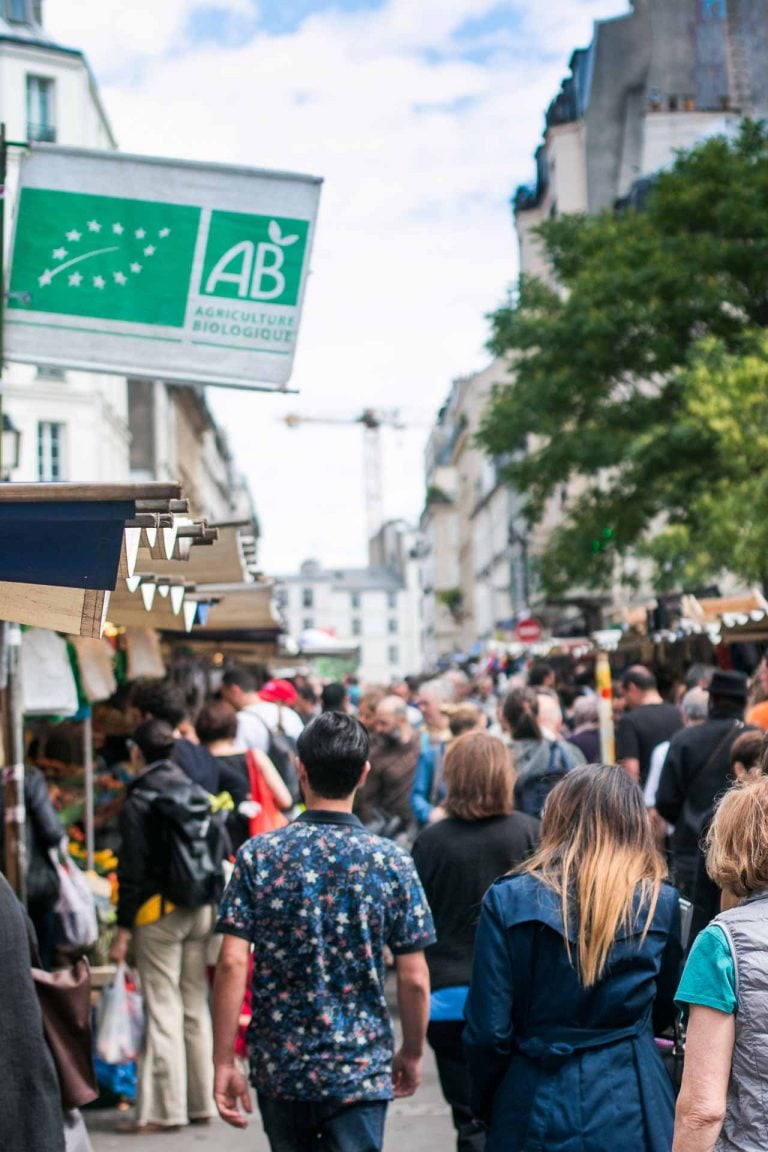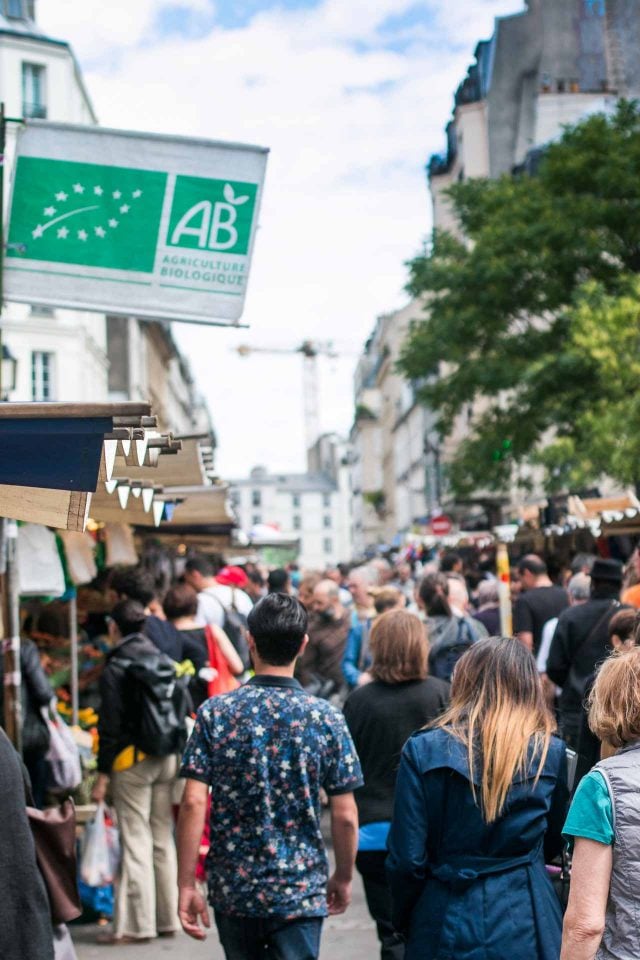 No matter where you go at the market, you're surrounded by food. One that I miss when I'm not in France are all the fresh herbs. The French use a lot of herbs in their cooking. Spices aren't used with the same abandoned as cooks from elsewhere, but herbs are used liberally – and widely available, and inexpensive. Fresh parsley and mint usually cost 50 cents a bundle, and other herbs such as thyme, tarragon, and chervil, are only around twice that. Because the market has a certain amount of North African vendors and clients, one herb you'll come across is wormwood, the lax, grey-green bundles that look like droopy dill, used to make an herbal tea, and absinthe.
Since many of the vendors have similar fruits and vegetables, some will shout out to shoppers to buy as they pass to get your attention. Instead of being afraid of people hollering at you, as it's not something we're used to in the States, feel free to smile back, as you'll find they're friendly and that's just what they do. Vente à la criée is an example, where fishmongers "cry out" what's fresh that day, to get people to buy it.
Many of the vendors will joke around with you if you're a foreigner. (Which I know well. I've been here fifteen years and they still think it's funny when I ask for four onions, and they try the same old joke – "Four kilos, monsieur?" and start excitedly packing up nine pounds of onions for me.
Their job is to engage shoppers, whether you buy something or not. And most of them have the remarkable ability to speak about twenty words of any language non-native to them, but can string them together enough to have a 3 to 5 minute conversation with you.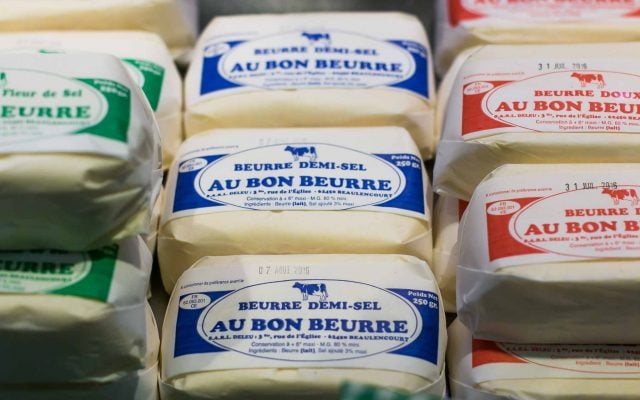 They might suggest you try something, like a cut up melon or pineapple, which you can take, or you can pass on. Don't feel pressured to buy. They're used to shoppers taking stock of everything at the market, then moving on if they want to continue looking. The French are pretty discerning shoppers so if you're not interested in something, thank them, and move on. Unless you feel like lugging 9 pounds of onions home.
One of the best reasons to visit the Marché d'Aligre is the flea market in the middle that takes place daily, except on Monday, when the market is closed. It's often mostly low- to middle-end items, and the prices reflect that. Which is fine with me, because I have so much stuff at home, I only buy something if it's a great deal. Or if I really, really have to have it, which happens.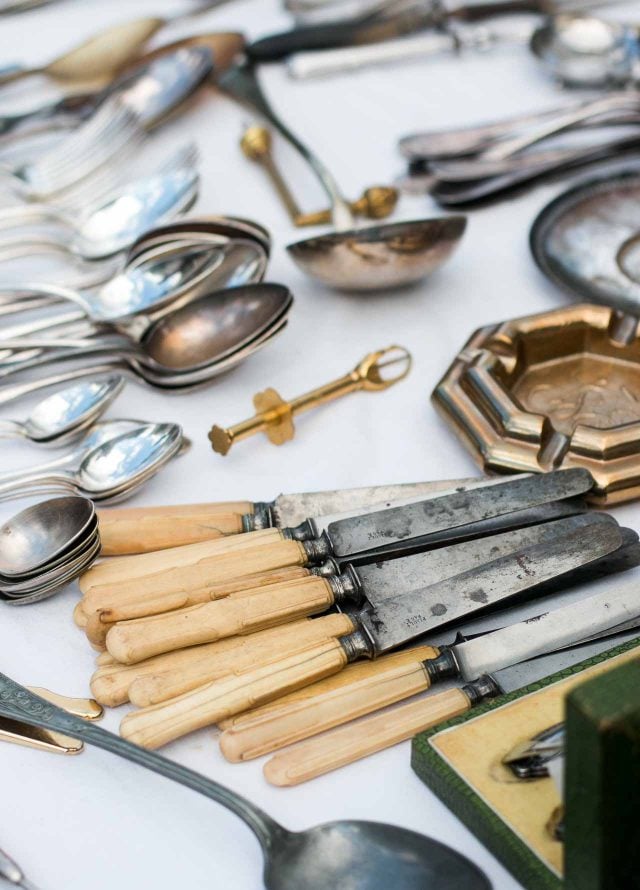 But I've become a bottom feeder, although I foolishly passed on a lovely mortar and pestle whose glaze was crazed (crackled), and since I was on one of my now-stolen bikes, I didn't think I could carry it home. As soon as I put it down, an antique dealer who had one hand on his mobile phone pinned to his ear, snatched it off the table before I had time to reconsider. Merde.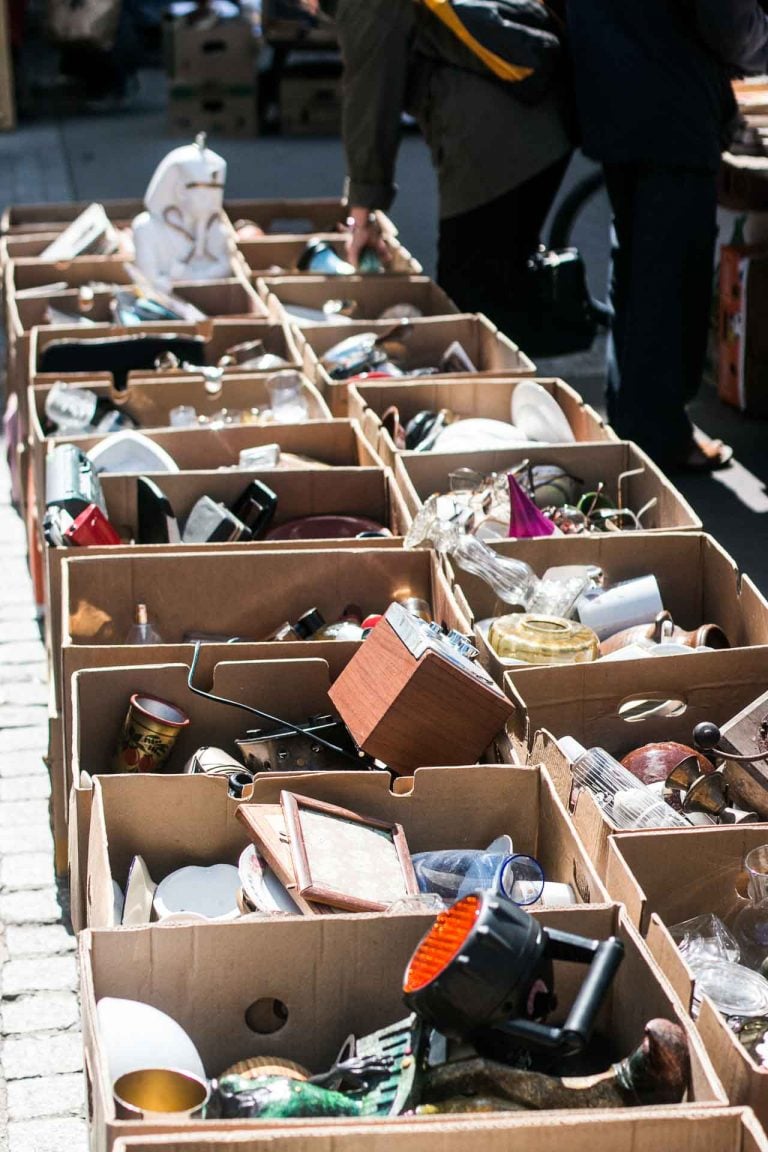 But I'm find spending less than 5 euros and coming home with some new knives or glasses. I bought these four pieces of glassware for 3 euros by poking through the rows of boxes on the ground, rather than the carefully arranged items on the tables. Pas mal, non?
The boxes are always filled with a mish-mash of silverware, dinner plates, serving utensils, old jam jars, and other curiosities, which shouldn't cost more than a euro each. If they do – bargain!
Pro tip: Use one of the forks to search through the cutlery. Unless you want to take a trip to the emergency room for some stitches.
If you're looking for a bargain in Paris, you can skip the pricey flea markets and join me here. (But get there early. Before I do…)
As mentioned, the area is going upscale, which is evident by the recent addition of Aux Merveilleux de Fred at 12 place d'Aligre. I'll sometimes walk by their shop in Saint-Paul, in the Marais, and see visitors pressed against the window, watching the bakers ice and roll the meringue-based pastries, called Merveilleux (I have a recipe in My Paris Kitchen), then finishing them in shaved chocolate.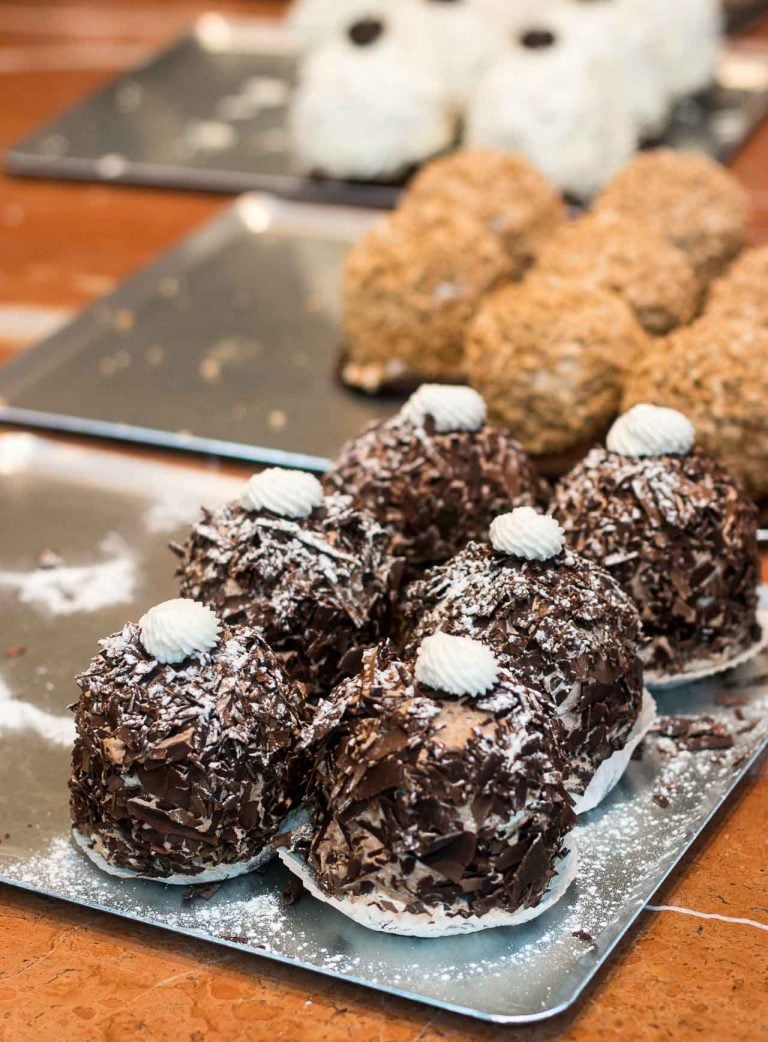 My favorite is the coffee-flavored pastry and I'll urge those standing outside to go in and get one, as they're really, really good. For some reason, some ignore the crazy American guy on the sidewalk, insisting they go in. But others think about it, and perhaps after I keep walking to where I was going, they take my advice. (Pro tip: Listen to the crazy guy.)
A few storefronts away is Graineterie du Marché, one of my favorite shops in Paris. Jose is the friendly owner, who took over the shop over a decade ago. There are pots of fresh herbs outside for windowsill gardeners, and the back of the shop is a small gardening store as well as a little brocante (flea market), with housewares Jose has found. Stock up here on old-fashioned French candies, varietal honeys, excellent nut oils, and dried cassoulet beans.
All roads around the market lead to the Marché Beauvau, the covered market. One of my favorite cheese shops of Paris is located right inside the front door: Fromagerie Hardouin-Langlet.
The stand was recently remodeled but still has a terrific selection of goat cheeses, cheeses from Normandy – like Neufchâtel and Livarot, outstanding mountain cheeses like Comté and Etivaz, as well as raw heavy cream and butter en baratte, sold by the spade-ful.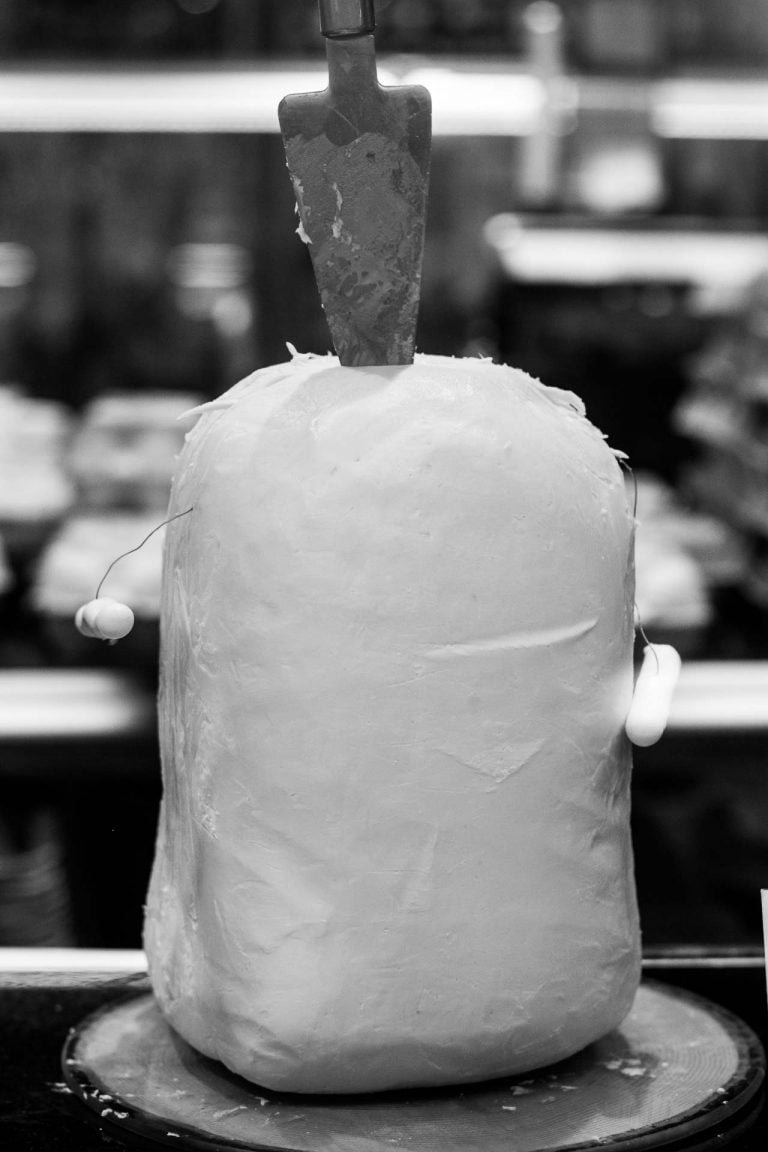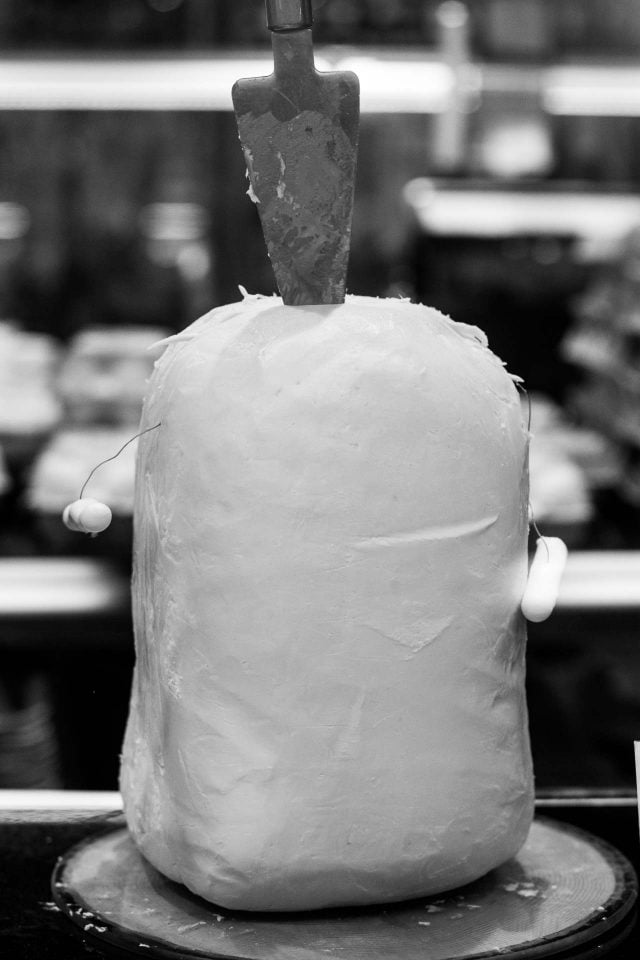 Just next to it is L'Italien, which has an excellent selection of Italian products, especially salumi and cheeses. It's one of the few places where I've found Ricotta salata (dried, pressed ricotta) in Paris, which once Romain tasted in the States, always insists that we buy.
Inside the Beauvau market, there's also Sur Les Quais épicerie, known for top-quality olive oils, tapenades, and other products, and you'll find butchers, upscale produce vendors (more so than the vendors outside), and a rôtisserie that has spit-roasted pigs and lamb, ready to take home or to make a picnic out of. Although the sellers at the outdoor market roll up their stands by 1:30 or so, the covered Beauvau market reopens in the afternoon, from 3:30 to 7:30.
It's not unusual for locals and market regulars to head to Le Baron Rouge wine bar (1, rue Théophile-Roussel), even if it's 9:30 am, for a p'tit verre. (Tip: It's one of the few places with a restroom, which is out back.) Lots of wines are scribbled on the blackboard behind the bar, and locals come in with empty bottles to be refilled from their large oak casks. I made the mistake of asking for mustard to go with the charcuterie platter we'd ordered when I first arrived in Paris – "Our charcuterie is too good to put mustard on, monsieur!" the guy bellowed – which was before I realized the French don't usually pair mustard with dried sausage or ham, they use butter. And I'm okay with that.
So if you want to fit in with the locals (and not be a rube like me…), ask for butter. On weekends the Baron Rouge serves fresh oysters, although there are a lot more people in the bar.
When we went to the market last week, my best score of the day (aside from the few people of glassware I brought home), toward the end of the market I picked up 2 kilos (~4 pounds) of organic lemons for four euros. Or was that 4 kilos of organic lemons for 2 euros… (See how confusing my life can be?) But I think it was the former, because there was no way we were lugging 9 pounds of lemons home. As it was, Romain kept handing out lemons to all our friends who came over, saying we had "Beaucoup." (He's obviously not here when I'm plowing through fruit, making all those nice jams and desserts for him to come home to. Hrrmph.)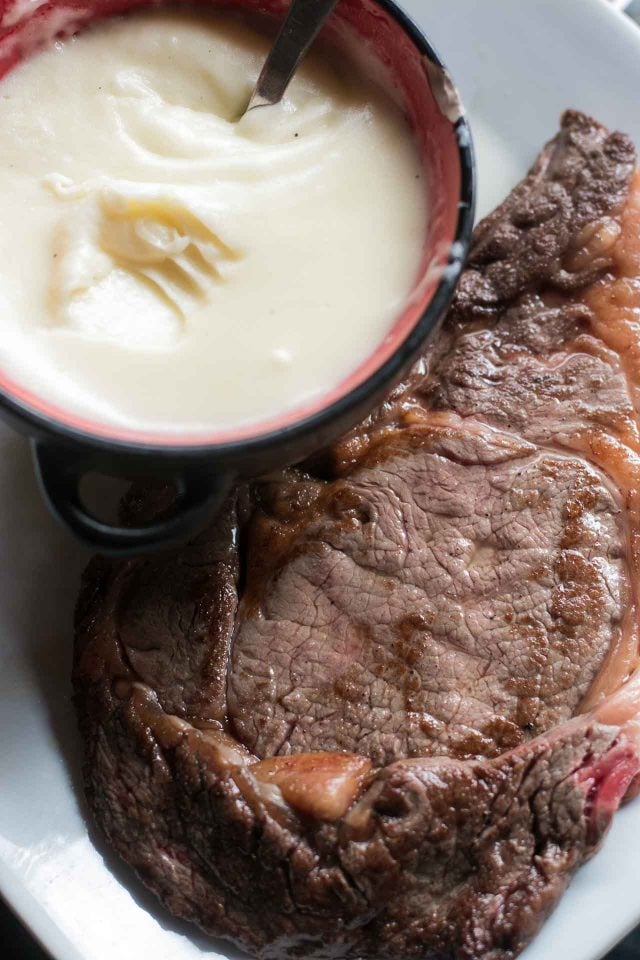 After doing our shopping, we went to lunch at Le Charolais (15, rue de Cotte), just behind the covered market. It's a great little spot, save for the woman with a large, half-finished glass of beer in front of her, who didn't approve of immigrants/foreigners – loudly – and symbolically shoved her foot out in front of me when I went to the restroom, making sure that I saw it. I wanted to lean over and say, "Honey, if you know what's good for you, don't get between a 50-something man and a bathroom." But I took the higher road and stepped over her. (Although on the way back, I can't tell you how tempted I was to 'accidentally' step on her foot…)
But the woman serving us could not have been nicer, and we both ordered entrecôte steaks with frites and aligot, the rich, sticky mixture of potatoes and cheese, mashed and pulled until it's hot and gooey.
A few customers remain parked on the tables outside on the sidewalk, finishing their morning wine, beers, and pastis, before they cleared away for lunch customers.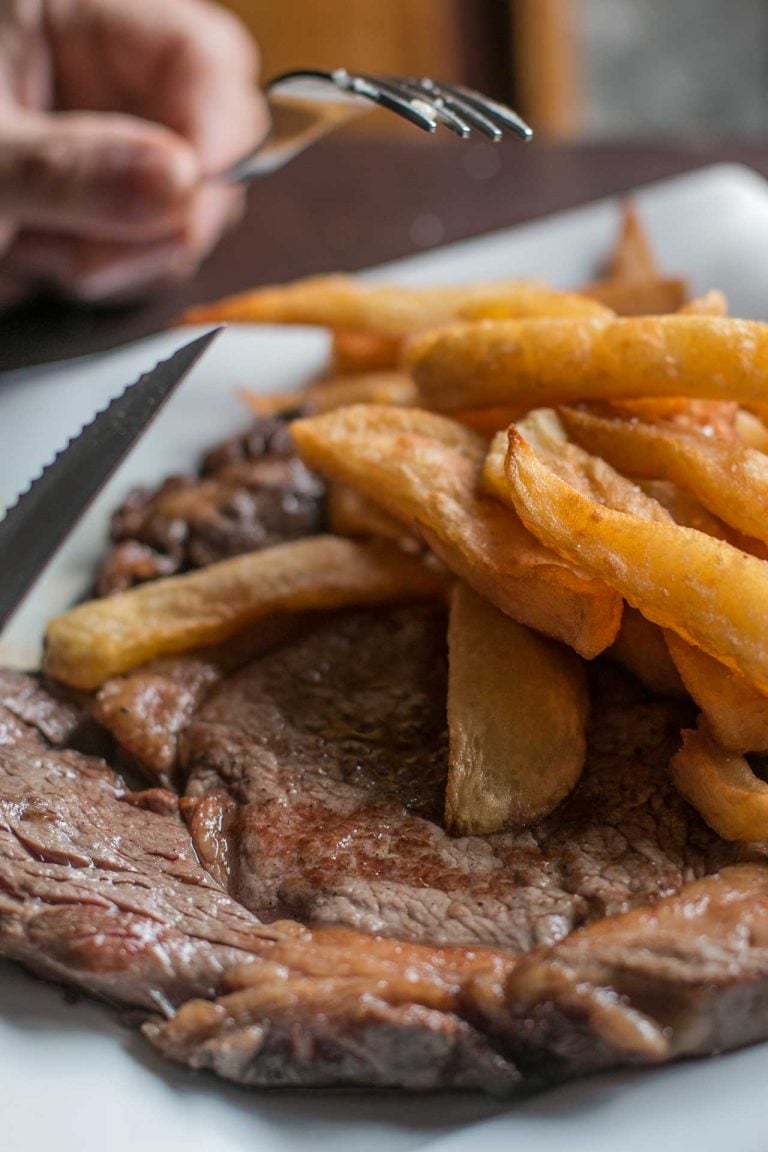 We picked up the slack with a 50cl pot of Chardonnay from the Loire, that Romain pronounced "Parfait," just like our morning at the market.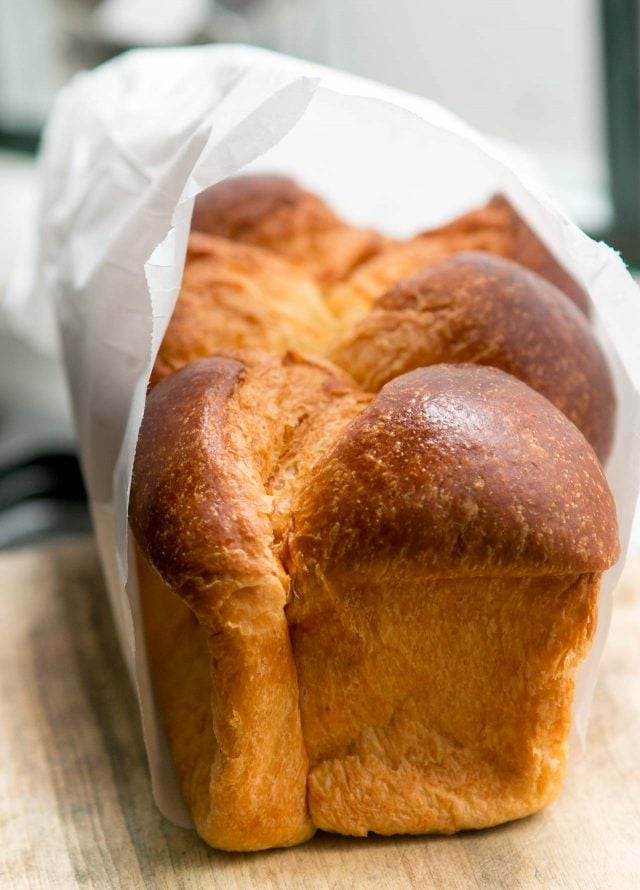 The market takes place daily from 9 am until about 1 or 1:30 pm, and a little later on Sunday. The entire market is closed on Monday. (Some of the stores around the market may be open on Monday, like Sabah, but most close.) The covered Beauvau market is open in the morning, until 1:30pm, and Tuesday through Saturday afternoons from 3:30pm until 7:30pm.
The closest métro stops are Ledru-Rollin and Faidherbe-Chaligny. If coming from the Left Bank, the very convenient 86 bus crosses the river and you can get off at the Crozatier stop.
Nearby Places of Interest
La Bague de Kenza: North African pastries made with best-quality ingredients. (173, rue Faubourg Saint-Antoine)
Le Siffleur de Ballons: Friendly wine bar.
L'Embauchoir: Good restaurant for market-based French cooking.
Blé Sucré: Excellent bakery, particularly the croissants and lemon-glazed madeleines.
Moison: Organic bakery. I'm particularly smitten with their small apéritif baguettes, riddled with seeds and sea salt, a nice, savory snack while strolling the market. (5, place d'Aligre)
L'Autre Boulange: Wood-fired breads, rustic pastries, with a few hearty grain-based loaves in the mix.
Boucherie Le Provinces: A meat market with tables, servings steaks, in the middle of the market. Good charcuterie boards.
La Ravigote: If you want to "eat with the locals," this is the place. Inexpensive, convivial, and okay food.
Septime: Outstanding food, tough reservation. One of the best restaurants in Paris.
6 Paul Bert: Modern French cooking.
Japan Knife Company: Top-quality Japanese knives, and knife sharpening.
Pâtisserie de Cyril Lignac: Pastry chef Benoit Couvrand makes excellent pastries and bread, including some of the best croissants in Paris. Just opened nearby – La Chocolaterie, the companion chocolate shop.
Le Grand Blanc (GB) Linge de Maison: Very good deals on kitchen towels (like the ones shown at the top of this post), and other home goods – sheets, towels, etc. (168 rue Faubourg Saint-Antoine)
Mokonuts: Terrific fresh food and baked goods (especially the cookies) at this friendly café. Lunch only.
Related Links

Eating and Drinking Around the Aligre Market (Paris by Mouth)
Marché d'Aligre (Bonjour Paris)
Paris Flea Markets and Thrift Stores