Bistrot Paul Bert
Shortly after I had arrived in Paris, I was having dinner with Romain at Bistrot Paul Bert. Nearby, a couple was speaking English and when I struck up a conversation with them, I asked how they knew about the restaurant. They mentioned they saw it on a "Best of" list in a culinary/travel magazine. So it wasn't a secret back then, nor it is now. And with good reason: It's one of the most reliable, approachable, and consistently great French bistros in Paris.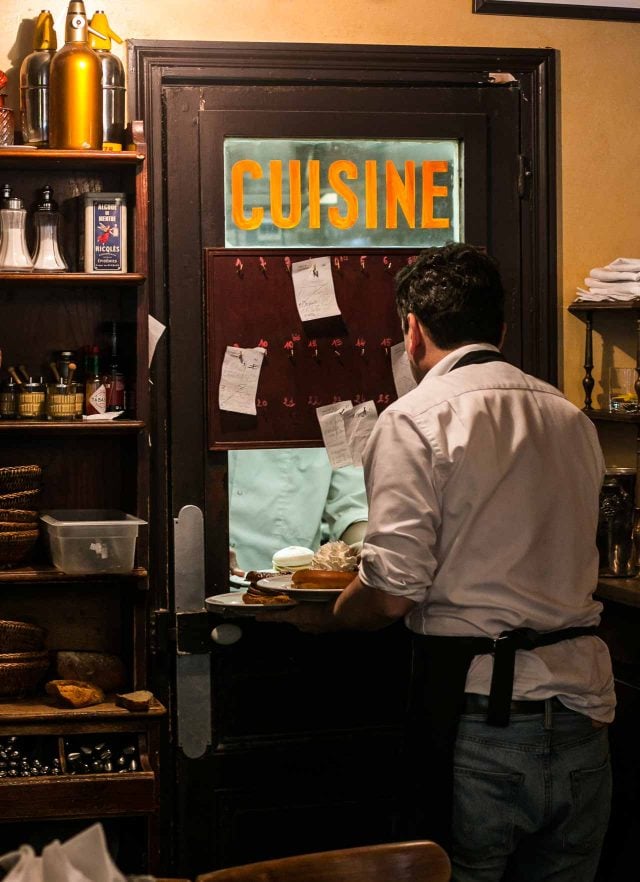 I was dining there recently with Alec Lobrano, Patricia Wells and Nathan Myhrvold of Modernist Cuisine while Nathan was in France doing research on a book about bread, which I suspect will be an incredible overview of breads not just from France, but from around the world. I gave him some addresses that I thought he might want to visit, although he'd obviously done his research and had a good list of bread bakeries he was planning to check out already. Then we had a little verbal back-and-forth about ice cream which prompted an invitation to visit his laboratory in Seattle, which I'm putting on my lengthy list of places that I want to go to.
Meanwhile, it was nice to spend a leisurely Saturday afternoon in Paris with Patricia and Alec, both of who I've known for a while, and Nathan, who fit in easily as he enjoys good food (and wine) as much as we do. We started with a lovely Gauby Calcinaires Blanc, a very agreeable white wine whose mineral-rich flavor goes nicely with seafood, which Bistrot Paul Bert does very well.
At some bistros, seafood is an afterthought, not really given its due, and meat gets most of the focus. But I love scallops and started with a platter of tender St. Jacques à la coque, scallops served in the shell with kari gosse, a spice mixture popular in Brittany. It's a light blend of ginger, cinnamon, turmeric, and chiles that accents – but doesn't overwhelm – seafood. Of course, the scallops were also drenched in browned Brittany butter, which I'm no stranger to. And I made use of the bread in the basket to make sure not a drop of it was left in the shells.
A big platter with a couple of dozen Utah Beach and Belon oysters came out with mignonette sauce, and we dove into those as well.
I continued to go with seafood for lunch and had the petites soles with lemon and butter. Out came a very large portion of two perfectly cooked and boned filets sautéed in butter with a flurry of parsley, accompanied by pan-fried potatoes. Speaking of potatoes, one of the great treats at Bistrot Paul Bert are the French fries, made in-house (which are becoming more and more of a rarity in France), and it's also rare to be able to get them at the restaurant without ordering the steak tartar, the entrecôte steak, or the massive côte de bœuf for two, which they will only serve rare or medium-rare.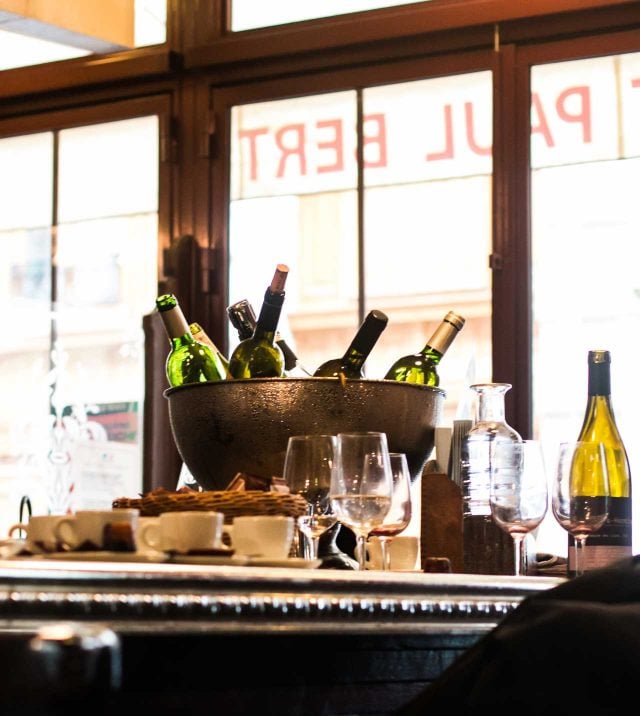 On numerous occasions, I've tried to talk them into giving me frites without the beef, and the only other time I ever got them, I was with Aisha Tyler, who was shooting a television program in Paris. She was really great, and being a San Franciscan, loved to eat, too. French people in the restaurant had noticed her, which surprised me but she said she played a lab tech on CSI, which is a very popular program in France, known as Les experts. We got fries then, and we got fries this time. So if you go, bring along a celebrity, culinary or otherwise.
I was fortunate to be with my own set of les experts (as in, expert eaters) and no one begged off on dessert. Whew! Because the desserts at Bistrot Paul Bert are all made in-house, and perfect renditions of French classics. They range from a dreamy Soufflé au Grand Marnier, to one of my all-time favorite desserts, Île Flottante, a Floating Island showered in colorful pralines roses and toasted almonds, swimming in a pool of cold crème anglaise. I'm not a big fan of sharing plates, but had to offer my friends some because it was too good not to. And I wanted to be polite, and possibly invited back.
Which was nice, because I got a taste of the Paris-Brest, one of the best desserts in Paris (shown at the top of the post.) This circular wheel of pastry is filled with hazelnut praline cream, and if one person can get through it by themselves after eating dinner here, I'd like to meet that person. (But I don't want to dine with them because I want to eat with someone who would share it with me – unless they could get extra frites on the side. Then I'm in.)
For those looking for an abundant cheese platter, that's another possibility here in lieu of dessert on the €38 fixed-price lunch menu. I wouldn't mind that either, and in fact, you can go for both – if you can handle it.
Bistrot Paul Bert
18, rue Paul Bert (11th)
Tél: 01 43 72 24 01
Métro: Faidherbe-Chaligny
Closed Sunday and Monday
(Note that Bistrot Paul Bert normally remains open in August.)
Related Paris Restaurant Links
The Aligre Market (Nearby market)
Les Provinces and Café des Abbatoirs
My Paris (A frequently updated list of my favorite restaurants in Paris)