Where to Find the Best Steak Frites in Paris
Alec Lobrano has been writing about the food in Paris for over two decades, and was the Paris correspondent for Gourmet magazine. When his book, Hungry for Paris came out, I immediately opened to page one and read it cover-to-cover. He's one of the best food writers of our generation and each chapter tells the story of one of his favorite restaurants in Paris. And now, as a result, whenever someone suggests a restaurant for dinner, I'll pull my copy of his book from my shelf and see what Alec has to say before I confirm.
We recently dined together on steak frites and I was thrilled when he agreed to write up a guest post with his favorite places for steak and French fries in Paris to share with you. He not only did that graciously, but included notes about what cuts of meat to expect in a French restaurant, which many visitors will certainly appreciate. And for vegetarians out there, he listed a healthy alternative, too!
You can read more of Alec's Paris restaurant reviews and recommendations at his site and blog, AlexanderLobrano.com, which I read religiously. Not only is Alec a wonderful writer, he's a terrific guy, and I hope you enjoy his company as much as I do…-David
In Paris, Where's Le Bœuf?
According to one of the cordial waiters at Au Bœuf Couronée, one of the last old-fashioned steakhouses in the Paris's old slaughterhouse neighborhood La Vilette in the 19th arrondissement, they haven't been so busy in years.
Pour quoi? It seems that these trying times have a lot of people craving meat and potatoes, or as the French would have it, steak frites, that infinitely Gallic and profoundly consoling combo of steak with fries or some other form of spuds.
If you're one of them, I'm happy to share my favorite steak frites addresses in Paris (vegetarians please skip to the last paragraph), but first a couple of pointers.
Though you see more and more Irish, German and Brazilian beef on Paris menus, the French product is infinitely better in terms of both taste and texture, with the best French beef labeled according to where it was produced. The most common premium labels are Coutenance (Normandy), Charolais (Burgundy), Salers (Auvergne) and Aubrac (Auvergne). (And for the record, the best French beef I've ever eaten came from a little town called Bazas in the Aquitaine region. I still remember every morsel because it was so full of flavor and had the perfect texture, midway between tender and nervous; you can try it at the Café Restaurant Indigo, 25 rue Fondespan, Bazas, Tel. 05-56-25-25-52).
Many people are unfamiliar with the French lingo for various cuts of beef, so here's a miniature glossary:
The most common French cuts of beef are the entrecôte, rib steak, the faux filet, which is roughly equivalent to a sirloin steak, and rumsteak, rump steak. Many Parisians also love bavette, skirt steak, and onglet, flank steak.
The two tenderest cuts are the filet and châteaubriand, a thick filet steak, but my favorite is the côte de bœuf, which is a thick on-the-bone rib steak, usually served for two, and full of juice, flavor and texture.
So now let's eat!
Le Bistrot Paul Bert
This crowded and very popular place is one of my favorite bistros in Paris, and they serve an excellent entrecôte, which is a little chewy as the best ones usually are, and first-rate frites. The dark-horse reason to come to this charmer, though, is that they serve the best Paris-Brest (choux pastry filled with hazelnut butter cream) in town.
18, rue Paul Bert (11th)
Tel. 01 43 72 24 01.
M: Faidherbe-Chaligny or Charonne.
Open Tuesday to Saturday.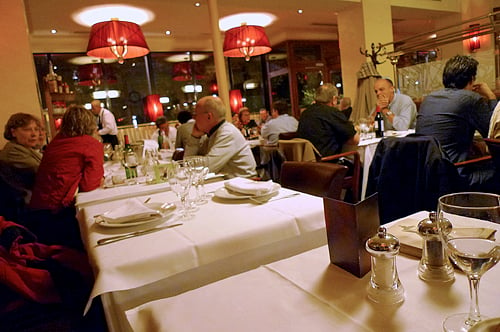 I love the almost somnolent calm of this 1865 vintage restaurant at La Villette, and even though it's a trek to get here the beef is excellent and the accompanying potato choices make you swoon–the pommes dauphine are crispy nuggets of deep-fried mashed potato and choux pastry with just a whiff of nutmeg, the pommes soufflé, twice-fried potato slices that swell to become round and puffed like a twin pair of the world's best potato chips but better and the frites are all à tomber par terre (drop dead good).
188, avenue Jean Jaures (19th)
Tel. 01 42 39 44 44.
M: Porte de Pantin.
Open daily.
La Bourse ou La Vie
After working as an architect, the owner of this popular bistro near the Bourse, or old French stock exchange decided on a new career catering to carnivores, and now he's serving up one of the best steak frites in Paris. I find the slightly bawdy atmosphere of Bankers and brokers whopping it up at noon amusing, but you might prefer dinner, when it's much quieter.
12, rue Vivienne (2nd)
Tel. 01 42 60 08 83.
M: Bourse.
Open Monday-Friday.
When it opened in 1921, this three-level restaurant with a plant-bedecked central atrium and some art-deco allure, was a bouillon, or a place people went for a fast, cheap feed, including its signature pot au feu. With the arrival of new owners Marie and Etienne Gerraud in 2003, the quality has soared but prices remain reasonable, and they now serve excellent oysters, onion soup, œufs mayonnaise and superb Limousin beef. Go for the faux filet or the bavette, both of which come with a small golden mountain of some of the best frites in town.
51, rue du Commerce (15th)
Tel. 01 45 74 03 27.
M: La Motte Piquet, Emile Zola or Commerce.
Open daily.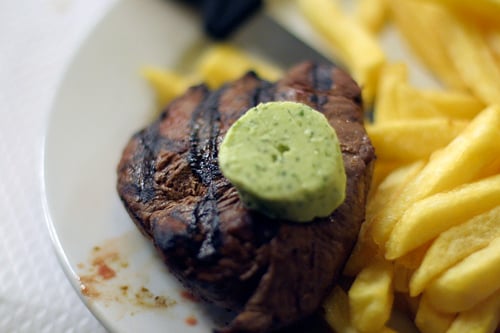 I'm not wild about the antic rustic baroque décor of this place, and the 8th arrondissement isn't my usual stomping ground, but I ignore the fussy cut velvet seats for a chance to tuck into their superb Aubrac beef–the côte de bœuf here is epic, as is the faux filet, and both come with aligot, that irresistible Aubergnat specialty of potatoes whipped with cheese curds and garlic until they have the texture of molten latex. A great address if you're jet-lagged, because it's open twenty-four hours a day, seven days a week.
37, rue de Marbeuf (8th)
Tel. 01 43 59 05 14.
M: Franklin D. Roosevelt.
Le Severo
Though this little place on the Left Bank has become pricey and the service can get a little perfervid, all will be forgiven when your steak arrives. Owner William Bernet used to work for the Boucheries Nivernaises, one of the best butchers in Paris, and the man knows his meat. I always go for the faux filet and a nice bottle of Vacqueyras.
8, rue des Plantes (14th)
Tel. 01 45 40 40 91.
M: Alesia or Mouton-Duvernet.
Open Monday-Friday.
Le Voltaire
This Left Bank beau monde favorite feels like a rather rarified little club, and it is, but the service is surprisingly friendly and the vieille France food is vastly better than most of what you find in other overtly fashionable Paris restaurants. The filet costs an arm and a leg (€44), but it's magnificent meat and the accompanying fries are terrific, too.
27, quai Voltaire (7th)
Tel. 01 42 61 17 49
M: Rue du Bac.
Tues-Sat.
And one for vegetarians :
For years, vegetarian restaurants in Paris have been stuck in a sort of 1968 time warp of straggly spider plants in macramé baskets and menus that were more wholesome than delicious. Now Mark Grossman, owner of the popular Bob's Juice Bar, has opened a casual restaurant that resets the dial with delicious dishes like veggie stew, made with quinoa and garnished with eggplant, pumpkin and sweet potato. The curried lentil galettes are terrific, too, and they serve a great selection of fresh juices.
74, rue des Gravilliers (3rd)
Tel. 09-52-55-11-66.
M: Arts et Metiers.
Open Monday-Friday 8am-3p, Sunday brunch 10am-4pm.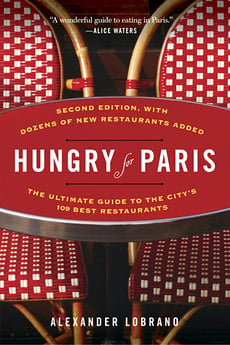 Thanks to Alec for sharing his favorite addresses! You can visit him at Alexander Lobrano.com, and his diner's blog, Hungry for Paris.
And be sure to check out his book, Hungry for Paris: The Ultimate Guide to the City's 109 Best Restaurants, with stories, tips, and reviews of the best dining spots Paris. -dl


Related Posts
Two Delicious Dining Guides to Paris