[Update: Aux Tonneaux des Halles changed owners in 2016. They no longer feature natural wines and the food on the current menu differs from what is shown and described here.]
Every once in a while, it hits me: I need steak-frites. It's an infrequent indulgence, but when I do have it, I like my steak with a crisp exterior, pan-seared until saignant (medium-rare), with a large pile of real frites. Most my French friends like their beef bleu, which is close to uncooked, and if you order it that way, when you cut into your steak, it's raw in the center. (My other half will ask for bleu froid, or "cold" in the middle.) I don't mind raw beef in carpaccio or tartare, but it's not really my thing to attack a large block of nearly uncooked meat.
Another difference is that American beef tends to be aged and easier to cut, and I've learned to only buy beef from a very good butcher in Paris because the difference if phenomenal. In restaurants, sometimes you'll be served a piece of French beef that slices nicely, and other times you're faced with something that even the best steak knife – and sharpest incisors – might have trouble ripping into.
So I tend to be fairly choosy about where I eat beef. Many of the classic Parisian bistros have been scooped up by restaurant chains, so there's a dwindling number of places where you can find steak-frites done right in this town. But at Aux Tonneaux des Halles, honest bistro fare is still offered, with the daily menu scribbled on the chalkboards. And if you're looking for a traditional steak-frites, done right, this is the place to get it.
The craving hit me the other day, so we had lunch on their sunny terrace. After we ordered, and were sipping our wine in anticipation of our steak-frites, I noticed a group of tourists scouting out restaurants on the street, the rue Montorgueil, which has exploded in popularity in the past few years. I decided to give them a hand and told them that this was, indeed, a bonne adresse. And they took my advice and sat down. The genial garçon brought them menus, which they flipped through. Then a few minutes later, they left without saying anything to the waiter. (And people think Parisian waiters are rude?) I felt bad and apologized to him, because I had beckoned them to come. But I also felt bad because they missed out on a very good French meal.
It used to sound like a funny way to start a meal, but nowadays I can't resist œufs mayonnaise, a Parisian classic, composed of hard-cooked eggs with a generous dab of mayonnaise on top. This was a pretty good version, although I didn't think it needed to be gussied up with dots of balsamic reduction. And the hard, out-of-season tomatoes just got pushed to the side. Just the eggs and mustardy mayo on a bed of lettuce is fine for me, although I do like lacy chervil whenever it springs up on a plate, which it doesn't do often enough.
But let's get back to that steak-frites, shall we? My onget steak (€18) with shallot sauce came out cooked just right for me, perfectly saignant, and we refilled our squat glasses with more of the Brouilly Vieilles Vignes, a fruity, yet mineral-rich red wine from Beaujolais, chosen from the appealing list of ten or so natural wines available by the glass – or three sizes of carafes (25, 50 or 75cl.) Last time I was there, on the way out, I thanked the owner for serving French fries that are crisp, and he said, "They take two times longer to cook…but are ten times better." I agreed, and polished mine off before I made it halfway through the steak.
For those looking for a bit of grignottage (snacking), Nos Assiettes are platters of various cheeses and charcuterie, which you can easily enjoy on the sidewalk, engaging in some serious people-watching.
(A bare-chested capoeira troupe sporting some serious abs came by and did a few moves for diners and folks on the street, with drums accompanying the sidewalk acrobatics. While they were passing the hat afterward, I dropped in a euro coin, but wanted to offer advice that they could easily double their earnings if they added a tactile element to their presentation. But after those other folks split on the waiter, I figured I shouldn't bring any further damages to my reputation.)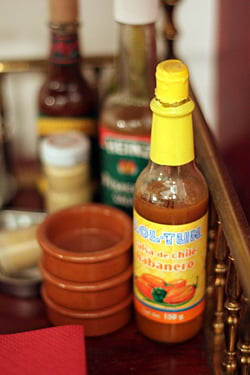 Aux Tonneaux des Halles was transformed from a hotel to a restaurant in the 1920s, and you can still see the old photo booth from the days before people had phones in their rooms. An old mural lines the back wall depicting the workers hefting meats and baskets of produce at the now-demolished Les Halles, and this is one of the few remaining restaurants from that era, but one that has changed with the times, and continues to serve traditional bistro cooking.
After we managed to share a delicious Faisselle, served with a less-interesting fruit coulis (I would have preferred honey), but I did notice that they curiously kept hot sauce on hand, for those interested in spicing things up. As we left, a nearby couple was happily mixing up a steak tartare at their table, and a few groups of people were sitting down for a weekend lunch. We continued to walk up the street after we left, but never found out where those other people ended up. But I doubt they were as happy with their lunch decision as we were with ours.
Aux Tonneaux des Halles
28, rue Montorgueil (1st)
Tél: 01 42 33 36 19
Métro: Les Halles, Etienne Marcel, or Sentier
Related Links
Where to Find the Best Steak-Frites in Paris
Two Delicious Dining Guides to Paris