Da Dong/Squid/Les Jules Verne/Yquem
I now have conclusive proof that I'm not imagining it: There is an international conspiracy to get me to eat squid. Before you say, "You should try it breaded and dipped in spicy sauce!" or "You haven't tried had my Thai-style squid!" – I should let you know that I've installed a special filter on the site that bans the words "You should…" or "You don't know what you're missing" just to save folks the trouble.
I was invited to a Chinese lunch, cooked by Da Dong, who is considered one of the best chefs in China. Because I'm from San Francisco, Asian food feels like it's part of my culture and although more and more good Asian places are opening in Paris, I still miss digging my chopsticks into salt & pepper crab or a big pile of fresh pea shoots sautéed in chicken fat. Paris was a horrible, horrendous mess – one of those crummy days when the wind is blowing sideways, deep puddles are everywhere, and the heavy rain just refuses to stop blasting away at you, and the entire city. I felt sorry for all the tourists lined up in the watery blitz to visit the monument, because just one lone elevator was operating as the rest in the tower were out-of-service.
Fortunately when I reached the Eiffel Tower, there was a canopy for refuge for restaurant patrons and the elevator to the restaurant was functioning fine. I was happy to be inside and making my way up, with a spectacular view of Paris, and ready for a Chinese feast. Lunch was sure to be a bit more refined than the family style Chinese fare that I often wolf down with pals, but I was interested in tasting a few things that I was completely unfamiliar with. I am fairly astute when it comes to knowing ingredients, but I was thrown for a loop by most of what was served, and came face-to-face with my aforementioned nemesis.
Because it's France, and we were at Le Jules Verne restaurant, the wines were incroyable. We started with 2002 Dom Pérignon, and wound our way through several vintages – until we landed with the main course, a 1973 bottle. You've mostly likely had Champagne before, but vintage Champagne is a whole other story. It's not 'crisp' or 'refreshing', but it's richer, most complex, and demands a lot more attention that a regular glass of bubbly. And, of course, it's Dom Pérignon. 'Nuff said folks. As they say, once you've been at the front of the plane, it's hard to head to the back again.
(But right now, my budget is more in line with bottles of its downscale cousin, fizzy crémant. So I'm back there with you.)
Some of my French dining companions admitted they didn't know much about Chinese food, as they looked around for some forks, but they said that they thought a lot of it was spicy. And a lot of people everywhere aren't all that familiar with Chinese cooking, which is one of the world's oldest cuisines, predating French by a longshot. So it was great that the restaurant was hosting a lunch such as this, so people could see – and taste – all the unusual flavors and textures that Chinese cuisine has to offer.
Few people "got" the Biscuit impérial, a compact square of dried bean powder, which I wasn't thrilled about with my first bite either. But when others politely put theirs down, I kept on eating and grew to like it. A Chinese woman told me that it's often put in a bowl of water, where it dissolves and is consumed like soup. And no, I'm not a rube, and didn't put it in my Champagne to test it out.
Then, right off the bat, here's where I started to falter. I opened the menu and saw that there were five savory courses, and two of them had squid in them. Including what was coming up next. I don't like to be a picky eater, or "the problem" person in the group, but I'm just not a tentacle-eater. And I don't want to be.
So out came a little bowl of frothy soup, Œufs de calmar pochés; poached squid eggs. Great. Now I've got to face the little beasts at their source. Folks, I did the best I that I could, I really did – and dug my spoon in.
Because I wanted to be polite, I dug my spoon in again and again, sliding the slippery egg sacs down my throat. So I get an A for effort, right? There was a crispy little pain au sésame alongside, filled with red bean paste, which I happily finished every crumb of because although I liked the pleasantly sour taste of the soup broth, I was having a hard time with the little devils bobbing around in it.
I had to explain Geoduck to my tablemates, which consisted of me making sliding hand gestures about a long, supple, cylindrical object, that was rubbery and flexible, until I started getting some weird looks, so I stopped. Thankfully the waiters came by with bowls made of ice, with thin pieces of raw clam neck tucked inside before the women at my table, and a few of the men, got even more uneasy.
Alongside was something I've never seen before: fresh Sichuan peppercorns. "Surely that was a misprint on the menu" I thought, since they looked so much like green peppercorns. But I nibbled a few off the stem, and soon enough, that familiar fizzy taste of Sichuan pepper had taken over my mouth. The dish was great, pretty excellent, and I urged my dining companions to try the borage flowers, since their cucumbery taste would be a nice bit of refreshment along with the very fresh cou de coquillage.
Then came my deuxième reckoning: Velouté d'encre de seiche, julienne du tofu. Usually if you don't want to eat something, you can delicately push something to the side and eat around it. But my mind was racing, because there's just no way you can push aside the main ingredient in a creamed soup. Merde. Out came the waiters with little ceramic pitchers, filling our bowls with the viscous, inky – and very fragrant – black liquid.
Poised over the bowl with my spoon, I could spill it off the table, and apologize profusely. I could hit the men's room, and hope it'd be gone by the time I got back. Although folks might get suspicious about me in the men's room for that long, especially after my description of the elongated clam neck. Or I could make a dive for the window. But since we were 125 meters up in the air, and with my luck, I'd probably hit a pylon and dangle off the edge of the Eiffel Tower and look like a buffoon, instead of the much-revered martyr that I hope to be remembered as (although at least I'd give those poor tourists standing in a freezing rain something to watch while they waited in line for the one, lone working elevator in the tower) I dipped the spoon in and slurped up a mouthful. It was fishy, not unpleasant, and I tried to concentrate on the extremely fine slivers of hand-shredded tofu. Then I took another spoonful, then another.
Then I put my spoon down, and waited for the next course.
Out came heavy bowls with quenelles of Seafood Royale with little pearls made pink with beet juice. It was lovely, but I was even more loving the custardy base rich with eggs and crabmeat.
In what is probably the most pretentious statement you'll read today on the internet, I'm going to call it and say that the 1973 Dom Pérignon was a revelation, even with my mouth still buzzing a bit from the Sichuan peppers that came with the clam neck. Probably not the best way to celebrate the world's classiest Champagne, but I wasn't complaining.
Finally came the wind-down; Concombre de mer braisé with Beijing noodles. In spite of my resistance to eating anything hideously ugly and vicious (ie: squid), I love those goopy sea cucumbers. I mean, what's not to like about a leathery, stinky slug that cling to rocks in murky ocean waters? And when one arrived alongside a neat tangle of fresh noodles, and woefully too-few leaves of pea shoots, I gobbled it up with my chopsticks; most of the others at the table had moved on to forks and knives – and when no one else was looking, I gestured to my Chinese co-diner that I was going to grab my plate, lift it to my mouth, and stuff the noodles into my craw, which got a muffled giggle out of her. (I think because I was mimicking what she wanted to do as well.)
And I may not have changed my mind about squid (and no, I promise I won't do another blog post about how I don't like it), but the magnum of Château Cheval Blanc, which didn't have any of that heavy brusqueness that turns me off to a lot of red wine, was lush, ripe, soft, and velvety, gentle and elegant. And it wanted to make me want to use more adjectives than that, but my wine vocabulary is pretty limited, and words like "Holy sh*t!" and "Oh my God!" don't really go over all that well at French wine tastings, which I've learned from experience.
Chinese meals don't really include dessert, which was a dilemma I faced daily when I was the pastry chef at a Chinese restaurant a number of years ago back in San Francisco. So I wish it had occurred to me to roast a mango, because it's a great way to serve them. Since it's mango season here in France – (or somewhere else) – I loved scooping up the pulp of a warm, ripe mango dusted very lightly with what may have been the slightest whisper of black pepper. Butting put against it was a red bean paste-filled pastry enrobed in mango jelly and two jellied "cherries" made out of beet juice.
My wine vocabulary – heck, my entire vocabulary, after all this food and wine – was kaput by the end of this meal. But then out came My Favorite Thing in the World: Château d'Yquem. If you haven't had it, I can't say that I blame you. And it starts at around 200 dollars a bottle…and goes way, way up from there. But aside from the hazelnut praline paste from Jean-Charles Rochoux and chocolate-covered marshmallows, this Sauternes is really the best thing in the world.
You tip a few drops of this amber liquid into your mouth, and it's like – well, holy sh*t. There's a whole lot of marvelous flavors that start zinging around your head – baked ripe apricots, caramel, chestnuts, Justin Timberlake – in short, it's the stuff that dreams are made of. I had it for the first time when I was just a nitwit baker toiling away in the back of a restaurant, when some customers sent me back a small glass, which they were enjoying with their almond custard with mangoes. And for all those people who write to me, who are coming to France, who kindly ask me if there's anything they can bring me – the answer? Château d'Yquem.
Now that I've managed to alienate a wide berth of readers, I'll leave you dangling with these curious little Mignardises of sweets.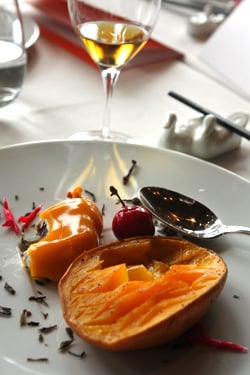 I'm not sure what they all are. So it's a good thing I'm not a restaurant reviewer because I'd have to give all of you your money back. The bottom knots are made with chestnut flour, the brown rolls dusted with roasted soy flour had soy sauce in them, and the little rice paste balls were filled with bits of green and red, which I liked, but was also multitasking by scanning the tables to see who hadn't finished their Sauternes, and how I could wrangle the rest of the glass from them before slipping away down the elevator, and back into the water-logged streets of Paris.