Sydney, So Far…
I've been here about a day and a half, and am slowly acclimating to being on the other half of the world, which is a pretty exciting feeling. Each morning I wake up – a little too early…but after waking up at 2am this morning, I'm pretty sure that tonight's the night I get a good night's sleep.
Today some of the local chefs gave me bites of the best of Sydney, before I head to behind the stoves to return the favor. I'm a little swamped with getting ready, and will write more about the places I visited. But here's a little taste…
Started the morning at Bills, the restaurant of chef Bill Granger, who is famous for his clean style – and great breakfast. Waking up to sweet corn fritters is almost as good as waking up to a winning view of the Sydney harbor. Add spicy avocado salsa? The fritters win, hands down. Bonus points for the great coffee as well.
So what's the best thing to do after a hearty breakfast? Head to Bourke Street Bakery. I was pretty wowed by everything that's packed into this tiny storefront. It's a great place and I may have to head back for the savory pastries, which start coming out of the oven a little later than I was there. The line starts behind me.
For some reason, I hadn't associated Sydney with meat, until the owner of Victor Churchill reminded me how important beef and lamb are to Australians. Then I remembered their well-known hearty appetites. Fair enough. But I wasn't prepared for this stunning butcher shop.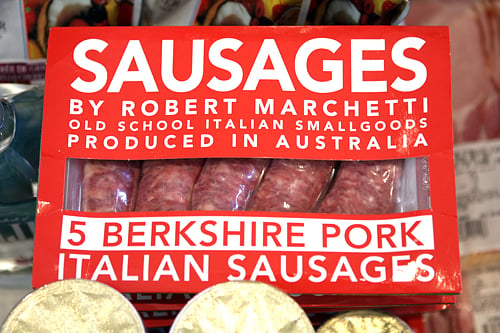 Like many places, Australians are becoming more proud of their local and native ingredients. At Simon Johnson, they carry the best of the best, as well as a well-curated selection of cheeses from other countries.
And just when I thought I couldn't eat any more, I pulled up to a sit-down meal at Becasse with chef Justin North, who was kind enough to make sure I not only left completely sated, but had several tastes of his spectacular cuisine. He did try to pull a fast one and sneak squid into each of my courses. I'll forgive him because everything was great. And yes, I attempted to eat the squid. Because I'm a good sport, and an avid eater.