Les Provinces and Cafe des Abattoirs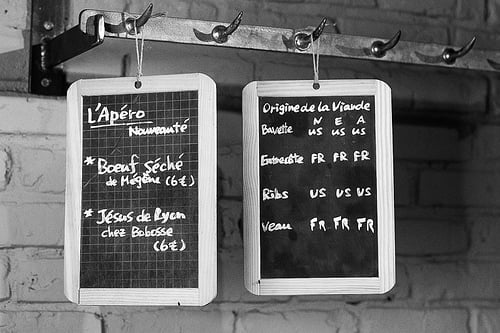 My perfect day in Paris is one that starts at the Marché d'Aligre. I'd get there first thing in the morning, around 9 A.M. as the flea market vendors are unloading their trucks, scoping out treasures as they unpack them. (Before the rest of humanity descends on the market.) I'd rifle through the boxes of knives, cast-off kitchenware, and perhaps score a vintage Le Creuset gratin dish, before doing some food shopping, bringing home the bacon.
I've been going to this market for over ten years, and it's still one of my favorites. For a while, there weren't any stand-out dining options at the market, which was a shame, because you're surrounded by all this food at the one of best markets in Paris, but few places were serving them. So I was happy to see that in the last year or so, a number of eateries have opened where you can sit down and enjoy everything from Portuguese pastries to steak-frites, a market staple dating back to the days of the old – and sadly displaced – Les Halles.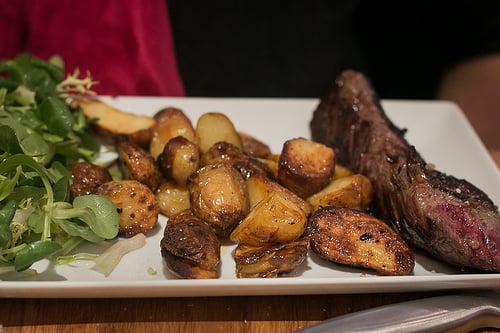 One place in particular that I was interested in trying was boucherie Les Provinces, a combination butcher shop and restaurant. While I had my head buried in boxes at the flea market, avoiding getting stabbed by vintage French forks, an SMS popped up on my phone from my friend, asking me where the heck I was. So I hightailed it over to meet her for lunch.
Beef in France was recently under the spotlight due to a recent article in the New York Times, where a number of French chefs were quoted about how and where they source their beef, many noting that most breeds of French cattle were raised for their muscularity, not for producing tender meats. It raised a few hackles but it was interesting to hear French chefs talk about why they were choosing to import their beef.
I was recently speaking at an event here in Paris when a woman raised her hand and asked me how I find out about new restaurants, and what I look for, and so forth. Almost before she could finish, I said "Well, the first thing I do is avoid anywhere new." It takes a while for places to hit their stride – at least a few months. But people come to Paris and want to try the latest and greatest, and I tell them to relax, because sometimes it's more fun just to go to a café and have a croque monsieur or salami sandwich with cornichons at the scratched up zinc bar of a corner troquet, which is a more authentic French experience—the kind visitors seem to be looking for.
At boucherie Les Provinces, you won't be blown away by the food, but you'll have a good time, as we did, digging into our onglet steaks. Onglet is known elsewhere as hangar steak, which I once saw referred to as "meat that's usually only available in Mexican and ethnic markets." It's juicy, flavorful, and cheap. The French in general eat their beef very rare, and you need to have a muscular set of choppers – and a very sharp knife – to get it from point A to point B since it's not common to get beef that's been aged, a process that tenderizes the meat.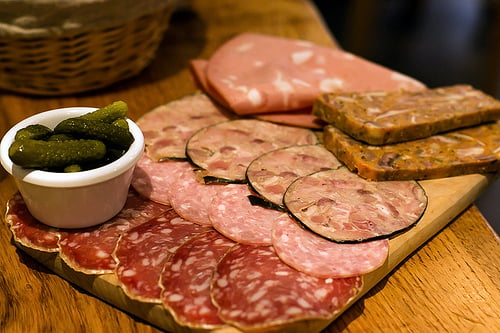 After we started with an excellent board of cochonaille, mixed charcuterie, we were served our main courses. The onglets were offered in two sizes, one for the petite faim and the other for the grosse faim. (For the small appetite or the large one.) The small was 200 grams, which is 7.0547 ounces. (For readers' sakes, I used to round up the conversions, and say "about 7 ounces," but too many people were piling on, saying that I should be more precise. So there ya go!) The small was more than enough for us.
Served with pan-roasted pommes de rattes, the almond-sized, delicious fingerling potatoes that are rarely seen outside of France, and an entirely pleasant carafe of cellar-temperature Brouilly (slightly chilled, or at cellar temperature, as it should be served), we cleared our plates, keeping up a nice running commentary with the waitress and the butchers, all the while.
While you likely won't find Les Provinces listed in restaurant guides as a place to cross town for, I can't think of a better way to spend a day in Paris than strolling around the Aligre market, rifling through boxes at the flea market (after I've gone through them, of course…) before checking out the fruits, vegetables, French cheeses, dry goods, and sparkling fresh fish at the stands, before diving into a couple of steaks while knocking back a few glasses of red in the convivial atmosphere of boucherie Les Provinces. Then heading over to Blé Sucré for a little dessert.
Boucherie Les Provinces
20, rue d'Aligre (12th)
Tél: 01 43 43 91 64
Open daily 8am – 2pm, 4pm – 7:45pm, Sunday 8 – 2:30pm
---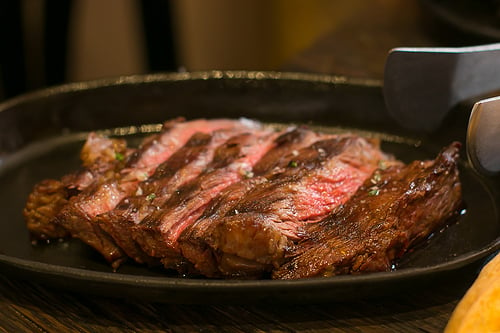 Higher up the scale, certainly in terms of price, is Café des Abattoirs, which makes a point of sourcing beef from various countries, including ancient races of cattle raised in Brittany. The café is proof that interest in foreign beef has increased recently.
So much so that it's also spurred a new French magazine about bœuf, with an English title. (And les hamburgers featured as the lead article.) I was interested in trying the restaurant to taste what they were boasting about: Sourcing the best beef from in, and out, of France. The restaurant is more upscale than Boucherie Les Provinces, and offers three menus, which feature beef in various guises, from tartare de bœuf Charolais (French), veal tartare (from the Limousin) with sauce César as a first course, to bavette of beef (Black Angus), and a 400g (14 ounces) entrecôte from a famed race of Breton cattle. Desserts and garnitures (side dishes) are included and we went with the frites fraîches façon Suzy, also known as French fries.
(Prices for the three formulas are €32, €38, and €45, and there is a fixed menu express at lunch for €22 of a main course and coffee.)
Obviously I'm not quite as integrated as I thought, because the very friendly waiter asked as we were sitting down if we wanted English menus. Both of us were fine with the French ones. (Translated menus often have mistakes on them, like the booklet that came with my oven which said to change the time I was to hold the keypad numbers down for two minutes, which seemed an awfully long time to stand there and hold down a button – so before I subjected myself to an index finger cramp, I checked the French instructions, and it was, indeed, deux secondes.)
Thus began a series of funny exchanges with the staff, which I kicked off by peppering the waiter with questions about who Suzy was, and why she was important, and what she had to do with French fries.
In addition to the menu items, they bring you a series of starters that aren't listed on the menu, but are a nice surprise. We had some deep-fried breaded cheese puffs that were okay, and ripe avocados with black caviar.
But I couldn't forget the outstanding Black Angus ribs, above, which understandably, aren't I've never seen served like that in Paris. (You do see travers du porc, or pork ribs, on menus and at the butcher shops.) Served off the bone, they didn't look like much, but good gosh, they were as tender and juicy as my aunt Millie's brisket, who once told me her secret was cocktail sauce. Which perhaps they use, too?
The bavette steak was nicely cooked but could have used some seasoning before it got slapped on the griddle, as the seared crust, aka: the best part, didn't enhance the flavor and texture of the beef. And while the Black Angus meat was of excellent quality, some seasoning with a few grains of salt would have permeated the meat (not dried it out, as some people believe), and made it much juicier, with a tasty crust highlighted with crackles of salt.
Malheureusement, the fries suffered from the "soft frites" syndrome you find around town. And while they were made with fresh potatoes, they were soft and not crisp. So whoever the heck Suzy is (I never did find out…) she needs to get on the stick and double-fry her frites, or at least turn up that fryer oil, girlfriend.
House-made sauces were an interesting change from the usual pot of Dijon offered in French restaurants, which I avoid because people dip in their knives, knives that are covered with meat juices, and I don't think the restaurants change or refrigerate the pots of mustard. (True, they go through them quickly. But I'm kind of a stickler when it comes to stuff like that.) The tomato-horseradish sauce was similar to cocktail sauce and not nearly as interesting to us as was the house-made bbq sauce, which was excellent, and I was tempted to pocket the rest of the bottle as we were finishing up. They do give each diner a nifty cotton apron to wear while dining, and my dining companion ended up buying one, she liked it so much. I should have asked if they sell their bbq sauce.
Desserts were an excellent, silky-smooth flourless chocolate tart that had the smoothness of a bittersweet, baked custard. The only thing missing was a scoop of coffee ice cream to offset the intense chocolate flavor. One of my favorite French desserts is œufs à la neige, a poached or baked meringue floating on a pool of ice-cold crème anglaise. With a nod to the bouchons of Lyon, the snowy meringue was studded with pralines roses, something you'll find sprinkled through many pastries in Lyon.
Since I'm not a restaurant critic, I always ask myself, "Would I send readers or guests here?" when I write up a Paris restaurant. So I asked my dining companion and she said, "Yes," which I would as well." It's not the cheapest restaurant in town; however, when people say Paris is expensive, I don't think you could get a multicourse meal like this in San Francisco or New York for €32 – €45, which includes tax and tip. Plus they're open every day, for those scrambling to find a place to eat on Sunday or Monday night in Paris.
Me? I'll be back for those beef ribs and œufs à la neige – and to check on the progress of those fries. And to finish my discussion with the waiter.
Café des Abattoirs
10, rue Gomboust (1st)
Tél: 01 76 21 77 60
Open seven days a week


Related Posts
Where to find the best steak-frites in Paris
A very good steak-frites in Paris
10 Insanely Delicious Things You Shouldn't Miss in Paris