La Graineterie du Marche
There are a number of "must-do" lists in Paris, places where people just have to go while they're here. Often people have limited time, and I hear ya, so I might suggest the departments stores on the Boulevard Haussman, Printempts and Galeries Lafayette (although even since Printemps started charging €1,5 to use the restrooms, I'm inclined to go to the Galeries Lafayette, just on principle.) Some of the well-known chocolatiers and pastry shops have kiosks in those stores, so you can hit the "big names" in one fell swoop. If that's your thing.
For those wishing to shop on a smaller scale, there's La Graineterie du Marché at the excellent Marché d'Aligre. It's the only outdoor market in Paris that's open every day, except Monday, and in the center of the market, you'll find José Ferré tending to his lovely, old-fashioned dry goods shop.
Ever since I discovered his épicerie and graineterie, I've been a semi-regular customer, since every time I go in, I pick up a bag of beans or flour, then take it home and work on a recipe using it. Seriously, I could spend weeks going back-and-forth…and sometimes, I have!
In addition to an array of dried beans, whole grains, jams, honeys, and flours, José carries many items which could fall into the "Best Of" for France. Hand-packed barquettes of prized fleur de sel de Guérande, Pain d'épices from Dijon, made by Mulot & Petitjean (who claims to make the original), Haricots Tarbais for making cassoulet, and the lovely nut oils from Huilerie J. Lebanc, whose aroma of freshly ground nuts wafts up and hits me in the senses, whenever I twist the top off, making me almost want to take a swig right from the bottle.
I'm really partial to the hazelnut oil, particularly good on spinach salad, and avocado oil, which is good on, well, just about anything. And if you need a basket to haul everything home with, well, he's got you covered.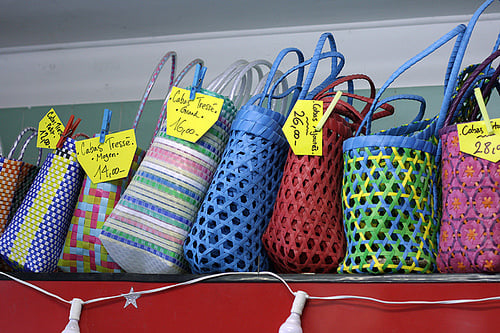 There are colorful tins of preserved fish, from La Belle-Iloise in Brittany. I love those colorful tins and they make great gifts, although some of the flavors are kind of wacky. Spiced prunes and tuna anyone? So give those to friends, and keep the sardines packed in salted butter for yourself.
Out front are pots of tomatoes and fresh herbs, as well as cayenne pepper plants (#want), which can be part of just about any urban garden.
For those fortunate to have garden space in Paris, after you invite me to your next barbecue – and I'm expecting a big heirloom tomato salad, and corn-on-the-cob, too – you can pick up various seeds and plants.
Or for those true do-it-yourselfers, there are lots of seeds in the back of the shop, which is stocked with gardening tools, enameled cookware, and that sound of nature you'll hear back there isn't a recording – there are birds chirping away. So put La Graineterie du Marché on your list, where you'll find plenty of foods to stock your own nest with.
La Graineterie du Marché
8, Place Aligre (12th)
Tél: 01 43 43 22 64
Tuesday- Sunday 9am – 1pm
Tuesday – Saturday 4pm – 7pm
Métro: Ledru-Rollin or Faidherbe-Chaligny