A weekend in the French Countryside
The first true weekend of spring just happened here. Well, there may have been some nice days when I was gone, but the weather was fairly glorious the last few days. And being a holiday weekend in France, off we went to the countryside (campagne), enjoying the clear blue skies.
Drive just about an hour from Paris, the air clears and you just want to roll down the car windows and take a deep breath. (Well, it's a little more refreshing once you've exited the autoroute.) There are trees, wild grasses, fields of wheat, oats, rows of barley, sugar beets and colza growing, and flowers, wild and otherwise.
We did the trip not just to clear out our heads, but to help clean out an old country house, rifling through what remained, before toasting a few glasses for the final farewell. It was wistful and bittersweet. But changes are often unavoidable, and each is un passage.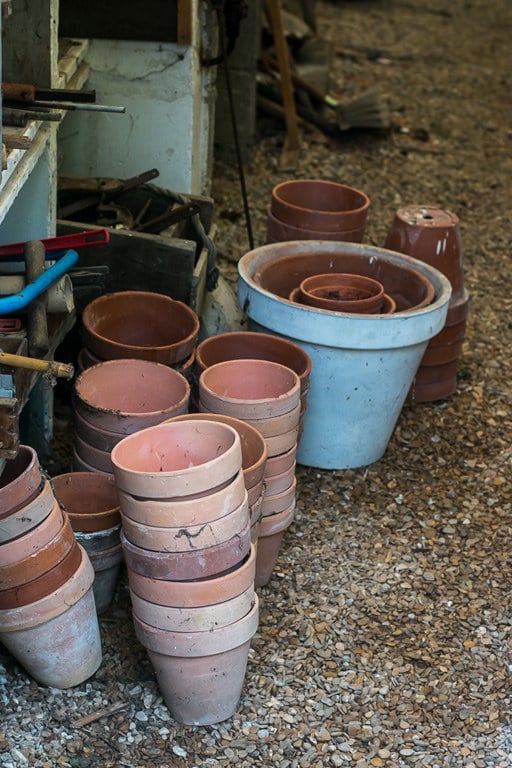 I poked through paintings covered with sticky cobwebs, damaged by time. Shelves of sturdy tools, and old tin candy boxes were among other items left behind, which I sadly left behind, too, as my apartment is bursting at the seams – and I will need to make un passage to a psychiatrist if I add anything else to my collection(s).
From the gardens, bunches of roses were in bloom…
…so we rolled out a blanket, surrounded by lush greenery, and unpacked a picnic.
It was nothing fancy. A few nubbins of cheese, some herbed ham, hard-boiled eggs, and an attempt to reproduce my mother's potato salad.
I also had my handy little wooden box of fleur de sel, French sea salt, that the harvesters gave me when I visited the salt marshes, which I pack for picnics. I used to bring my salière de poche to restaurants, too, in spite of the fact that I invariably got chided about it. However after the ribbings I got, I noticed everyone else starting reaching into it for a pinch themselves, so I'd leave it on the table. But I stopped – because I was afraid that I would forget it on the table, and lose it for good.
(And in case you want one, you can go to the shop right next to the salt marshes, or find one online in France. Come to think of it, I should probably get an extra one, too.)
I also made sure we had a mini bottle of rosé, to wash it all down, of course.
While walking around after lunch, I noticed sprays of white elderflowers.
So pulled out a bag and picked as many as I could reach, to bring home.
Curiously, for a country that makes a dynamite elderflower liqueur, no one makes elderflower syrup. So I thought I'd step up to the plate.
The Germans and Swedes seem to like it as much as I do, and after picking through the flowers, I turned to Luisa's recipe, and started a batch of elderflower cordial.
I know it's more scenic to use an old crock, but I didn't have one. So I used my all-new BPA-free plastic containers, which sealed better, too. (I'm sure there are probably problems with them, too. But c'est comme ça…) And in just a few days, I'll have a few months' worth of elderflower cordial to mix with sparkling water, and perhaps try out a few cocktails.
I made Romain slam on the brakes (with a scream that may have punctured his eardrums) when we passed a rest home for old VW buses in the town of Amiliss.
I don't need a Volkswagen bus, which, remembering their safety record, it is probably good that I didn't get behind the wire fence protecting these vintage treasures. However, I would spring for a Thing, one of my favorite cars of all time.
Also once back home (in a Citroën), after I shooed all the ants away from the leftovers in my picnic bag, I (along with the advice of my imaginary therapist), decided to do some spring cleaning and get rid of some stuff.
Fortunately, it was that time of the year for my neighborhood vide grenier, or rummage sale. However, in order to participate, I have to: 1) Appear in person with proof that I will not participate in more than two vide greniers this year; 2) Present an identity card, and a photocopy – of the front and the back; 3) Bring a photo; 4) Show proof that I live in the neighborhood; 5) Give them a self-addressed stamped envelope for the response – (I am already losing sleep that I won't make the cut!); 6) Have a check to pay for the stand; and 7) Have a pen. (Not sure what color, but just to be safe, I'll bring both.)
I think they left off the urine sample in a paper cup, but I'm already collecting boxes, in hopes that I pass the application process (and medical test) to participate in the neighborhood sale.
Which brings up another dilemma: Do I sell my old, BPA-laden plastic containers to someone else (and maybe my new ones, that are probably contaminated with something else), or toss them in the trash, creating another environmental hazard?
But, of course, just after we filled out all the forms and finished the dossier to take part in the rummage sale, we found out the inscription form that you download from the Internet isn't printable. So I am left holding the bag. And a little paper cup.
One thing I'm not getting rid of is the jackpot of bean-to-bar chocolate, and chocolates, that I was gifted on my U.S. book tour. I had so many boxes and bars that I had to send not one, but two packages ahead of me, to my last stop, where an extra suitcase was procured to haul everything back to Paris.
We've barely made a dent in them, but so far, kudos to La Forêt (above) in Napa Valley for an outstanding collection of chocolates, filled with everything from nocino emulsion and miso-cocoa nib, to black pepper-cashew and coffee & donuts – (yes!) And Gâtés Commes des Filles for wowing me with their collection of chocolates, whose availability depends on the season. Fortunately, I hit them in season.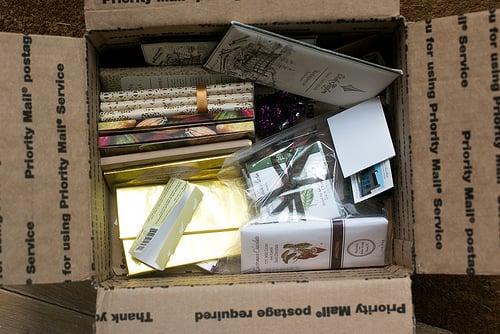 And fortunately, I have enough chocolate to last me, well, for quite some time. And, fortunately, we also brought some spring souvenirs back with us.