Oven-Roasted Asparagus
Recently I've come out as a non-steamed vegetable eater. I worked with an amazing Asian food expert who hated Japanese food, saying it wasn't sexy, pointing the blame on a reliance on steaming. He also said they eat pollywogs, which he followed by saying, "Who eats pollywogs?"
Well, I don't. At least not intentionally. (Although I'm sure I ingested some pond water in my youth, growing up next to the woods.) But I do like my vegetables, and after a lengthy winter of waiting, asparagus have finally showed up at the market – big time.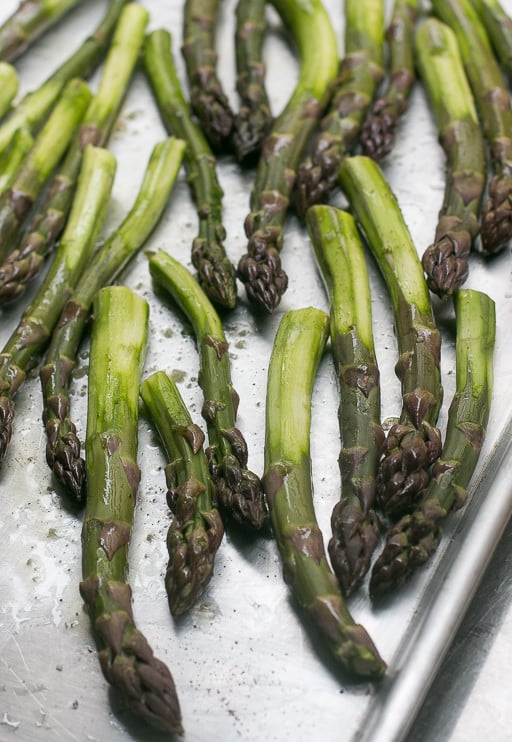 When it comes to vegetables, including asparagus, I've decided that oven-roasting concentrates flavors and I much prefer them prepared that way to almost every other. (Except pickled, which I can never get enough of.)
For a while, people flipped out if you cooked in any kind of fat, including olive oil, and I once gave a demonstration in health-conscious Los Angeles, and a woman in the audience was aghast that I put a half-stick (2 ounces, 55g) of melted butter in a batch of cookie batter that made 35 cookies. I just stood there, in mid-pour with my measuring cup in hand, and my jaw somewhere around me knees.
For those worried about "healthy" or "slender" recipes (which is a curious word, because unless you write the recipe in a narrower column than normal, I can't understand how a recipe can be "slender" – but as regular readers know, I'm no whiz in the grammar department…), you'll be happy to know that just a few tablespoons of oil for a few servings is all it takes to roast an entire baking sheet of asparagus. And since oil expands when heated, you don't need to douse everything in rivers of oil. (And in spite of giving into what that woman was so fearful of, you could go pretty easy on the oil in the recipe, below.) But when the olive oil is as good as the oil that I got in Sicily, it's hard not to use it with a heavy hand.
White asparagus is more prominent in Europe, although I'm also coming out as a green asparagus guy. To me, they're much more flavorful and you don't come across bitter spears, as you sometimes do with the white ones. But to each their own. And while we all wish everyone would agree with us – especially me – the (food) world is a better place, due to the mix of tastes and flavors that each enjoy, in our own unique and special way. Right?
And just so we have no secrets, I always get the fat stalks, rather than the "slender" ones, which are a lot more fibrous than their wider counterparts. So I guess this could be called a "wide" recipe?
| | |
| --- | --- |
| Oven-Roasted Asparagus | Print Recipe |
Asparagus need to be cleaned very well, as dirt gets trapped under the tips and is unpleasant to eat. If you grasp each spear at both ends and bend it, it will snap in half; the top half is edible and tender. (The bottoms can be saved to add to stock, if you wish.) Fill a bowl with cold water and submerge the asparagus spear tips and swirl them around a few times, loosening up and removing any grit. If necessary, repeat in a few changes of water to ensure that all grit is removed. I serve them at room temperature, mimosa, a French word meaning something served with crumbled hard-boiled eggs over the top, meant to resemble bright yellow mimosa flowers. I find they don't need additional dressing but you could add vinaigrette. In place of the eggs, you can use shavings of Parmesan or pecorino cheese, crumbled feta, or crispy bits of bacon.
1 1/2
pounds (680g)
green asparagus
washed and towel-dried (see above)
fresh ground black pepper
2
large eggs,
at room temperature
chopped flat-leaf parsley or chives,
for garnish
1. Heat the oven to 425ºF (220ºC.)
2. Break off the tough bottoms of the asparagus stalk and peel the tough skin off the stalks of asparagus using a vegetable peeler. Drizzle a few spoonfuls of olive oil on a baking sheet and sprinkle with salt and pepper. Toss the asparagus in the oil and roast in the oven, turning the spears a few times during roasting, for 18 to 20 minutes, or until the asparagus is tender when you poke a knife into the stems. (But don't overcook them.)
3. While the asparagus is cooking, hard-boil the eggs by bringing a small pot of water to a boil. Slide the eggs into the water carefully and reduce the heat to a low boil. Cook for 10 minutes. Drain water from the pot and add ice and cold water, then let the eggs sit in the water until cool.
4. Place the asparagus on a serving platter. Peel the eggs and use a cheese grater with large holes to grate the eggs over the asparagus. (Traditionally the eggs are pressed through a wide-mesh strainer, which you can do if you want them in smaller pieces.) Sprinkle the asparagus with chopped parsley or chives, and serve.