After my trip to Sydney, I decided I needed to learn some of the basics of making Thai food, if I'm going to get anything as spicy as I enjoyed (and as much as I like) around here. Like all cuisines, it starts with gathering the proper ingredients. Here in Paris, we have Tang Frères, a large Asian supermarket which is pretty well-stocked. (Although being Paris, it seems like it's required that they're out of the one essential item that I'm looking for.)
I hunted down most of the ingredients on my list, but paused at the curry pastes on the shelf. Was that cheating? Did Thai cooks use curry paste, or were they shunned and it was considered infinitely better to make your own from scratch? I was in a dilemma since I wanted to hit the flavors I was looking for, but could not find lime leaves, which seems like an essential ingredient from my reading. So I put the message out on Twitter from the supermarket aisle, and right away, all the responses said the curry pastes are fine – and sometimes preferable, if you can't find the right ingredients.
I was happy to found all those wonderful little Thai eggplants, red peppers, and even fresh green peppercorns, but decided to try the curry paste they had. (The cashier warned me it was "Très piquante!" so I told her I was from California and to bring it on, which made her chuckle.) And I just want to go on the record that I am officially addicted to Thai pea eggplants, which have a snappy little crunch when you bite into them. I think they should be sold everywhere.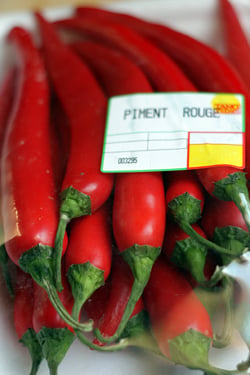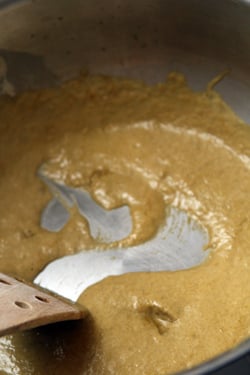 One of the interesting things about being a foreigner, living in another country, is that if you want a certain cuisine, it's up to you to figure out how to make it and track down the ingredients. But instead of complaining, it's actually fun and a good exercise in researching and learning about new ingredients, cultures, and various global cuisines. And even a chance to explore a new neighborhood. Of course, it's hard to match a cuisine with a country if you're not actually in that country. But you can get good French food in America, delicious North African fare in France, and I've had the best Lebanese food of my life in Mexico. And I'm happy to report you (and I) can make authentic-tasting Thai fare no matter where we are.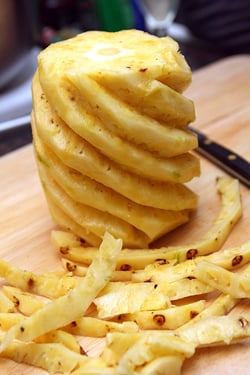 I don't know what kind of red chile peppers I got – you can see them in the picture – but they were somewhat mild. But the great thing about being an adult is that you can do pretty much whatever you please. So please feel free to use another kind of chile, which you can use to adjust the heat. And I did feel like I scored when I found these ears of baby corn, which were too cute to pass up on a subsequent visit. (But still no lime leaves!)
When I was reading up on Thai food, I looked at several articles and sites such as She Simmers, Fine Cooking, Chez Pim, Thai Food & Travel, as well as David Thompson's excellent book, Thai Food. Like me, feel free to adapt the curry ingredients to what's available where you live. Next up: I am going to make my own curry powder.
A good curry should be like a spot-on Caesar salad: one flavor or ingredient shouldn't dominate the others. I do think the tiny pea-sized eggplants are vital since they add that an unusual crunch to the curry, but other vegetables such as baby corn, asparagus, carrots, or any relatively firm vegetable that will take a little bit of stewing and not break down completely, would be great. My French guests gobbled it all up, spices and all, and even though pineapple in a savory dish surprised them, they liked the way it cooled things down. And so did I.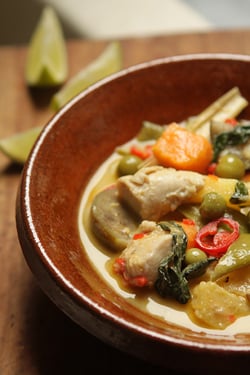 Green Curry with Chicken
There's plenty of room for swapping out ingredients, such as Japanese eggplant slices for the Thai eggplants, and I've even read that some people add peas in place of the pea eggplants (which I would add at the last minute), so you can use your intuition and make your curry responsive to what's available where you are. Instead of getting stressed out about exact quantities, if you use about 3 cups of your favorite vegetables or so, you should be fine. Sharp-eyes will notice that I used snow peas in my curry, but I now omit them since they didn't add what I thought they would. (They also turn a drab green color when stewed.) You can customize the spiciness by using different chiles, and for vegetarians, omit the shrimp paste and use firm tofu in place of the chicken or just add more vegetables, such as green beans, mushrooms, bamboo shoots, or bok choy. Water can replace the stock, although you might want to tip in a little extra coconut milk to boost the flavor.
2

cups (500ml)

canned Thai coconut milk*

1/4

cup (70g)

green curry paste

1 1/2

cups (375ml)

chicken stock

2

cups (265g)

peeled and cubed sweet potatoes

4

slices

, galangal

1

teaspoon

dried Thai shrimp paste

, roasted** (kapi), or Asian fish sauce

3

stalks lemongrass

3/4

cup (85g)

, pea eggplants

8

Thai

, eggplants, quartered

2

skinless chicken breast filets

,

cut into bite-size pieces

3

red chiles

,

slivered, plus additional for garnish

2

cups (300g)

diced pineapple

1

cup (15g)

loosely packed basil leaves
In a large skillet or Dutch oven, heat half of the coconut milk and reduce it by about half. Add the curry paste and cook it another minute, stirring constantly to meld the flavors.

Add the rest of the coconut milk, the chicken stock, sweet potatoes, galangal, and shrimp paste. Trim off the top one-third of the lemongrass (the very white part can be discarded) and cut the lower parts crosswise into two batons, then crush them under the side of a cleaver or with a rolling pin and add them.

Bring the mixture to a low boil and simmer for five minutes. Add the eggplants and cook for another three minutes.

Stir in the pieces of chicken breast, and chiles, and simmer until the chicken and vegetables are cooked through. Add the pineapple and simmer another minute, then stir in the basil leaves and serve.Serving: Curry is best served with rice, to balance the heat. Be sure to advise guests not to eat the pieces of galangal or lemongrass, which remain resolutely firm.
Notes
Garnishes could include additional sliced chiles, lime wedges, or a few wisps of cilantro leaves.
Variation: To make pork curry, simmer 1 3/4 pounds (800 g) of cubed pork shoulder in salted water with a small onion halved and a few cloves or star anise, until tender, 1 to 1 1/2 hours. Then add the pork instead of the chicken to the curry and use the braising liquid in lieu of the stock called for in the recipe.
*Thai coconut milk comes in various sizes depending on where you live and by brand. You can use one can or carton, which weighs in at 13-16 ounces.
**Some Thai cooks roast the dried shrimp paste in a 400ºF (200ºC) oven, wrapped in foil, for about ten minutes. I did that the subsequent times I've made this and don't know if it made all that much of a difference, but I now do it as a rule.
Related Posts and Links
Green Curry with Chicken or Catfish (Chez Pim)
Green Curry with Pork (Kosma Loha-unchit)
Chicken in Brown Gravy Over Rice (She Simmers)
Thai Green Curry Paste (Closet Cooking)
Create Your Own Thai Curry (Fine Cooking)
Thai Green Curry (Eat Love Drink)
Thai Red Curry Coconut Soup (Soup Chick)
Thai Green Curry (Rasa Malaysia)
Cold Noodles with Peanut Sauce