Thai Stir-Fried Chicken with Chile Jam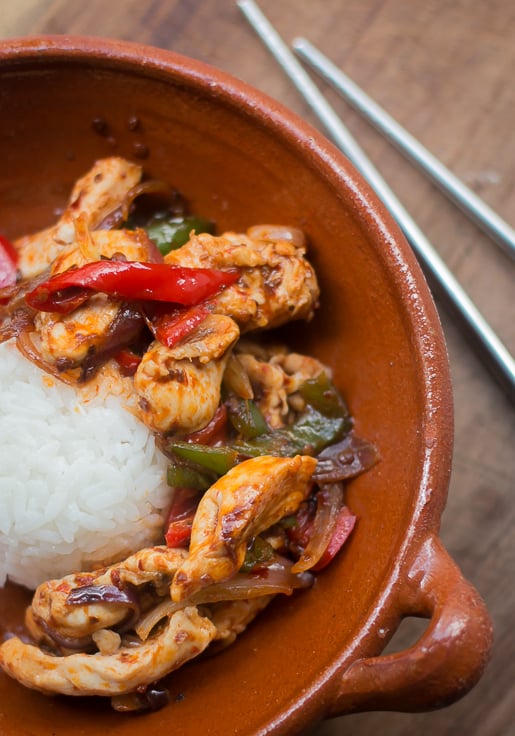 I was recently interviewed about cookbooks that I like and when I thought about the ones I've been most intrigued with, a few stood out. They were single-subject books that explore a single topic, which I find useful when looking for a straightforward recipe to try out. But the more complex, thorough books help me understand cuisines that I'm not all familiar with. For example, I have a massive, magnificent 688-page book on Thai cuisine that is the ne plus ultra of Thai cookbooks. But every time I've cracked it open, I feel like if I don't get all twenty-seven ingredients called for in the recipe, it's not going to work. Or that I'm doing something wrong and I'll be cursed by a thousand Thai grandmothers (or the internet) for the rest of my life.
Don't get me wrong. It's a great book and I love sitting in am armchair, reading about food traditions and so forth. But in reality, and in the kitchen, it's a different story. And often we have to make compromises or make do with what we can, if we want to make a dish.
It can quickly become tiresome having the authenticity police breathing down your neck, with people picking out anything that you're doing wrong when making dinner. (As I wrote in my recent book, cultures and traditions change over time. Italians didn't always have tomatoes, chiles weren't always part of Thai cooking, and hamburger meat didn't originally come from America.)
So it's a true pleasure to have a reassuring voice like Leela Punyaratabandhu, in her terrific book, Simple Thai Food, telling you that – you know what? – you don't need to make yourself crazy to cook Thai food. We can all breath a sigh of relief. And, if necessary, you can make a few adjustments and still retain the original flavors of the dish.
Not everyone wants to spend the afternoon in the kitchen and a good example of her non-compromising compromises are the two side-by-side recipes for satay sauce, one is "The Easy Version" and the other, "The Less-Easy Version." Although both look pretty easy to me.
Before the book came out, I got a sneak preview as they asked me for a quote. (When my publisher was looking for a Thai cookbook author, they mentioned Leela, whose site I've always enjoyed and gave her an enthusiastic thumbs-up.)
Thai food is something that people don't often make at home since it requires a few ingredients that you might not necessarily have on hand, or have to hunt down. I was able to gather the two things I didn't have – oyster sauce and the chiles – at an Asian supermarket in Paris pretty easily. So they shouldn't be all that challenging anywhere else. But I had thought that my jar of Thai chile paste in the refrigerator was, in fact, "jam." Because, well, I don't read Thai. However, on closer inspection, the ingredients were in French (which I do read) and noticed that it was, indeed, different from Thai chile jam.
So I used chile paste and, lo and behold, the dish was a huge success. In spite of the fact that I love spicy foods, I cut the amount in half because that chile paste is pretty intense. (And for those who think the French don't like spicy food, my French other-half recently confessed to me that Thai food was his cuisine préferée, or preferred cuisine.)
The fire in those long Thai chiles can sneak up on you as well, even though they're not nearly as crazy-hot as the tiny bird's-eye chiles that are frequently used in Thai cooking. But without a lot of fuss, and less than ten minutes of work, we had a great Thai meal that I'd stirred up myself. How crazy is that?
Stir-Fried Chicken with Chile Jam
Adapted from
Simple Thai Food: Classic Recipes from the Thai Home Kitchen
by
Leela Punyaratabandhu
This recipe gives you all the authentic, fiery flavors of Thai cuisine, with just a few simple ingredients. And you can have a meal for two on the table in less than ten minutes. (The original recipe said that it makes enough for 4, but we have a big appetite when it comes to Thai food, and I'd say it'd serve four people if there were other dishes served with it.) Make sure you have a batch of rice on hand to serve with the chicken, to provide some relief from the heat. When I made this, I cut the chicken a bit on the thicker side. So next time, I'm going to slice it thinner than in the photos, so it'll cook faster and soak in more of the flavor of the sauces. Leela notes that if you can't get Thai peppers, swap out one bell pepper instead. At the risk of infuriating the purists, if you can't get chile paste or chile jam, another thick chile sauce, like Sriracha, would probably work fine. Don't tell.
Servings
2
generous servings
12

ounces (340g)

boneless

,

skinless chicken breasts (2 or 3 chicken filets, depending on size)

salt

2

tablespoons

vegetable oil

2

yellow or red onions

,

peeled and cut into 1/2-inch (2cm) slices

2

red or green Thai long chiles

,

sliced in half, seeded and deveined, cut diagonally

1/4

cup (60ml)

Thai chile jam

,

or 2 tablespoons Thai chile paste

1

tablespoon

oyster sauce

1

teaspoon

fish sauce
Slice the chicken breasts diagonally into strips about 1/3-inch (1cm) wide. Put them in a bowl, seasoning them with a little salt.

Heat the oil in a wok or large skillet over medium-high heat. Add the onions and cook, stirring, until they start to wilt, about 3 minutes. Add the chicken, sliced chiles, chile jam or paste, oyster sauce, and fish sauce.

Continue to cook everything together, stirring frequently, until the chicken is cooked through, about 5 minutes.
Related Recipes
Thai Chile Jam (She Simmers)
How to Make Perfect Asian Rice