Kylie Kwong at Billy Kwong
I crave Asian flavors, which became apparent on a couple of occasions this month. For one thing, it seems that I want to add chiles and fresh ginger to everything. Here is Sydney, Australia, where so much of the food feels Asian-influenced – clean flavors, fresh ingredients often cooked quickly over high heat (cooks using fiery woks always seem to be "attacking" the food, simultaneously pulling out and searing flavors), and served with immediacy – I mentioned to a dining companion that I loved everything I've eaten here. And what was particularly delightful was that my favorite flavors were used liberally in the food, including fresh ginger, which was so Asian. He looked at me, and said "Really? I think of fresh ginger as an Australian thing." But when I said that I always saw fresh ginger piled high in Chinese markets, he said, "You know, it's abundant in regular markets here in Australia as well."
Being from California, Asian food is my "comfort" food and I never realized how much I depend on a bowl of spicy bibimbap for lunch in the winter or a light plate of cold buckwheat noodles with nori and ginger dressing in the summer. I like any and all Asian food, no matter what time of the year it is or where I am.
Paris is a somewhat culturally diverse city, but is just beginning to really embrace all the wonderful cuisines of Asian. I don't know how far it will go, but interestingly, last week when I was walking around looking for a place for lunch in the middle of the city, virtually all the Japanese and Korean restaurants on the rue Saint-Anne were packed, with lines of people (mostly French people..) streaming out the door. And a majority of cafés were pretty much empty.
That's not true all around the city, but I think it's happening in areas where there's good Asian fare because people are searching out fresh, healthy flavors, and it's a little more convivial to be sitting around a table laden with bowls and plates of food, where you can enjoy a little of this, or take a larger portion of something of that. Or pull up to a big bowl of noodles and quickly slurp them down, then be on your way if you're in a hurry. (However one cultural difference that surprised me when I first moved to France is that people don't share in Chinese restaurants; everyone orders their own thing and has a bowl of rice with a main dish.)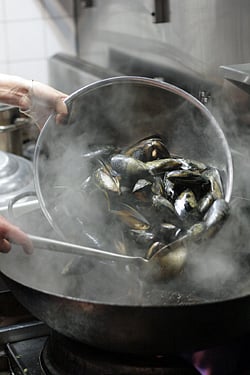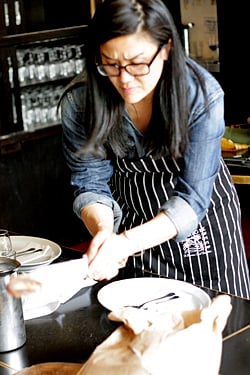 But how happy was I to discover that Sydney is a hotbed of great Asian cooking and restaurants. Immediately I hit Chinatown for roti at Mamak, a Malaysian place, and I already have a list of Thai and dumpling joints to keep my well-fed this week. But Billy Kwong was at the top of my list, the restaurant of Chinese cook extraordinaire, Kylie Kwong. I met her the first night in town, and I immediately sensed a terrific cook, as well as a wonderful woman, behind those geometric glasses.
So how surprised was I to be invited to her restaurant for an impromptu lunch on Sunday (when the restaurant is normally closed) with a few chef friends. Walking in the door of this small, very personal restaurant, I noticed the kitchen takes up perhaps 50% of the space and bridges any gap that would break the immediacy of the connection between diners and cooks.
When we got there, Kylie was already running around the kitchen with a big smile on her face. And after pouring us a few glasses of rosé, since it's completely impossible not to get swept up into her enthusiasm, we all pitched in, peeling asparagus, chopping ginger, pounding chiles, and shucking local oysters, then setting them on platters and arranging them around the large table.
Of course, it's impossible to cook with just on glass of wine, and the rosé filled any gaps in conversation during cooking, and followed us through the six-hour lunch. Since it was a private lunch, I'm not going to name names, but there was singing, perhaps a bit of dancing, more rosé, and a small fist-fight even broke out. (Don't worry, it was between two young boys, who were just being kids, who also were restless and jet-lagged.)
I have to say, I've worked with a lot of chefs and cooks, and you can instantly tell if someone is a good cook by how they treat their ingredients. It's not about careful cutting or stressing over if you have precisely five-ninths of a teaspoon of pepper. It's taking the food that's in front of you, instinctively figuring out the best way to cook it – and what will go well with it – then grabbing a wok or skillet, cranking up the heat, and taking control of the stirring or mixing until you're happy with the result. Good food isn't hard, and the reason restaurant food is often very flavorful is because professional cooks work fast and just go for it.
Kylie cooked like that and it was a lot of fun jumping in and doing kitchen tasks with such an accomplished cooked, that made everything look effortless. And from the smile beaming from her face the entire afternoon, she was enjoying it as much as we were.
I don't know if I could recount everything we had, but we started with fresh local oysters, braised pork belly with thick soy sauce (which wasn't really a starter, but I couldn't help grabbing a crispy end slice since it was right in front of me), and vegetables pickled in spicy kimchi brine. We had quickly sautéed vegetables – a combination of Swiss chard, asparagus, chiles, and organic Meyer lemon halves, finished with tamari, then heaped into shallow bowls.
There were also various sauces for dipping and dousing, like creamy scallion sauce for the boiled chicken, oil infused with crescents of spicy red chiles for dribbling over thin slices of pristine raw fish, and a sauce that Kylie pounded in her mortar and pestle, adding a good pour of fish sauce, which I timidly dipped a steamed prawn in, until Kylie leaned over and filled my sauce dish to the brim so it would splash over the already splattered table when I dunked the tail of the shellfish in, saying – "David, you really need to dredge the prawn through the sauce…go for it!" And who was I to argue?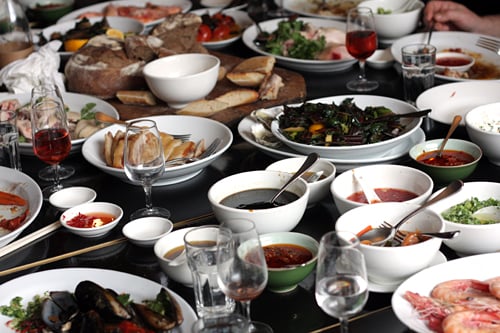 Billy Kwong
Shop 3
355 Crown Street
Surry Hills
Sydney, Australia
Tel: 61 2 9332 3300