Victor Churchill Butcher Shop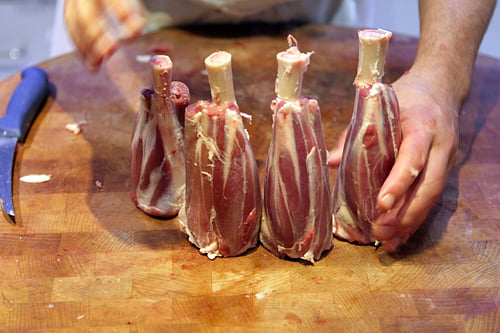 Everything I know about meat could probably fit on a sirloin tip, but that still didn't stop me from dropping my jaw when I went into Victor Churchill. When I was asking friends about places to visit in Sydney, Anissa Helou said to me – "You must go to that butcher!" I didn't know who "that butcher" was, but a simple online search led me right to Victor Churchill.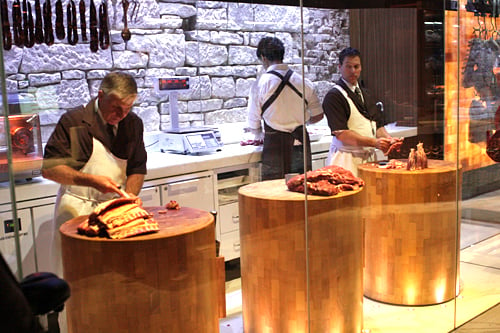 The comparison to a jewelry shop is inevitable, since the meat is not just on display, but showcased. And when you have meat that looks like this, each certainly merits its position in the spotlight. It would be indiscreet to reveal what they spent on this shop, which was built in 2009, but it was a lot. And it shows.
Australians seems to be very keen on lamb and beef (one of the employees told me that "meat is to Australians like rice is to Asians") and although the prices here aren't for the faint-hearted (the same parent company owns a wholesale meat company that supplies a lot of restaurants in Sydney), if you're someone like me that doesn't eat a lot of meat – or has a large family and needs to buy eight steaks to feed everyone – then I'd imagine it's a nice treat for yourself and someone special to pick up a t-bone steak or sirloin for the grill. Even if you're not hungry for meat when you're passing by, if you stop in, you'll immediately be hit by the smell of roasting meat, courtesy of a ventilator over the rotisserie in the back, which is slyly vented to the front to give you a whiff of things to come.
Walls are covered with timber and cowhide, and the beef is aged in special temperature-controlled rooms for between twenty-one and twenty-eight days (although one was aged quite a bit longer) which not only reduces moisture and concentrates flavor, but also tenderizes the beef so it's not tough. And all meat is from Australia; nothing is cryovaced or shipped in from overseas.
They told me that Victor Churchill was influenced by a Paris butcher shop, which was evident by the impeccable, yet meaty pâtés in the display cases. But I've not seen a beef aging room with a wall made from interlocking bricks of Himalayan salt, which help dry out and purify the air, and needs to be replaced every two years.
I also enjoyed watching the master butchers at work. It's a craft I know very little about, and next time I come back to Sydney, I'm going to sign up for one of their classes to learn a little more. I can't imagine a nicer place to learn.
Victor Churchill
132 Queen Street
Woollahra (Sydney), Australia
Tel: 02 9328 0408


Related Links