I can't remember the last time I saw a real, live squirrel.
Yes, yes, I know. I live a city. But when I go out into the French countryside I just don't see them there either. I never realized how much I missed the little rascals until I was back for a visit to the states and there were hoards of squirrels going about their business everywhere, from the wilds of Central Park to the streets of San Francisco.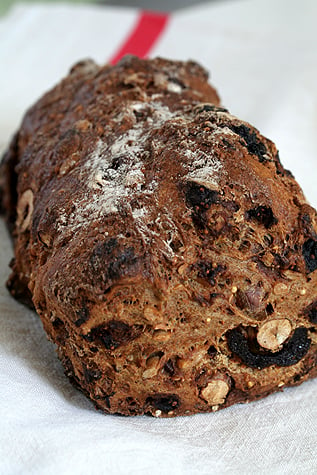 French people when they go to the states, on the other hand, don't miss squirrels. They miss bread.
Fresh bread is a given, an integral part of life in France and lining up daily at your local boulangerie is just another task one does during the course of your day. For me though, it's a little more complicated. I'm no longer content to get the bread from the bakery just across the street from me and I'll spend half a day hunting down grainy breads near and far, a type of bread I'm hopelessly partial to.

If I spot an interesting one though a bakery window, I'll stop in and buy it. But more often than not, I'll bring home a good-looking pain aux cereales, anxious to hack into it for that first slice. Unfortunately it's often a bit of a disappointment when I find just a few meager seeds sprinkled in, rather than a dense, grainy loaf, the kind of bread that's oh-so-good with a simple smear of salted butter or nice wedge of tangy-white fromage de chèvre piled on top.
When I want to be assured of bringing home a hearty, earthy bread, I'll pick up a loaf of pain écureuil, or Squirrel Bread.
In the bakeries, you'll see compact, almost burnt-looking little loaves of bread in a floury basket, labeled Squirrel Bread. They're packed with things that are favorites of those furry little critters, usually crunchy hazelnuts and nuggets of dried figs and apricots.
I picked up this hearty little fella this weekend and not only do I get a kick out of the name, but the bread is tasty as well. I've been squirreling it away, taking little bites and nibbles here and there all day long.
So there may not be many real squirrels in Paris, but as long as I'm here, I'm going to continue my own hunting and gathering of Squirrel Breads. And although the winter chill is fading away, I'm not going to bother stockpiling loaves.
With 1263 bakeries in town, I don't think I'm in any danger of going hungry around here.
I'm just worried about running out of time.