Spiced Plum Cake with Toffee Glaze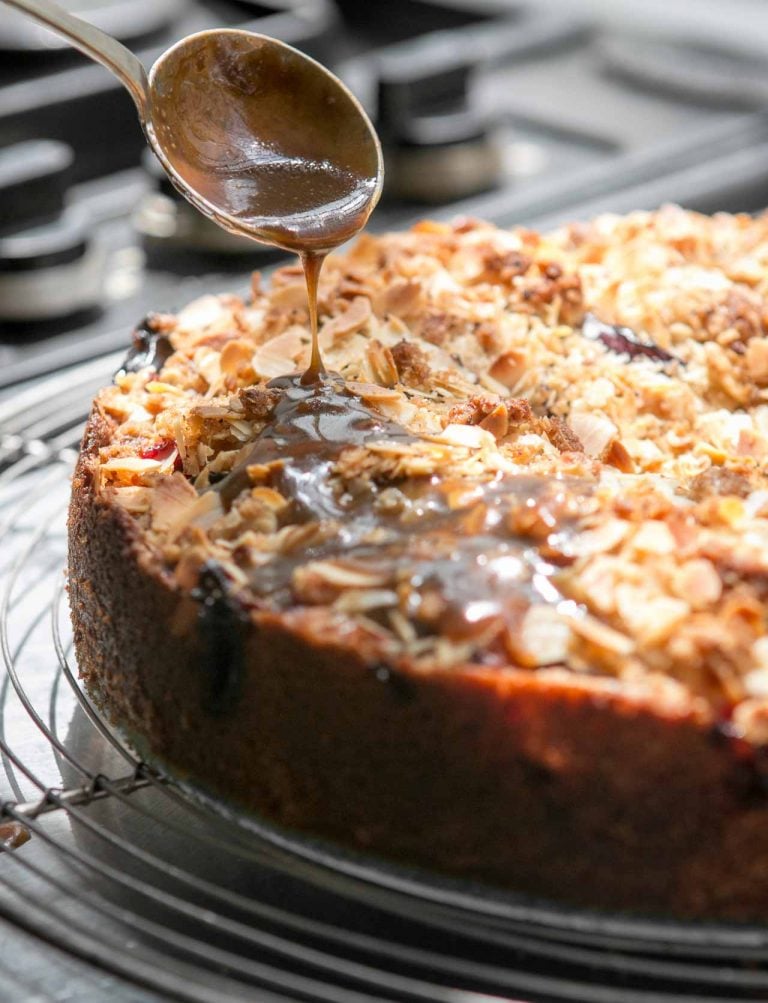 I came up with this cake almost fifteen years ago because I was looking for ways to use all the plums that we had when I was living in California. Northern California becomes plum central during the summer, with thanks going to Luther Burbank who developed a lot of varieties of fruit in the region, including the Santa Rosa plum, named after the town in California where he did his tinkering.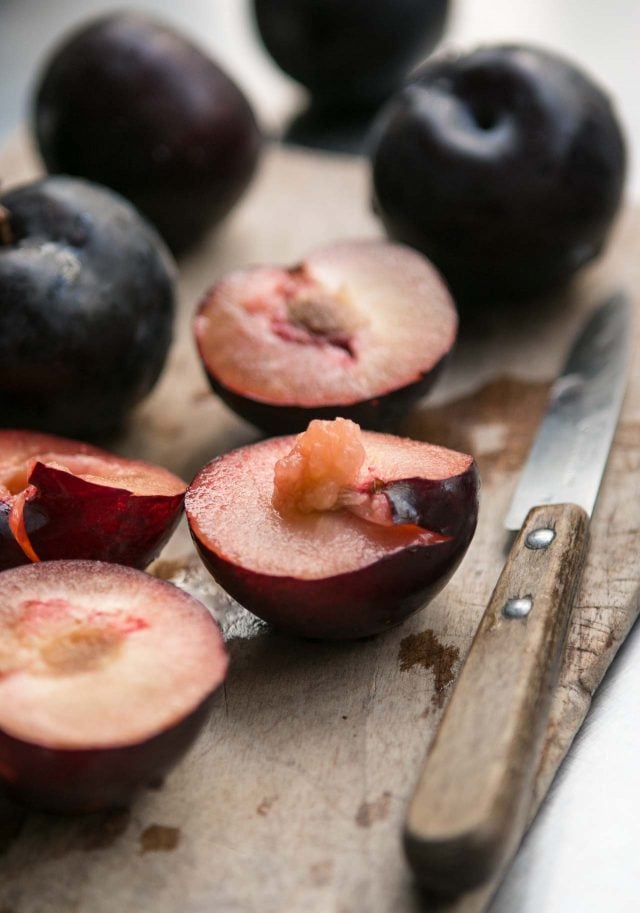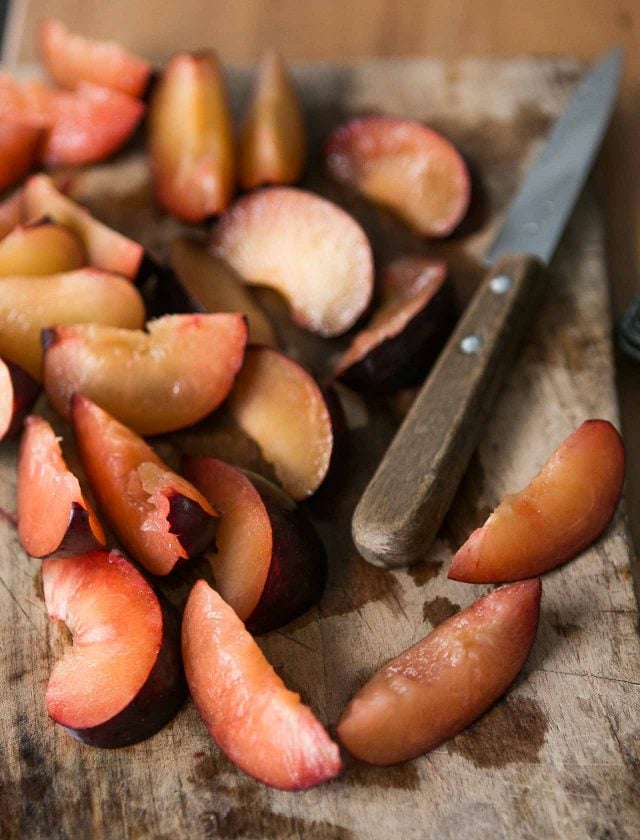 To this day, come summer, I go plum-crazy when I see purple plums at the market and always grab a bag. Purple plums aren't as popular in France as their sweet, golden counterparts, mirabelles, or Reine Claudes, which I love for eating. But for baking, it's the big, tart purple plums that I search out for their tangy acidity.
Romain has adopted my habit of nibbling cake at breakfast. (He's also discovered crumpets from the Marks & Spencer stores that have been opening in Paris.) He was confused about the cake, since it doesn't quite fit the French definition of cake. They like to categorize and define things, and this one doesn't quite fit into the classic description of a gâteau, but he's learned to expect a curve ball here and there. And after several minutes, he let it pass.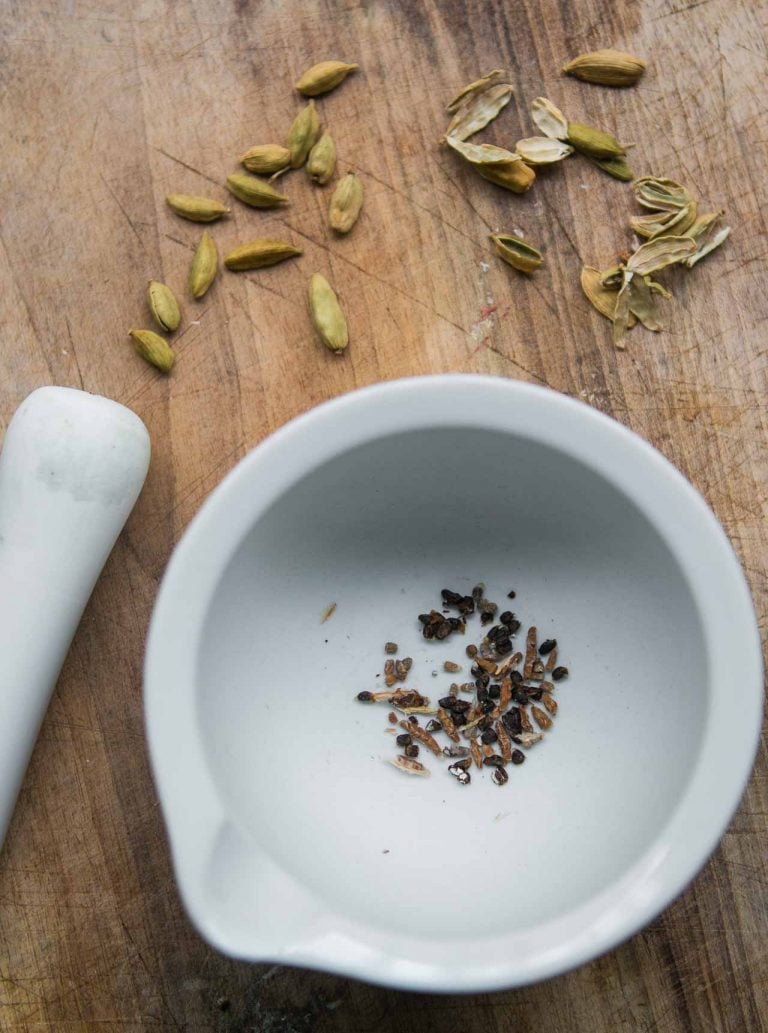 This cake uses cardamom in both the batter and the streusel almond topping. I buy the cardamom in pods and remove the husks, then grind the seeds myself. The flavor is much better than buying pre-ground cardamom. If you wanted to use another spice, whatever favorites are in your spice drawer, you could certainly call into play. I do like the cardamom a lot, though, and urge you to try it.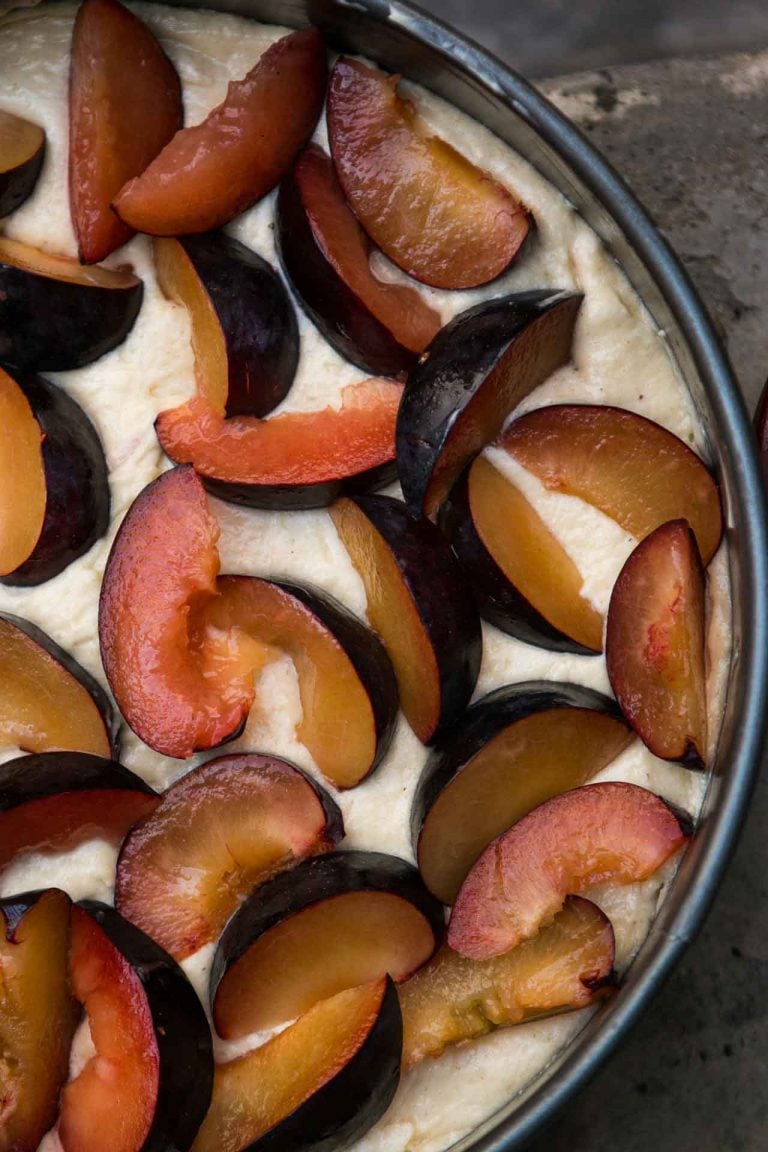 Am not sure how long the purple plums are going to hold out at the market. Come mid-summer, the markets in Paris become sparse as people take off on their annual vacations, including the vendors. And they are probably going to disappear soon, just like this cake did!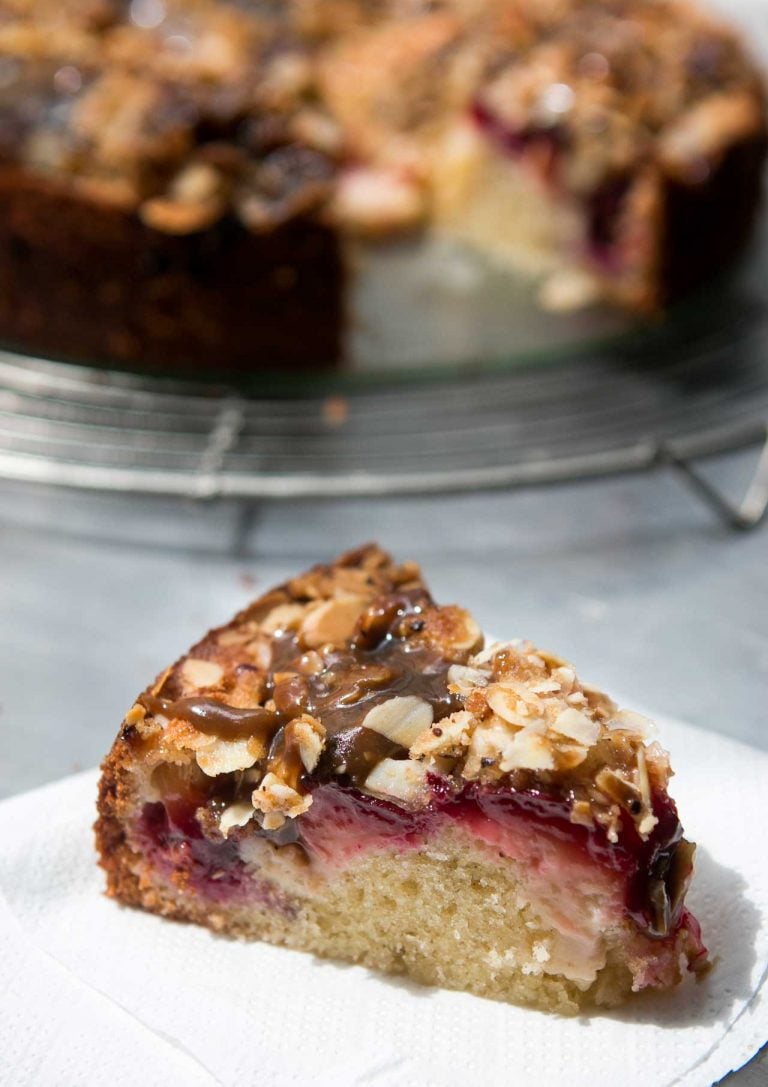 Spiced Plum Cake with Toffee Glaze
Purple plums aren't usually sold by variety in France, but tart ones work best, such as Santa Rosa plums. You could use other kinds of plums, such as Italian prune plums (quetsches), although I prefer to use the tartest ones I can find. If you wanted to experiment with other types of fruit, this cake probably lends itself to others. The toffee is drizzled over the top in a modest quantity. But if you are a toffee-lover, you can certainly double the amount and really go for it. Buttermilk is called lait ribot or
lait fermentè
in France and is available in some supermarkets and Arab markets. You can make a good substitute by using a scant 1/2 cup (125ml) of whole milk with a teaspoon of lemon juice or white vinegar added. Let stand for 10 minutes, then use the soured milk just like buttermilk.
Topping
5

medium plums

,

(12 ounces, 340g)

1

cup ( 85g)

sliced almonds

,

blanched or unblanched

2

tablespoons

flour

1/3

cup (60g)

packed light brown sugar

1/2

teaspoon

ground cinnamon

1/2

teaspoon

ground cardamom

2

tablespoons

melted butter

,

salted or unsalted
Cake
8

tablespoons (4 ounces, 115g)

unsalted butter,

,

at room temperature

3/4

cup (150g)

granulated sugar

1 1/2

cups (175g)

flour

1/2

teaspoon

baking powder,

, preferably aluminium-free

1/2

teaspoon

baking soda

1 1/2

teaspoons

ground cardamom

1/2

teaspoon

salt

2

large eggs,

,

at room temperature

1

teaspoon

vanilla

1/2

cup (125ml)

buttermilk

,

(see headnote)
Toffee Glaze
2

tablespoons

butter,

,

salted or unsalted

3

tablespoons

dark brown sugar

3

tablespoons

heavy cream

pinch

of salt

1/4

teaspoon

vanilla extract
1. Preheat the oven to 350ºF (180ºC). Butter a 9-inch (23cm) springform cake pan.

2. Halve, pit, and cut the plums into 8 slices.

3. In a small bowl, make the topping by mixing together the sliced almonds, 2 tablespoons flour, light brown sugar, 1/2 teaspoons (each) cinnamon and cardamom, and melted butter, until everything is evenly mixed. Set aside.

4. In the bowl of a stand mixer fitted with the paddle attachment, or by hand in a medium bowl, beat the butter and sugar until light and fluffy, about 3 to 5 minutes.

5. In a separate bowl, whisk together the flour, baking powder, baking soda, 1 1/2 teaspoons ground cardamom, and salt.

6. Add to the eggs to the creamed butter one at a time, scraping down the sides of the bowl after each addition to make sure they're mixed in. Add the vanilla extract. Stir in half of the dry ingredients, then the buttermilk, then the rest of the dry ingredients, mixing just until combined. Do not overmix.

7. Spread the batter into the prepared cake pan. Strew the plums over the top in an even layer, then spread the almond topping over the plums. Bake until the center just feels set, about 55 minutes to one hour. (A toothpick inserted into the center should come out clean of any cake batter.) If the top is browning too fast, drape a sheet of aluminum foil over the cake pan and finish baking. Let the cake cool completely then remove the sides of the springform pan.

8. To make the toffee glaze, mix the butter, dark brown sugar, cream, salt, and vanilla in a small saucepan Bring to a boil, stirring gently. Reduce the heat and cook at a low boil for 1 minute. Remove from heat and drizzle the toffee over the cake.
Notes
Serving: The cake is best served at room temperature. It can be served without accompaniment, or with a dollop of whipped cream or vanilla ice cream.
Storage: The cake will keep for up to three days at room temperature. I would not recommend freezing it.